Cormorant Run
Lilith Saintcrow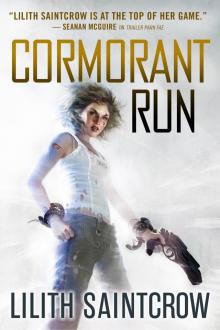 orbitbooks.net

orbitshortfiction.com

Copyright

This book is a work of fiction. Names, characters, places, and incidents are the product of the author's imagination or are used fictitiously. Any resemblance to actual events, locales, or persons, living or dead, is coincidental.

Copyright © 2017 by Lilith Saintcrow

Excerpt from Trailer Park Fae copyright © 2015 by Lilith Saintcrow

Excerpt from Six Wakes copyright © 2017 by Mary Lafferty

Cover design by Lauren Panepinto

Cover illustration by Kirbi Fagan

Cover copyright © 2017 by Hachette Book Group, Inc.

Author photograph by Daron Gildrow

Hachette Book Group supports the right to free expression and the value of copyright. The purpose of copyright is to encourage writers and artists to produce the creative works that enrich our culture.

The scanning, uploading, and distribution of this book without permission is a theft of the author's intellectual property. If you would like permission to use material from the book (other than for review purposes), please contact [email protected] Thank you for your support of the author's rights.

Orbit

Hachette Book Group

1290 Avenue of the Americas

New York, NY 10104

orbitbooks.net

First Edition: June 2017

Orbit is an imprint of Hachette Book Group.

The Orbit name and logo are trademarks of Little, Brown Book Group Limited.

The publisher is not responsible for websites (or their content) that are not owned by the publisher.

The Hachette Speakers Bureau provides a wide range of authors for speaking events. To find out more, go to www.hachettespeakersbureau.com or call (866) 376-6591.

Library of Congress Cataloging-in-Publication Data

Names: Saintcrow, Lilith, author.

Title: Cormorant run / Lilith Saintcrow.

Description: First Edition. | New York : Orbit, 2017.

Identifiers: LCCN 2016053135| ISBN 9780316277969 (paperback) | ISBN 9781478916031 (audio book) | ISBN 9780316277938 (ebook)

Subjects: | BISAC: FICTION / Science Fiction / Adventure. | GSAFD: Science fiction. | Fantasy fiction.

Classification: LCC PS3619.A3984 C67 2017 | DDC 813/.6—dc23 LC record available at https://lccn.loc.gov/2016053135

ISBNs: 978-0-316-27796-9 (paperback), 978-0-316-27793-8 (ebook)

E3-20170413-JV-NF

Contents

COVER

TITLE PAGE

COPYRIGHT

DEDICATION

PART ONE: PREP 1 INTERVIEW

2 NURSERY RHYME

3 EATEN THE BODIES

PART TWO: PRISON 4 PERMISSION TO LAND

5 OUR AGREEMENT

6 DEADNAME

7 NEVER RIFTING

8 CAGEY BASTARD

9 ANIMAL BODY

10 FIELD EXPERIENCE

11 JUST ONCE

12 HILLS AND CRACKS

PART THREE: BASE 13 FEW ANSWERS

14 SPRAY OF PINE

15 IN HIS FAVOR

16 LIGHT OR HEAVY

17 JUST BY LOOKING

18 YOU WORKED FOR IT

19 HASSLED ANYMORE

20 STAMPED AND SIGNED

21 FINE FOR CROSSING

PART FOUR: RIFT 22 INGRESS AND EGRESS

23 DRIFTBURN

24 THE REAL FUN

25 BITCH FEELINGS

26 ANYONE UNSTABLE

27 FLAT COPPER

28 BOOGALOOS

29 MESSAGE RECEIVED

30 YOU WITH ME?

31 WHO WAS GONE

32 MIGHT BE ME

33 RIDE THIS WITH ME

34 WHAT WE'RE AFTER

35 HIS BUSINESS

36 DIRECTIVE

37 GOT MY REASONS

38 LITTLE GRISHA

39 ON THE MEND

40 HEARTBEAT

41 SALVAGE

42 NO PART OF THIS PLACE

43 HE'D FIND ME

44 COURTESY CALL

45 THE FISH YOU WANT

46 GOT QUIET, OR DIED

47 STILL BREATHING

48 NO IMAGINATION

49 SOMEONE MUST

50 OPTIONS

51 CAUGHT THEIR FILL

52 RED, RED RAG

PART FIVE: CORMORANT 53 ACTIVE SERVICE

54 WHAT YOU REALLY DO

55 STILL IN THE TUBE

56 WHAT WE CAME FOR

57 THE MEMO THAT SHRANK

58 WHITE WINGS

59 COOLING ENTROPY

60 OLD ENOUGH TO KNOW

61 THE CLOSEST THING

62 THE BEST JOKE

ACKNOWLEDGMENTS

EXTRAS MEET THE AUTHOR

A PREVIEW OF TRAILER PARK FAE

A PREVIEW OF SIX WAKES

BY LILITH SAINTCROW

PRAISE FOR THE WORKS OF LILITH SAINTCROW

ORBIT NEWSLETTER

For the censored.

PART ONE

PREP

1

INTERVIEW

INTERVIEWER: We are here today with Yevgeny Strugovsky, the acclaimed Rift scientist, who has just received a Nobel Prize for his work in unlocking several Rift technologies. His work has proved a foundation for most of what we know about the Rift's treasures. Thank you so much for joining us today, Doctor.

STRUGOVSKY: Thank you, yes. Yes.

INTERVIEWER: You must be asked this quite a bit, but it's a good place to start: What do you think caused the Rifts? There are several different theories, including, as it were, aliens. [Laughs]

STRUGOVSKY: We have no way of knowing, of course. It would be irresponsible to conjecture.

INTERVIEWER: And yet—

STRUGOVSKY: All we can say for certain is that one night, eighty-six years ago, there were strange lights in the skies of many countries. Aurora borealis, perhaps. Then, the Event, at a very specific time.

INTERVIEWER: Yes, the famous Minute of Silence. Four thirty-seven in the afternoon, UTC+2. The Kieslowski Recording—

STRUGOVSKY: Yes, yes. The point is, we cannot even begin to know what triggered the Event until we have ascertained what, precisely, the Rifts are. Rift is somewhat of a misnomer. Bubble is also a bad term; Zone would be more precise, but still not quite what we're looking for.

INTERVIEWER: Rift is the accepted term, though.

STRUGOVSKY: [Coughs] Yes, indeed. The most current theory is that these … places, these Rifts, are actually tears in a fabric we cannot adequately measure. It is not Einstein's spacetime, it is not Hawking's and Velikov's layer cake, it is not the Ptolemaic bubbles of earth and air. When we know what fabric is being so roughly torn, we may begin to reclaim those parts of the Earth's surface.

INTERVIEWER: Do you believe in reclamation, then? The Yarkers protest that it's against God's will.

STRUGOVSKY: Their religion does not interest me. The human race is staring directly into the face of the infinite on the surface of our little planet. The frequencies and patterns of the Riftwalls—seemingly random, but we do not have enough data yet—have blinded us to the amazing fact that the energy for them must come from somewhere. The artifacts brought back—

INTERVIEWER: —illegally.

STRUGOVSKY: Legally, illegally, they are there. And they share this same quality, of clean, near-infinite energy. I say near-infinite because we have not yet managed to discern the half-life of these objects.

INTERVIEWER: Can we say "clean" energy, though? The incidences of mutations near Rift borders, the possibility of some radiation we have no means of measuring yet …

STRUGOVSKY: Ah, will there be those dying like Madame Curie, of invisible ray
s in the service of Science? It is perhaps worth the cost. Imagine a world where this energy is free, and we have reclaimed the cities that lay inside the Rifts. The implications for our lives, for the planet, even for travel to other parts of the solar system, now that we perhaps have the fuel to do so, these are what interest me.

INTERVIEWER: I see. Can you talk for a moment about the presence of rifters? Most of the data we have has come from those who can enter and leave these zones, these tears in the fabric?

STRUGOVSKY: They are mercenaries. It is a sad comment upon humanity that profit is pursued more vigorously than science.

INTERVIEWER: But there are some commonalities among them, as your fellow scientist Targatsky has shown.

STRUGOVSKY: He is a psychologist, not a scientist.

INTERVIEWER: Still—

STRUGOVSKY: It is the scientists who will solve the Rifts. They must be protected from the mercenaries and the crowds of … [Burst of static]

2

NURSERY RHYME

How many years ago did they show?

Threescore and ten.

How many they come back aroun'?

Never see them again.

One, two three, four five six,

We all go riftin',

Pick up the sticks!

3

EATEN THE BODIES

First came the screaming, drowning out blatting alarms and the ear-shattering repetition of the recorded containment protocol. The long piercing shriek cut right through concrete, glass, stone, buffers, and skulls. Most of the on-duty rifters instinctively hit the ground, one or two ended up with nosebleeds, and one—Legs Martell, absolutely sober for once—going through containment passed out and almost drowned in the showers. A couple of scientists got a headache, but whether it was from the noise or the rest of the afternoon, nobody could say.

The wedge-shaped leav* should have come over the border and inched slowly to a graceful halt right inside the white detox lines, hovering at the regulation three feet above pavement. It should have then been dusted with chemicals, nootslime,† and high UV to make sure any Rift radiation or poisonous goo was neutralized. Instead, it zagged drunkenly over the blur,* spewing multicolored flame and spinning as two live undercells tried to cope with one gyro melted and the third cell pouring toxic smoke. The dumb fucks on tower duty even unloaded their rifles at it, probably thinking it was the Return,† the aliens who left the Rift-bubbles all over the surface deciding to revisit and pick up their dropped toys, with the tower guards first in line to be grabbed for experimentation or whatever. The terrified fusillade popped the leav's canopy and gave the fire inside a breath of fresh air.

The resultant explosion shattered every window facing the containment bay. Klaxons were added to alarms and recorded exhortations to wash twice, dust down, wash again. Someone got the yahoos in the towers to quit shooting, but by then it was too late. Any evidence of what had happened inside the blur-wall was well and truly shot to shit, and burned for good measure.

Wreckage that had once been a good solid piece of antigrav equipment drifted on its two remaining cells, turning in majestic, lazy circles and burning merrily. The emergency response team had been playing Three High‡ instead of suiting up as soon as something rippled in the blur and the watching rifters hit the alert, so it took them a good ten minutes to get their lazy asses out there. They foamed the whole thing, and someone got the bright idea of setting out a triangle of dampers. When they were switched on, their flat surfaces coruscating with peculiar static-popping blue stutterlight, the leav thudded down, cracking concrete. It was too heavy, as if it had dragged a squeezer*—what the scientists called a localized gravitational anomaly, isn't that a mouthful—out on its back.

There are squeezers and shimmers,† and the pointy-headed wonders call them the same damn thing, when any idiot could guess you'd need to know which was too much and which was too little. Didn't matter. They kill you just the same. Except there are stories of a rifter surviving a shimmer. You never know.

Anyway, once the foam dripped away, the entire warped chassis of the leav was there, and three shapes glimmered through the smoke. One of them had to be Bosch from the physics department, because one of that corpse's legs was two and a half inches shorter than the other. Another one's pelvis was horribly mangled, but it could have been a woman's.

The obvious conclusion was that it was Ashe and the two scientists, with their accompanying sardies‡—who would have been in the secondary, much smaller leav—dead somewhere in QR-715. The gleaming inside the shattered leav was skeletons, turned into some sort of alloy. It took two weeks of patient work by teams in magsuits to free them from the tangle, and they were carted away to the depths of the Institute. Someone did a hush-hush paper on them—the bones were alloy, where the ligaments were all high-carbon flex with an odd crystalline pattern all over. That was the heaviness—the alloy was impervious to diamond or laserik, and incredibly dense. Whatever had crushed the pelvis of the third skeleton had to have been massive, unless it had been done before the transformation.

By then, though, the rifters had already held a wake at the Tumbledown. Anyone who wasn't a rifter got thrown out after the first round, and the next morning saw not a few still-unconscious freaks on the tables or under them, and even more reeling home. Sabby the Pooka got carted to the butcherblock* for alcohol poisoning. Might as well have medicated him for grief, too, since he and Cabra'd been running with the Rat ever since she rolled into town. There was nothing to bury, science had eaten the bodies, and besides, it's what she would have wanted.

That's how Ashe Rajtnik, Ashe the Rat, who held herself to be the best rifter in the world and was certainly one of the luckiest, died. After that, the higher-ups sent a commission. They discharged all the on-duty rifters, and more orders came down: Nothing went into the Rift, anything that came out was to be shot and contained. Afterward, Kopelund once told Morov he'd almost been canned, too, since he'd played loose with the regs to send in even a small research team, not to mention one with a couple leavs.

And yet, a year later, the motherfucker in charge of the complex perched at the edge of the biggest Rift in the world was looking for someone else to go in after the Cormorant.

PART TWO

PRISON

4

PERMISSION TO LAND

This is Juliet-Oscar niner-three-oh, coming in easterly, requesting permission to land."

With Svinga's cheek mashed against the bubble the world underneath was a green smear, broken by concrete and smokestacks belching, scrubbed but still foul greasy-white. The town had moved up the river once the Event hit, factories thrown up slapdash now sporting the swellings of carbon filters retrofitted on the stacks, haphazard main arteries branching like the footpaths and small surface roads they were built on, the railroad tracks suddenly curving to cross the river here instead of downstream at the better bend.

Some cities had died during the Event. Others, like this one, just leaned away on the second-most-favorable bit of terrain. The slums that had housed refugees were now higher-grade residential districts, unless you counted the fringe along the riverbank itself. Buildings crawled upstream, figuring it was safer than Rift-filtered water. Even if some assholes bottled and sold the latter—or marketed rusty fluid from ancient taps as Riftwater, good for you, capable of curing cancer or impotence.

The city stopped as if sliced. The deadzone was wider than the mandated mile minimum, clipped down to waste grass, any bushes or bramble ruthlessly shorn, tree stumps taken down to the dirt, all under a threadbare scrim of snow and freeze. The old railroad, now simply a rusted spur, dove through on its way to the better river crossing, the one stuck behind shimmering curtains of randomized energy. A straight shot, right for the heart of the Rift. Any patrol in the 'zone would have the same orders: Shoot to kill.

Whether or not they were relaxed about it was something you could only tell when you got near them. Svin spotted two three-
leav groups moving there, bristling with scanners and long penile bankguns.

The leav banked and came in low over the military complex, a reply burbling through the pilot's helmet. Shackles bit Svin's wrists, one of them rubbing against her left ankle, too, and the cut on the bridge of her nose, crack-glazed with dried blood, throbbed.

The beefy Regulation 70* next to her in flexphase perma-plas armor settled her knee more firmly in Svin's back. Just a routine transfer, they'd said.

Only for routine transfers you were chained to a benchseat in a malodorous transport hevvy, with a bunch of assholes yelling all around you and flicking snot at each other.

Even criminals never got over school.

Svin took a deep breath, but slowly, filling her lungs in increments. There, at the very edge of her vision, a shimmering. Light bouncing in weird ways, and the space inside her empty-aching like a pulled tooth.

Were the fuckers really planning on putting her down near a Rift? She didn't shut her grainy, insomnia-hot eyes, didn't even blink, her tongue creeping out to touch the slick, almost-gritty clear plas of the bubble. The cells whined as stabilizers kicked in against a sudden airdrift, and the Reg70* behind her exhaled a breath of onions, fear, and petty dominance. Transport dicks were generally a little more easygoing, but this one had a crucisplice† on her cheek and was probably praying as they glided. Goddamn Yarkers.‡ Satan works inside the Rift, they said, and the only thing they hated more than the tech dragged out past the blur was the rifters themselves. Consorting with the devil and all that.

Of course, the greedy fucks used the tech, just like everyone else. Leavs, sleds, poppers,§ Mata equations,¶ halone,** triphase plasma—the list went on and on, and they used it all.

This Reg70 had generous hips and wide soft shoulders with hard muscle underneath. She might have even been attractive, except for the fear-stink. And the fact that her hand-cannon was stuck in Svinga's back; no doubt a gloved finger was caressing the trigger. Of course, letting a bolt off in here was likely to plunge all three of them groundward in flames, but there wasn't a 70 anywhere without something to prove.