Lost in Me
Lexi Ryan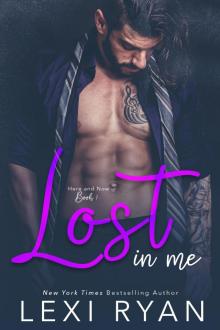 LOST IN ME

Here and Now Series, Book One

by Lexi Ryan

Copyright 2014 Lexi Ryan

Copyright © 2014 by Lexi Ryan

All rights reserved. This copy is intended for the original purchaser of this book. No part of this book may be reproduced, scanned, or distributed in any printed or electronic form without prior written permission from the author except by reviewers who may quote brief excerpts in connection with a review. Please do not participate in or encourage piracy of copyrighted materials in violation of the author's rights. Purchase only authorized editions.

This book is a work of fiction. Any resemblance to institutions or persons, living or dead, is purely coincidental.

Cover © 2014 Sarah Hansen, Okay Creations

Excerpt of First Night © 2014 by Lauren Blakely

Excerpt of One Broke Girl © 2014 by Rhonda Helms

Table of Contents

Dedication

Acknowledgements

About This Book

Prologue

Chapter One

Chapter Two

Chapter Three

Chapter Four

Chapter Five

Chapter Six

Chapter Seven

Chapter Eight

Chapter Nine

Chapter Ten

Chapter Eleven

Chapter Twelve

Chapter Thirteen

Chapter Fourteen

Chapter Fifteen

Chapter Sixteen

Chapter Seventeen

Chapter Eighteen

Chapter Nineteen

Chapter Twenty

Lost In Me Playlist

Other Titles by Lexi Ryan

Excerpts from Lauren Blakely and Rhonda Helms

Contact

Dedication

For Adrienne. Here's to writing dates, laughter, and dreams brought to life.

Acknowledgements

So many people help me bring a book together and this was no exception.

First, my husband, Brian, who never complains when date nights turn into brainstorming sessions and who is more than happy to tell me how he'd react to the drama I throw at my heroes. You, my love, are the real hero. Thanks for being awesome. I might keep you around after all.

To the medical professionals who helped me understand Hanna's condition and hospital protocol. To my sisters, Deb and Kim, and my mom—thank you for fielding my endless questions. Extra thanks to Eileen Dreyer, who didn't know me from Adam but happily answered my emails quizzing her about retrograde amnesia and dozens of what-ifs. These ladies provided me with more information than I could possibly include, steered me clear of plot holes, and inspired plot twists with their knowledge. Any errors are my own.

A huge thank you to my friends and family for being amazing cheerleaders. A special shout out to the "Indy Crew." I miss you guys and am so grateful to have your on-going support, virtual or otherwise. Justin, thanks for taking my plot question phone call while registering for your wedding gifts. That's above and beyond, sir.

To everyone who provided me feedback on this crazy twisty-turny plot—especially Violet Duke, Adrienne Hogan, and Annie Swanberg. Rock stars, all of you.

Thank you to the team that helped me package this book and promote it. Sarah Hansen at Okay Creations designed my beautiful cover, and if I have my way she will do many, many more for me. To my editing team, Rhonda Helms, Mickey Reed, and Arran Nicol, you make my books better. To Chris, my assistant, who keeps me organized against all odds. A massive shout-out to Julie with ATOMR for organizing my promotional events and to all of the bloggers and reviewers who help spread the word about my books. Amazing. Every one of you.

To my agent Dan Mandel and my foreign rights agent Stefanie Diaz for getting my books into the hands of readers all over the world—you're making my dreams come true.

To all my writer friends on Twitter, Facebook, and my various writer loops, thank you for your support and inspiration. Special thanks to the NWB—Sawyer Bennett, Lauren Blakely, Violet Duke, Jessie Evans, Melody Grace, Monica Murphy, and Kendall Ryan—you ladies make me smile on a daily basis!

And last but certainly not least, thank you to my fans all over the world. To those who read Unbreak Me and Wish I May and wrote begging for another New Hope story. To those who follow me on Facebook and tell me to write faster because you can't wait. You're the best fans an author could ask for. I couldn't do this without you and wouldn't want to. Thank you for buying my books and telling your friends about them. Thank you for asking me to write more. You're the best!