Xpd, p.1





XPD, p.1

Len Deighton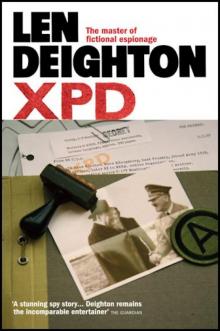 LEN DEIGHTON
XPD
Copyright
Harper
An imprint of HarperCollinsPublishers
77–85 Fulham Palace Road,
Hammersmith, London W6 8JB
www.harpercollins.co.uk
First published in Great Britain by Hutchinson & Co. (Publishers) Ltd 1981
Copyright © Pluriform Publishing Company BV 1981
Introduction copyright © Pluriform Publishing Company BV 2009
Len Deighton asserts the moral right to be identified as the author of this work
Cover design © Arnold Schwartzman 2009
A catalogue record for this book is available from the British Library
This novel is entirely a work of fiction. The names, characters and incidents portrayed in it are the work of the author's imagination. Any resemblance to actual persons, living or dead, events or localities is entirely coincidental.
All rights reserved under International and Pan-American Copyright Conventions. By payment of the required fees, you have been granted the nonexclusive, nontransferable right to access and read the text of this e-book on-screen. No part of this text may be reproduced, transmitted, downloaded, decompiled, reverse engineered, or stored in or introduced into any information storage and retrieval system, in any form or by any means, whether electronic or mechanical, now known or hereinafter invented, without the express written permission of HarperCollins e-books.
HarperCollinsPublishers has made every reasonable effort to ensure that any picture content and written content in this ebook has been included or removed in accordance with the contractual and technological constraints in operation at the time of publication.
Source ISBN: 9780586054475
Ebook Edition © NOVEMBER 2009 ISBN: 9780007347759
Version: 2014–09–10
Epigraph
'The Second World War produced, in the end, one victor, the United States, one hero, Great Britain, one villain, Germany …'
Hitler, by N. Stone
Table of Contents
Cover
Title Page
Copyright
Epigraph
Introduction
Chapter 1
Chapter 2
Chapter 3
Chapter 4
Chapter 5
Chapter 6
Chapter 7
Chapter 8
Chapter 9
Chapter 10
Chapter 11
Chapter 12
Chapter 13
Chapter 14
Chapter 15
Chapter 16
Chapter 17
Chapter 18
Chapter 19
Chapter 20
Chapter 21
Chapter 22
Chapter 23
Chapter 24
Chapter 25
Chapter 26
Chapter 27
Chapter 28
Chapter 29
Chapter 30
Chapter 31
Chapter 32
Chapter 33
Chapter 34
Chapter 35
Chapter 36
Chapter 37
Chapter 38
Chapter 39
Chapter 40
Chapter 41
Chapter 42
Chapter 43
Chapter 44
Chapter 45
Chapter 46
Chapter 47
Chapter 48
Chapter 49
Keep Reading
About the Author
Also by the Author
About the Publisher
Introduction
Adolf Hitler laughed. He threw his head back and his mouth flashed with gold inlays. The onetime manager of Berlin's grandest movie theatre told me that. Hitler was a movie fan and despite having his private theatre he liked to show himself amid Berlin's nightlife. Like many despots, he liked to show the world a human side.
Research (whether for history book, cookery books or fiction) is best sought from eye-witness evidence. Historians depend too readily on documents, and my experience is that paperwork is often manipulated by both official and private sources. Talking to participants and appraising their reliability is a test of the historian's skills. Paperwork is an essential backup for it provides a cross-reference and a context.
Long periods in Austria and Germany – both East and West – enabled me to spend time with many people who had held important positions in the Third Reich. Among them I could count a dozen or more people who had spent time with Hitler face to face. The episodes you will read concerning Hitler's private train, and about the way the German gold reserves were hidden in the Kaiseroda Mine at Merkers are as authentic as I could make them. I was able to compare German and American eye-witness accounts with material from US archives in Washington DC. Most of what I used was declassified in response to my application. It works like this: you have someone with a high security classification seek out the material you need. That researcher goes to the top to ask for declassified status. It's a cumbersome business but it was the only way I could obtain the official documentation about the Kaiseroda Mine, which plays a large part in the story you are about to read.
I have only used professional researchers on rare occasions. Research is the fun side of the writing business; why pay someone else to do it? For the episodes in Los Angeles research was simpler and personal. Bill Jordan, a senior figure in LAPD intelligence department, has always been a universally respected policeman. After fighting his way across the Pacific for the Marine Corps, Bill became a familiar figure to Beverly Hills night people as he patrolled that jurisdiction on his Harley Davidson motor cycle. It was Bill who regularly stopped to talk with a young girl sitting on the sidewalk staring into space or sometimes sobbing. That was Marilyn Monroe and she was not the only local resident to owe Bill a debt of gratitude for his care and consideration. In one of those ironic twists that life provides, it was Bill who was the investigating officer for the Bobby Kennedy assassination.
Bill arranged for me to go out at night with the Los Angeles police cars. It wasn't like the movies and it wasn't like any of the books I had read, but that time spent with the LA police left me with lasting respect and admiration for these decent young Americans who did this dangerous sort of job night after night.
Despite its shortcomings – and I am coming to those – XPD is one of my favourite books. It was also one of the most successful books I'd written up to that time. And behind the scenes it was one of the most fiercely criticized books too. Not long after publication, a member of the Churchill family wrote a letter of complaint to the publisher. And that wasn't all: the advertising poster alone – a photo of Hitler shaking hands with Winston Churchill – was enough to have one of the most amusing and energetic members of House of Lords withdraw all copies of XPD from the hundreds of bookshops he controlled. There were cries of censorship and the order was reversed.
The furore caught me completely by surprise. I was in California and I found myself accused of planning a cunning advertising stunt from afar. I did not know whether to be flattered or insulted. I had always been a devout admirer of our wartime prime minister and I remain so. In any case it seemed a sad reflection on our times that these displays of frantic, if not to say antic, indignation were prompted by a story about Churchill attempting to negotiate peace. Could it really be defamatory to say that someone had tried to avoid the chronic misery and tens of millions of deaths of that terrible war?
In fact it was not the plot of XPD that caused the fuss. Hitler and Churchill had been subjected to many worse fates at the hands of 'faction' writers. The critics of XPD agreed on one point only; that my story was convincing. It was, they said angrily, written in such a way that readers
would believe it. Did they want me to write a story that no one could believe?
This was the first spy story I'd written without the first-person narrative that had set Harry Palmer's style in The IPCRESS File. In XPD I employed what I believe is called a 'cosmic' framework but which nowadays some writers call the 'omniscient' style. This is a no-holds-barred device; you can be an authorial nobody or inside everyone's head, you can move across the world without warning, delve far into the past and even address your reader with personal advice (don't be scared; I don't do that). In a first-person story, your hero is on every page whether you want him there or not. Cosmic formats diminish the importance of the central character. Perhaps I did not give him enough tender loving care, for Boyd Stuart is not an endearing hero. This may not have mattered except that I became more and more concerned with the character of Charles Stein.
I grew to like Charles Stein and he wrestled the book away from me. I have always avoided creating unredeemed villains. It's better, I feel, and more human, to show the best side of the worst characters. Some years before, I had written Declarations of War, a book of war stories in which I polished men of lesser attraction and made them shine. It is a dangerous device but now I found myself doing exactly the same thing with the character of Charles Stein. Eventually it became the Charles Stein book and, looking back on it now, it is how I think of it, and that is why I like it. Hitler and Churchill have only walk-on parts. It is better that way.
Len Deighton, 2009
Chapter 1
In May 1979, only days after Britain's new Conservative government came to power, the yellow box that contains the daily report from MI6 to the Prime Minister was delivered to her by a deputy secretary in the Cabinet Office. He was the PM's liaison with the intelligence services.
Although the contents of the yellow boxes are never graded into secret, top secret and so on – because all MI6 documents are in the ultra secret category – one rather hastily handwritten report was 'flagged'. The PM noted with some surprise that it was the handwriting of Sir Sydney Ryden, the director general of MI6, and selected that document for immediate attention. Attached to the corner of it there was an advertisement, clipped from a film journal published in California the previous week.
A film producer, unlisted in any of the department's reference books, announced that he was preparing what the advert described as 'A major motion picture with a budget of fifteen million plus!' It was a Second World War story about plundering German gold in the final days of the fighting. The cutting bore the rubber stamp of 'Desk 32 Research' and was signed by the clerk who had found it. 'What is the final secret of the Kaiseroda mine?' asked the advertisement. Kaiseroda had been underlined in red pencil to show the word which had alerted the Secret Intelligence Service clerk to the advert's possible importance.
Normally the space the blue rubber-stamp mark provided for reference would have been filled with a file number but, to his considerable surprise, the research clerk had been referred to no file under the Kaiseroda reference. Instead the Kaiseroda card was marked, 'To director general only. IMMEDIATE.'
The Prime Minister read carefully through Sir Sydney Ryden's note, baffled more than once by the handwriting. Then she picked up the telephone and changed her day's appointments to make a time to see him.
The elderly police constable on duty that afternoon inside the entrance lobby of 10 Downing Street recognized that the man accompanying Sir Sydney was the senior archivist from the Foreign Office documents centre. He was puzzled that he should be here at a time when the PM was so busy settling in but he soon forgot about it. During the installation of a newly elected government there are many such surprises.
The Foreign Office archivist did not attend the meeting between the PM and Sir Sydney, but remained downstairs in the waiting room in case he was required. In the event, he was not.
This was the new Prime Minister's first official meeting with the chief of the espionage service. She found him uncommonly difficult to talk to: he was distant in manner and overpowering in appearance, a tall man with overlong hair and bushy eyebrows. At the end of the briefing she stood up to indicate that the meeting must end, but Sir Sydney seemed in no hurry to depart. 'I'm quite certain that there is no truth in these terrible allegations, Prime Minister,' he said.
He wondered if madam would be a more suitable form of address or perhaps ma'am, as one called the Queen. She looked at him hard and he shifted uncomfortably. Sir Sydney was not an addicted smoker, in the way that his predecessor had been, but now he found the new Prime Minister's strictures about smoking something of a strain, and longed for a cigarette. In the old days, with Callaghan and before him Wilson, these rooms had seldom been without clouds of tobacco smoke.
'We'll discover that,' said the Prime Minister curtly.
'I'll get one of my people out to California within twenty-four hours.'
'You'll not inform the Americans?'
'It would not be wise, Prime Minister.' He pressed a hand against his ear and flicked back errant strands of his long hair.
'I quite agree,' she said. She picked up the newspaper cutting again. 'For the time being all we need is a straight, simple answer from this film producer man.'
'That might be rather a difficult task, if my experience of Hollywood film producers is anything to go by.'
The PM looked up from the cutting to see if Sir Sydney was making a joke to which she should respond. She decided not to smile. Sir Sydney did not appear to be a man much given to jesting.
Chapter 2
The exact details of the way in which the Soviet Union's intelligence services were alerted to the activities which had so troubled Britain's Prime Minister is more difficult to piece together. Soviet involvement had begun many weeks earlier and certainly it was the reason behind a long two-part radio message beamed in the early evening of Easter Sunday, 15 April 1979, to the USSR embassy main building on the east side of 16th Street, Washington DC. This unexpected radio transmission required the services of the senior Russian cipher clerk who was enjoying an Easter dinner with Russian friends in a private room at the Pier 7 restaurant on Maine Avenue waterfront near the Capital Yacht Club. He was collected from there by an embassy car.
Intercepted by the National Security Agency, and decoded by its ATLAS computer at Fort George Meade, Maryland, that Sunday evening radio traffic provided the first recorded use of the code name that Moscow had given this operation – Task Pogoni. The written instructions issued in 1962 by the GRU, and later given to the KGB and armed forces, order that the choice of such code names must be such that they do not reveal either the assignment or the government's intention or attitude, and add a supplementary warning that the code names must not be trivial or of such grandeur that they would attract ridicule should the operation go wrong. And yet, as the NSA translators pointed out in their 'pink flimsy' supplementary, Moscow's choice of code word was revealing.
Literally pogoni means epaulette, but for a citizen of the USSR its implications go deeper than that. Not only can it be used to mean a senior personage or 'top brass'; it is a symbol of the hated reactionary. 'Smert zolotopogonnikam!' cried the revolutionaries, 'Death to the men who wear gold epaulettes!' And yet the possible overtones in this choice of the KGB code name can be taken further than that; for nowadays the senior Russian military men who control one of the USSR's rival intelligence organizations (the GRU) again wear gold epaulettes.
How Yuriy Grechko interpreted the code name assigned to this new operation is not recorded. Grechko – a senior KGB officer – was at the time the USSR's 'legal resident'. Using diplomatic cover, it was his job to keep himself, and Moscow, informed on all Soviet espionage activities in the USA. In seniority Grechko ranked a close second to the ambassador himself, and he was there solely to keep all the covert operations and 'dirty tricks' entirely separated from official diplomati
c business. This made it easier for the ambassador to deny all knowledge of such activities when they were detected by the US authorities.
Grechko was shown in the diplomatic listings as a naval captain third rank, working in the capacity of assistant naval attaché. He was a short man with dry curly hair, blue shiny eyes and a large mouth. His only memorable feature was a gold front tooth which was revealed whenever he smiled. But Grechko did not smile frequently enough for this to compromise his clandestine operations. Grechko was a man who exemplified the Russians' infinite capacity for melancholy.
It was difficult to reconcile Grechko's diplomatic listing with his appearance and life-style. His expensive handmade suits, his gold watch, pearl tie-pin, the roll of paper money in his hip pocket, the availability of sports cars and his casual working day all suggested to those men in Washington who are employed to study such details that Grechko was a KGB man, but at this date it was not realized that he was the 'legal' – the senior espionage administrator in the embassy.
Since Grechko's movements were restricted, he summoned his senior secret agent to Washington. It was contrary to the normal procedures, but his radioed instructions had stressed the urgency of his task. Grechko therefore took a trip that morning to the Botanic Gardens on the other side of the Anacostia River. He took his time and made quite sure that he was not being followed when he returned downtown to keep his appointment at the prestigious Hay-Adams Hotel which commands a view across Lafayette Square to the White House.
Mr and Mrs Edward Parker met Grechko at the 16th Street entrance to the hotel where Grechko had booked a table in the name of Green. Edward Parker was a thick-set, bear-like man, with Slavic features: a squarish jaw, wavy grey hair fast becoming white, and bushy eyebrows. He towered over his Japanese wife and Grechko, whose hand he shook with smiling determination. Parker, prepared for Chicago weather, was wearing a heavy tweed overcoat, although Washington that day had temperatures in the high fifties with some sunshine.