Long Way Home
Katie McGarry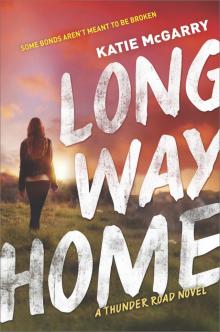 Seventeen-year-old Violet has always been expected to sit back and let the boys do all the saving

It's the code her father, a member of the Reign of Terror motorcycle club, raised her to live by. Yet when her dad is killed carrying out Terror business, Violet knows it's up to her to do the saving. To protect herself, and her vulnerable younger brother, she needs to cut all ties with the club—including Chevy, the boy she's known and loved her whole life.

But when a rival club comes after Violet, exposing old secrets and making new threats, she's forced to question what she thought she knew about her father and the Reign of Terror and what she thinks she wants. Which means reevaluating everything: love, family, friends...and forgiveness.

Caught in the crosshairs between loyalty and freedom, Violet must decide whether old friends can be trusted—and if she's strong enough to be the one person to save them all.

Also available from

Katie McGarry

and Harlequin TEEN

The Thunder Road series

Nowhere but Here

Walk the Edge

Long Way Home

The Pushing the Limits series

Pushing the Limits

Crossing the Line (ebook novella)

Dare You To

Crash into You

Take Me On

Breaking the Rules (ebook exclusive)

Chasing Impossible (ebook exclusive)

Other must-reads

Red at Night (A More Than Words ebook novella)

Look for the next novel from Katie McGarry!

Chevy whispered, "Do you trust me?"

Of course I did. Trusted him to be the first boy to hold my hand. Trusted him to be the first boy I kissed. Did I trust him with my life?

Chevy sits with me in the backseat. Our legs are pressed tight together and he hooks one of his fingers with mine. He slides his finger up and down in a reassuring caress. Not too fast, not too slow. It's like a heartbeat.

A promise.

We're going home.

He's here with me.

It's going to be okay.

I want to believe him, but I'm not sure if I can...

Praise and Awards for Katie McGarry

"[A] star-crossed love story."

—Booklist on Walk the Edge

"A thrilling escape."

—School Library Journal on Nowhere but Here

"Everything—setting, characters, romance—about this novel works and works well."

—Kirkus Reviews on Dare You To (starred review)

"A riveting and emotional ride!"

—Simone Elkeles, New York Times bestselling author of the Perfect Chemistry series, on Pushing the Limits

"An intoxicating and unforgettable story that kept me glued to the page."

—Kami Garcia, #1 New York Times bestselling author, on Walk the Edge

Summer Kids' Indie Next List Pick

YALSA Teens' Top Ten

Goodreads Choice Award Finalist

Katie McGarry was a teenager during the age of grunge and boy bands and remembers those years as the best and worst of her life. She is a lover of music, happy endings and reality television, and is a secret University of Kentucky basketball fan. She is also the author of Pushing the Limits, Dare You To, Crash into You, Take Me On, Breaking the Rules, Chasing Impossible, Nowhere but Here, Walk the Edge, and the novellas Crossing the Line and Red at Night.

Katie would love to hear from her readers. Contact her via her website, katielmcgarry.com, follow her on Twitter, @katiemcgarry, or become a fan on Facebook and Goodreads.

Contents

Chapter One: Chevy

Chapter Two: Violet

Chapter Three: Chevy

Chapter Four: Violet

Chapter Five: Chevy

Chapter Six: Violet

Chapter Seven: Chevy

Chapter Eight: Violet

Chapter Nine: Chevy

Chapter Ten: Violet

Chapter Eleven: Chevy

Chapter Twelve: Violet

Chapter Thirteen: Chevy

Chapter Fourteen: Violet

Chapter Fifteen: Chevy

Chapter Sixteen: Violet

Chapter Seventeen: Chevy

Chapter Eighteen: Violet

Chapter Nineteen: Chevy

Chapter Twenty: Violet

Chapter Twenty-One: Chevy

Chapter Twenty-Two: Violet

Chapter Twenty-Three: Chevy

Chapter Twenty-Four: Violet

Chapter Twenty-Five: Chevy

Chapter Twenty-Six: Violet

Chapter Twenty-Seven: Chevy

Chapter Twenty-Eight: Violet

Chapter Twenty-Nine: Chevy

Chapter Thirty: Violet

Chapter Thirty-One: Chevy

Chapter Thirty-Two: Violet

Chapter Thirty-Three: Chevy

Chapter Thirty-Four: Violet

Chapter Thirty-Five: Chevy

Chapter Thirty-Six: Violet

Chapter Thirty-Seven: Chevy

Chapter Thirty-Eight: Violet

Chapter Thirty-Nine: Chevy

Chapter Forty: Violet

Chapter Forty-One: Chevy

Chapter Forty-Two: Violet

Chapter Forty-Three: Chevy

Chapter Forty-Four: Violet

Chapter Forty-Five: Chevy

Chapter Forty-Six: Violet

Chapter Forty-Seven: Chevy

Chapter Forty-Eight: Violet

Chapter Forty-Nine: Chevy

Chapter Fifty: Violet

Chapter Fifty-One: Chevy

Chapter Fifty-Two: Violet

Chapter Fifty-Three: Chevy

Chapter Fifty-Four: Violet

Acknowledgments

Playlist for Long Way Home

CHEVY

THE INSTRUCTIONS OF the English homework I didn't do hang out from the top of my folder: Two roads diverged in a yellow wood, And sorry I could not travel both.

Story of my life.

According to my football coach, I chose wrongly on the two crap paths I had to face last week. I just ran into Coach on the way to English, and he ripped into me for my sorry decision-making skills when it came to me choosing to stand up for the Reign of Terror Motorcycle Club instead of a member of my football team.

I didn't just get my ass chewed out, his tirade made me late for English with no tardy note. Which is great, since my English teacher hates late students like I hate riding my motorcycle in forty-degree weather while it rains.

I round the corner, then peek through the small window in the door of my class. Ms. Whitlock stands in front of her desk in her patented white button-down shirt, gray pencil skirt and dark-rimmed glasses. From the back row, my best friend Razor meets my eyes and shakes his head. Damn. That means she's in one of her moods where she's refusing to let anyone in.

I'm not a tail-tucked-between-my-legs type of guy, but this lady is one of the few who can reduce me to begging. If she doesn't let me in, then she'll mark me as absent, the front office will think I skipped, and that means I won't be able to play at tonight's football game.

The window rattles when I knock. The entire class turns their heads in my direction, but Ms. Whitlock doesn't. The muscles in my neck tighten. She is one of the hardest core people I know and my
grandfather is the president of a motorcycle club. That says something.

She starts for the whiteboard and I knock on the door again. This time Ms. Whitlock does look my way and she grants me the type of glare reserved for people who kick puppies. I got it. I'm late. I'm the scum of humanity, so let my ass in so I can play football.

There's this guy in my club, Pigpen. He's about the same age as Ms. Whitlock, late twenties, and he's a walking hard-on for this woman even though she would never give him the time of day. He practically runs into walls when she's around because he's too focused on checking her out. I don't see gorgeous—all I see is seriously pissed off and the person standing between me and playing.

Ms. Whitlock points at the clock over her desk. She's telling me I can wait. If I'm lucky, she'll open the door after the quiz that I'll receive a zero on. If I'm not so lucky, she won't open the door at all.

Two pathetic paths and I could only travel one. Nowhere in that stupid poem did it mention there was good and bad to both paths and that sometimes it's best not to choose, but to set up camp at the fork and do nothing at all.

I slam my hand into the nearest locker, almost relishing the sting.

"Feel better?"

A glance across the hallway and I freeze. Doesn't matter how many times I see her in a day, she still manages to take my breath away. Violet leans against the lockers as beautiful as ever. Red silky hair flowing over her shoulders, a pair of ripped jeans that look like they were tailored for her curves and enough bracelets around her wrists that they clank together when she moves.

Do I feel better? Not really, but I nod anyway as I try to judge if being alone with Violet causes more pain than having my balls ripped off. "Didn't hurt."

"Yes, I can see how slamming your hand against a locker didn't hurt at all."

My lips tilt up because she got me, and on top of that, Violet made a joke. Since she broke up with me last spring, things between us have been tense. On her side and on mine. Some people, like me and Violet, aren't supposed to break up. Some people, like me and Violet, don't know how to be near each other when we do part ways. "Are we talking now?"

"I'm locked out of class. You're locked out of class. I could ignore you if that's what you want."

It's not. Her ignoring me is never what I wanted. "Why are you late?"

Violet presses her lips together and looks away. A sixth sense within me stirs. Something's wrong. I've known her my entire life. We were born only a few weeks apart and we learned to crawl on the sticky floor of the Reign of Terror clubhouse. We were friends, always friends, until one day, we weren't just friends anymore. We became more until we lost it all.

"Late's not your thing," I say. Violet's unconventional. Marches to her own drummer, but she's not the type to be late to class. It's a respect thing for her, something her dad taught her, and Violet may never listen to another living soul, but she listened to her father. "What's going on?"

She's silent and frustration rumbles through me. Violet used to tell me everything. Used to see me as someone who could help solve her problems. She doesn't see me like that anymore and it pisses me off. I'm angry at her for making us this way. Angry at myself for not figuring out how to fix us.

"You being late wouldn't have anything to do with Stone, would it?" Stone's her brother and the question's a shot in the dark, but I don't want to miss the chance to keep conversation with her going.

"Why are you late?" she replies as a nonanswer, and my head snaps up. Guess sometimes blind shots do hit their mark. Violet was late because of Stone.

"What happened?" I push.

"I'm not talking about it."

"Vi—"

She cuts me off. "I told you how to help me and my brother six months ago and you told me no."

By running away? No again to that insane solution.

"Tell me why you're late," she says. "If you don't, then you need to stop talking, because the last thing either of us needs right now beyond missing a quiz or possibly being marked as absent is detention for getting into a shouting match. At least it's the last thing I need, okay?"

I back up to the lockers across from her and lightly hit my head against the metal. Yeah, I don't want to talk about why I'm late either. I shove a hand into my pocket and try to think of a change in subject. Telling Violet I'm late because my football coach tore into me for hitting a guy who was causing problems for the Terror, a guy who had been causing problems for her, won't help me and Violet stay civil. She's mad at the club, which makes her mad at me.

Violet's watching me, and her expression is a lot like someone trying to figure out a word problem for math. Unfortunately, she knows me as well as I know her.

"Being late is going to cost you, isn't it?" she asks. "You can't play tonight if she marks you absent, can you?"

I meet her blue eyes, and my chest hurts at the sympathy I find there. I'd willingly miss tonight's game if I could rewind back to a time where I could talk to Violet with ease and that's not the type of trade I'd normally make.

Football is my life. So is the motorcycle club. The Reign of Terror are my family—the blood kind and the bonds of brotherhood kind. I don't know who I am without the Terror, but to be honest, I don't know who I am without football either.

Lately, I've been torn between the two, just like that poem, and everyone in my life has chosen a side. Violet used to be the person I could talk to, but then she walked.

Six months ago, Violet asked me to run away with her. She was driven by grief, driven by something she wouldn't tell me about. When I told her no, that we needed to stay home, to be near our family, to be near the club, Violet returned the next night and announced I was choosing the club over her and that we were done.

Being a running back, I've taken more than my fair share of hits over the years, but I've never been as blindsided as I was that night. Never experienced the type of pain her leaving me created.

The door to the classroom opens and a sense of relief washes over me. I'll have to bust my ass to bring up my grade thanks to that zero on the quiz, but at least I'll be able to play tonight.

Ms. Whitlock steps out and sizes me up, then Violet. "I'm only letting you in if you have a note, otherwise you can head to the office and hope they give you one."

Screw me. There's no way I'll make it to the office, get a note and return in time. Right as I'm about to kick the hell out of the locker, Violet glides past me and hands in her note. "This is Chevy's."

My head whips in her direction. "It's what?"

"Yours." Violet meets my eyes. "Thanks for offering it to me, but it's not right for me to take it. I'm the one who didn't have a note, and I'm the one who needs to make it right."

She begins walking backward, and my short-circuited brain sparks back to life. I can't let her do this. "Violet—"

"Have a good game tonight," she says, then disappears down the stairs.

"Are you joining us, Mr. McKinley, or not?" Ms. Whitlock demands. Never met a person I hate as much as this lady and it takes everything I have to force one foot in front of the other.

Everyone watches me as I stalk down the aisle, then drop into the last seat in the row, the one next to Razor. He's calm, cool, blond hair, blue eyes, and he's watching me like an owl who's considering whether it wants that unsuspecting mouse for a snack now or later.

Ms. Whitlock is lost in her own world as she continues babbling about poem interpretations and people who died too long ago. I can do little more than open my folder and stare at the top of my homework.

"Chevy," Razor whispers, and I glance over at him. He points to the paper o
n his desk and in his messy handwriting is You okay?

Yes, because I get to play football tonight. No, because Violet sacrificed herself for it to happen. Hell no, because the world's messed up and I don't know how to fix it. Worse no, because I don't know if I should read more into what Violet did—if it means somewhere deep inside she still thinks we have a chance.

I shake my head, Razor nods and the two of us stare at the whiteboard. Two roads. One path. Can't take both. The guy who wrote it acts like the choice should be easy. It's not. And he also didn't mention what happens when people like Violet shove you onto a path regardless of your thoughts.

"So how many of you liked the poem?" Ms. Whitlock asks.

The entire class raises their hands. Almost everyone, except for me and Razor.

Violet

QUICK—WHAT DO YOU get when a dentist marries a seamstress?

Don't know?

Answer: A badass man who joins a motorcycle club.

Don't get it?

It's okay, neither do I.

I'm completely lost as to why my father joined a motorcycle club. He wasn't born into the lifestyle like so many members are. My grandparents were as middle class as they come. My grandfather was a dentist with a struggling practice and my grandmother was a dressmaker.

They got married and had my dad and he lived a very normal, boring life. Even grew up in a modest two-story house with a finished basement, white picket fence, MTV playing on the Zenith, and chalk drawings on the sidewalks.

As Dad got older, he played football, dated the cheerleader (my mom) and landed a partial scholarship to college. He went on to become an accountant. Happy middle class—that was my dad. Joining an MC didn't make sense, but he did join and because of that decision he died.

As I watch the others standing in line laughing and chatting with their happy middle-class families, all I keep thinking is, that could have been me. I could have been the girl in the fuzzy blue sweater giggling with her jeans-on-dress-down-Friday-wearing father.

But it's not me, and I doubt I'll ever understand why.