Mistress of Mourning
Karen Harper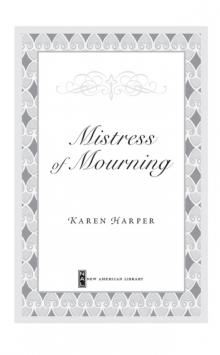 PRAISE FOR THE NOVELS

OF KAREN HARPER

Mistress of Mourning

"The grief of a sister and mother who also happens to be queen of England combines with the fire and spirit of a lovely waxworker in Karen Harper's riveting tale of just what might have happened to the princes in the tower and to the first Tudor crown prince."

—Karleen Koen, New York Times bestselling author of Through a Glass Darkly and Before Versailles

"Beloved author Karen Harper brings Elizabeth of York to vivid life in Mistress of Mourning. Through the eyes of charming and adventurous wax chandler Varina Westcott, the tumultuous era of the newborn Tudor dynasty is depicted as it surely was—a time rife with danger, passion, and murder. The exciting story and its appealing heroine kept me reading late into the night with sheer enjoyment."

—Sandra Worth, author of Pale Rose of England and The King's Daughter

"Much like her endearing chandler heroine, Varina, Karen Harper warmly illuminates a little-explored craft and two persistent royal mysteries, skillfully melding the hearts and lives of the high- and lowborn. Mistress of Mourning delivers adventure, romance, and surprise; a fresh cache of treasure for devoted Tudorphiles, the book is also certain to enchant readers new to the era's charms."

—Sandra Byrd, author of To Die For: A Novel of Anne Boleyn

The Queen's Governess

Selected as a "Recommended Read"

by the Los Angeles Times

"Harper's diligent research, realistic portrayal, and insider-outsider heroine will hook those who can't get enough of England's turbulent history. Still, bestseller Harper maintains her focus on the roles of women—both powerful and powerless—in Tudor England, resulting in another enjoyable protofeminist historical romp."

—Publishers Weekly

"A lively and historically grounded reimagining of two Tudor survivors."

—Kirkus Reviews

"Well-paced and full of pitch-perfect detail…as good as the best of Philippa Gregory…sure to be a big hit with historical fiction fans and book clubs."

—Library Journal

"Ms. Harper, who has written extensively on the Elizabethan era, creates a world that is thoroughly engaging and fully believable. She knows her characters well and sketches the political intrigues of the Tudor court with a sure hand…a classic of Tudor-era historical fiction."

—Writing the Renaissance

The Irish Princess

"Karen Harper writes with wit and elegance, offering her deep knowledge of Tudor and Irish history while madly entertaining us along the way. The Irish Princess is an amazing novel full of love and conflict, and it kept me up all night."

—Luanne Rice, author of The Silver Boat

"A writer named Harper should have the bardic touch, the storytelling gift. Karen Harper does. Told by a member of the flamboyant Fitzgerald family, The Irish Princess is an intricate web of politics and passion. From the first page, the reader is immersed in the dangerous atmosphere of Tudor England—as seen through Irish eyes. We are invited to feel history. What more can a bard do?"

—Morgan Llywelyn, author of Lion of Ireland, The Irish Century, and Brendan

"A vivid and satisfying read."

—Elizabeth Loupas, author of The Flower Reader

"Vivid and suspenseful…[an] enormously entertaining story peopled with all the famous Tudors seen through Irish eyes. A great read."

—Jeane Westin, author of The Virgin's Daughters and His Last Letter

Mistress Shakespeare

Chosen for the 2011 Choose to Read Ohio Program

"This intoxicating, fictionalized memoir of Shakespeare in love is a romantic roller coaster rich with vivid details reminiscent of Romeo and Juliet."

—Women's Day

"The narrative abounds with genuine period details, witty dialogue, and intertwined references to Shakespeare's works.…Anne and Will's tale is engagingly told."

—The Historical Novels Review

"A fun romp through Elizabethan England with Shakespeare's mysterious muse."

—Lauren Willig, author of The Orchid Affair

"So vivid and authentic—a totally satisfying re-creation of one of the great Shakespeare mysteries. I couldn't put it down!"

—Rosalind Miles, author of the Guenevere Trilogy

"Karen Harper has written a riveting tale of intrigue and passion that plunges the reader straight into the complex heart of Elizabethan England. Rich with detail and drama, Mistress Shakespeare is a story Shakespearean fans will love."

—Deanna Raybourn, author of The Dead Travel Fast

"Karen Harper returns to the world of Elizabethan England in one of the most exquisite novels I have read in a very long time. Considered merely a footnote in Shakespeare's life, Anne Whateley now takes her place at center stage in a story which will have readers wishing there were many more acts to come. Do yourself a favor and don't miss this book."

—Michelle Moran, author of Cleopatra's Daughter

"Harper…knows her period well, and it shows…in sure handling of the details of politics, theater, and daily life.…Anne is an appealing and spirited heroine, and her tale will be enjoyed by historical fiction fans."

—Booklist

"The novel's chief pleasures derive from the easy intersection of Shakespeare's work, the history of Elizabethan England, and the life that the author imagines Shakespeare might have had.…The Bard's language infuses the story with life."

—Publishers Weekly

ALSO BY KAREN HARPER

The Queen's Governess

The Irish Princess

Mistress Shakespeare

The First Princess of Wales

The Last Boleyn

THE QUEEN ELIZABETH I MYSTERY SERIES

The Hooded Hawke

The Fatal Fashione

The Fyre Mirror

The Queene's Christmas

The Thorne Maze

The Queene's Cure

The Twylight Tower

The Tidal Poole

The Poyson Garden

Mistress

of Mourning

KAREN HARPER

New American Library

Published by New American Library,

a division of Penguin Group (USA) Inc.,

375 Hudson Street, New York, New York 10014, USA

Penguin Group (Canada), 90 Eglinton Avenue East, Suite 700, Toronto,

Ontario M4P 2Y3, Canada (a division of Pearson Penguin Canada Inc.)

Penguin Books Ltd., 80 Strand, London WC2R 0RL, England

Penguin Ireland, 25 St. Stephen's Green, Dublin 2,

Ireland (a division of Penguin Books Ltd.)

Penguin Group (Australia), 250 Camberwell Road, Camberwell,

Victoria 3124, Australia (a division of Pearson Australia Group Pty. Ltd.)

Penguin Books India Pvt. Ltd., 11 Community Centre,

Panchsheel Park, New Delhi - 110 017, India

Penguin Group (NZ), 67 Apollo Drive, Rosedale, Auckland 0632,

New Zealand (a division of Pearson New Zealand Ltd.)

Penguin Books (South Africa) (Pty.) Ltd., 24 Sturdee Avenue,

Rosebank, Johannesburg 2196, South Africa

Penguin Books Ltd., Registered Offices:

80 Strand, London WC2R 0RL, England

First published by New American Library,

a division of Penguin Group (USA) Inc.

First Printing, July 2012

1 3 5 7 9 10 8 6 4 2

Copyright © Karen Harper, 2012

Readers Guide copyright © Penguin Group (USA) Inc., 2012

A
ll rights reserved. No part of this book may be reproduced, scanned, or distributed in any printed or electronic form without permission. Please do not participate in or encourage piracy of copyrighted materials in violation of the author's rights. Purchase only authorized editions.

REGISTERED TRADEMARK—MARCA REGISTRADA

LIBRARY OF CONGRESS CATALOGING-IN-PUBLICATION DATA:

Harper, Karen (Karen S.)

Mistress of mourning / Karen Harper.

p. cm.

ISBN: 978-1-101-58698-3

1. Great Britain—History—Henry VII, 1485–1509—Fiction. 2. Grief—Fiction.

3. Candlemaking—Fiction. 4. Conspiracies—England—History—16th century.

5. Elizabeth, Queen, consort of Henry VII, King of England, 1465–1503—Fiction. I. Title.

PS3558.A624792M56 2012

813'.54—dc23 2011053251

Set in Adobe Caslon • Designed by Elke Sigal

Printed in the United States of America

PUBLISHER'S NOTE

This is a work of fiction. Names, characters, places, and incidents either are the product of the author's imagination or are used fictitiously, and any resemblance to actual persons, living or dead, business establishments, events, or locales is entirely coincidental.

The publisher does not have any control over and does not assume any responsibility for author or third-party Web sites or their content.

ALWAYS LEARNING

PEARSON

For Don—

Thanks for your companionship on all the trips

to England and for putting up with the

endless manor houses, castles, and museums.

IMPORTANT EVENTS BEFORE THE STORY BEGINS

August 1483 Disappearance of the princes from the Tower, Edward V, and his younger brother, Richard of York.

August 22, 1485 Battle of Bosworth Field. Henry Tudor defeats King Richard III after lengthy civil war. Viscount Francis Lovell flees the battlefield and goes to sanctuary at St. John's Abbey in Colchester. His lands are confiscated.

October 20, 1485 Coronation of Henry VII

Jan. 18, 1486 King Henry weds Elizabeth of York

Sept. 19, 1486 Birth of Prince Arthur

1486 Lord Lovell, age thirty-two, escapes from Colchester Abbey and leads revolt against Henry VII. Defeated, Lovell escapes to Europe.

1487 Lovell travels to Ireland to meet with others hoping to topple King Henry with Lambert Simnel plot.

June 16, 1487 Lovell is defeated in Battle of Stoke and disappears.

Nov. 29, 1489 Princess Margaret Tudor born

June 28, 1491 Prince Henry Tudor born (later King Henry VIII)

1492 Princess Elizabeth Tudor born

1495 Death of Princess Elizabeth

March, 1496 Princess Mary Tudor born

Feb. 2, 1499 Prince Edmund Tudor born

June 19, 1500 Death of Prince Edmund Tudor

Mistress of Mourning

Table of Contents

Part I

Chapter the First

Chapter the Second

Chapter the Third

Chapter the Fourth

Chapter the Fifth

Chapter the Sixth

Chapter the Seventh

Chapter the Eighth

Chapter the Ninth

Chapter the Tenth

Part II

Chapter the Eleventh

Chapter the Twelfth

Chapter the Thirteenth

Chapter the Fourteenth

Chapter the Fifteenth

Chapter the Sixteenth

Chapter the Seventeenth

Chapter the Eighteenth

Chapter the Nineteenth

Part III

Chapter the Twentieth

Chapter the Twenty-first

Chapter the Twenty-second

Chapter the Twenty-third

Chapter the Twenty-fourth

Chapter the Twenty-fifth

Chapter the Twenty-sixth

Author's Note

About the Author

The Irish Princess

PART I

"She perceives that her merchandise is good,

And her candle goes not out by night."

—PROVERBS 31:18

"Alas! When sleeping time is, then I wake;

When I should dance, for fear, lo, then I quake;

This heavy life I lead for your sake,

Though you thereof in no wise heed take."

—"A COMPLAINT TO HIS LADY,"

GEOFFREY CHAUCER

CHAPTER THE FIRST

LONDON

October 20, 1501

"Just think on it—us making candles for the royal wedding," my brother-in-law, Gil, called to me from the door of the wax workshop.

"Us and six other chandleries," I reminded him as I sat behind our shop's counter, which was cluttered with stacks of candles. "Four hundred tapers for the thanksgiving service, the mass and wedding banquet. I'm so excited that the marriage itself will be out on a public platform for all to see. I do so adore weddings, especially when I've seen so many funerals."

Gil shuffled all the way into the shop, which fronted the street and which I oversaw. He was a short man but with a powerful upper torso from hefting metal molds and bales of woven wick from the days when he had his own small shop out by Wimbledon. I think his far better position in "fancy London," as he always called it, went to his head, though he had not yet been admitted to the Worshipful Guild of Wax Chandlers. It was one of my goals for him, since women could not belong and my deceased husband had been so prominent in the guild. Gil did a fine job for me here: Our four apprentices jumped when his piercing voice ordered them to tasks he once had to do himself.

I myself had jolted at his voice and stabbed the wing feathers I'd been carving on a wax angel. I would have to smooth it over. It was entirely possible to correct mistakes in wax, at least. Dear heaven, how I rued the ones I'd made in life. Why, if I hadn't been so careless, perhaps my dear Edmund might still be among the living.

I slowly slid the half-carved candle under the counter so Gil would not see that this angel, like the others I'd carved, had my dead son's face again. Maud and Gil thought I was weak for mourning him so deeply, but they'd never had or lost a child. It was my sister's cross to bear that she longed desperately for one, but Maud had never conceived.

"The 'prentices were talking 'bout seeing the Spanish princess enter London," Gil said, wiping his hands on his waxy apron. "So, by the by, you going to walk our own Arthur home from school or want me to? I thought Christopher'd be calling on you again afore we close up, and I know you want someone waiting for the lad the moment he comes out the door."

I was, as usual, tempted to go myself to greet and accompany my boy home, though most of the lads walked by themselves. But Gil was right about my possible visitor. Like many a widow with a prosperous shop, I had been courted by several men, and Christopher Gage, an officer in the Worshipful Guild of Wax Chandlers, had emerged as the most determined. I was in no rush to wed again after a year alone. Though there would be much profit in our shop's assets being merged with his, I wished he would do more to make my son Arthur like him. Such a union with another chandler had helped me once, when I wed after my family died, but then, as ever in a merchant's marriage, it brought my money and skills to the Westcott Chandlery too. That had been my dowry to my husband, Will, and my dower from him was this fine house and larger shop—and most of all, a kindly husband who gave me my two sons, though one of them was lost to me now.

In truth, I was not prepared to deal with Christopher again, so I was about to say that I would walk to fetch Arthur. Then, through the shop window—panes of real glass, I thought proudly, not just thin horn—I saw a fine ebony stallion ridden to a stop just before our door. No, two fine horses. A well-attired couple dismounted, and the man, tall and broad shouldered, gave a street boy a coin to hold
their horses.

"You'd best go for Arthur," I told Gil, standing up and shaking out my burgundy wool skirts. "Well-heeled customers, I warrant, ones I don't recognize."

"So I see," he said, stooping to squint past me.

And then the great adventure of my life began.

On that momentous day, I, Varina Westcott, was twenty-six, a wax chandler with a fine home and shop, a widow with a son named Arthur, after England's Prince of Wales. My other son, a two-year-old boy, my dear Edmund, had died but four months past. Of course, I had suffered losses before, for my parents and brother had died of the sweat seven summers ago. My husband's death more recently was a great blow, but, by the blessed saints, how I had loved Edmund.

He had so resembled me, with his curly, golden hair, green eyes, and slender frame, while Arthur favored his stocky, chestnut-haired father. Sweet Edmund had looked at me so piteously upon his bed, as if to cry, I beg you, save me, Mother. My summoning the apothecary, a barber-surgeon, and paying much for herbal cures, bringing in a priest and saying prayers, prayers, and more prayers could not save him. Had I not kept him warm enough at night? Had I accidentally fed him something rank? Should I have seen signs of his ailment? I lit ten perfect candles to bathe him in light at the end, but he still stepped into the valley of the shadow of death.

Since then, I have carried on as best I could, tending the front shop of the Westcott Chandlery while my sister, Maud, and her husband, Gilbert Penne, moved in with us to oversee the workshop. I put one foot before the other. I employ a solemn voice for our customers in mourning, for many of our wares are funeral candles or wax-soaked shrouds. In our shop window and on our wooden shelves, I display votives to be burned on London's many altars for the masses of departed souls. When I take pity on a grieving mother, I show or even give a candle I have carved, an angel with wings furled, its face looking upward in heavenly hope.

And at night I sleep with a braided circle from Edmund's ring-toss game and his deflated bladder ball, the latter of which rolls out of bed during my own tossing and is found in a corner of my bedchamber each morn as if I had cast it off.