The Queen's Governess
Karen Harper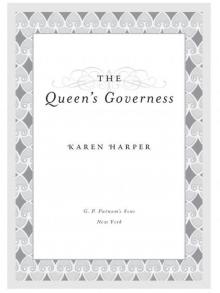 Table of Contents

Title Page

Copyright Page

CHAPTER THE FIRST

CHAPTER THE SECOND

CHAPTER THE THIRD

CHAPTER THE FOURTH

CHAPTER THE FIFTH

CHAPTER THE SIXTH

CHAPTER THE SEVENTH

CHAPTER THE EIGHTH

CHAPTER THE NINTH

CHAPTER THE TENTH

CHAPTER THE ELEVENTH

CHAPTER THE TWELFTH

CHAPTER THE THIRTEENTH

CHAPTER THE FOURTEENTH

CHAPTER THE FIFTEENTH

CHAPTER THE SIXTEENTH

CHAPTER THE SEVENTEENTH

CHAPTER THE EIGHTEENTH

CHAPTER THE NINETEENTH

CHAPTER THE TWENTIETH

AUTHOR'S NOTE

ALSO BY KAREN HARPER

Mistress Shakespeare

The First Princess of Wales

The Last Boleyn

THE QUEEN ELIZABETH I MYSTERY SERIES

The Hooded Hawke

The Fatal Fashione

The Fyre Mirror

The Queene's Christmas

The Thorne Maze

The Queene's Cure

The Twylight Tower

The Tidal Poole

The Poyson Garden

Penguin Group (USA) Inc., 375 Hudson Street, New York, New York 10014, USA

Penguin Group (Canada), 90 Eglinton Avenue East, Suite 700, Toronto, Ontario

M4P 2Y3, Canada (a division of Pearson Penguin Canada Inc.) • Penguin Books Ltd,

80 Strand, London WC2R 0RL, England • Penguin Ireland, 25 St Stephen's Green,

Dublin 2, Ireland (a division of Penguin Books Ltd) • Penguin Group (Australia),

250 Camberwell Road, Camberwell, Victoria 3124, Australia (a division of

Pearson Australia Group Pty Ltd) • Penguin Books India Pvt Ltd,

11 Community Centre, Panchsheel Park, New Delhi-110 017, India • Penguin Group (NZ),

67 Apollo Drive, Rosedale, North Shore 0632, New Zealand (a division of

Pearson New Zealand Ltd) • Penguin Books (South Africa) (Pty) Ltd,

24 Sturdee Avenue, Rosebank, Johannesburg 2196, South Africa

Penguin Books Ltd, Registered Offices: 80 Strand, London WC2R 0RL, England

Copyright © 2010 by Karen Harper

All rights reserved. No part of this book may be reproduced, scanned,

or distributed in any printed or electronic form without permission.

Please do not participate in or encourage piracy of copyrighted materials

in violation of the author's rights. Purchase only authorized editions.

Published simultaneously in Canada

Library of Congress Cataloging-in-Publication Data

Harper, Karen (Karen S.)

The queen's governess / Karen Harper.

p. cm.

eISBN : 978-1-101-18462-2

1. Astley, Katherine, d. 1565—Fiction. 2. Elizabeth I, Queen of England,

1533-1603—Fiction. 3. Governesses—England—Fiction. I. Title.

PS3558.A624792Q

813'.54—dc22

This is a work of fiction. Names, characters, places, and incidents either are the product of the author's imagination or are used fictitiously, and any resemblance to actual persons, living or dead, businesses, companies, events, or locales is entirely coincidental.

While the author has made every effort to provide accurate telephone numbers and Internet addresses at the time of publication, neither the publisher nor the author assumes any responsibility for errors, or for changes that occur after publication. Further, the publisher does not have any control over and does not assume any responsibility for author or third-party websites or their content.

http://us.penguingroup.com

CHAPTER THE FIRST

THE TOWER OF LONDON

May 19, 1536

I could not fathom they were going to kill the queen. Nor could I bear to witness Anne Boleyn's beheading. Still, I stepped off the barge on the choppy Thames and, with the other observers, entered the Tower through the water gate. I felt sick to my stomach and my very soul.

The spring sun and soft river breeze deserted us as we entered the Tower. All seemed dark and airless within the tall stone walls. We were shown our place at the back of the small, elite crowd. Thank the Lord, I did not have to stand close to the wooden scaffold that had been built for this dread deed. I had vowed to myself I would keep my eyes shut, and, standing back here, no one would know. Yet I stared straight ahead, taking it all in.

For, despite my distance of some twenty feet from it, the straw-strewn scaffold with its wooden stairs going up seemed to loom above me. How would Anne, brazen and foolish but innocent Anne, stripped now of her title, her power, her daughter and husband, manage to get herself through this horror? She had always professed to be a woman of strong faith, so perhaps that would sustain her.

I yearned to bolt from the premises. I nearly lost my hard-won control. Tears blurred my vision, but I blinked them back.

The crowd hushed as the former queen came out into the sun, led by the Tower constable Sir William Kingston, with four ladies following. At least she had company at the end. Anne's almoner was with her; they both held prayer books. Her eyes up and straight ahead, her lips moved in silent prayer. I thought I read the words on them: "Yea, though I walk through the valley of the shadow of death . . ."

Before she reached the scaffold, others mounted it as if to greet her: the Lord Mayor of London, who had arranged her fine coronation flotilla but three years ago this very month, and several sheriffs in their scarlet robes. Then, too, the black-hooded French swordsman and his assistant, who had come from France. Anne's head jerked when she saw her executioner.

The woman who had been Queen of England hesitated but a moment at the bottom of the steps, then mounted. She wore a robe of black damask, cut low and trimmed with fur, and a crimson kirtle, the color of martyr's blood, I thought. She had gathered her luxuriant dark hair into a net but over it wore the style of headdress she had made fashionable, a half-moon shape trimmed with pearls.

I saw no paper in her hand, nor did she look down as her clear voice rang out words she had obviously memorized: "Good Christian people, I am come hither to die according to law, therefore I will speak nothing against it. I am come hither to accuse no man, nor to speak anything of that whereof I am accused."

I knew such contrition was part of her agreement with the king's henchman Cromwell. It was also the price she had to pay for having me here today. I could hardly bear it. Yet, for her, I stood straight, staring at her. Betrayed and abandoned, if she could face this, I could too.

"I come here," Anne went on with a glance and a nod directly at me, though others might think it was but to emphasize her words, "only to die, and thus to yield myself humbly unto the will of my lord the king."

Damn the king, I vowed, however treasonous that mere thought. Men, not even the great Henry Tudor, had a right to cast off and execute a woman he had pursued and lusted for, had bred a child on, the little Elizabeth I knew and loved so well. The terrible charges against Anne had been trumped up, yet I dared not say so. I wanted to scream out my anger, to leap upon the scaffold and save her—but I stood silent as a stone, struck with awe and dread. But then, since no one stood behind me, I dared to lift my hand to hold up the tiny treasure she had entrusted to me. Perhaps she could not see it; perhaps she would think I was waving farewell to her, but I did it anyway, then pulled my hand back down.

"I pray God to save the king," she went on with another nod, which I prayed meant she had seen my gesture, "and send him long to reign ov
er you, for a gentler or more merciful prince was there never. To me he was ever a good and gentle sovereign lord."

Shuffling feet nearby, nervous shifting in the crowd. A smothered snort. I was not the only one who knew this was a public sham and shame. No doubt, she said all that to protect her daughter's future, the slim possibility that, if the king had no legitimate son and Catholic Mary was not fully reinstated, Elizabeth could be returned to the line of succession—for the poor three-year-old was declared a bastard now. I swore silently I would ever serve Elizabeth well and protect her as best I could from such tyrannical rule by men. At least Anne Boleyn was going to a better place.

Again, I longed to close my eyes, but I could not. When had the terrible things I had borne in my life been halted or helped one whit by cowering or fleeing?

Anne spoke briefly to her ladies, and they removed her cape. She gave a necklace, earrings, a ring and her prayer book away to them, while I fingered the secret gift she had given me. She gave the swordsman a coin and, as was tradition, asked him to make his work quick and forgave him for what he was bound to do.

She knelt and rearranged her skirts. She even helped one of her trembling ladies to adjust a bandage tied over her eyes. Huddled off to the side, her women began to cry, but, beyond that, utter silence but the screech of a seagull flying free over the Thames. I realized I was holding my breath and let it out jerkily, as if I would fall to panting like a dog.

To bare her neck, Anne held her head erect as if she still wore St. Edward's crown as she had in the Abbey on her coronation day. Then came her hurried, repeated words, "O Lord God, have pity on my soul, O Lord God, have pity on my soul . . ."

I wondered if, in her last frenzied moments, she was picturing her little Elizabeth. I sucked in a sharp sob of regret that the child would never really remember her mother. At least I had known mine before she died—slain as surely as this so someone else might have her husband. That cast me back to my mother's death, vile and violent, too. . . .

"O Lord God, have pity on my soul, O Lord God, have pity on my—"

The swordsman lifted a long silver sword from the straw and struck in one swift swing. The crowd gave a common gasp, and someone screamed. As Anne's slender body fell, spouting blood, the executioner held up her head with the lips still moving. Horror-struck, I imagined that, at the very end, she had meant to shout, "O Lord God, have pity on my daughter!"

CHAPTER THE SECOND

NEAR DARTINGTON, DEVON

April 4, 1516

God have mercy on her soul. She's gone," my father told the two of us. "Dear Lord God, have pity on her soul."

"Mother. Mother! Please, please wake up! Please come back!" I screamed again and again, throwing river water on her face, until my father shook me hard by the shoulders.

"Leave off!" he demanded, his forehead furrowed, his eyes glassy with unshed tears. We knelt in the thick grass by the rushing River Dart where her body had been laid out, covered by her friend Maud Wicker's wet apron, for her own clothes had nearly burned away. When I still shrieked as loudly as the gulls on the river, he commanded, "Enough, Kat!" Unlike Mother, he had seldom used the pet name I'd had since I couldn't pronounce my own when I was still in leading strings. That sweet little comfort almost steadied me until he added, "You'll learn to accept much more than this, so bear up, girl!"

But I couldn't. I just couldn't and heaved great breaths in my frenzy. If only we had been here sooner! But by the time I returned home from keeping watch over Lord Barlow's daughter at Dartington Hall where Father kept his lordship's beehives, the local tinker had come to our house to fetch us. While seagulls wheeled and shrieked overhead as if in warning, Father and I hied ourselves across the cattle field, toward the river.

Now, my cheeks slick with tears, I finally sat in sullen silence. He patted Maud's shoulder, then squeezed her hand before he let it go and stood looking away, head down, leaning stiff-armed against a tree. Why did he seem only resigned, not more shaken? His wife, Cecily Champernowne, aged twenty-eight years, had hit the back of her head and bled into her brown hair. Her entire body was bruised and blackened, even her face mine so resembled.

[Years later, time and again, I tried to tell myself that stoic mourning was just the way with men, but even cruel King Henry piteously grieved the death of his third wife, Queen Jane, and William Cecil sobbed when his second son—not even his heir—died.]

"I—I am overthrown by it all," Maud said, talking to me as much as to Father. "She must have caught her skirts in the hearth fire." Sitting on her heels, several feet away, she wrung her hands. Gray soot and brown river mud smeared her sopped petticoats. Tears from her long-lashed blue eyes speckled her rosy cheeks. "I was drawing nigh the house for a visit and heard her screams. She rushed out willy-nilly. I—I believe she struck her head on the hearthstones, trying to get the fire out. God as my judge, I tried to roll her on the ground to smother the flames. But in her pain and panic, she ran toward the river. The winds—they made it worse. But I . . . she jumped in the water. I think she died of drowning, not the flames, though I tried to pull her out in time, God rest her soul."

Father muttered something about God's will. I swore silently that if I'd been there, I'd have put those flames out fast.

That day a part of me died too—my entire girlhood, truth be told. I was ten years old. I was angry with God's will and even more furious that Father kept comforting Maud Wicker more than he did me.

In four months' time, Mistress Wicker became my stepmother. She was but eighteen, one of six daughters of the man who wove my father's beehives from stout wicker he soaked in the river to get it to bend. Maud had always brought the finished hives to father in a cart and had laughed at his silly stories that Mother only rolled her eyes at. The only good thing for me about their marriage was that the arguing my parents had done now became all honeyed words. Father never raised a hand to his second wife, though she had a temper hotter than my mother's.

And Maud had a shrewish side she showed only to me. As I grew older, festering under her orders—and pinches and slaps, when Father wasn't about the house—I sometimes took to wondering if my stepmother had been with my mother when her skirts caught the flames, instead of just coming toward the house, as she'd said. That day two new hives had been left out back, and fresh cart tracks marred the mud. But the cart had also left tracks as it was trundled across the field toward the river. When I asked her once why, since it was not the way she went home, she told me she was just dawdling about the area so her father would not give her another task. As I oft did such myself, I let it go. But I'd found a willow green ribbon when I swept the hearth the night Mother died, and Maud Wicker loved such fripperies for her yellow curls.

I kept that ribbon buried in my secret box of dried flowers, along with a sweet bag given me by Lady Barlow of Dartington Hall, else Maud would have taken it for her own. The sweet bag was a gift, Lady Barlow said, for my helping to care for her Sarah during tutoring sessions with her older brother, Percy. Poor Sarah went about in a wheeled chair at times, her tongue lolling from her mouth, her body shaking when she had her fits. I used to help hold her quill and form her words on paper. I held her book for her so she could read from it. But there was a keen brain inside her too, and—like me—she loved learning.

Also in the box, which I kept hidden in the thick hedge out back, were two smooth stones from the River Dart near where Mother died and clover from a pixie circle on the moors before they were chased off by one of the ghostly hellhounds. Everyone roundabout knew not to go out on the moors at night. Sometimes I wasn't sure if the cries of gulls in the creeping fogs weren't the shrieks of lost souls out on the moors. The box also used to hold my mother's garnet necklace, but Maud had wheedled it from my father when she bore their second child, a daughter this time. Her little Simon and Amelia were the loves of my life then, so innocent and angelic, until they began to a
ct like their mother, throwing tantrums for things they must have.

Yet I did not mislike my half siblings as I did Maud. Things she did were not their fault. Rather, I pitied them even as I did my own father, who, like a dumb rutting ram had made his bed and obviously liked well to lie in it. Maud—whom I called Mistress instead of Mother, no matter how she fussed at me—would no doubt have made me toil for her all day had not the Barlows paid Father for my services to Sarah. They never knew I would have happily helped their child for nothing, as I learned to read and write while tending her.

Most important of all in my hidden treasure box, now that my necklace had as good as been stolen from me, I kept these pages of my story. Once I learned to write well, from the time I was about twelve years of age, when Sarah was taking her naps in her chamber, I borrowed pen and paper from her writing table and began this record of my life, hoping I would someday amount to something. Over the years, from time to time, I went back and amended it from a far wiser point of view. And, oh yes, in my treasure box, I also kept a list of hints I brooded over, hoping to prove Maud had something to do with my mother's accident, but who would credit it since it would be my word against hers?

Without my tasks at Dartington Hall and my walks to and from that fine gray stone manor each day, I would never have had time to hide these pages or to seize a moment to myself—carpe diem, my first snippet of Latin. Without the kindly Barlows, I would not have learned about the other world beyond our thatched longhouse built of moorstone with the attached shippon which housed our six cattle. I never would have known about fine needlework or Turkey carpets or tapestries or delicacies like squab pie instead of fat bacon or Latin, let alone English sentences. I never would have heard of the other English shires beyond remote Devon, a distant world where a king ruled his people from great palaces. Without my times at Dartington Hall, I would never have learned such or yearned much. But still, it was not enough, and I longed to escape to—to I knew not where.