The Irish Princess
Karen Harper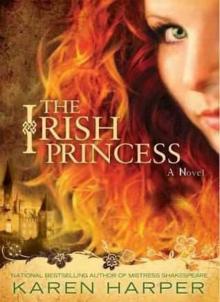 Table of Contents

Title Page

Copyright Page

CHAPTER THE FIRST

PART I - My Youth

CHAPTER THE SECOND

CHAPTER THE THIRD

CHAPTER THE FOURTH

CHAPTER THE FIFTH

CHAPTER THE SIXTH

PART II - My Maidenhood

CHAPTER THE SEVENTH

CHAPTER THE EIGHTH

CHAPTER THE NINTH

CHAPTER THE TENTH

CHAPTER THE ELEVENTH

CHAPTER THE TWELFTH

CHAPTER THE THIRTEENTH

CHAPTER THE FOURTEENTH

CHAPTER THE FIFTEENTH

CHAPTER THE SIXTEENTH

CHAPTER THE SEVENTEENTH

CHAPTER THE EIGHTEENTH

PART III - My Womanhood

CHAPTER THE NINETEENTH

CHAPTER THE TWENTIETH

CHAPTER THE TWENTY-FIRST

CHAPTER THE TWENTY-SECOND

CHAPTER THE TWENTY-THIRD

CHAPTER THE TWENTY-FOURTH

CHAPTER THE TWENTY-FIFTH

CHAPTER THE TWENTY-SIXTH

CHAPTER THE TWENTY-SEVENTH

CHAPTER THE TWENTY-EIGHTH

CHAPTER THE TWENTY-NINTH

AUTHOR'S NOTE

Teaser chapter

Praise for the Novels of Karen Harper

The Irish Princess

"A writer named Harper should have the bardic touch, the story-telling gift. Karen Harper does. Told by a member of the flamboyant Fitzgerald family, The Irish Princess is an intricate web of politics and passion. From the first page the reader is immersed in the dangerous atmosphere of Tudor England—as seen through Irish eyes. We are invited to feel history. What more can a bard do?"

—Morgan Llywelyn, author of Lion of Ireland, The Irish Century, and Brendan

"Karen Harper writes with wit and elegance, offering her deep knowledge of Tudor and Irish history while madly entertaining us along the way. The Irish Princess is an amazing novel full of love and conflict, and it kept me up all night."

—Luanne Rice, author of The Deep Blue Sea for Beginners

"From the very first line, Karen Harper spins a fascinating tale of the real 'uncrowned princess' of sixteenth-century Ireland. Her captivating heroine—Gera Fitzgerald—battles against Henry VIII and the Tudor rulers for her true place on the throne of Ireland. The Irish Princess is an intriguing glimpse into a little-known piece of Irish history."

—Heather Terrell, author of Brigid of Kildare

"Harper's vivid and suspenseful tale of Gera Fitzgerald, The Irish Princess, delivers the engrossing story of a true princess of Ireland caught up with her doomed family in the madness of Henry VIII's later years . . . [an] enormously entertaining story peopled with all the famous Tudors seen through Irish eyes. A great read."

—Jeane Westin, author of The Virgin's Daughters and His Last Letter

"No other author captures the Tudors like Karen Harper. In The Irish Princess, she breathes rare life into a little-known historical figure, and through her eyes, we experience the turbulent court of Henry VIII in all its pagentry, politics, and danger. This is a book to be savored by an execptional storyteller."

—Susan Holloway Scott, author of The Countess and the King

"A fresh look at the Tudor court, through the eyes of one of the most fascinating women of the sixteenth century. Celebrated by the poet Henry Howard, earl of Surrey, as "the fair Geraldine," daughter of the uncrowned king of Ireland, Elizabeth Fitzgerald—here nicknamed "Gera"—comes to the English court as a fiercely rebellious girl, Irish down to her bones and determined to take revenge on Henry Tudor for his destruction of her family and her home. Placed in the households of Mary Tudor, Katherine Parr, and later Elizabeth Tudor herself, she plots her revenge while falling in love with one man and being married off to another. Karen Harper breathes authentic life into Gera and her beloved Ireland, and as she traces Gera's extraordinary life, she takes new and surprising looks at a magnificent parade of well-known Tudor personages. Rich with period detail and emotional insight, The Irish Princess is a vivid and satisfying read."

—Elizabeth Loupas, author of The Second Duchess

The Queen's Governess

"Rarely does a work of historical fiction endeavor to cover so much territory—Ashley lives through the reigns of four Tudors—but Harper's diligent research, realistic portrayal, and insider-outsider heroine will hook those who can't get enough of England's turbulent history. Readers familiar with the period will feel at home and even manage some sympathy for men like Cromwell and Henry VIII. Still, bestseller Harper maintains her focus on the roles of women—both powerful and powerless—in Tudor England, resulting in another enjoyable protofeminist historical romp."

—Publishers Weekly

"A lively and historically grounded reimagining of two Tudor survivors."

—Kirkus Reviews

"Well-paced and full of pitch-perfect detail, Harper's novel brings new life to an old subject and, as good as the best of Philippa Gregory, is sure to be a big hit with historical fiction fans and book clubs."

—Library Journal

Mistress Shakespeare

"This intoxicating, fictionalized memoir of Shakespeare in love is a romantic roller coaster rich with vivid details reminiscent of Romeo and Juliet."

—Women's Day

"The narrative abounds with genuine period details, witty dialogue, and intertwined references to Shakespeare's works. . . . Anne and Will's tale is engagingly told."

—The Historical Novels Review

"A fun romp through Elizabethan England with Shakespeare's mysterious muse."

—Lauren Willig, author of The Betrayal of the Blood Lily

"So vivid and authentic—a totally satisfying re-creation of one of the great Shakespeare mysteries. I couldn't put it down!"

—Rosalind Miles, author of I, Elizabeth and the Guenevere Trilogy

"Karen Harper has written a riveting tale of intrigue and passion that plunges the reader straight into the complex heart of Elizabethan England. Rich with detail and drama, Mistress Shakespeare is a story Shakespearean fans will love."

—Deanna Raybourn, author of The Dead Travel Fast

"Karen Harper returns to the world of Elizabethan England in one of the most exquisite novels I have read in a very long time. Considered merely a footnote in Shakespeare's life, Anne Whateley now takes her place at center stage in a story [that] will have readers wishing there were many more acts to come. Do yourself a favor and don't miss this book."

—Michelle Moran, author of Cleopatra's Daughter

"A delicious and intriguing historical novel. . . . Expertly researched and woven with the pageantry of Elizabethan and Jacobean history, [Mistress Shakespeare gives] us a rare glimpse of real persons from history, turning their lives into narratives that will entertain and delight the most discriminating of readers."

—Fresh Fiction

"Harper . . . knows her period well, and it shows . . . in sure handling of the details of politics, theater, and daily life, including some harrowing passages featuring childbirth and the plague. . . . Anne is an appealing and spirited heroine, and her tale will be enjoyed by historical fiction fans."

—Booklist

ALSO BY KAREN HARPER

Mistress Shakespeare

The First Princess of Wales

The Last Boleyn

THE QUEEN ELIZABETH I MYSTERY SERIES

The Hooded Hawke

The Fatal Fashione

The Fyre Mirror

The Queene's Christmas

The Thorne Maze
<
br /> The Queene's Cure

The Twylight Tower

The Tidal Poole

The Poyson Garden

NEW AMERICAN LIBRARY

Published by New American Library, a division of

Penguin Group (USA) Inc., 375 Hudson Street,

New York, New York 10014, USA

Penguin Group (Canada), 90 Eglinton Avenue East, Suite 700, Toronto,

Ontario M4P 2Y3, Canada (a division of Pearson Penguin Canada Inc.)

Penguin Books Ltd., 80 Strand, London WC2R 0RL, England

Penguin Ireland, 25 St. Stephen's Green, Dublin 2,

Ireland (a division of Penguin Books Ltd.)

Penguin Group (Australia), 250 Camberwell Road, Camberwell, Victoria 3124,

Australia (a division of Pearson Australia Group Pty. Ltd.)

Penguin Books India Pvt. Ltd., 11 Community Centre, Panchsheel Park,

New Delhi - 110 017, India

Penguin Group (NZ), 67 Apollo Drive, Rosedale, North Shore 0632,

New Zealand (a division of Pearson New Zealand Ltd.)

Penguin Books (South Africa) (Pty.) Ltd., 24 Sturdee Avenue,

Rosebank, Johannesburg 2196, South Africa

Penguin Books Ltd., Registered Offices:

80 Strand, London WC2R 0RL, England

First published by New American Library,

a division of Penguin Group (USA) Inc.

First Printing, February 2011

Copyright © Karen Harper, 2010

Readers Guide copyright © Penguin Group (USA) Inc., 2010

All rights reserved

REGISTERED TRADEMARK—MARCA REGISTRADA

LIBRARY OF CONGRESS CATALOGING-IN-PUBLICATION DATA:

Harper, Karen (Karen S.)

The Irish princess/Karen Harper.

p. cm.

eISBN : 978-1-101-47864-6

1. Clinton, Elizabeth Fiennes de, Countess of Lincoln, 1528?—1589—Fiction.

2. Princess—Ireland—Fiction. 3. Elizabeth I, Queen of England, 1533-1603—Fiction.

4. Henry VIII, King of England, 1491—1547—Fiction. 5. Clinton, Edward Fiennes de,

Earl of Lincoln, 1512—1585—Fiction. 6. Great Britain—History—Henry VIII,

1509—1547—Fiction. I. Title.

PS3558.A624792I75 2011

813'.54—dc22 2010039716

Without limiting the rights under copyright reserved above, no part of this publication may be reproduced, stored in or introduced into a retrieval system, or transmitted, in any form, or by any means (electronic, mechanical, photocopying, recording, or otherwise), without the prior written permission of both the copyright owner and the above publisher of this book.

PUBLISHER'S NOTE

This is a work of fiction. Names, characters, places, and incidents either are the product of the author's imagination or are used fictitiously, and any resemblance to actual persons, living or dead, business establishments, events, or locales is entirely coincidental.

The publisher does not have any control over and does not assume any responsibility for author or third-party Web sites or their content.

The scanning, uploading, and distribution of this book via the Internet or via any other means without the permission of the publisher is illegal and punishable by law. Please purchase only authorized electronic editions, and do not participate in or encourage electronic piracy of copyrighted materials. Your support of the author's rights is appreciated.

http://us.penguingroup.com

. . . Foster'd she was with milk of Irish breast. Her sire an Earl; her dame of Prince's blood. From tender years, in Britain doth she rest . . . Bright is her hue, and Geraldine she's named . . . Her beauty of kind; her virtues from above; Happy is he that can attain her love!

From the sonnet to Elizabeth Fitzgerald,

"The Fair Geraldine,"

by Henry Howard, Earl of Surrey

CHAPTER THE FIRST

WHITEHALL PALACE, LONDON

January 25, 1547

I, Gera Fitzgerald, was going to kill the king. He was dying, but I was going to kill him anyway.

In the dim back servants' hall, I pushed the hidden panel that led to the king's bedchamber. It seemed I had waited for this chance my entire life. I had been forced to bide my time until the king was alone in the small back rooms so few knew existed.

Henry Tudor, king and tyrant of all England and of my beloved, battered Ireland, was living his last moments on this earth. I pressed the dagger I had secreted in my shawl to be sure it was still there. Yes, its sharp steel, warmed by the heat of my body, waited to strike with all the power and passion that festered within me.

My pulse pounded in my ears as I hesitated but one moment. I could bear up to it if I were caught, I tried to buck myself up. If I must, I could face torture in the Tower and bloody death by beheading like those I had loved. At my trial, I would speak out for my family and my country. The Geraldines had been the salvation of poor Ireland and must be again.

I stepped into the void, black as the pit of hell, for I'd not dared bring a lantern or even a candle. The air was stale, so this entry must not have been recently used. A cobweb wove itself across my sweating face and snagged in my eyelashes. No matter if I kept my eyes open or closed, it was the same deep darkness.

I went slowly, one hand along the wooden wall, one out ahead so I would not bump into the door at the end. A sliver jabbed into my finger, but I ignored it. My hand touched the door.

I froze, straining to hear. Some strange sound came from within, a rhythmic hissing. I pictured a fat, coiled serpent, the king of England I had so long detested and feared. Snoring—that was it. He slept.

I recalled the arrangement of the two rooms I had walked through nearly three years ago, the shadows, the silence. Not silent now. As I pushed the door inward a crack, I saw wan light, though it nearly blinded me at first. I felt I'd opened a long-sealed tomb: No air stirred and the very smell of death sat heavy here.

I shuffled along, giving my eyes time to adjust, though there was little to bump into but the oaken bed that dwarfed everything. I saw the source of light was a pewter lantern on a small table across the room.

He had gone quiet now. What if he were dead already? It would not be enough if he escaped me after all this time! But no, though the snoring had ceased, a sharp rasping for breath resounded from the big, curtained bed. Had he hidden out here like a wounded animal—or was he ashamed to let others see him as he was? Did he really want to cleanse his soul and risk dying alone? Ah, well, a little voice in my head seemed to say, in the end, cobbler or king, we all must die alone.

Though I knew the king was hard of hearing and the heavy brocade curtains separated us, I tiptoed into the small adjoining room to be certain no servant or guard slept there. No one. Just shadows, like dark ghosts from Henry Tudor's past and mine, those who had been murdered, those who cried out for justice, even from their graves.

A single fat candle burned on the table here, illumining a short stack of parchment. The candle diffused the sweet scent of expensive ambergris and threw flickering light on the rows of rich parchment-and-leather-scented books shelved on all four walls. Hoping no one would wonder how the obese, crippled king could rise from his bed to lock the door to his more public chambers, I went to it, listened with my ear to the carved and gilded wood, then twisted the key in the lock.

As I passed the table again, I bent to look at the documents lying there. In fine script, the king's will! I longed to burn it all, at least the parts about the Tudor heirs being bequeathed my Ireland. Somehow I must find a way to restore my brother's rights and title, for that would benefit our people more than Tudor power. I pushed the papers aside to get to the back of the document. He had signed it already, so its decrees and bequests were final.

I could barely keep myself from slashing the royal will to pieces with the dagger. Instead, I fished the weapon out and, as carefully as I could, sliced off the bottom in
ch of the last page that bore the signature. Let them think the king had done that before he did away with himself. I hoped to make my deed look like suicide instead of regicide. I would leave the dagger in the hand of the king's corpse.

I bent to stuff the narrow piece of parchment in my shoe, where it crinkled in protest. A thought hit me with stunning force: Should I be taken and executed, no one would ever know my wishes, my story, my legacy. I should have made a will or written my life's events. If I survived and the king was dead and buried, I would not let my life and loves and reasons for my deeds be buried too. I would record my own story and entitle it The Irish Princess, for what could once have been.

Nodding at the decision I had made, I tamped the papers into place. Keeping the dagger out, I trod as quietly as I could back into the bedchamber.

The king was breathing easier now. I took off my heavy outer shawl and tied it around my waist, lest I would need to flee, for I must leave nothing behind that could be traced.