Broken Bonds
Karen Harper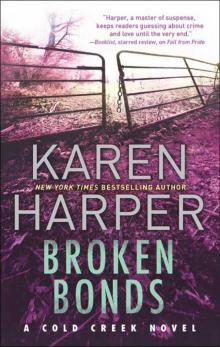 Haunted by the past…

Cold Creek is a place with a dark history, especially for the Lockwoods. Now adults, the three Lockwood sisters are still recovering from the events that led to the destruction of their family when they were children. Determined to move forward, Tess and Kate are making fresh starts, ready to put bad—even deadly—memories to rest and settle happily in the small but booming town. And they're hoping their older sister, Charlene, can do the same.

Char is back in town seeking comfort as she figures out her next move. A social worker used to difficult situations, she soon runs afoul of some locals who think she's sticking her nose where it doesn't belong. She's certain something sinister is being covered up, and when she witnesses Matt Rowan being run off the road, she knows she's right.

Working together, Matt and Char figure uncovering the truth will be dangerous, but living in Cold Creek won't be safe for any of them until its secrets are revealed.

Praise for the novels of New York Times

bestselling author Karen Harper

"Harper, a master of suspense, keeps readers guessing about crime and love until the very end, while detailed descriptions of the Amish community and the Ohio countryside add to the enjoyment of this thrilling tale."

—Booklist on Fall from Pride (starred review)

"Danger and romance find their way into Ohio Amish country in a lively and endearing first installment of the Amish Home Valley series."

—Publishers Weekly on Fall from Pride

"Harper's description of Lisa and Mitch fighting the river and braving the elements are so realistic the reader can almost feel the icy winds. A tale guaranteed to bring shivers to the spine, Down River will delight Harper's current fans and earn her many more."

—Booklist (starred review)

"Haunting suspense, tender romance and an evocative look at the complexities of Amish life—Dark Angel is simply riveting!"

—Tess Gerritsen, New York Times bestselling author

"A compelling story…intricate and fascinating details of Amish life."

—Tami Hoag, New York Times bestselling author, on Dark Road Home

"Well-researched and rich in detail… With its tantalizing buildup and well-developed characters, this offering is certain to earn Harper high marks."

—Publishers Weekly on Dark Angel,

winner of the Mary Higgins Clark Award

Also available from

New York Times bestselling author Karen Harper

Cold Creek

FORBIDDEN GROUND

SHATTERED SECRETS

Home Valley Amish

UPON A WINTER'S NIGHT

DARK CROSSINGS (featuring "The Covered Bridge")

FINDING MERCY

RETURN TO GRACE

FALL FROM PRIDE

Novels

DOWN RIVER

DEEP DOWN

THE HIDING PLACE

BELOW THE SURFACE

INFERNO

HURRICANE

DARK ANGEL

DARK HARVEST

DARK ROAD HOME

Visit karenharperauthor.com for more titles

Thanks as ever to my husband, Don, and to our good friends Dr. Roy and Mary Ann Manning.

Contents

Chapter 1

Chapter 2

Chapter 3

Chapter 4

Chapter 5

Chapter 6

Chapter 7

Chapter 8

Chapter 9

Chapter 10

Chapter 11

Chapter 12

Chapter 13

Chapter 14

Chapter 15

Chapter 16

Chapter 17

Chapter 18

Chapter 19

Chapter 20

Chapter 21

Chapter 22

Chapter 23

Chapter 24

Chapter 25

Chapter 26

Chapter 27

Chapter 28

Chapter 29

Chapter 30

Chapter 31

Author's Note

Excerpt

1

Even the look of the place scared her, but she was determined to go in. Three hunt hounds on the rickety porch came to attention, barking and growling, so she stayed in the truck until the front door opened and a thin woman came out. Charlene Lockwood rolled down her window and waved as if they were best of friends and she was just here for what the mountain folk called a "set down." The ramshackle house was a far cry from the Navajo hogans she was used to and yet somehow it was the same situation—hungry, maybe abused kids, in impoverished and often rocky family situations.

With a gruff word, the woman Char assumed was Mrs. Elinor Hanson quieted the beagles. They sat, flicking their tails. Did the dogs mean she'd find Mr. Hanson here, too? It was wild turkey and squirrel hunting season, and she'd heard the bangs of shotguns echo off the rocks when she'd left the other cabin she'd called on today.

Hoping the dogs would stay put, she slowly opened the truck door and climbed down. She slung her big purse over her shoulder and started uphill from the narrow pull-off on the road. She had to bite back a smile. She'd misheard on the phone when she'd been asked to see this family in Hanson Holler. Char had thought the visit on behalf of the Childhood Education in Appalachia Project was to Handsome Hollow, but this place was a far cry from that.

The old house with its tilted and patched roof sat back in a played-out coal seam under the hunched shoulders of the mountain. No old sofa on the porch this time, but a stovepipe stuck out a window, and there was an outhouse. The cold weather and her nerves made her want to use it, but that would be no way to start here. How was she ever going to make a dent in the real mountain here—the mountain of kids who seldom got to school where they would be given "breakfast, lunch and learnin'," as her last client had called it.

"How do!" Mrs. Hanson called out. "Welcome to the holler."

"How do! Mrs. Hanson. I'm Charlene Lockwood, the county agent visiting the homes of children who would be helped by good attendance in school. Is your daughter, Penny, here today?"

"Right sure is. Need her for chores with the new baby and all. She's afixin' dinner. Make yourself to home, come in and set a spell, get you some squirrel stew."

Char knew not to turn that down, though she'd had her fill of the same with her previous client. It was a chewy, gamey meat that not only stuck to your ribs, but seemed to gnaw at them. But out West near the Navajo reservation, if you were offered mutton and fry bread, you ate it. Here it was squirrel and biscuits. If only things hadn't gone so bad out West. Despite the fact she'd been born in Cold Creek, had two sisters who had welcomed her and given her shelter, even the fact she had found some employment in the four months she'd been back, she still didn't feel at home.

Despite the wood-burning stove, it was chilly in the house, but Char knew it would be rude to keep her coat on. The place looked to be a main room with two small bedrooms out the back. Elinor Hanson bounced her one-year-old son, Franklin, on her lap while Simon, a toddler, played with pots and pans on a blanket spread on the floor. Elinor said Crayton, age four, was out with his pa. Penny, a mere wisp of a blonde girl, aged ten, who looked to be about six, served them at a table while they made small talk.

"My husband Henry's out with his brother Braxton from down the way," Elinor explained. "Brax
is eighteen, gonna be a marine if'n he gets his test lettin' him pass high school, whatever test that is."

"Yes, it's called a GED."

"Anyhow, Henry's learnin' him huntin' with bow and arrow, so wants to learn Crayton about huntin', too. Bow huntin' cheaper than buyin' bullets. Dogs don't like it none 'cause he leaves them to home. They spook game when it's with a bow, 'cause you got to get closer than with a gun. Henry, he's between jobs right now. Worked at the gas station, got let go."

Char realized the woman was trying to talk about everything except her truant daughter, so she tried to steer the conversation away from Henry and hunting. "I'm sorry to hear that. But we'd sure like to see Penny in school this winter."

Penny's blue eyes seemed to fill her thin, freckled face, but she kept looking at her mother for answers when Char tried to question her. Even letting Penny take a small gift from her array of them hadn't made the child more talkative. With a shy "Thank you," the girl chose crayons, though Char wasn't sure there was any paper to be had. So far, no one had picked the jump ropes. Char realized one thing they had in the hills was rope of their own. She watched Penny fingering the colorful crayons through the cutout in the front of the box, but she didn't open it.

"Mrs. Hanson, you know a school bus comes up as far as Coyote Rock." Char tried again. "So if someone could get Penny down the road that far, she'd be taken right to school and brought back to the same spot, safe and sound."

Penny looked hopeful. Elinor sighed. "I'll have to ask her pa, but beholden to you for the offer. He don't trust no one works for the gov'ment. Don't like handouts, not our way, don't care what outsiders say."

"I understand that, Mrs. Hanson. And I don't work for the federal government but the State of Ohio. I'm living in Cold Creek now, was born there, too."

"So you din't leave like so many want out?"

"Yes, for a while. I grew up in Michigan, then left there to go to school and lived out West near an Indian reservation."

"Now that will be somethin' to tell your pa, won't it, Penny? He says the real ones used to live in these parts 'fore the coal mines played out."

It was at least an hour before they rose from the table and headed toward the door with Elinor leading the way and Penny trailing. Char felt she'd built a bridge, but Henry Hanson could be a barrier big as this mountain. Out West, she'd learned the hard way not to buck "the menfolk," though she'd love to challenge them for not valuing their children and wives.

Before they followed Elinor outside, Penny tugged on Char's jacket. "I'd like to go down to school," she whispered. "Wish't you could fetch me."

"I wish I could, too, Penny. I'll be sure to tell the school you'd like to go."

"But if Pa says no..."

Elinor's voice was loud as they joined her on the plank porch. "This view beats all, though, don't it?"

"It's absolutely beautiful," Char agreed as they gazed down the stone gap through the mist toward the foothills that sheltered the small town of Cold Creek below. It was so different from the mesas and canyons in New Mexico, but it was a stunning sight. "And I hope I'll be seeing this view and both of you again soon. Please tell Mr. Hanson about the time the bus will be waiting below, and thank you both for the delicious stew and biscuits." She shook hands with both of them, though she yearned to hug little Penny to her.

Char waved as she climbed into her truck that had survived dusty, corduroy western roads and a long, sad drive back to Ohio when her bold Dads Don't Drink antialcohol campaign had met with stiff opposition from some of the local fathers and tribal elders. It had made her wary of men who browbeat or physically beat their women and children.

Despite being back in her truck, Char jolted when she heard a gun go off nearby. Hadn't Elinor said her husband was out today with a crossbow and not a gun? She gripped the steering wheel and stiffened, waiting for another shot. Nothing. She waved again and carefully headed down the narrow twisting road.

* * *

Matt Rowan never drove up into the mountains this far, but he was determined to deliver the cash, groceries and winter coats to Woody McKitrick's house here on Pinecrest Mountain. He had been a big help as a handyman and head groundskeeper in the Lake Azure area. Woody had liked to, as he put it, "talk turkey," and Matt, raised in the "big city" of Cincinnati, had learned a lot about hill country from him. Matt could picture his friend, especially in the coonskin cap he wore in cold weather, looking like old Daniel Boone or Davy Crockett as he went about his work.

The usually sure-footed sixty-year-old had fallen to his death from a cliff above the Lake Azure grounds. With winter coming, Matt wanted to help Woody's family get through the winter. His son had returned from the war in Iraq with problems and didn't hold down a job.

In the Lake Azure community where Matt lived, winter meant some hunting in the hills but mostly ice-skating parties on the lake, alpine and cross-country skiing followed by hot brandy before a roaring fire or soaking in a heated spa in the lodge. Up in the hills, winter meant hardship. And these old coal roads were so hard they were rattling the company truck and his teeth.

He was still rattled anyway from the argument he'd had on the phone yesterday with his senior partner for the Lake Azure community, Royce Flemming. Matt's dad and Royce had been lifelong friends, and Matt was honored to be his junior partner and manager of the upscale community perched on the scenic edge-of-Appalachia town of Cold Creek. When his dad died, he'd felt even closer to Royce, but recently they were at odds over the older man's fast push to drill for oil and gas in the area.

Fracking, they called it, though the actual name was hydraulic fracturing since the process involved forcibly injecting water, sand and chemicals to fracture deep shale, to release the precious products trapped inside. Just in the past few months, drilling here had gone bonkers. There was already a big break between the haves and the have-nots in this area. Now the issue of lucrative fracking contracts going to only a few select people was causing rifts among the locals. Fracking brought in business, but the truck drivers and rig men caused problems in the once-pristine area.

Money talked, but why couldn't Royce see his lucrative new business could hurt the human and natural environment of his big Lake Azure investment? So far, the disagreement hadn't permanently damaged his close relationship with Royce, even when he'd declined the opportunity to invest in Royce's new fracking company earlier this year.

Matt swore under his breath as he made another hairpin turn around the mountain, still heading up. Most of the heights around Cold Creek were foothills, but these inclines were serious stuff. The old 1970s pavement was bumpy and broken. The road was one-lane with pull-offs every couple of hundred yards so cars could pass, but he hoped he wouldn't have to do that. He remembered his dad driving the family up Pike's Peak out West when he was a kid. They got so scared of the drop-offs and the lofty view straight down that they'd turned around at the top and headed right back to civilization.

"Damn!" he muttered when he made another turn and saw a pickup coming at him. It was a rickety affair with the front bumper loose and bouncing—tied on with wire or twine. He could see two men in the cab and a mule sticking its head out of the bed of the pickup as if it were enjoying the view. The rule was that the vehicle heading up was the one to back down to the pull-off, so that was him.

He slowly inched his way backward, using the rearview mirror, his side mirrors and craning around to look out the rear window. He wasn't used to driving this truck. Why hadn't he sent someone on staff up here with this stuff? His bailiwick was his office in the lodge, talking to new owners and investors, and doing community PR. He couldn't fathom how difficult this drive would be in rain or snow.

At least
the next pull-off spot was not right on the edge of a cliff. It had a sign that read Falls County School Bus Stop. Tall, scrawny pines and a few oaks had clawed their roots into the rock here and leaned out from the pull-off. He carefully backed into it, making sure his rear wheels were at least six feet from the edge. The other truck passed him with a honk and a wave and a hee-haw from the mule. For a moment, he just sat there, breathing hard, his heart pounding.

He reminded himself why he was determined to deliver these gifts to Woody's family personally. The guy had the guts to take a stand against the invasion of fracking in the area. The old man—sixty didn't sound old, but mountain men looked old at that age—had led peaceful protestors with hand-printed signs. They'd insisted the fracturing of the bedrock to suck out oil and gas would break up not only the rock but the families and the town. Matt knew Woody was right. He should have taken a stand, too, but he also saw the good things about fracking, like the money rolling in and, hopefully, less dependency on foreign oil. He was above all a businessman like his dad and Royce, wasn't he?

Sitting on the edge of the pull-off, he was tempted to head back down and send someone else up with the things for Woody's family. But he wanted them to know their family patriarch had not been forgotten, that he meant more than a few nice words at his funeral and a couple of hundred dollars in an envelope. He wanted Woody's widow to know how much the man had meant to him.

"Okay, up we go," he whispered just as another truck appeared, this time heading up. It was another old pickup, but the guy in it was driving too fast. The truck didn't have a front license plate, but then up here, maybe there were no real rules. Matt took a closer look. Was he nuts or was the driver wearing a ski mask? The truck didn't take the turn but headed toward him.

There was nothing he could do but yell and turn his wheels. The truck slowed but bumped into the front of his truck, pushing him back. Matt laid on the horn, held to the steering wheel, tried to get his truck in Drive, but the other truck edged it backward....

The front of Matt's truck tilted upward, throwing him back against the seat. He was going over! His stomach went into free fall though the truck hadn't yet. His back bumper pressed into the trees. The truck stopped, shuddered and hung hundreds of feet over the rocks below.