The Queen's Secret
Karen Harper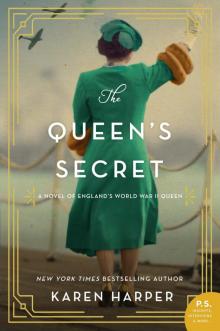 Dedication

To Don for his part in all our research trips to England and Europe. Thanks for putting up with museums and stately homes. I couldn't have written my historical novels without you.

A Note on the Royals and Their Names

Although it can be confusing, the names given to the royal children of Queen Victoria, King Edward VII, King George V, and King George VI at their christenings were often different from the names used by their families. This was a family who loved nicknames. And to make things even more confusing, when ascending the throne, they could choose a new name. Hopefully, the following will make navigating the royal family tree a bit easier.

Queen Victoria, the matriarch, deceased before this story begins.

Edward, Prince of Wales, later King Edward VII, son of Queen Victoria. Edward, deceased before this story begins, was father of George, Duke of York.

Alexandra of Denmark, wife of Edward VII, Princess of Wales, mother of George, Duke of York, and grandmother of David, Prince of Wales, and Bertie, King George VI. Deceased before this story begins.

George, Duke of York, son of Edward and Alexandra, later King George V. Deceased before this story begins.

Mary of Teck, Queen Mary. Widowed in this story. Mother of six York children:

Edward, called David by his family, popular Prince of Wales, briefly King Edward VIII, and later Duke of Windsor after he abdicated his throne.

Bertie, second son of King George and Queen Mary. King during this story as King George VI. Wed to Queen Consort Elizabeth Bowes Lyon. See her family below.

Mary, only daughter of George and Mary. Not in this story.

Harry, son of George and Mary. Not in this story.

George, son of George and Mary, Duke of Kent. RAF pilot in the war.

John, deceased before this story begins.

Children of King George VI and Queen Elizabeth Bowes Lyon:

Princess Elizabeth, later Queen Elizabeth II, born 1926.

Princess Margaret Rose, born 1930.

The Bowes Lyon Family in this novel:

Claude, 14th Earl of Strathmore and Kinghorne, father of Elizabeth Bowes Lyon.

Nina Cecilia Cavendish-Bentinck, recognized mother of Elizabeth and of nine other children, including these mentioned in this story:

Fergus

Rose

Michael

David

Contents

Cover

Title Page

Dedication

A Note on the Royals and Their Names

Prologue

Chapter One: The Making of Us

Chapter Two: The Last Dance

Chapter Three: Ghosts and Monsters

Chapter Four: Wire Netting and Glue

Chapter Five: Remembrance Day

Chapter Six: Beloved Brothers

Chapter Seven: Trapped on the Beach

Chapter Eight: Target Practice

Chapter Nine: More Bombs

Chapter Ten: To See Clearly

Chapter Eleven: Playacting

Chapter Twelve: Locked Up

Chapter Thirteen: Ghosts

Chapter Fourteen: Full Moon

Chapter Fifteen: The Fixer

Chapter Sixteen: Night Radar

Chapter Seventeen: Tossed Salad

Chapter Eighteen: Tangled Ivy

Chapter Nineteen: Walkie-Talkie

Chapter Twenty: We're Not in Kansas Anymore

Chapter Twenty-One: If You Ask Me

Chapter Twenty-Two: We Two E.R.s

Chapter Twenty-Three: The Big Picture

Chapter Twenty-Four: Queen In Deed

Chapter Twenty-Five: A Wing and a Prayer

Chapter Twenty-Six: Red Stains

Chapter Twenty-Seven: Happy Christmas?

Chapter Twenty-Eight: D-Day

Chapter Twenty-Nine: Information Fakery

Chapter Thirty: Warrior Queen

Chapter Thirty-One: Reunions

Chapter Thirty-Two: Past and Present

Chapter Thirty-Three: Fairy Tale

Chapter Thirty-Four: Battle Plans

Chapter Thirty-Five: Spring Passing

Chapter Thirty-Six: Victories

Epilogue: Seeing It Through

P.S. Insights, Interviews & More . . .*

About the Author

About the Book

Praise

Also by Karen Harper

Copyright

About the Publisher

Prologue

4 August 2000

After all the grand celebrations leading to my one hundredth birthday, I had feared dreadfully that the calendar day itself would be a disappointment. But the streets were lined again with Britain's best, our loyal subjects who had ever loved and bolstered me. And my dear Charles, Prince of Wales, was with his granny once again, my escort, my gift to the future, for I had formed him with love and joy much more than his busy mother or strict father had. So hard to believe he was fifty-one years and single as I had been for so very long—why, nearly half a century.

"Look at the signature here," I told Charles, showing him the telegram that had just been delivered to me on a silver salver by my own footman. We stood at the iron gates of Clarence House ready to board the ceremonial landau for a parade through the park and then back to Buck House, as that old roué King Edward VII had dubbed Buckingham Palace. "Everyone in the kingdom who makes it to this lofty age," I said, "receives such a message from our queen, but not one signed Lilibet."

"Even after seventy-five years in the public eye, you are always queen, mother of a queen—yet just my cheeky granny," he teased. "You know, the Times editorial had headlines simply screaming you saved the monarchy from both abdication and invasion. And don't tell me that's mere poppycock."

We had always had such fun together in good times and even bad. Diana had left him five years ago and had died three ago—or was it fifty, for it seemed like forever? But he was deeply in love with the woman I suppose he should have wed from the first, and we shall see how that goes. Ah, to long for one, yet wed another . . . I had done that, more fool me, yearning for the elder, but wedding the younger.

I snapped back to this day and mounted the carriage steps with little help. Bloody good for one born a Victorian, daughter of "only" a Scottish earl and the dearest woman, my real mother. Yes, I always thought of Cecilia that way despite what I knew, despite what that dreadful David and his lowest of the low paramour had ferreted out and said of me—Cookie! Scottish kitchen Cookie!

The staff had decorated the carriage with garlands of flowers in blue and buff, my racing colors. It would be a fine day to be at the track, reading the daily racing forms, cheering on my horses, mingling with the jockeys, considering a purchase of new horseflesh with a cocktail in my hand. "Queening," as Bertie used to call it, could be hard work, and the track was one of the places I really let down my hair—ha, short as I kept it now compared to my early days.

As we circled the Victoria Monument, the crowds were thick and loud, many waving little Union Jacks. The Coldstream Guards were mustering inside the palace gates, preparing to play "God Save the Queen" and "Happy Birthday" when we returned. Oh, yes, I'd made them show me the agenda for this day so I could be properly prepared. Always properly prepared . . .

I recognized a cluster of palace staff, ah, then some of my own fifty from Clarence House. Why, there was Bessie Miller, whom I simply could not do without to keep my English complexion absolute perfection during the war, and even now in my dotage.

I waved back, smiling, nodding as the cheering clusters of people blurred by. Many waved with that dreadful American wrist flap, so unlike what I had learned from Bertie's mama, Queen Mary
. More elegant to simply lift one's arm and slightly rotate the hand, she had said—said that and so much more.

The thickest clumps of the crowd were no doubt waiting for my balcony appearance later with Elizabeth, Philip, and the rest of the family, even dear William and Harry, restless teenagers both, one to be king someday. But in my mind, I saw that day we knew we had won the war when I was queen and Bertie was there, Winston too—victory! "We want the king! We want the queen!" it seemed all of London had chanted eternally.

"They love you, Granny, and always will." Charles leaned close to shout in my ear.

"And I them. Through thick and thin, forever."

I smiled and waved more, always had. I meant it too, though some had said I merely put it on, that I was plastic, even conniving. Well, that hellhound Herr Hitler had not called me "the most dangerous woman in Europe" for nothing, for Bertie and I—Winston too—stood up to him. We won, though the fight was bloody and, partly thanks to that damned David and that common adventuress wife of his, it was near disaster for Bertie—for us.

I blinked back tears and kept smiling. As we made the trip round St. James's Park and back down the Mall, I saw youngsters throwing a shower of confetti. I nodded and lifted my hand to them, but suddenly I was seeing another day, one with tall buildings and those strong, shouting Americans when Bertie and I rode through that storm of ticker tape in New York City. In a way that trip to Canada and America was the beginning of our work in the war, but it was the making of us too.

Oh, yes, Bertie did his duty—did his brother David's duty too, the coward, the deserter. Why that partly caused my beloved husband's death! I am glad David went into exile with that woman. After all, though I came to all this the hard way, it was my destiny to marry Bertie; love came later—as did all of this, what was behind us and, for me, some remaining days to live, to love, and to remember.

Chapter One

The Making of Us

9 June 1939

The noise of the whooping crowd, which was estimated to be between three and four million, echoed off the New York skyscrapers, nearly deafening us that Friday. Out windows high above our motorcar, people threw ticker tape, even long spools of it. Riding backward with us were Herman Lehman, the governor of New York State, and the city's chatty mayor, Fiorello La Guardia, and we were heading for the World's Fair in Queens—rather an appropriate-sounding place for me to visit, I thought.

Though the weather was absolutely ghastly at 36 Celsius in the shade with stupendous humidity, I refused to wilt. At least Bertie had worn a conservative business suit and not his woolen, heavily medaled Navy dress uniform. I wore a plain blue crepe dress and cape with a hat sporting high ostrich plumes, which tended to snag ticker tape. How I wished I could shake off our problems as easily as I shrugged off all that paper.

We had already spent a day with President and Mrs. Roosevelt in Washington, a meeting of minds that had gone quite well with talk of possible war with Hitler and even with Italy. But we had relaxed on the presidential yacht on the Potomac to Mount Vernon, where Bertie had placed a wreath on Washington's grave. That grand man might have led his neophyte nation against us British, but we admired him—and to think he had turned down becoming king. And now, instead of a historical enemy, Franklin saw us and dear Britannia as a bulwark against Fascism and Hitler, and we were hoping, if worse came to worst, that America would be our ally.

The mayor, indeed, was quite a card. He was of obvious Italian heritage and evidently popular. Our briefing papers had noted that he had helped to end corruption, hated gangsters, and was not Catholic but Episcopalian. He had a round face and slicked-back dark hair. Each time he spoke with his high-pitched, squeaky voice, I had to be careful not to startle. My dear younger brother had talked like that to make people laugh when we played at charades or the two of us put on a bit of a play. At least this man's voice carried above the roar of the crowds.

"I must tell Your Majesties," he said, "I've been an early critic of that madman Hitler for five years at least—from the first, yes, from the very first. I had a Jewish mother who spoke mostly Yiddish, and Hitler can't hide what he's doing to her people. Locking them up, thieving from them at the very least."

"So we have learned," Bertie said. He was tired and looked it, so I kept smiling and waving for both of us at times.

Leaning a bit toward the mayor yet trying not to look as if I slumped, I raised my voice to say, "We have learned through French channels that you are quite right to be concerned. You see, when we were in Paris I—we—had a well-placed source who said the same, so we are not deceived on that point, Your Honor."

Oh, yes, I had met in the privacy of the couturier Lanvin's fitting room with Léon Blum, the former prime minister of France, when we were last there. I spoke excellent French and understood fully what that Jewish man had warned me about that was happening to the Jews in Europe within Nazi reach.

I had been horrified and outraged not only at the information I passed on to Bertie and our government, but by hearing later the rumor that I was having an affair with Blum. Quite ridiculous, though it was sadly common for some women to meet their lovers amidst the muslin cutouts during a fitting for their new gowns. Why, Blum was nearly thirty years my senior, and I would never be unfaithful to the king. But now I was upset to hear the mayor bring up another topic I had rather not hear on this day of days.

"Rather a setback, then, when the former king—your brother, sir," La Guardia said with a nervous nod Bertie's way, "went to visit Hitler in Germany two years ago with his new wife on an official visit. Rather well-received they were too."

"Not in Great Britain. Not to our liking," Bertie said.

That might be dismissive, but I was proud of how decisive he sounded, with hardly hesitations or stutters anymore unless he was terribly provoked.

"Dreadful and entirely counterproductive," I put in. "Sad to say, the former king wanted to give his wife a place to be treated like the royal she was most certainly not, and that was the double folly of it. Ghastly," I added under my breath and felt my stomach tighten as ever when talk or memories of that woman arose.

I returned to waving and smiling, hoping that was the end of that topic. It was a shame and a scandal that David, alias the former King Edward VIII, and that common adventuress he had married, had toadied up to Hitler, however thoroughly German Queen Victoria's family had been. They were once known as the Saxe-Coburgs and Gothas but had renamed themselves the Windsors during the Great War. Oh, indeed, I could grasp the sad ties to the Huns. But that was in the past. The Germans had made war on us in the "war to end all wars" and might well do so again, but not if I had any say in the matter, and I intended to. Those damned Huns had killed my dear brother Fergus in the "war to end all wars," and I'd do anything I could to avenge his horrible death.

And so I waved and smiled some more.

* * *

After all the public bustle, demands, and humid heat heat heat, Bertie and I greatly appreciated our visit to the Roosevelt home in Hyde Park, New York. It was cooler here, along the Hudson River, shaded, quiet, and private. It reminded me of many a middling-sized country home in Kent or even dear Scotland. We were to stay a night and a day here. Bertie and the president spent some time alone, and I could tell Bertie liked him.

"Advice like from a father," he whispered to me, though, thank the Lord, Franklin Roosevelt was night and day from Bertie's overbearing and critical father, King George V, who had caused so much of my husband's early physical and emotional distress. "Didn't make one feel nervous at all," he added as we joined the Roosevelts outside under huge trees for what they deemed a picnic lunch. It was after our attending the service at the nearby Episcopal church, where I had felt quite at home.

Just wait until I told Lilibet and Margot about this picnic, I thought. I couldn't wait for our reunion with our girls next week. But now, plates on laps, one plate
with the entire meal except for drinks and dessert! And what the Yanks called "hot dogs," which I had to force myself to eat because they reminded me of one of David's passions when he was Prince of Wales. He craved anything American, however borderline barbaric, including fast, slim, cigarette-smoking, and mostly married women.

The president had invited his elderly mother, Sara, the family matriarch, to join us. Because of the president's paralyzed legs, his male attendant helped him from his wheelchair into a high-backed seat, then handed him his tray and drink. Despite our lack of goblets and champagne, the president led a toast to the health of Bertie's mother, the widowed Queen Mary, and then launched into a toast to his own mother.

"She has been a real mother to me all these years, and I love her dearly," he said, and went on at some length.

The glass in my hand began to tremble, nearly to slosh the white wine. A real mother to me . . . all these years . . . How desperately I missed my own mother, the light of my early life, who had died just last year before our trip to France. A real mother to me . . . all these years . . .

* * *

"Dearest, do come inside for a wee talk," my father, the Earl of Strathmore and Kinghorne, called to me that summer evening at Glamis Castle nearly on the eve of my seventeenth birthday.

Glamis was the grand ancestral seat of the hereditary Strathmore earls, and we were proud of it as the place where Shakespeare had set his tragedy Macbeth. Sir Walter Scott had visited and used it in his novels—more delightful reading than that murderous play where Lady Macbeth had blood on her hands.

"Is David coming too?" I asked, referring to my dear brother, two years younger than I. David and I were especially close, for our other eight siblings were older. A space of seven years stretched between them and us, such a long gap it seemed.

"No, just you for now. David later," he said with that distinctive Scottish burr he proudly flouted even when others of the Scottish aristocracy tried to sound as English as possible.

My mind spun back to what I could have done wrong, not that it fretted me. David and I were loved and coddled, corrected when need be but never really punished. Mother darling often referred to me as "Darling Elizabeth," so our love and respect was mutual. I knew we were cherished here on the extensive grounds or at our smaller, charming estate in Hertfordshire at St. Paul's Walden Bury. I had enjoyed a lovely, happy childhood, roaming the grounds, playing games and charades at night, spending warmhearted winters before the crackling fireplace.