The girl you left behind, p.1





The Girl You Left Behind, p.1

Jojo Moyes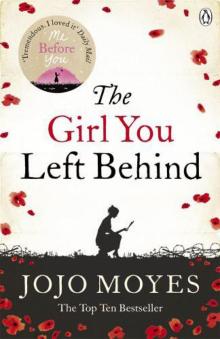 JOJO MOYES
The Girl You Left Behind
PENGUIN BOOKS
Table of Contents
Part One
Chapter 1
Chapter 2
Chapter 3
Chapter 4
Chapter 5
Chapter 6
Chapter 7
Chapter 8
Chapter 9
Chapter 10
Part Two
Chapter 11
Chapter 12
Chapter 13
Chapter 14
Chapter 15
Chapter 16
Chapter 17
Chapter 18
Chapter 19
Chapter 20
Chapter 21
Chapter 22
Chapter 23
Chapter 24
Chapter 25
Chapter 26
Chapter 27
Chapter 28
Chapter 29
Chapter 30
Chapter 31
Chapter 32
Chapter 33
Chapter 34
Chapter 35
Chapter 36
To Charles, as ever
PENGUIN BOOKS
THE GIRL YOU LEFT BEHIND
Praise for Me Before You
'A heart-stopping read. Destined to be the novel that friends press upon each other more than any other next year. Moyes does a majestic job of conjuring a cast of characters who are charismatic, credible and utterly compelling. Lou and Will are a couple who readers will take to their hearts as they did One Day's Emma and Dex'
Independent on Sunday
'Romantic, thought-provoking tear-jerker that you won't be able to put down'
Woman & Home
'Funny, believable and heartbreaking, this is sure to be the weepy of 2012. 5*'
Woman's Own
'A timeless love story, and Moyes's most emotional yet. This is a charming novel fizzing with quirky detail'
Red
'This truly beautiful story made us laugh, smile and sob like a baby - you simply have to read it. 5*'
Closer
'Poignant and beautifully written, this book will stay with you long after you've put it down. 5*'
Star Magazine
'Compelling, moving and absorbing. It's also a real weepie'
Daily Express
'A perceptive and moving tale'
Independent
'Beautifully written'
Sun
'Another powerful love story. A deftly plotted narrative populated with likeable, engaging characters. A bittersweet story about love, learning and letting go. It's a tremendous read and I loved it'
Daily Mail
'Heartbreaking, soul-searching and utterly compelling'
Easy Living
'Keep the tissues close as Jojo Moyes returns with Me Before You, a heartbreaking yet extremely uplifting tale'
Good Housekeeping
'Jojo Moyes has done it again with this funny, touching tale that is impossible to put down. Make sure you have a box of tissues to hand'
Candis
'At last, a new Moyes novel - and it's a triumph. Her story of love blossoming in the most unlikely of ways packs such an emotional punch, you'll need a box of tissues'
Elle
'Jojo Moyes's poignantly romantic tales have readers streaming their way through boxes of Kleenex. Me Before You is compelling reading. A profound, fundamental, thought-provoking conundrum lies at the heart of the story, a huge moral dilemma, explored with great fictional finesse'
Sunday Express
Reviews from online readers
'What a gorgeous, glorious story, one that ripped me to shreds by the end and made me gulp and wipe my eyes repeatedly with my sleeve. I doubt I'll ever forget it'
J. Earle 'rainbowthetaste'
'I loved, loved, loved this book. It had me laughing out loud, then minutes later sobbing into my bathwater (I couldn't put it down, it went everywhere with me). Beautiful in every way. Ten sparkling stars from me'
Kindledays
'Oh. My. Goodness. Just finished this. Sobbing - and I am not a wuss. Please read it'
J. Lord 'Jan'
'I laughed, I cried and I am pretty sure that I felt every other emotion possible. I would give it six stars if I could'
Mrs Julie Austin
'A very modern love story that will make the hairs on the back of your neck stand up. It has shot straight into my all-time top five novels. Simply perfect'
Mrs N. M. Ridings 'nicolamary'
'I can't remember the last time a book made me sob. A few have made me cry but this made me sob to the point where I couldn't catch my breath. Packs such a powerful punch'
Nickers 27
'This book blew me away. It made me laugh and cry, and how I cried. Please read this book, it is amazing'
Ms Leona Coleman
'I loved it more than anything I've read for some years (and I read a lot!). I will struggle to find another book that draws me in so completely'
Gill B
'I have never felt the need to write a review before. But after reading this book and crying more than I have ever cried in my whole life I felt as though I should. I am an avid book reader and I have to say no other book has captured me quite like this. I will remember and carry this story around with me for a long, long time'
Romantic Book Lover
'Quite simply, this is one of the best books I have ever read'
Wicky
'Such a magnificent book that words fail me'
Hamster
'Wow. I have laughed out loud over and over but predict I may need the tissues in the next couple of nights. Moyes, where have you been all my life?'
Aberdonian quine
'I loved every minute of it! I feel emotionally exhausted and keep going back to read parts of it again'
Tonie
'A truly beautiful and thought-provoking book. I balled my head off. I can honestly say I have never watched a film or read a book that made me cry like this did'
Nadia
'Read it in one go into the wee small hours, laughed and cried. Woke up and read the last chapters again. And cried again!'
Lolls Wales
'One of the very few books that made me laugh out loud just minutes before being moved to tears'
Helen P
'I found this book touching, inspiring and also a heartbreaking love story. I really can't recommend this book enough, it's truly amazing:-)'
Joanne Louise
'Truly the most thought-provoking and memorable book I have read to date. If you want to read a book that will have you laughing and crying all at the same time you MUST get this book!'
Steady
'One of the most heart-wrenching and endearing stories I have read in a long time. I blubbered my way through the second half of this book, much to the alarm of my husband'
Kerrie
'This book touches your soul, and when you have finished reading it you will ache for it not to be over and you will try and find a way to rationalize the ending in a way that doesn't make you weep'
Lizzie Bennett 'Bookworm'
'This book is addictive, it took all my will power to go to work and stop reading'
Lola Jane
'DO NOT READ THE LAST FEW CHAPTERS ON THE BUS. It will leave you a snivelling wreck'
Ms Tracy Williams
'I know it will have a lasting impact for a long time to come, which is more than I could ask for from any book'
Neerav Vadera
'Make sure you keep a big box of tissues beside you. I just couldn't put it down and stayed up all night. Great book!'
LE
'It made me laugh, cry and everything
in between'
Pipilove
'I have never spilled tears on a book as I did on this one. A must read'
Bon
'I have never read a more moving or compelling book in all of my life, and, believe me, I read a lot'
Bliz
'I have rarely wept so much over a book. Thank you for the laughs too, this will stay with me for a long time'
French Fran
'I don't think I've come across a book that evoked so many emotions. I don't often write reviews, but I feel I have to tell everyone how wonderful this book is'
Marg 'Margi'
'Cried buckets reading it, and could not put it down'
Mumzie
'Amazing! Could not put it down. HIGHLY recommended!'
Nearly 40
'Best book I have ever read, I literally couldn't put this book down'
Donna
'I have never read a book that has given me such a range of emotions, to the point that I'm breaking my heart, with tears spilling down my face'
Mrs T.J. Thomas
'This book was brilliant! I haven't cried this much reading a book before'
Jardine
'This ranks as one of the best books I have ever read. I am bereft now that I've finished it'
Caldergirl
'Moyes forces her readers to think and feel every awful, beautiful, heart-rending and chest-constricting emotion. Sublime and powerful'
Dee 18, Australia
'All I can say is: read it. It will make you think, laugh and cry, possibly all at the same time. I am glad I finished it in the privacy of my own home and no one could see me crying my eyes out. Well done, Ms Moyes, this was thoroughly believable and agonizingly real'
J. Starling
'Could not put the book down, and being a big butch steel worker it had me sobbing my eyes out'
B. Ingram 'Bazza'
'A truly remarkable book, Jojo Moyes deserves an award for this'
Swifty
'You may not want to read this on the train, especially towards the end - unless you enjoy howling in public!'
Mr T. Anderson
'The last fifty pages I almost couldn't read for tears streaming down my face'
Karen
'OMIGOD, this book put me through the wringer. I giggled, sighed and cried, such clever writing. What a book!'
HJ
'Life-affirming, sad and thought-provoking - it deserves to be right up there with One Day in terms of its popularity'
Book Worm, Surrey
'This book is an emotional rollercoaster! You will laugh, cry and wish that you could put your whole life on pause while you read it!'
Dooster
'WOW - this is one of the most moving books I've read in a long, long time. Buy it!'
Sukie
'I'm a little bit speechless, which is not ideal for a review, but that's what this book has done to me!'
Suzy Shipman
'This is a brilliant book written with humour and great sadness. Probably one of the best books I have read this year'
Roses UK
'If you aren't moved by this book then you need help'
Mrs Y. S. Buckell
'I've just finished this book and am finding it hard to type through the tears. What a fabulous, fabulous story'
KC 'square eyes'
'This book is completely eye-opening, and will change the way you see things'
Mrs C. A. Anderson
'This book was absolutely amazing. It made me laugh, think about life and in the end - cry'
Millie R
'This book is absolutely incredible. Honestly amazing. Loved every second. Couldn't stop thinking about it for hours, and every time I tried to explain what happened I couldn't stop crying all over again!'
TinyLittleKaren
'It is a long time since a book has moved me so much. Bravo'
FLB England
PART ONE
1
St Peronne October 1916
I was dreaming of food. Crisp baguettes, the flesh of the bread a virginal white, still steaming from the oven, and ripe cheese, its borders creeping towards the edge of the plate. Grapes and plums, stacked high in bowls, dusky and fragrant, their scent filling the air. I was about to reach out and take one, when my sister stopped me. 'Get off,' I murmured. 'I'm hungry.'
'Sophie. Wake up.'
I could taste that cheese. I was going to have a mouthful of Reblochon, smear it on a hunk of that warm bread, then pop a grape into my mouth. I could already taste the intense sweetness, smell the rich aroma.
But there it was, my sister's hand on my wrist, stopping me. The plates were disappearing, the scents fading. I reached out to them but they began to pop, like soap bubbles.
'Sophie.'
'What?'
'They have Aurelien!'
I turned on to my side and blinked. My sister was wearing a cotton bonnet, as I was, to keep warm. Her face, even in the feeble light of her candle, was leached of colour, her eyes wide with shock. 'They have Aurelien. Downstairs.'
My mind began to clear. From below us came the sound of men shouting, their voices bouncing off the stone courtyard, the hens squawking in their coop. In the thick dark, the air vibrated with some terrible purpose. I sat upright in bed, dragging my gown around me, struggling to light the candle on my bedside table.
I stumbled past her to the window and stared down into the courtyard at the soldiers, illuminated by the headlights of their vehicle, and my younger brother, his arms around his head, trying to avoid the rifle butts that landed blows on him.
'What's happening?'
'They know about the pig.'
'What?'
'Monsieur Suel must have informed on us. I heard them shouting from my room. They say they'll take Aurelien if he doesn't tell them where it is.'
'He will say nothing,' I said.
We flinched as we heard our brother cry out. I hardly recognized my sister then: she looked twenty years older than her twenty-four years. I knew her fear was mirrored in my own face. This was what we had dreaded.
'They have a Kommandant with them. If they find it,' Helene whispered, her voice cracking with panic, 'they'll arrest us all. You know what took place in Arras. They'll make an example of us. What will happen to the children?'
My mind raced, fear that my brother might speak out making me stupid. I wrapped a shawl around my shoulders and tiptoed to the window, peering out at the courtyard. The presence of a Kommandant suggested these were not just drunken soldiers looking to take out their frustrations with a few threats and knocks: we were in trouble. His presence meant we had committed a crime that should be taken seriously.
'They will find it, Sophie. It will take them minutes. And then ...' Helene's voice rose, lifted by panic.
My thoughts turned black. I closed my eyes. And then I opened them. 'Go downstairs,' I said. 'Plead ignorance. Ask him what Aurelien has done wrong. Talk to him, distract him. Just give me some time before they come into the house.'
'What are you going to do?'
I gripped my sister's arm. 'Go. But tell them nothing, you understand? Deny everything.'
My sister hesitated, then ran towards the corridor, her nightgown billowing behind her. I'm not sure I had ever felt as alone as I did in those few seconds, fear gripping my throat and the weight of my family's fate upon me. I ran into Father's study and scrabbled in the drawers of the great desk, hurling its contents - old pens, scraps of paper, pieces from broken clocks and ancient bills - on to the floor, thanking God when I finally found what I was searching for. Then I ran downstairs, opened the cellar door and skipped down the cold stone stairs, so sure-footed now in the dark that I barely needed the fluttering glow of the candle. I lifted the heavy latch to the back cellar, which had once been stacked to the roof with beer kegs and good wine, slid one of the empty barrels aside and opened the door of the old cast-iron bread oven.
The piglet, still only half grown, blinked sleepily. It lifted
itself to its feet, peered out at me from its bed of straw and grunted. Surely I've told you about the pig? We liberated it during the requisition of Monsieur Girard's farm. Like a gift from God, it had strayed in the chaos, meandering away from the piglets being loaded into the back of a German truck and was swiftly swallowed by the thick skirts of Grandma Poilane. We've been fattening it on acorns and scraps for weeks, in the hope of raising it to a size great enough for us all to have some meat. The thought of that crisp skin, that moist pork, has kept the inhabitants of Le Coq Rouge going for the past month.
Outside I heard my brother yelp again, then my sister's voice, rapid and urgent, cut short by the harsh tones of a German officer. The pig looked at me with intelligent, understanding eyes, as if it already knew its fate.
'I'm so sorry, mon petit,' I whispered, 'but this really is the only way.' And I brought down my hand.
I was outside in a matter of moments. I had woken Mimi, telling her only that she must come but to stay silent - the child has seen so much these last months that she obeys without question. She glanced up at me holding her baby brother, slid out of bed and placed a hand in mine.
The air was sharp with the approach of winter, the smell of woodsmoke lingering in the air from our brief fire earlier in the evening. I saw the Kommandant through the stone archway of the back door and hesitated. It was not Herr Becker, whom we knew and despised. This was a slimmer man, clean-shaven, impassive. Even in the dark I could see intelligence, not brutish ignorance, in his face, which made me afraid.
This new Kommandant was gazing speculatively up at our windows, perhaps considering whether this building might provide a more suitable billet than the Fourrier farm, where senior German officers slept. I suspect he knew that our elevated aspect would give him a vantage-point across the town. There were stables for horses and ten bedrooms, from the days when our home was the town's thriving hotel.
Helene was on the cobbles, shielding Aurelien with her arms.
One of his men had raised his rifle, but the Kommandant lifted his hand. 'Stand up,' he ordered them. Helene scrambled backwards, away from him. I glimpsed her face, taut with fear.
I felt Mimi's hand tighten round mine as she saw her mother, and I gave hers a squeeze, even though my heart was in my mouth. And I strode out. 'What, in God's name, is going on?' My voice rang out in the yard.
The Kommandant glanced towards me, surprised by my tone: a young woman walking through the arched entrance to the farmyard, a thumb-sucking child at her skirts, another swaddled and clutched to her chest. My night bonnet sat slightly askew, my white cotton nightgown so worn now that it barely registered as fabric against my skin. I prayed that he could not hear the almost audible thumping of my heart.