Books to Die For
John Connolly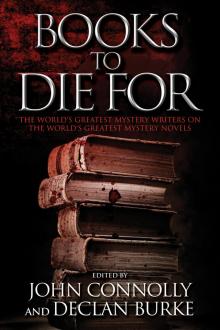 Thank you for purchasing this Emily Bestler Books/Atria Books eBook.

* * *

Join our mailing list and get updates on new releases, deals, bonus content and other great books from Emily Bestler Books/Atria Books and Simon & Schuster.

CLICK HERE TO SIGN UP

or visit us online to sign up at

eBookNews.SimonandSchuster.com

CONTENTS

INTRODUCTION

1841: Edgar Allan Poe, The Dupin Tales

J. WALLIS MARTIN

1853: Charles Dickens, Bleak House

SARA PARETSKY

1859: Charles Dickens, A Tale of Two Cities

RITA MAE BROWN

1867: Metta Fuller Victor, The Dead Letter

KARIN SLAUGHTER

1868: Wilkie Collins, The Moonstone

ANDREW TAYLOR

1892: Sir Arthur Conan Doyle, The Adventures of Sherlock Holmes

LINDA BARNES

1902: Sir Arthur Conan Doyle, The Hound of the Baskervilles

CAROL O'CONNELL

1928: Liam O'Flaherty, The Assassin

DECLAN BURKE

1929: Erskine Caldwell, The Bastard

ALLAN GUTHRIE

1930: Dashiell Hammett, The Maltese Falcon

MARK BILLINGHAM

1931: Dashiell Hammett, The Glass Key

DAVID PEACE

1932: Dorothy L. Sayers, Have His Carcase

REBECCA CHANCE

1932: Leslie Charteris, The Holy Terror (aka The Saint v. Scotland Yard)

DAVID DOWNING

1933: Paul Cain, Fast One

CHUCK HOGAN

1934: James M. Cain, The Postman Always Rings Twice

JOSEPH FINDER

1934: Agatha Christie, Murder on the Orient Express (aka Murder on the Calais Coach)

KELLI STANLEY

1938: Daphne du Maurier, Rebecca

MINETTE WALTERS

1938: Graham Greene, Brighton Rock

PETER JAMES

1938: Rex Stout, Too Many Cooks

ARLENE HUNT

1939: Geoffrey Household, Rogue Male

CHARLAINE HARRIS

1940: Raymond Chandler, Farewell, My Lovely

JOE R. LANSDALE

1941: Patrick Hamilton, Hangover Square

LAURA WILSON

1942: James M. Cain, Love's Lovely Counterfeit

LAURA LIPPMAN

1943: Léo Malet, 120, Rue de la Gare

CARA BLACK

1946: Edmund Crispin, The Moving Toyshop

RUTH DUDLEY EDWARDS

1947: Dorothy B. Hughes, In a Lonely Place

MEGAN ABBOTT

1947: Georges Simenon, Act of Passion (Lettre à mon juge)

JOHN BANVILLE

1947: Mickey Spillane, I, the Jury

MAX ALLAN COLLINS

1948: Carolyn Keene, The Ghost of Blackwood Hall

LIZA MARKLUND

1948: Josephine Tey, The Franchise Affair

LOUISE PENNY

1949: Raymond Chandler, The Little Sister

MICHAEL CONNELLY

1949: Josephine Tey, Brat Farrar

MARGARET MARON

1950: Patricia Highsmith, Strangers on a Train

ADRIAN MCKINTY

1952: Margery Allingham, The Tiger in the Smoke

PHIL RICKMAN

1953: Elliott Chaze, Black Wings Has My Angel (aka One for the Money)

BILL PRONZINI

1953: William P. McGivern, The Big Heat

EDDIE MULLER

1958: John D. MacDonald, The Executioners (aka Cape Fear)

JEFFERY DEAVER

1958: Friedrich Dürrenmatt, The Pledge

ELISABETTA BUCCIARELLI

1960: Clarence Cooper Jr., The Scene

GARY PHILLIPS

1960: Margaret Millar, A Stranger in My Grave

DECLAN HUGHES

1960: Harry Whittington, A Night for Screaming

BILL CRIDER

1960: Charles Willeford, The Woman Chaser

SCOTT PHILLIPS

1962: Eric Ambler, The Light of Day (aka Topkapi)

M. C. BEATON

1962: P. D. James, Cover Her Face

DEBORAH CROMBIE

1962: Kenneth Orvis, The Damned and the Destroyed

LEE CHILD

1962: Richard Stark, The Hunter (aka Point Blank and Payback)

F. PAUL WILSON

1963: Nicolas Freeling, Gun Before Butter (aka Question of Loyalty)

JASON GOODWIN

1963: John le Carré, The Spy Who Came in from the Cold

ÉLMER MENDOZA

1963: Ed McBain, Ten Plus One

DEON MEYER

1964: Ross Macdonald, The Chill

JOHN CONNOLLY

1964: Jim Thompson, Pop. 1280

JO NESBØ

1965: Maj Sjöwall and Per Wahlöö, Roseanna

QIU XIAOLONG

1966: Truman Capote, In Cold Blood

JOSEPH WAMBAUGH

1967: Agatha Christie, Endless Night

LAUREN HENDERSON

1968: Peter Dickinson, Skin Deep (aka The Glass-Sided Ants' Nest)

LAURIE R. KING

1969: Ross Macdonald, The Goodbye Look

LINWOOD BARCLAY

1970: Joseph Hansen, Fadeout

MARCIA MULLER

1970: George V. Higgins, The Friends of Eddie Coyle

ELMORE LEONARD

1971: James McClure, The Steam Pig

MIKE NICOL

1973: Tony Hillerman, Dance Hall of the Dead

WILLIAM KENT KRUEGER

1974: Donald Goines, Daddy Cool

KEN BRUEN

1975: James Crumley, The Wrong Case

DAVID CORBETT

1975: Colin Dexter, Last Bus to Woodstock

PAUL CHARLES

1976: Jean-Patrick Manchette, 3 to Kill (Le petit bleu de la côte ouest)

JAMES SALLIS

1976: Mary Stewart, Touch Not the Cat

M. J. ROSE

1976: Newton Thornburg, Cutter and Bone

GEORGE PELECANOS

1976: Trevanian, The Main

JOHN MCFETRIDGE

1977: Edward Bunker, The Animal Factory

JENS LAPIDUS

1977: John Gregory Dunne, True Confessions

S. J. ROZAN

1977: Ruth Rendell, A Judgement in Stone

PETER ROBINSON

1978: James Crumley, The Last Good Kiss

DENNIS LEHANE

1979: Manuel Vázquez Montalbán, Southern Seas (Los mares del sur)

LEONARDO PADURA

1980: Andreu Martín, Prótesis (Prosthesis)

CRISTINA FALLARÁS

1981: Robert B. Parker, Early Autumn

COLIN BATEMAN

1981: Martin Cruz Smith, Gorky Park

JEAN-CHRISTOPHE GRANGÉ

1982: Sue Grafton, A Is for Alibi

MEG GARDINER

1982: Stephen King, Different Seasons

PAUL CLEAVE

1982: Sara Paretsky, Indemnity Only

DREDA SAY MITCHELL

1983: Elmore Leonard, LaBrava

JAMES W. HALL

1984: Kem Nunn, Tapping the Source

DENISE HAMILTON

1987: Douglas Adams, Dirk Gently's Holistic Detective Agency

CHRISTOPHER BROOKMYRE

1988: Thomas Harris, The Silence of the Lambs

KATHY REICHS

1988: Sara Paretsky, Toxic Shock (aka Blood Shot)

N. J. COOPER

1990: A. S. Byatt, Possession

ERIN HART

1990: Patricia Cornwell, Postmortem

KATHRYN FOX

1990: Derek Raymond, I Was Dora Suarez
r /> IAN RANKIN

1991: Lawrence Block, A Dance at the Slaughterhouse

ALISON GAYLIN

1992: Michael Connelly, The Black Echo

JOHN CONNOLLY

1992: Peter Høeg, Miss Smilla's Feeling for Snow (aka Smilla's Sense of Snow)

MICHAEL ROBOTHAM

1992: Philip Kerr, A Philosophical Investigation

PAUL JOHNSTON

1992: Margaret Maron, Bootlegger's Daughter

JULIA SPENCER-FLEMING

1992: Richard Price, Clockers

GAR ANTHONY HAYWOOD

1992: James Sallis, The Long-Legged Fly

SARA GRAN

1992: Donna Tartt, The Secret History

TANA FRENCH

1993: Jill McGown, Murder . . . Now and Then

SOPHIE HANNAH

1993: Scott Smith, A Simple Plan

MICHAEL KORYTA

1994: Peter Ackroyd, Dan Leno and the Limehouse Golem (aka The Trial of Elizabeth Cree)

BARBARA NADEL

1994: Caleb Carr, The Alienist

REGGIE NADELSON

1994: Henning Mankell, The Man Who Smiled

ANN CLEEVES

1995: James Ellroy, American Tabloid

STUART NEVILLE

1996: George Pelecanos, The Big Blowdown

DECLAN BURKE

1997: Suzanne Berne, A Crime in the Neighborhood

THOMAS H. COOK

1997: Natsuo Kirino, Out (Auto)

DIANE WEI LIANG

1997: Walter Mosley, Always Outnumbered, Always Outgunned

MARTYN WAITES

1997: Ian Rankin, Black and Blue

BRIAN MCGILLOWAY

1997: Donald E. Westlake, The Ax

LISA LUTZ

1998: Cara Black, Murder in the Marais

YRSA SIGURDARDÓTTIR

1998: Reginald Hill, On Beulah Height

VAL MCDERMID

1998: Daniel Woodrell, Tomato Red

REED FARREL COLEMAN

1999: J. M. Coetzee, Disgrace

MARGIE ORFORD

1999: Robert Wilson, A Small Death in Lisbon

SHANE MALONEY

2000: David Peace, Nineteen Seventy-Four

EOIN MCNAMEE

2000: Scott Phillips, The Ice Harvest

EOIN COLFER

2001: Harlan Coben, Tell No One

SEBASTIAN FITZEK

2001: Dennis Lehane, Mystic River

CHRIS MOONEY

2005: Peter Temple, The Broken Shore

JOHN HARVEY

2007: Gil Adamson, The Outlander

C. J. CARVER

2007: James Lee Burke, The Tin Roof Blowdown

KATHERINE HOWELL

2007: Laura Lippman, What the Dead Know

BILL LOEHFELM

2007: Perihan Mağden, Escape

MEHMET MURAT SOMER

2008: Mark Gimenez, The Perk

ANNE PERRY

ACKNOWLEDGMENTS

ABOUT JOHN CONOLLY and DECLAN BURKE

CREDITS

INDEX OF CONTRIBUTING AND SUBJECT AUTHORS

INTRODUCTION

Why does the mystery novel enjoy such enduring appeal? There is no simple answer. It has a distinctive capacity for subtle social commentary, a concern with the disparity between law and justice, and a passion for order, however compromised. Even in the vision of the darkest of mystery writers, it provides us with a glimpse of the world as it might be, a world in which good men and women do not stand idly by and allow the worst aspects of human nature to triumph without opposition. It can touch upon all these facets while still entertaining the reader—and its provision of entertainment is not the least of its many qualities.

But the mystery novel has always prized character over plot, which may come as some surprise to its detractors. True, this is not a universal tenet: there are degrees to which mysteries occupy themselves with the identity of the criminal, as opposed to, say, the complexities of human motivation. Some, such as the classic puzzle mystery, tend toward the former; others are more concerned with the latter. But the mystery form understands that plot comes out of character, and not just that: it believes that the great mystery is character.

If we take the view that fiction is an attempt to find the universal in the specific, to take individual human experiences and try to come to some understanding of our common nature through them, then the question at the heart of all novels can be expressed quite simply as: Why? Why do we do the things that we do? It is asked in Bleak House just as it is asked in The Maltese Falcon. It haunts The Pledge as it does The Chill. But the mystery novel, perhaps more than any other, not only asks this question; it attempts to suggest an answer to it as well.

But where to start? There are so many books from which to choose, even for the knowledgeable reader who has already taken to swimming in mystery's dark waters, and huge numbers of new titles appear on our bookshelves each week. It is hard enough to keep up with authors who are alive, but those who are deceased are at risk of being forgotten entirely. There are many treasures to be found, and their burial should not be permitted, even if there are some among these authors who might have been surprised to find themselves remembered at all, for they were not writing for the ages.

And so, quite simply, we decided to give mystery writers from around the world the opportunity to enthuse about their favorite novel, and in doing so we hoped to come up with a selection of books that was, if not definitive (which would be a foolish and impossible aim), then heartfelt, and flawless in its inclusions if not its omissions. After all, the creation of any anthology such as this is inevitably accompanied by howls of anguish from those whose first instinct is always to seek out what is absent rather than applaud what is present. (We could probably have given the book the alternative title But What About . . . ?)

With that in mind, let's tackle just one such elephant in this particular room. It's Raymond Chandler, as is so often the case when mystery fiction is under discussion. The Big Sleep is the Chandler novel frequently cited as the greatest mystery ever written, often by those who haven't read very much at all in the genre. In fact, so ingrained has this idea become that The Big Sleep is a novel beloved even of people who have never read it, or who have seen only the 1946 movie based upon it. Fond though we are of The Big Sleep—for there is much in it of which to be fond, and much to admire—there's a strong case to be made that not only is it not the greatest mystery ever written, it's not even the greatest mystery Chandler ever wrote.

The Big Sleep is not the subject of an essay in this volume, but if not The Big Sleep, then what? Well, two of Chandler's novels are discussed here. The appearance of one, Farewell, My Lovely, could probably have been anticipated, but the second, The Little Sister, is slightly more unexpected. When we were discussing this project with Joe R. Lansdale, who writes here on Farewell, My Lovely, we all agreed, with the misplaced confidence of those who are convinced that they can get the army to Moscow before winter sets in, that Michael Connelly would pick The Long Goodbye, as his affection for it was widely known (although that affection, as you'll see when you read his essay, is tied up with Robert Altman's 1973 film adaptation of the novel). While The Long Goodbye does get a glowing mention in Connelly's essay, he chose instead to focus on The Little Sister, because that book is more personal to him.

Which brings us to the main thinking behind this anthology. This is not a pollster's assembly of novels, compiled with calculators and spreadsheets. Neither is it a potentially exhausting litany of titles that winds back to the dawn of fiction, chiding the reader for his or her presumed ignorance in the manner of a compulsory reading list handed out in a bad school at the start of summer to cast a pall over its students' vacation time. What we sought from each of the contributors to this volume was passionate advocacy: we wanted them to pick one novel, just one, that they would place in the canon. If you found our contributors in a bar some evening, and the talk turned (as it almost
inevitably would) to favorite novels, it would be the single book that each writer would press upon you, the book that, if there was time and the stores were still open, they would leave the bar in order to purchase for you, so they could be confident they had done all in their power to make you read it.

If nothing else, that should explain the omission of any title that, even now, might prove to be a source of aggravation to you, the reader—and, in the great scheme of things, we'd hazard there are fewer than might be expected, and certainly few neglected writers, although, inevitably, there are those, too, or else this book would be too heavy to lift. There is greatness in all of the novels under discussion in this volume, but, equally, there is huge affection and respect for them on the part of their advocates.

This brings us to the second purpose of this book. Because of the personal nature of the attachment that the contributors have to their chosen books, you will, in many cases, learn something about the contributor as well as the subject, and not a little about the art and craft of writing along the way. Thus, we have Joseph Wambaugh, as a young cop-turned-writer, finding himself in the extraordinary position of discussing a work in progress with Truman Capote; Linwood Barclay, then only an aspiring novelist, sharing a meal with Ross Macdonald, a meal that arises out of one of the simplest and yet most intimate of reader-writer connections, the fan letter; and Ian Rankin encountering the extraordinary figure of Derek Raymond in a London bookstore. More important, as all writers are the products of those who went before them, those whom we love the most tend to influence us the most, whether stylistically, philosophically, or morally (for, as someone once noted, all mystery writers are secret moralists). If a writer whose work you love is featured in this book as the subject of an essay, then there's a very good chance that you'll also enjoy the work of the essayist, too. Similarly, if one of your favorite writers has chosen to write, in turn, on a beloved writer of his or her own, then you're probably going to learn a great deal about how that contributor's writing came to be formed, as well as being introduced to the novelist at least partly responsible for that act of formation.

While this volume is obviously ideal for dipping into when you have a quiet moment, enabling you to read an essay or two before moving on, there is also a pleasure to be had from the slow accumulation of its details. Reading through the book chronologically, as we have done during the editing process, patterns begin to emerge, some anticipated, some less so. There is, of course, the importance of the great Californian crime writers—Dashiell Hammett, Raymond Chandler, Ross Macdonald, and James M. Cain—to the generations of writers who have followed them and, indeed, to one another: so Macdonald's detective, Lew Archer, takes his name in part from Sam Spade's murdered partner in The Maltese Falcon, while Chandler builds on Hammett, and then Macdonald builds on Chandler but also finds himself being disparaged by the older author behind his back, adding a further layer of complication to their relationship. But the writer who had the greatest number of advocates was not any of these men: it was the Scottish author Josephine Tey, who is a figure of huge significance to a high number of the female contributors to this book.