Knight Nostalgia, Page 1
Joey W. Hill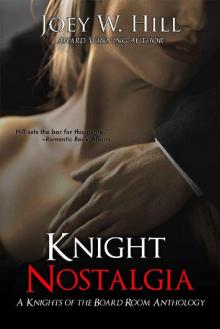 A whole new anthology of revisits with the beloved Knights of the Board Room characters…

Conqueror's Fantasy – When Matt Kensington takes Savannah to The Resort as an anniversary gift, they explore their Dominant and submissive relationship to untold new depths. On their last day there, Matt plans one more special surprise for his wife. He will bring to life a fantasy she's held since the unforgettable night he made his feelings clear to her in his board room. A role-playing fantasy Savannah never expected to share with her practical husband. But Matt refuses to let even one of her fantasies go unfulfilled.

Girls' Day Out – Ben O'Callahan considers himself a brave man. But he ponders putting in for extreme hazard pay when he volunteers to take the wives of the K&A men out for a day of shopping and girl talk. There's already some serious compensation, however. He has the chance to spend the day with Marcie, and prove to her sister Cass he can be the man Marcie needs him to be.

The Card Game – For the past several years, Rachel has learned what it means to be loved, as a wife and cherished submissive. Yet some shadows of the past continue to cling. Then the K&A men plan an after-hours poker game, and offer Rachel and Dana the opportunity to be the jackpot, required to do whatever the man who wins each hand commands. With the chance to serve the "Knights of the Board Room" in a way she's always dreamed about, Rachel will dispel the shadows once and for all, and finally believe in the unshakable love of her Master.

Knight Nostalgia

A Knights of the Board Room Anthology

Joey W. Hill

Knight Nostalgia

Copyright © 2018 Joey W. Hill

ALL RIGHTS RESERVED

Cover design by W. Scott Hill

SWP Digital & Print Edition publication February 2018

This book may not be reproduced or used in whole or in part by any means existing without written permission from the publisher, Story Witch Press, 6823 Neuhoff Lane, Charlotte NC 28269.

Warning: The unauthorized reproduction or distribution of this copyrighted work is illegal. No part of this book may be scanned, uploaded or distributed via the Internet or any other means, electronic or print, without the publisher's permission. Criminal copyright infringement, including infringement without monetary gain, is investigated by the FBI and is punishable by up to 5 years in federal prison and a fine of $250,000. (http://www.fbi.gov/ipr/). Please purchase only authorized electronic or print editions and do not participate in or encourage the electronic piracy of copyrighted material. Your support of the author's rights is appreciated.

This book is a work of fiction and any resemblance to persons, living or dead, or places, events or locales is purely coincidental. The characters are productions of the author's imagination and used fictitiously.

The publisher and author(s) acknowledge the trademark status and trademark ownership of all trademarks, service marks and word marks mentioned in this book.

The following material contains graphic sexual content meant for mature readers. Reader discretion is advised.

Digital ISBN: 978-1-942122-69-2

Print ISBN: 978-1-942122-70-8

Contents

Acknowledgments

Conqueror's Fantasy

Girls' Day Out

The Card Game

Afterword

Ready for More?

About the Author

Also by Joey W. Hill

Acknowledgments

A special thanks to Elizabeth Lowell for her 1993 book, Untamed. Many years ago, her "falcon" scene was one that stuck with me when I was exploring Dominant/submissive dynamics in my own writing. I've included a little homage to that in Conqueror's Fantasy, and I offer ardent thanks that writers like her incorporated D/s elements in their mainstream romance books, to guide those of us who eventually penned "official" BDSM erotic romance. Oh, and if you've never read Untamed, I highly recommend it. It's a wonderful love story and a classic!

Gratitude as always to my core editing team for their fabulous work – Lauren, Debi, Judy, Julie and Sheri. Thank you, Debi, for helping Jon find the right words for Rachel. And Judy, for recognizing that Matt doesn't have to pretend to be a conqueror – he damn well is one!

Since I'm as hopeless as Marcie when it comes to cooking, a tremendous thanks to Christi for the green bean recipe and Aunt Linda for the key to baking great cookies.

Another hundred-times-over thank you to all the devoted fans of the Knights of the Board Room series. Your enthusiasm for these characters has taken them to far greater heights than I ever expected. Though the full-length stories of these characters have been told, and the muse has shown no inclination to write more, you all are largely responsible for this anthology.

How? It's all in the title: nostalgia. Defined on the Internet as "a sentimental longing or wistful affection." The stories included in this compilation were spawned by "character interviews" done with the cast members, where certain possibilities were mentioned. Or by tidbits dropped in the books themselves as titillating behind-the-scenes events. But all of them are the result of readers who latched onto those mentions and asked if they could become novellas.

The answer is YES, and here they are. Enjoy!

Author Note/Reminder: In previous books, multiple interviews and shame-faced social media posts, I have admitted to thoroughly screwing up timelines in my books, in many ways that can't be fixed. Thank goodness, I didn't go into a science or math field—not that anyone would have ever hired me in that capacity! Therefore, please ignore any timeline gaffes you note in these stories. I am likely fully aware of them, but decided to write the story the way I found most pleasing, regardless (lol). I hope you can forgive that, and enjoy the story anyway.

Conqueror's Fantasy

Matthew Lord Kensington was unsettled. Nervous, if he was being entirely truthful with himself.

He ran a Fortune 500 company he'd expanded tenfold from his father's oil field operations. He'd embraced his identity as a sexual Dominant at nearly the same time he'd taken those reins, so whether in bed or in the office, he remained in control, in ways that contented and challenged him. He'd recovered from enough mistakes in his life that missteps didn't fluster him. They didn't derail him from achieving his goals.

He didn't get nervous. Ever.

Though admittedly, many husbands might feel jumpy if they were being confronted by his current situation. Two astoundingly beautiful women—neither one his wife—were kneeling at his feet. They were also naked, except for tiny golden waist chains that proclaimed them slaves. His slaves.

Apparently thinking he hadn't heard her, the redhead with milk-white skin and amazingly generous breasts repeated their purpose for being here.

"You ordered a bath and massage, my lord, to remove the dust of the battlefield. You wished to be clean before bedding your conquest."

"I gave no such order."

The two women remained silent, bowing their heads. They of course would never dispute his word. Then it clicked. Some days, Savannah knew how to outplay even his best move.

This part of their trip had been planned as a special surprise for her, but she would have been made aware of it a few hours ago. As a result, he expected she'd made her own alteration to the session.

Savannah Tennyson Kensington was the only force on earth who could unbalance or take him by surprise. Or make him nervous. She'd done all three tonight, though he would manfully do his best to make sure she didn't know it.

Or at least not until after he offered her the fantasy she hadn't expected him to fulfill.

Up until coming to The Resort, a private Caribbean BDSM pleasure island, they'd enjoyed their Dom/sub interactions mostly in pri
vate, but when she'd told him how she wanted a safe place to explore that side of herself even more deeply, he'd gifted her with a visit for their anniversary.

He'd initially intended to reveal it as their destination once they were on their way to it, but after learning all the offerings the resort offered, he told her a few weeks before, so he could learn what interested her the most.

During that time, they'd discussed a variety of experiences they wanted to explore as Master and sub. The Resort could accommodate any aspect of the lifestyle money could buy. They both could afford a lot, though Matt had refused to let her pay for any of this. For once, she'd acquiesced without argument about a large purchase. She understood the important nuances of what they were exploring here, a space where she'd relinquish total control to him in an undiluted Master/sub environment.

As they'd lain on their bed at home one night and looked through the comprehensive booklet and a variety of glossy supplemental brochures together, they'd discarded those things not compatible with either of their interests. But when she lingered on the role play section, a tiny smile on her lips, he'd asked her what was going through her mind.

"It's nothing. Just a memory."

He tipped up her chin and met her blue eyes. During the years he'd known her, he'd come to the conclusion the shade was as indescribable as the endless blues of water and sky, changing with the shifting of moon and sun. "Tell me."

Her smile became shy, reminding him of the child who'd been her father's shadow until she embraced her own identity and became the formidable woman she was. She was three times the CEO that Gregory Tennyson had ever been.

The child who had grown into an incomparable woman had never had bedtime stories. But now she told him one.

"Do you remember the night I came to your office and you revealed your feelings for me?"

The humor in her expression was reflected in his own. As if either of them would ever forget that night. "My feelings for you were always obvious. You just required an aggressive takeover move to notice."

She chuckled. The sound always gave him a sharp spurt of gut-level pleasure. She laughed so much more now, and yet he cherished every instance, because he remembered when her laughter had been as rare as a blue moon.

"When I walked into your board room," she continued, "I sensed right off something was different. The way you were sitting at the head of the table, all alone, the room cloaked in shadows, the lights of the city behind you. There was this moment, don't laugh, when I looked at you and realized the trappings were a façade. Instead, I saw the walls of a tent, with armor, shields and swords propped against them. I had walked into the domain of a conqueror."

She took a breath, her amused expression disappearing to reflect a warmer, deeper pool of emotions. "When you looked at me, I trembled inside. You say your feelings were always obvious. Maybe they were, but you didn't push hard until that night. Hard enough I couldn't keep them at arm's length, or pretend not to see what was there."

"You weren't ready before then," he replied, though her words made him want to draw her closer. "I knew it, tried to respect it."

She shook her head. "There are times I've wished…you'd pushed harder, sooner. But then I think, if you had, it might have been too soon, and we wouldn't have made it here." Her gaze sought his. "It terrifies me sometimes, thinking how something that's everything we ever wanted can be balanced on the head of a pin. A confluence of timing, luck, and the right amount of courage. Plus, the ability to change something about myself I never thought I could."

He trailed his fingers along her jaw, slipping down to caress the pulse of her throat, which tripped intriguingly under his touch. "You're the bravest woman I know, Savannah. You'd never miss that kind of moment because of lack of courage."

"Nor you," she said, with a trace of a smile. "You're right. You were concealing nothing that night. From the moment I stepped into the board room, your desire to claim, control, invade was right out front. I thought I had to resist it, like a captive queen, because if I succumbed, everything would be lost. I didn't realize I was on the cusp of finding everything I needed."

The blue of her eyes had darkened, telling him she was aware of the heat her words were generating between them. He dropped his hand to her waist, the slick brochures tumbling off the bed as he pushed her to her back amid the pillows. Her golden hair formed shimmering waves on the linens as she spread her long slim legs. Her cream-colored satin robe parted to allow the motion, so when he laid full length upon her, there was nothing between him and the damp softness of her sex except the cotton of his drawstring pajama bottoms.

Her hands framed his face, her touch like flower petals. Her scent was the same type of haunting fragrance. As he'd promised her that night in his board room, there were always fresh flowers in their bedroom. She handled them frequently, cupping the blooms, brushing her cheek or lips against the silken texture. The current bouquet, sitting on the glass table where they both sometimes did some work before bedtime—or shared an after-sex delivery pizza—was a mix of blue, purple and yellow blooms. He'd added a couple gardenia blossoms he'd cut from their backyard this morning, before she woke.

"I had to fight you that night," she continued, her chin setting resolutely. "Because that was my nature, too. I was your conquest, brought before you in chains, but it wasn't my subjugation you wanted. Surrender, yes, but surrender with a fight, because winning the castle wasn't enough. You had to prove yourself worthy to be my Master. You wanted me to fight, to make it a fight worth winning…for both of us."

She caressed his biceps in a languorous way, her eyes misted with the fantasy imaginings. He could see it in his own mind with surprising clarity.

He slipped the sash of the robe, lifting off her enough to spread the garment out on either side, revealing her lithe, nude body. Reaching down, he found the smoothness of her sex. The dampness was fast moving to slick wetness. His cock hardened in reaction, pressed against her thigh.

"Was your conqueror worthy?" he murmured against her lips.

The tip of her tongue moistened her mouth, her eyes sparking with both humor and arousal. "You'll know, the day I call you 'my lord,' and mean it."

She reached up between them to touch his lips. Her next words were more serious. "Had you been born centuries ago, you would have been one of those conquering warlords. But your heart…it would still be your heart. You are that man, now or a thousand years ago. But don't worry. It's a fantasy that can stay a fantasy. I like the way it plays out in my head."

She understood him, understood how practical a man he was. Role playing was make-believe, and that was for children. He excelled at certain things because they were true to who he was. He was a leader, and yes, maybe somewhere inside him was the fire of those ancient conquerors. But he wasn't a fanciful man. When other boys had been reading comic books and sword-and-sorcery novels, Matt was reading business success biographies and standing next to his father on oil rigs.

He saw himself as a leader in the context of the here and now, a contemporary setting, familiar landmarks. Yet as she'd told him her imaginings about that night, he realized he'd been pulled into how she told it.

He got the pajama bottoms out of his way, her agile feet helping, heels pushing the cotton off his ass, and he slid into her, her sweet cream making it a deep glide and lock. Her chin lifted, her throat moving in a swallow as her gaze held his.

She didn't say a word, and neither did he, letting their eyes say everything. Conqueror, conquered. The lines blurred as to who was who, when they were joined like this. But as he embedded himself in her, he didn't deny his surge of possessive pleasure, or the primal need to claim her through claiming her body. Thrust in the way that won her surrender, her body lifting to his movements, gasps coming from her lips.

Looking at all the possibilities The Resort offered, i
magining them partaking of those offerings, meant that foreplay had been handled. But he realized her revealing her fantasy had also contributed to her aroused state. And maybe not just hers. Her responsiveness pleased him fiercely, her body already rocking urgently against his, her nails biting into his shoulder.

"Come for me, sweetheart," he whispered, and savored the cry that broke from her pale pink lips as she obeyed his command. She tightened on him like a fist, and he followed her right over, thrusting into her harder, more demanding, egged on by the clasp of her legs and the sharp scrape of her nails.

They moved together even afterward, riding those smaller crests, taking the last ounce of pleasure out of the experience. They'd been close to her normal bedtime when they'd decided to look at The Resort paperwork, so now, as she eased out of the climax, he noticed her lids were already drooping.

"We'll pick this up tomorrow night," he said, and she made a murmur of agreement. He turned them, cradling her in his arms, her leg hooked over his hip. He stayed inside her until he softened, feeling the rise and fall of her breasts against his chest as she caught her breath. When she nestled closer and he saw goosebumps on her skin, he knew the chill of the ceiling fan was affecting her.

Holding her with one arm, he pulled the comforter over them, keeping her warm. She adjusted, one arm folded against his chest, the other curled under his arm, her fingers caressing his back. "I love you, Matthew," she said, her voice a breath against his skin. "It may be hindsight through romantic glasses, but I think I always did. Long before I realized or admitted it."

"Of course you did," he said placidly, and smiled when she closed the hand against his chest into a fist and beat out a gentle tattoo against him.