Heart Quest
Joey W. Hill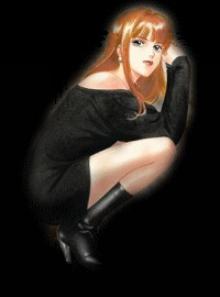 HEART QUEST

By Joey Hill ©2004

Annie was lost, and loving every minute of it. When she had begun her two-month vacation, hiking by herself in the Blue Ridge Mountains, she had almost been swayed by the pleas of her friends. Take a cell phone, take a companion, take a dog. Take a cell phone.

She hadn't caved. She was here, deep in the forest, miles from another human being. No technology within touching distance, not even a watch. In the eyes of civilized society, if she got hurt, or vanished without a trace, it would be because she was irresponsible, naive, or just plain stupid.

More than once during the first several weeks, she had faced situations that made her agree with that. This morning, sitting on the edge of a cliff and watching the sun rise, she didn't feel that way. The sky turned pink, orange and violet colors, so beautiful she felt like wrapping herself in them and twirling. So she did. Shedding her clothes, she danced in the many passionate shades of the changing early light. The warmth of the morning sun kissed her damp skin, a reward for her ardent sun ritual.

She had been a practicing Wiccan for ten years, but the momentum of day-to-day life meant that monthly rituals were a mere smile and distracted prayer at the full moon. Gatherings with her old coven were few and far between, and she found she didn't have the time before those get-togethers to still her brain, turn it off so she could benefit from the energies that such events attracted.

She had decided it was time to untie the spiritual and emotional knots and test herself physically, open up the energy centers and drum out the bullshit. Except for the voices of nature, she wanted absolute quiet. The sounds of the phone, people on the street, even the whine of her refrigerator, were making her lose her mind.

While she believed in reincarnation, every life was too short. The daily regimen of sleep, work, eat, TV and start all over again was squandering a life the Lord and Lady were holding out right under her nose, a world of awareness and connection she was missing, too busy grinding it to dust on the treadmill of daily life.

She had many people in her life she loved and who loved her, but no one to whom she could explain her urgency to abandon civilization and go on this hiatus by herself.

In her younger days, she had camped extensively. Backpacked through Europe, helped build houses deep in the Appalachian mountains, on Native American reservations and in Third World countries. She'd been part of a student group that hiked with natives from Brazil to the coast of Venezuela through miles of rain forest, carrying only essential provisions and living off the land as the natives did. She'd spent one summer in the company of a tribe of Aborigines in Australia to help her complete her sociology thesis. Ten years later, she remembered the solitude of that tribe, the tranquility that pervaded their daily lives. Those memories, and the skills she'd acquired from those youthful adventures, had given her what she needed to embrace this personal quest.

For that was how she viewed this trip. A quest. To find the truth in her life.

Annie arched her back, stretching, and raised her bare arms to the sky. Not a practiced move, just a spontaneous reach toward all she saw before her. Life accepted her presence.

When she first left the human trails, using her compass to mark her course as she followed faint deer paths, she had to adjust to the rustling of other creatures sharing the forest with her that did not mass near the man-made paths. On her third day, she came face-to-face with a black bear in a clearing. He or she seemed as startled to find her there, but after giving her a measured look, the bear had trundled off, clearly satisfied that she was neither a threat nor of interest.

She smiled at the recollection. So much for the superiority of humans. Out here, beyond the egocentric constructs of men, life moved on. The sun going up, the sun going down.

What magic might be found if humans walked here, as she had done, in the footsteps of other beings, rather than creating their own trails? What wonders did these creatures see every day that she and the rest of humankind missed, what alternate reality?

Her morning meditation done, Annie got dressed, packed up and headed out, choosing a north direction, following the same impression of a path she had been following for several days now.

There was a sensual nature to a quest like this, a dropping of inhibitions. An emotional vulnerability, a willingness to believe in what seemed unlikely, and trust intuition. Oddly similar to the decision to give one's heart, body and soul to a lover.

She was a sexual creature by nature. Her closest friends had teased her the most about that aspect of her trip. They couldn't believe she would go to a place where the closest thing to a man she'd find was the black bear she'd met. But her sexual side was inseparable from her spiritual side. She wasn't a casual sex person, no matter that she knew they often thought she was, when she lay with a man for just one night, or ended a relationship after a couple weeks.

She hungered for a touch that went past skin level. It occurred when the strand of her Web was meant to cross that of another. That could happen anywhere, and when it happened, it had its own lifespan.

When she was a twenty-something, she had experienced the casual encounters that she supposed all young people with the benefits of her looks and confidence could indulge, and discovered the disease of excess. She had gotten past that, and entered into her thirties determined not to engage in that dissolute sating of physical needs and temporary loneliness. The issue was not to avoid loneliness, but to be comfortable with being alone. Since then, she chose partners based on genuine attraction, and attraction in the real sense of the word. A drawing together of two entities, pulled together by some compelling desire to join, to share.

Not sure if she ever would find a person whose strand would permanently tie into hers, she had nevertheless learned to release a partner when the time came, to give way peacefully when there was a change in their attraction. She experienced a relationship as long as it lasted, whether a day, a week or a year, holding no part of herself back, and let the strands part as they would, sparkling with diamonds of knowledge and pleasure learned, like the moisture of a kiss lingering on the lips.

With the mind and heart open to all possibilities, miracles could happen. Magical moments such as the experiences of the past few weeks. Such as what lay ahead of her now.

Annie heard the rush of water at the same moment a bead of sweat rolled down the collar of her throat. Anticipating a creek or pool, she stepped up her pace. The reality was far more than she hoped.

Fluttering from the breeze stirred by the water's movement, the foliage brushed the bare skin of her arms as she passed through their loose embrace to gaze with pleasure down at the fall below. Shaped like a soft rendering of a fetus, the pool was wide and deep, the waterfall dropping into the curl of the body. The wide curve of the head, back and hip would give her room to keep away from the reverberations while swimming. A rock marked the eye indentation, and a cluster of rocks were the tiny clutch of fingers held to the chest.

The deer path took her down to the edge. Footing was precarious, but she enjoyed the feel of her muscles straining, testing their strength as they grew slick from the stroke of the sun. It was difficult to descend without looking at the beauty that every step brought to her, so she stopped, stepped, and looked again. The intrusions of water into the bank gave the image flowing hair, so the impression shifted between a fetus and a woman sleeping. Each movement brought a new perspective of the pool below, the sun glittering off of different portions of the water, highlighting the various greens of the forest around it and changing their hue. She sensed eyes upon her, but she had gotten used to that, knowing her every movement was noted by the twitching noses and liquid brown eyes of the woodland creatures.

Water was not Caribbean clear blue i
n the Blue Ridge Mountains. It sparkled with the sun but kept its mysteries beneath the surface, secrets that brushed one's thighs and nipped at the toes when wading or floating in the water's grasp. There was a peculiar quality to this water, however. As she looked at it, Annie felt she could see things moving beneath the depths, sunlight finding shapes that almost took recognizable form, then were gone.

She stepped onto the "hand" of the sleeping fetus-woman shape. Something about the pool demanded a pause for respect, the need to become in tune with the spirits that surrounded it, so she did not instantly shed her clothes.

It was a place where water brought together all elements. Water glittered with fire, water touched the banks of earth, water rippled with the touch of air. As for the fifth element, the Spirit that created all, it was as if the shape of the pool itself was a mark of Its Presence.

Done with her moment of obeisance, Annie unbuttoned her shirt, slid out of it and let the first cool touch of air finger her skin, lifting the short hair on her nape. She shed her jeans, socks, shoes and underclothes, leaving them in a neat pile on the bank. Making her way over to the flat rock near the falls, she squatted down on it to drift her fingers in the water. Feeling the sun on her cheek, her shoulder, she closed her eyes and realized she had thought of nothing for nearly the last hour, her mind free of anything but the basic necessities of life.

Am I hungry? Thirsty? Hot? Cold?

Not: Where should I go? How much progress am I making? What should I do if…? She had found an area of stillness in herself. As her vacation had progressed, she had nursed it, and the infant had grown, spread out, and linked her with the underlying quiet around her, so going into the state of instinctive stillness had become second nature.

Something touched her gently moving fingertips, and she smiled. Not too long ago, her eyes would have popped open and her fingers drawn back, not in that order. Now she knew that curious fish would nibble. She opened her eyes and lowered her chin to see what manner of finned creature was trying out her taste.

A man stared back at her out of silver gray eyes, his face below the surface of the water. His hand mirrored hers, each of his five fingers pressed to the tips of hers, moving back and forth with her slow, waving motion. Black hair swam like silk around his strong, pale features.

Annie slowly raised her hand from the water, blinked. His hand followed, emerging into sunlight.

It was like when she had looked into the marble face of Michelangelo's David at Firenze. She had felt a flutter in her vitals, half expecting something so intensely beautiful to come to life like this, the smooth alabaster eyelids raising to reveal silver irises and focused pupils, glowing with energy. The cheekbones, the fair, broad forehead and straight, thin nose, had the same unsettling perfection of a work of art. The faint pink hue of the lips, the only true color in his face, made him mortal, touchable.

She was dizzy. Annie realized she had stopped breathing. She opened her mouth to gulp in air, and his fingers reached, rested on her bottom lip before she could consider whether or not to draw back.

Drops of water rolled over the creases of his knuckles as those on his fingertips slid into the soft fold of flesh between her teeth and inner lip.

His head broke the surface of the water, his face tilted up toward her so that his hair clung smoothly to his skull, not marring the angles of temple, cheek and forehead as he emerged into the oxygen-rich atmosphere.

Annie blinked, her mind doing what she would expect it to do under such an extraordinary circumstance. Grasp for reality.

Gray eyes. He has gray eyes, not silver. He's a hiker who was swimming here, and she just hadn't seen him when navigating the steep slope. His every dive below the surface had choreographed with her frequent stops to look around and—

He put his hands on the smooth surface of the rock before her, and the muscles from the curve of his throat to his shoulder tensed.

--then she sat down and closed her eyes, and somehow missed him.

He straightened his arms, lifting himself from the water. It fell from his shoulders, leaving a glistening film of moisture. Liquid diamonds flowed unimpeded down the curve of his smooth pectorals, sliding to the edge of his nipples. They fell and rejoined their brothers in the rivulets that bumped their way down the indentation of sectioned stomach muscles, not slowed by body hair.

The wind had covered the noise of his splashing. Or he was behind that group of rocks and he had circled around to where she was.

His cock rose as impressively as the rest of him from the cool grip of the secluded pond. Other than being unaffected by the water temperature, it was a man's penis, something familiar, though there was a faint blue-silver tattoo pattern in a triangular design from his hip bones to the base of his thick member where pubic hair would have been. A blue vein pulsed just beneath the stretched, satin skin.

He had looked at her so clearly beneath the water's surface, but that, too, was an illusion, caused by her first disoriented moment coming out of her contemplations...

Pivoting on the heel of his hand, he turned, and his hip and wet buttock slapped against the rock, a slab of granite fired for millions of years, when nothing was doubted and all things were new and possible. Annie's eyes closed, then opened. The slow blink brought into focus what she was looking at, something which sucked her babbling internal monologue into a black hole in her mind, the same place that swallowed her anchor on what was real and what was not, and left her adrift.

The sculpting of the lower back to hip to buttock to thigh was perfection, but she wasn't looking at a tight ass or muscular leg, not exactly. Glistening silver scales rode low on his hips. The tightly overlapped supple skin that allowed fish such dexterity and speed in navigating their world.

Annie's wide-eyed gaze jumped back several times across the boundary of skin to scales. The scales sloped at the pelvis, allowing for human skin, a navel, a pubic area, the silver surface forming a vee cradle for his very human nest of testicles and stiff cock.

Annie gave him a timid look. At his curious, bland expression, she leaned forward to see past him, into the water.

The muscular silver column bent where human knees might have been. She leaned even further forward, bracing a hand beside that hip to follow the tail into the water. Just beneath the surface she saw the twin fronds of tail fins, floating with the beauty of silver sheer cloth.

Drops of water fell on Annie's neck. She might have jerked back, but her mind was now open to far more than it would have been when she started her trip. Her flight instinct was harder to rattle, the instinct to embrace a sensual experience honed razor sharp. She forced herself to release her held breath in a whispering sigh. If this wasn't a sensual experience, what possibly could be?

His breath was on her neck, raising the fine hairs there. She had short hair, and she had never been more pleased with the decision. Each tilt of his head from his private examination of her made his breath stroke something new. The back of her ear, then the other, the point of the neck between the shoulders. He smelled of mountain water, clear and clean, but under that was also the mystery of layers of silt and water vegetation at the bottom of the pool, the top stratus of a million years of change and evolution, creation built upon death.

His fingers touched her shoulder blade, followed its angle to the curve of ribs leading down her side, around to the base of her firm breast, easily accessible to cup in her bent forward position.

Annie turned her head to meet his gaze and moved back onto her heels. He did not move his hand, so her breast and nipple passed briefly over his knuckles, and the friction of contact pulsed in her labia, one hard contraction that moistened her folds such that she felt the ripening of that fruit when she pressed herself against her heels.

"Hello," she said in a whisper.

Where had he come from? She supposed the waterfall came from a creek which flowed from a larger body, but she had always imagined merpeople as sea creatures. Perhaps they simply dwelled in any wat
er body capable of supporting them. Of course she hadn't actually imagined them existing anywhere other than storybooks, and what she remembered most was the poignant end to the original Little Mermaid fairy tale, a broken-hearted creature frozen in stone forever to gaze longingly upon the land, bereft of both the prince she loved and her heart's desire.

"What's your name?" she asked, her voice still little more than a hushed murmur above the sound of the water. A small school of fish surrounded the water just beyond his hip, flashes of silver moving around him, accepting him as one of their own He tilted his head slowly, watching her mouth. Used his fingers to smooth drops of water across the soft give of her full bottom lip.

She put her hand to her breast. "Annie," she said.

Comprehension crossed his face, startling her. She hadn't expected that. He understood English.

He spoke in a musical cadence, like the complex noises of the dolphin or whale. Each note he uttered soothed her in the same way their haunting notes did, evoking both reassurance and yearning. A reassurance that there was a larger order to things, and a yearning to be a part of that confident knowledge.