Princeps' Fury, Page 1
Jim Butcher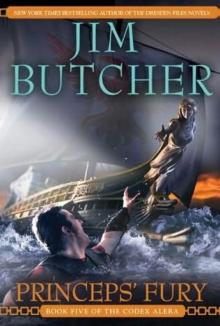 Table of Contents

Title Page

Copyright Page

Dedication

Acknowledgements

Epigraph

CHAPTER 1

CHAPTER 2

CHAPTER 3

CHAPTER 4

CHAPTER 5

CHAPTER 6

CHAPTER 7

CHAPTER 8

CHAPTER 9

CHAPTER 10

CHAPTER 11

CHAPTER 12

CHAPTER 13

CHAPTER 14

CHAPTER 15

CHAPTER 16

CHAPTER 17

CHAPTER 18

CHAPTER 19

CHAPTER 20

CHAPTER 21

CHAPTER 22

CHAPTER 23

CHAPTER 24

CHAPTER 25

CHAPTER 26

CHAPTER 27

CHAPTER 28

CHAPTER 29

CHAPTER 30

CHAPTER 31

CHAPTER 32

CHAPTER 33

CHAPTER 34

CHAPTER 35

CHAPTER 36

CHAPTER 37

CHAPTER 38

CHAPTER 39

CHAPTER 40

CHAPTER 41

CHAPTER 42

CHAPTER 43

CHAPTER 44

Also by Jim Butcher

The Codex Alera

FURIES OF CALDERON

ACADEM'S FURY

CURSOR'S FURY

CAPTAIN'S FURY

PRINCEPS' FURY

The Dresden Files

STORM FRONT

FOOL MOON

GRAVE PERIL

SUMMER KNIGHT

DEATH MASKS

BLOOD RITES

DEAD BEAT

PROVEN GUILTY

WHITE NIGHT

SMALL FAVOR

THE BERKLEY PUBLISHING GROUP

Published by the Penguin Group

Penguin Group (USA) Inc.

375 Hudson Street, New York, New York 10014, USA

Penguin Group (Canada), 90 Eglinton Avenue East, Suite 700, Toronto, Ontario M4P 2Y3, Canada

(a division of Pearson Penguin Canada Inc.)

Penguin Books Ltd., 80 Strand, London WC2R 0RL, England

Penguin Group Ireland, 25 St. Stephen's Green, Dublin 2, Ireland (a division of Penguin Books Ltd.)

Penguin Group (Australia), 250 Camberwell Road, Camberwell, Victoria 3124, Australia

(a division of Pearson Australia Group Pty. Ltd.)

Penguin Books India Pvt. Ltd., 11 Community Centre, Panchsheel Park, New Delhi--110 017, India

Penguin Group (NZ), 67 Apollo Drive, Rosedale, North Shore 0632, New Zealand

(a division of Pearson New Zealand Ltd.)

Penguin Books (South Africa) (Pty.) Ltd., 24 Sturdee Avenue, Rosebank, Johannesburg 2196,

South Africa

Penguin Books Ltd., Registered Offices: 80 Strand, London WC2R 0RL, England

This is an original publication of The Berkley Publishing Group.

This is a work of fiction. Names, characters, places, and incidents either are the product of the author's imagination or are used fictitiously, and any resemblance to actual persons, living or dead, business establishments, events, or locales is entirely coincidental. The publisher does not have any control over and does not assume any responsibility for author or third-party websites or their content.

Copyright © 2008 by Jim Butcher.

All rights reserved.

No part of this book may be reproduced, scanned, or distributed in any printed or electronic form

without permission. Please do not participate in or encourage piracy of copyrighted materials in

violation of the author's rights. Purchase only authorized editions.

ACE and the "A" design are trademarks belonging to Penguin Group (USA) Inc.

eISBN : 978-1-440-64274-6

I. Title.

PS3602.U85P75 2008

813'.6--dc22

2008037151

http://us.penguingroup.com

For Shannon and JJ, who make life worth all the fuss and bother

ACKNOWLEDGMENTS

Many thanks to the Beta Foo Asylum inmates, who had to work fast on this one. Their help, as always, made this a much better book than it would have been if I'd been the only one looking at it.

Many thanks also to my editor, Anne, who bravely smiled and told me "no pressure" as the clock was ticking down to zero, and who also had to do a whole lot of work in very little time, thanks to me.

And, as always, many thanks to Shannon, JJ, and my gaming gang: Robert, Julie, Shaun, Miranda, Sarah, Lisa, Joe, Alex, and, God help him, the new guy, Jeremiah. They all had to put up with me under pressure, and did so with grace and aplomb. Or at least without murdering me, which is close.

Farewell, mother Roma.

The shining columns,

The endless roads,

The mighty legions,

The peaceful fields.

Born in fire,

The light in darkness.

Farewell, mother Roma.

Never again will your sons return.

--A POEM, INSCRIBED IN STONE IN THE RUINS OF APPIA

Good riddance, gluttonous whore! Victory Germania!

--AN ADDENDUM TO THE POEM, SCRATCHED IN FAR CRUDER LETTERS

PROLOGUE

"This way, my lord!" screamed the young Knight Aeris, beckoning as he altered the direction of his windstream and dived through the twilight sky. He was bleeding from a wound in the neck, where one of the razor-sharp shards of ice the creatures hurled like javelins had slipped beneath the rim of his helmet. The young fool was fortunate to be alive, and neck wounds were notoriously treacherous. If he didn't stop flailing about and have it attended to, it might tear wider and cost the Legion an irreplaceable asset.

High Lord Antillus Raucus adjusted his own windstream to match the young Knight's dive and followed him down toward the embattled Third Antillan Legion upon the Shieldwall. "You!" he snarled, passing the young Knight without particular effort by his own, far-stronger furies. What was the idiot's name? Marius? Karius? Carlus, that was it. "Sir Carlus, get to the healers. Now."

Carlus's eyes went wide with shock as Raucus shot ahead, leaving the younger man behind as if he had been hovering in place instead of power diving for the earth at his most reckless speed. Raucus heard him say, "Yes, my l--" But the rest of the word vanished into the gale roar of the High Lord's windcrafted wake.

Raucus bid his furies to enhance his sight, and the scene below him sprang into magnified vision. He assessed the Legion's situation as he swept down upon it. Raucus spat out an oath. His captain had been right to send for aid.

The Third Antillan's situation was desperate.

Raucus had cut his teeth in battle at fourteen years of age. In the forty years since, scarcely a month had passed in which he had not seen action of one scale or another, defending the Shieldwall against the constant menace of the primitive Icemen of the north.

In all that time, he had never, not once, seen so many of them.

A sea of the savages spread out from the Shieldwall, tens of thousands strong, and as Raucus dived closer, he was suddenly enveloped by a chill far deeper than the mere bite of winter. Within seconds, crystalline laceworks of frost had formed across the surface of his armor, and he had to begin the familiar effort of low-grade firecrafting to ward away the cold.

The enemy had built mounds of snow and corpses against the Shieldwall, piling them into ramps. It was a tactic he had seen before, in the most determined assaults. The Legion had responded with their usual doctrine--burning oil and blasts of fire from their Knights Ignus.

The wall itself was very nearly a fe
ature of the land, a massive edifice of granite furycrafted from the bones of the earth, fifty feet tall and twice as thick. It must have cost the Icemen thousands of lives to mount those ramps, to see them melted down, and to mount them again, and again, and again--but they had done it. The cold had lasted long enough to sap the legionares of their strength, and the battle had raged long enough to wear the Third's Knights down, until they could no longer sustain the effort needed to keep the foe at bay.

The Icemen had gained the wall itself.

Raucus felt his teeth clench in frustration and rage as the apelike creatures swarmed over the breach in the defenses. The largest of the brutes was as tall as an Aleran legionare, but far broader across the shoulders, far thicker through the chest. Their arms were long, with enormous hands, and their leathery hides were layered with a sparse coating of wiry, yellow-white fur that could make them all but invisible in the frozen wastes of the north. Yellow-white eyes glared from beneath shaggy brows, and a pair of heavy tusks jutted up from massively muscled jaws. Each Iceman bore a club of bone or stone in his hands, some of them edged with chips of sharp, unnaturally hard ice that, like the cold of the winter itself, seemed to bend itself to the will of the savages.

The legionares rallied behind the crested helmet of a centurion, struggling to push forward and seal the breach--but the furycraftings that were supposed to keep the top of the wall clear of ice were failing, and their footing had become treacherous. Their foe, more at home on the slippery surface, began to drive the Legion back into a pair of separate, vulnerable elements, as more and more of their kind surged onto the wall.

The yellow-eyed sons of crows were killing his men.

The Third Antillan had minutes of life left in it, and after that, the Icemen would be through them, and that horde would be free to ravage the lands beyond. There were a dozen steadholts and three small towns within a few hours' march for the horde, and though the militia of every town along the Shieldwall was well maintained and diligent in its continued training--Raucus would permit nothing less--against such an enormous number of the foe, they would be able to do nothing but die in a futile effort to allow their women and children time to flee.

He wouldn't allow it to happen. Not to his people. Not to his lands.

Antillus Raucus, High Lord of Antillus, let the rage boil up inside him in a white-hot fire as he swept his sword from its sheath at his side. He opened his mouth in a wordless roar of pure wrath, bellowing to his furies, calling out to the land around him, to his land, which for a lifetime he had fought to defend, as had his father, and his father, and his father before him.

The Aleran High Lord screamed his outrage to the land and the sky.

And the land and the sky gave answer.

The clear twilight air boiled and blackened with storm clouds, and dark streamers of mist followed him in a spiral as he dived. Thunder magnified the High Lord's battle cry tens of thousands of times over. Raucus felt his rage flow into the sword in his hand, and the blade burst into scarlet flame, burning through the cold air in a sizzling hiss, lighting the sky around him as if the sun had suddenly risen back above the horizon.

Light fell onto the desperate legionares, and faces began to turn skyward. A sudden roar of hope and wild excitement rose from the Legion, and lines that had begun to buckle abruptly locked into place again, shields binding together, firming, holding.

It took a few seconds more before the first of the Icemen began to look up, and only then, as Raucus readied himself to enter the fray, did the High Lord unleash the furies of his skies against the foe.

Lightning came down from the sky in threads so tiny and numerous that more than anything, they resembled burning rain. Blue-white bolts raked the Icemen on the ground below the wall, killing and burning, sending Icemen into screaming confusion--and suddenly choking the pressure of their advance onto the wall.

Raucus flung his sword's point down as he closed on the exact center of the Icemen's position atop the wall, and called fire from the burning blade, sending out a white-hot column of flame that charred flesh to ash and blackened bone in a circle fifteen feet across. At the last second, he called upon his wind furies to slow him, landed hard upon the unyielding stone of the wall--now cleared of the treacherous ice.

Raucus called strength up from the earth, shattered two hurled clubs with sweeps of his burning blade, swept a wave of fire over a hundred of the foe between himself and the southern side of the wall, then began grimly hacking his way northward. The Icemen were no fools. They knew that even the mightiest furycrafter could be felled if enough spears and arrows and clubs were thrown at him--and Raucus knew it, too.

But before the shocked Icemen could coordinate their attacks, the High Lord of Antillus was among them with his deadly sword, giving them no chance to overwhelm his defenses with a storm of missiles--and no Iceman alive, no dozen of the savages, was the match for the skill of Antillus Raucus with steel in his hand.

The Icemen fought with savage ferocity, each of them possessed of far more strength than a man--but not more than an enraged High Lord, drawing power from the stones of the land itself. Twice, Icemen managed to seize Raucus with their huge, leathery hands. He broke their necks with the use of one hand and flung the corpses through several ranks of the enemy around him, knocking down dozens at a time.

"Third Antillan!" Raucus bellowed, all the while. "To me! Antillus, to me! Antillus, for Alera!"

"Antillus for Alera!" came the thunder of his legionares' reply, and his soldiers began to reverse the tide and drive the foe from the walls. The veteran legionares , bellowing their war cry, fought their way to the side of their lord, hammering through the enemy who had been close to overwhelming them moments before.

The enemy resistance melted abruptly, vanishing like sand washed away by a tide, and Raucus sensed the change in pressure. The Third Aleran's Knights Ferrous cut their way to his side and fell in on his flanks, and after that, it was only a matter of dispatching the animals who remained on the wall.

"Shields!" Raucus barked, mounting up on a crenel, where he could overlook the Icemen's snow ramp below. A pair of legionares immediately came to his side, covering all three of them with their broad shields. Spears, arrows, and thrown clubs hammered against the Aleran steel.

Raucus focused his attention on the snow ramp. Fire would melt it, right enough, but it would be an enormous effort. Easier to shake it apart from beneath. He nodded sharply to himself, laid a bare hand on the stone of the Shieldwall, and sent his attention down through the stones. With an effort of will, he bade the local furies to move, and the ground outside the Shieldwall suddenly rippled and heaved.

The great structure of ice cracked and groaned--and then collapsed, taking a thousand screaming savages with it.

Raucus rose, nudging the shields aside, as a great cloud of ice crystals leapt into the air. He gripped the burning sword in hand, and stared out intently, waiting for his view of the enemy. For a moment, no one on the wall moved, as they waited to see through the cloud of snow.

There was a cry from farther down the line, one of triumph, and a moment later the air cleared enough to show Raucus the enemy, routed and in full retreat.

Then, and only then, did Raucus let the fire fade from his sword.

His men crowded against the edge of the wall, screaming their defiance and triumph at the retreating enemy. They were chanting his name.

Raucus smiled and saluted them, fist to heart. It was what one did. If it gave his men joy to cheer him, he'd be even more of a heartless bastard than he was not to let them have their moment. They didn't need to know that the smile was a false one.

There were too many still, silent forms in Antillan armor for it to be genuine.

The efforts of the day's furycrafting had exhausted him, and he wanted nothing so much as a quiet patch of dry, flat space to go to sleep on. Instead, he conferred with his captain and the Third's staff, then went to the healer's tents to visit the wounded.

&n
bsp; Like accepting cheers one didn't deserve, it was also what one did.

Those men lying wounded had become so in service to him. They had suffered their pains for him. He could lose an hour of sleep, or two, or ten, if it meant easing that pain for a few moments for the cost of nothing more than a few kind words.

Sir Carlus was the last of those Raucus visited. The young man was still fairly groggy. His injuries had been more extensive than he had known, and the watercrafting that had healed them had left him exhausted and disoriented. Neck injuries could be that way. Something to do with the brain, Raucus had been told.

"Thank you, my lord," Carlus said, when Raucus sat down on one edge of his bunk. "We couldn't have held without you."

"We all fight together, lad," Raucus replied roughly. "No thanks need be given. We're the best. It's how we do our work. How we do our duty. Next time, it could be the Third saving me."

"Yes, my lord," Carlus said. "Sir? Is it true what they say? That you challenged the First Lord to the juris macto?"

Raucus snorted out a quiet laugh. "That was a while ago, lad. Aye, true enough."