A Mending at the Edge: A Novel (Change And Cherish)
Jane Kirkpatrick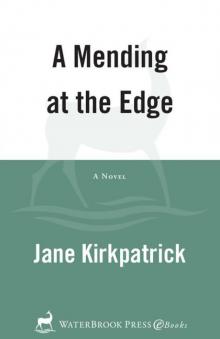 Praise for

A Mending at the Edge

"I love when a book illuminates a small slice of history that has relevance to our lives today—even better when it does so with interesting characters and a compelling story. Emma Giesy is a woman with flaws and attributes we all can relate to and whose journey is one that easily could have taken place today."

—JUDITH PELLA, best-selling author of seven series,

including the Daughters of Fortune series

"Jane has a gift for breathing simple beauty into the lives of remarkable historical women characters. In A Mending at the Edge, Emma comes off the page and shows readers an unforgettable picture of a very unique Oregon community. I love living within view of Mount Hood even more now that I better understand those who shaped the tenacious beginnings of this region."

—ROBIN JONES GUNN, author of the best-selling

Glenbrooke series and the Christy Award–winning

Sisterchicks novels

"Jane Kirkpatrick's knack for stitching history and fiction together is as skillful as the quilts she writes about in the Change and Cherish Historical Series. A Mending at the Edge is a satisfying ending to an absorbing series that manages to stay true to the past while relating remarkably well to today's modern women."

—TINA ANN FORKNER, author of Ruby Among Us

"In A Mending at the Edge, Jane Kirkpatrick completes the literary quilt of the Emma Wagner Giesy trilogy, piecing together the historical fabric of Emma's personal story with that of the Aurora Colony. Emma's efforts to find a house—and a home—in this communal society in Oregon once again reflect the conflict of individual and community needs represented in Kirkpatrick's earlier two works in the Change and Cherish Historical Series. Based on a solid historical framework of the Aurora Colony and the broader social, political, and cultural landscape of the 1860s, Kirkpatrick offers a story of hope and achievement that captures the spirit of giving, sharing, and receiving central to 'mending' within a communal settlement."

—JAMES J. KOPP, communal historian and board member of the Aurora Colony Historical Society

"Jane Kirkpatrick artfully weaves this story for us, rather like Emma and the women of Oregon's Aurora Colony weave together their quilted existence as well as their personal quilting projects. Her masterful placement of the fresh-turned phrase and the graceful metaphor enriches this captivating and yet disquieting story of mid-nineteenth-century pioneer women whose lives are so very different from ours—or are they?"

—SARAH BYRN RICKMAN, author of Nancy Love and the WASP Ferry Pilots of World War II, The Originals, and Flight from Fear

Books by Jane Kirkpatrick

NOVELS

Change and Cherish Historical Series

A Clearing in the Wild

(2007 WILLA Literary Award, Finalist, Best Historical Novel)

A Tendering in the Storm

A Mending at the Edge

A Land of Sheltered Promise

(Western Writers of America Spur Award 2005, Finalist,

Best Novel of the West)

Tender Ties Historical Series

A Name of Her Own

(2002 Oregon Book Awards, Finalist, Best Novel)

Every Fixed Star

Hold Tight the Thread

Kinship and Courage Historical Series

All Together in One Place

(Readers' Choice Award 2000, Finalist, Best Inspirational)

No Eye Can See

What Once We Loved

Dreamcatcher Collection

A Sweetness to the Soul

(winner of the Western Heritage Wrangler Award for Outstanding Western Novel of 1995)

Love to Water My Soul

A Gathering of Finches

Mystic Sweet Communion

NONFICTION

Homestead: A Memoir of Modern Pioneers Pursuing the Edge of Possibility

A Simple Gift of Comfort (formerly A Burden Shared)

ANTHOLOGIES

Daily Guideposts 1992

Storyteller Collection, Book 2

Crazy Woman Creek, "Women Rewrite the American West"

This book is dedicated to the volunteers, staff, and board

of the Aurora Colony Historical Society and Museum

for their passion in honoring descendant stories

as they keep history relevant and alive.

CAST OF CHARACTERS

At Aurora

Emma Wagner Giesy German American

Andrew Emma and Christians older son

Catherine/Kate/Catie Emma and Christians daughter

Christian Emma and Christians younger son

Ida Jack Giesy and Emma's daughter

David and Catherina Wagner Emma's parents

Jonathan, David Jr., Catherine "Kitty," Christine (the foster child), Johanna, Louisa "Lou," and William Emma's siblings

Joe Knight oysterman, former scout, Matilda's brother

Adam Schuele colonist, former scout with Christian and Emma

Wilhelm Keil leader of Aurora, Oregon, colony

Louisa Keil Wilhelm's wife

Willie (deceased; buried in Willapa), August, Frederick, Elias, Louisa, Gloriunda, Aurora, Amelia, Emanuel Keil children

Martin Giesy colonist, a future pharmacist and physician, and Christian's brother

John and Barbara (BW) Giesy colonists, Christian's brother and sister-in-law

Elizabeth John and Barbara's daughter

Karl Ruge colonist, teacher, toll keeper, Emma's friend

Barbara Giesy colonist, Christian's mother, widowed

Helena Giesy colonist, Christian's sister

Louisa Giesy colonist, Christian's sister

Martha Miller colonist, a woman of the colony

Nancy Thornton painter in the Oregon City area

Almira Raymond a member of Emma's house church

Matilda Knight sister of Joe Knight, an original scout

Jacob Stauffer colonist, son of John Stauffer, an original scout

Henry C. Finck music teacher

Henry T. Finck Henry C's son, Andy's friend

Christopher Wolff colonist, instructor and leader of a Bethel wagon train

John and Lucinda Wolfer colonists who tended ill people in the community

Catherine and Christina Wolfer mother and daughter who saved the plate

Mr. Ehlen colonist, wounded Civil War veteran

Lorenz Ehlen son of Mr. Ehlen and friend of Andy and Kate's

*Brita Engel a Zwerg and a woman in need

*Charles, Stanley, and Pearl

*Opal, the goat

*Clara, the chicken

*Po, the dog

Brita's children

At Willapa Bay

Christian Giesy Emma's deceased husband and former leader of the scouts, buried in Willapa

Sebastian and Mary Giesy Christian's brother and his wife

Elizabeth Sebastian and Mary's daughter

Louisa Giesy Christian's younger sister

Sam and Sarah Woodard settlers at Woodard's Landing

Jacob "Jack" or "Big Jack" Giesy

Emma's second husband

At Bethel

Andreas "Andrew" Giesy Jr. colonist, Christian's brother, preacher and co-director of Bethel Colony in Keil's absence

August Keil colonist, Keil's son sent to assist with colony business

*not historical characters

Women are the brooms of the world—they clean houses and they clean souls. But often they get put back in the corner until
the next mess needs to be cleaned up.

ALISON SAAR, artist, Expanded Visions:

Four Women Artists Paint the American West,

Women of the West Museum, 2000

Each community has a different rhythm.…We have our own individual rhythms within the community: …some devote their lives to the daily maintenance of the community while others breathe life into it through their art, music, and poetry. We may find ourselves in a radically altered relationship to the community as we move to its edges or outside it entirely for brief or lengthy periods of time.…

Rhythms of community can be both life-giving and stifling, liberating and oppressive.…We listen to and follow the Spirit's own rhythms as it moves with us.…We listen to the stories of other women in other communities.…We better understand what it means to be a creative, spirited community of healing, of hope, of resistance, and of transformation.

JAN RICHARDSON,

Sacred Journeys: A Woman's Book of Daily Prayer

Then they that feared the LORD spake often one to another: and the LORD hearkened, and heard it: and a book of remembrance was written before him for them that feared the LORD, and that thought upon his name.

MALACHI 3:16

The Hope Inside

Of all the things I left behind in Willapa, hope was what I missed the most. But memory is a flighty friend, wisping in to warm or warn when one can least expect it. I wanted to remember Christian—my first husband—and the hopefulness that we'd brought with us across the plains from Missouri to the wet Washington Territory in 1853. Remembering him recalled that good part of me, before change had rubbed me raw. After that, much had happened to take hope from life, and I questioned whether expectation was a virtue one could nurture or if once lost would never sprout again. My friend, Karl Ruge, a lover of words as I am, says that in English, despair means "to fall back from hope." But for my friends, I would have drowned in despair.

On this dark day, rain pounded like Indian drums on the cedar shakes above us. Through the wavy glass windows I watched raindrops splash out over the full, coopered barrels stationed at the gross Haus corners, a collection place for wash water. We needed to do the wash, what with all the people and mud. It was how one belonged to this colony, sharing in work and in the waiting together through storms. Out the window, I could see an east wind whipping the young walnut trees in the yard beyond. The bare branches looked like skeletons instead of as intended, hopeful sentinels standing guard over this small colony in the infant state of Oregon.

A deep roll of thunder rattled the windows in the entryway where I cluck-henned my boys and Kate around me, holding Ida in my arms. We huddled in a corner of the gross Haus, the three-story building being built by Brother Keil (I refused to call him Father Keil as do most others in our communal society). We shared the house with two dozen others, all longtime members. I'd found safety here. But I never knew when that fragile calm might be shattered. The smell of wet wool filled my head as cloaks and coats draped every railing or chair or blue bench, drying out. Colonists from the low-lying areas drove wagons here when the rivers began to rise early in December, adding still more numbers to an already-crowded house. The gross Haus rose up on the highest knoll of the village, like a castle of old, visible from a great distance. Of course. It was Keil's house.

The aroma of sausage and beans bubbling in the large pots in the kitchen reached my soggy senses. Someone lovingly prepared a meal where hunger served as sauce. But just as quickly, the scents reminded me of my family still in Missouri, family where the threads of connection had been strained since I'd come west. I'd received no letters from my parents since my decision to leave Willapa and come here with my four children. Well, we hadn't all come at once. I arrived first with my friend Karl Ruge and my daughters; my sons were brought to me later by their uncle Martin Giesy, a tactic of safety we'd all felt necessary. But my sister Kitty had written from Missouri to say they were coming to Oregon, so things would change. Dared I hope they would change for the better?

My cheeks felt cold, and Kate's six-year-old upturned nose looked red as a summer rose. The children would probably collect sniffles with so many people huddled so closely together. Andy especially had to fight off frequent illnesses. Failing health affected our days—our entire lives, in fact. We'd lived the past years not far from the Pacific Ocean where we'd seen days of downpours, and some said that our part of the wild endured ninety inches or more in a year. Coughs arrived with the weather. I'd thought it would be better here in Oregon, but the past days of January 1862 had yet to reveal that a sun did shine somewhere overhead or that rivers in Oregon really did know how to flow within their banks. Not very hopeful, that thought.

I'd reentered this community for the loving embrace it promised, the kind built on grace and faith, not domination or control. Embraces can constrict. Other members of my husband's family had taught me that.

A few log houses, a stage-stop barn, a grist and lumber mill, and some board homes composed Aurora, the village the colonists had been building since 1856. The structures clustered in a swale, like eggs in a chicken's nest. Deer Creek and Pudding River helped define its tree-lined borders. A quarter mile from the houses ran a deep ravine, and near the top of that hill, Brother Keil had built his house with a view looking out over his domain. Other colonists had been assigned farmland farther away. A few had settled nearer the Willamette River some eight miles west. Most of us this winter were staying in the yet-unfinished Keil house, high above the creeks and flooding waters.

Another crack of thunder. Kate shivered against me. "We don't hear thunder so much here," Helena said. She's the older sister of my deceased husband, Christian, tall and formidable, and her observations usually come out as dogma. But now she fidgeted with the braids formed like a crown on the top of her head, and she startled at the rumble too. It was the first time I'd seen Helena look even the least bit flummoxed.

"I like the sound of it," Louisa told her cheerfully. "It reminds me of Missouri." Louisa is Brother Keil's wife and the mother of their eight living children. "I haven't seen any lightning, so that's a good thing, ja?"

"Ach, you find cream in even stale milk," Helena told her, brushing her hand in the air as though she brushed away flies. Still, they spoke as old friends, family perhaps, as women accustomed to sharing differences that really didn't matter.

I hadn't found anything wrong with Louisa's tying thunder to a good memory from Missouri. Problems only arose if you stayed wrapped inside the comfort of old thoughts, refused to unbind yourself to move forward.

Rain pounded like hail now, pelting nearly horizontal. I patted Kate's arm with reassurance.

"Ach, Jammer," complained one of the bachelors, as close to cursing as he'd get in this mixed company that included women and children.

"I hope it doesn't break those windows!" another said. Glass was precious here and perhaps not all that practical. Brother Keil had promised that eventually all would have glass windows, though first, we needed houses. A minor detail to him, a throbbing desire to me. I so wished for a safe place, a home of my heart, a place where I truly belonged and was accepted as I was.

Ida began to cry, and I unfolded myself from the cluster of my children. "I must feed your sister," I told them and moved out of the corner, across the pine flooring dotted with colorful rugs, and headed down the stairs to the kitchen, where I could nurse her in the presence of women only. The children began to follow, the boys included. I turned to them, Ida on my hip but clawing at my bodice. "Don't come down those stairs, now. Wait here. I'll be fine and so will you."

Kate and Christian stopped, nodded their heads in agreement. Andy, the oldest, glared at me, his arms crossed over his chest. He didn't turn around as the other two had. "Don't come down these steps," I repeated.

I wished I felt more hopeful about my relationship with him.

Ida squirmed and fu
ssed as I took the narrow steps, then crossed under them into the kitchen area. I looked up to see if the children had moved away, and they had. They were like hinges in the midst of all the changes, swinging toward security by clinging to me, then pushing away for independence.

A row of windows bordered the ceiling and looked out onto the sodden ground, but the room felt gloomy. Rain painted everything dark. Even my quilted petticoat couldn't ignore the chill. Thank goodness a fire glowed in the fireplace. It spit and snapped with raindrops racing down the chimney. I could smell fresh bread nestled against the brick firewall, baking in the bank of warm ash. Women bustled about, so I pulled a chair into the wide hallway and sat in front of the blue cabinet built from floor to ceiling. It had glass doors, of course. We waited for houses, and Keil had our craftsmen build fine furniture for him and order in new glass. I folded back Ida's Nine Patch quilt from around her face, helped her find my breast, and nodded to the other women working at preparing pork and beans. Along with bread and peas, potatoes and what fruits we'd dried, ham and beans were our staple food this winter. The chickens hadn't produced since November.

I silenced the chatter in my head to focus on Ida and give her all she needed to be calm and eat. My younger daughter would be seven months old before long and had spent most of her early life in turmoil. We'd made our escape from her threatening father, leaving nearly all we owned behind. She'd adjusted to living huddled with so many others while I worked, cooking and washing and mending. I also worked at holding my tongue.

I'd come to Aurora in good part because those few I trusted thought it best. Worn down and hopeless, I'd leaned on them. It had been a good decision. Still, I lacked confidence in the choices I'd made since Christian's death. Grief, I've learned, has many siblings—guilt, anger, fear, unworthiness, separation from those who love us, resistance to change. They clamor for attention in times of trial, and sometimes I heard those brothers and sisters of grief speak louder than the call of comfort that can come from family and friends.