Royal Cocktail
J. Kenner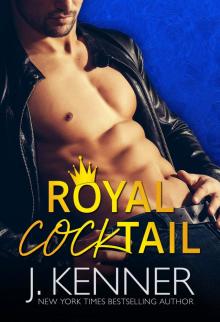 Royal Cocktail

J. Kenner

Contents

Title Page

Also by J. Kenner

About Royal Cocktail

Chapter 1

Chapter 2

Chapter 3

Chapter 4

Chapter 5

Chapter 6

Chapter 7

Chapter 8

Chapter 9

Chapter 10

Chapter 11

Chapter 12

Chapter 13

Chapter 14

Chapter 15

Chapter 16

Chapter 17

Chapter 18

Chapter 19

Chapter 20

Epilogue

Meet the Men!

Lovely Little Liar: Chapters 1-2

About the Author

Royal Cocktail

by

* * *

J. Kenner

* * *

Learn more at:

www.jkenner.com

Twitter

Instagram

Facebook

* * *

For exclusive content and updates, sign up for JK's newsletter & join her Facebook fan group!

* * *

Text JKenner to 21000 for new release announcements!

Also by J. Kenner

The Fallen Saint Series

My Fallen Saint

My Beautiful Sin

My Cruel Salvation

Sinner's Game

* * *

The Stark Saga

Meet Damien Stark in the award-winning and internationally bestselling series that started it all…

He'd pay any price to have her…

release me

claim me

complete me

take me (novella)

have me (novella)

play my game (novella)

seduce me (novella)

unwrap me (novella)

deepest kiss (novella)

entice me (novella)

anchor me

hold me (novella)

please me (novella)

lost with me

damien

indulge me (novella)

delight me (novella & bonus content)

cherish me (novella)

embrace me (novella)

enchant me

Stark reading order FAQ

* * *

Stark Security

Charismatic. Dangerous. Sexy as hell.

Shattered With You

Shadows Of You

(prequel to Broken With You)

Broken With You

Ruined With You

Wrecked With You

Destroyed With You

Memories of You (novella)

Ravaged With You

* * *

The Steele Books/Stark International:

He was the only man who made her feel alive.

Say My Name

On My Knees

Under My Skin

Take My Dare (includes short story Steal My Heart)

* * *

Stark International Novellas:

Meet Jamie & Ryan-so hot it sizzles.

Tame Me

Tempt Me

Tease Me

* * *

S.I.N. Trilogy:

It was wrong for them to be together…

…but harder to stay apart.

Dirtiest Secret

Hottest Mess

Sweetest Taboo

* * *

Most Wanted:

Three powerful, dangerous men.

Three sensual, seductive women.

Wanted

Heated

Ignited

* * *

Stark World Stories:

Set in the Stark universe.

Wicked Grind

Wicked Dirty

Wicked Torture

Justify Me

* * *

The following series have occasional

Stark World Easter eggs

* * *

Man of the Month

Who's your man of the month …?

Down On Me

Hold On Tight

Need You Now

Start Me Up

Get It On

In Your Eyes

Turn Me On

Shake It Up

All Night Long

In Too Deep

Light My Fire

Walk The Line

Royal Cocktail (bonus book)

* * *

*Bar Bites: A Man of the Month Cookbook

(by J. Kenner & Suzanne M. Johnson)

* * *

Blackwell-Lyon:

Heat, humor & a hint of danger

Lovely Little Liar

Pretty Little Player

Sexy Little Sinner

Tempting Little Tease

* * *

Even more from JK:

* * *

The Fallen Saint Series

His touch is her sin. Her love is his salvation

My Fallen Saint

My Beautiful Sin

My Cruel Salvation

* * *

Rising Storm:

Writing as Julie Kenner

Small town drama

Rising Storm: Tempest Rising

Rising Storm: Quiet Storm

* * *

PARANORMAL

* * *

Demon Hunting Soccer Mom

Writing as Julie Kenner

Like Buffy … grown up!

Paranormal women's fiction

Carpe Demon

California Demon

Demons Are Forever

Deja Demon

The Demon You Know (short story)

Demon Ex Machina

Pax Demonica

Day of the Demon

* * *

The Dark Pleasures Series:

Billionaire immortal romance

Caress of Darkness

Find Me In Darkness

Find Me In Pleasure

Find Me In Passion

Caress of Pleasure

* * *

The Redemption Chronicles

A sexy apocalyptic urban fantasy trilogy with romance!

Born in Darkness

Lost in Shadows

Surrender to Dawn

* * *

Extraordinarily Yours

Writing as Julie Kenner

Sexy paranormal rom-com romps!

So (Very!) Much More than the Girl Next Door

Mayhem, Matchmakers, and a Bit of Bewitching

The Charmed Affair of an Invisible Bodyguard

The "Super" Secret Life of an Accidental Daddy

Never Trust a Rogue on a Magical Mission

How a Sexy Hero and a Marvelous Makeover (Sorta!) Saved the World

The Seductive Charm of a Sexy Shifter

* * *

Other Paranormal Reads

Short and Sexy

His Wicked Touch

Seducing Sin

Tempting Fate

Click here for a complete booklist

About Royal Cocktail

Sparks fly between a playboy prince and an idealistic lawyer, but when the demands of the throne call, can they get a fairy tale ending?

* * *

Prince Leopold of Avelle-am-see is destined to rule his small European country. But he doesn't want to. His entire life, Leopold has rebelled against the inevitable, gaining a reputation in Europe as a bad boy royal with a chip on his shoulder.

* * *

Skye Porter jams on researching complex legal issues, but with her lifelong speech impairment, she's happy to pass the briefs off to another lawyer to argue. Just the idea of being in the sp
otlight makes her cringe. Two years ago, she dodged a bullet when her intense college fling with charismatic Leo ended when the bastard ghosted her. At the time, she'd had no idea he was a prince, or she never would have fallen so hard.

* * *

Now Leo is back, and the chemistry between them sparks just as hot. With his promise of secrecy, Skye surrenders to one more wild night. But when the press finds them together, Skye is tossed into a nightmare of tabloid photos, graphic memes, and a life in the public eye.

* * *

Can a reluctant royal and the girl next door find their happily ever after?

Royal Cocktail Copyright © 2021 by Julie Kenner

Lovely Little Liar © 2017, 2018 by Julie Kenner

Cover design by Michele Catalano, Catalano Creative

Cover image from Deposit Photos by Tverdohlib.com

* * *

Published by Martini & Olive Books

V-2021-7-5D

* * *

All rights reserved. No part of this book may be reproduced, scanned, or distributed in any printed or electronic form without permission. Please do not participate in or encourage piracy of copyrighted materials in violation of the author's rights. This is a work of fiction. Names, places, characters and incidents are the product of the author's imagination and are fictitious. Any resemblance to actual persons, living or dead, events or establishments is solely coincidental.

Chapter One

Two Years Ago

"Out all night drinking? For pity's sake, Leopold, I thought you were there to study physics, not drink and screw around. And what happened to keeping a low profile?"

Prince Stephan Leopold of Avelle-am-see, Duke of Fluszbein, and heir to the throne, pressed his hands to his head as he sat up, groaning as the pounding headache rolled through him. He glanced at the clock and groaned again, regretting that he'd punched the speaker button and answered the phone. "Christ, Gisele, it's not even six here. And it was just a couple of drinks in a bar."

"Quatersh!" His sister spat out the word in their native Avellian tongue, a derivation of German and Danish that was as old as their tiny European country.

"It's not nonsense," Leopold protested. "I went out to a local bar with a friend. We drank. We ate. We hung out. And it wasn't all night. Besides it's not like I'm prancing around Austin with a stein of beer in my hand."

"So the girl is no one special? Just another of your admirers ready to help you accelerate a few particles of your own?"

Leopold winced at the harsh tone and bad physics joke, though he should have expected them. He'd spent too many years partying with too many girls. But that was because he'd been trapped. Born into a role he didn't want, and he'd been acting out in the time-honored tradition of many a royal before him. With alcohol and sex.

Now was different. He'd begged his father to allow him to come to the States to study under Professor Malkin. And now that he was here, he not only wanted to keep a low profile so that his father didn't decide to call him home, but he had no interest in meaningless flings to dull the pain of his future. Not when he was so deeply invested in his present.

So far, it seemed to have worked. He was incognito in the States, going by Leo instead of his given name, and adding a surname though he didn't formally have one at home. He was using Stahl, the name of one branch of his mother's family.

His goal had been to avoid the public eye that so enjoyed focusing on the supposed glamour of royal life. And since his country was small, Leopold had actually managed to stay off the radar these last few months, something his British cousins never seemed to manage.

"Sire?"

He grimaced. "Do not call me that. I do not sit on the throne." Yet.

"I was asking about the girl. Who is she?"

A vision of her quick smile and thoughtful brown eyes came into his head. Her chin-length honey-brown hair tucked behind one ear. Her soft skin. And the way her lips had tasted when he'd so gently kissed her.

"Leopold. Who is she?"

He jumped. "Just a girl." Lie. "A law student." Truth.

Gisele stayed silent.

Leopold cleared his throat and continued. "We were hanging with a group of friends." Also truth. "And how did you know, anyway? I—"

He cut himself off. "Jürgen." Leopold snapped out the name of his personal bodyguard, the man who headed the small security detail that had come with him from Avelle-am-see to the University of Texas and who was expected to serve and protect the heir. "I swear, I'm docking that man's pay."

"Then it's fortunate for Jürgen that you're not the Chancellor of the Exchequer. And this isn't the point. Do you really think that Father will let you stay in Texas if he learns of this behavior?"

"There was no behavior. As I said, she is only a friend."

The first statement was sadly true. Despite the intense and surprising connection he'd felt to the woman he'd first caught sight of in the local bar, theirs wasn't a relationship that could go anywhere. He was the heir to the throne. Destined to marry a citizen of his country or another royal. A wife he didn't want, to go with the job he didn't want.

Was it any wonder he sometimes escaped to find solace in a round of drinks and a bevy of gorgeous women?

But that wasn't Skye. She could never be his, and yet he craved and respected her in a way he'd never felt before. And, he feared, would never feel again.

"Just be careful, little brother. Father only agreed to let you go in the first place because of the opportunity to do some graduate work under Professor Malkin. Father knows how much it means to you."

Leopold snorted.

"Don't be like that. He conceded a lot. He recognizes that the sciences are important to the realm, and that your reign will impact the direction our country goes."

She was right, of course. Increasing the scientific relevancy of their country had been one of Leopold's pet projects since he was twelve and had accompanied his father on a diplomatic trip to the CERN Large Hadron Collider in neighboring Switzerland. The world was changing so fast, and he wanted his country to move purposefully into the future while maintaining the traditions of the past that kept their homeland so beautiful and charming.

What he didn't want was the throne.

Leopold knew he could rule. His entire childhood had been a virtual schoolroom on diplomacy and how to lead a country. But it didn't come naturally. Not the way physics and chemistry did. Not the way leadership came to Gisele, who would be a brilliant and beloved queen. She might be a pain in his ass, but his sister was truly remarkable.

But she was born a woman, and though she was the firstborn and three years his senior, the country's ancient rule of agnatic primogeniture had been included in their constitution when it was adopted over a century ago.

It wasn't fair, but very little about the life of a royal was. The world saw fame and privilege and servants and castles. All that was true, of course, but what most of the world didn't see was the path. A golden road illuminated by intrusive spotlights and lined with chains, from which he was not allowed to stray. Maybe that was starting to change, but not fast enough to suit Leopold. And not fast at all in his small country.

And yet King Wilhelm had allowed him this small bit of freedom.

He sighed, feeling like a dick. Gisele was right. Their father understood the pressures and sacrifices of being a royal. And while Father fully intended to prepare the prince to rule the country one day, he also saw Leopold as a man, not just a royal. And because of that, he'd not only forgiven Leopold's rebellious teenage years, he'd consented to letting Leopold study in Texas under the renowned quantum physicist, Jeffrey Malkin.

Leopold had assured his father he would behave, and yet last night he'd slipped away from Jürgen to go meet Skye. Or, at least, he'd thought he'd given his bodyguard the slip.

"We were just having a dr
ink," he told his sister. "Truly. It wasn't a social media event. No one here even knows who I am."

"My point is that it needs to stay that way. You start prancing around with this girl, and suddenly—"

"I told you. She's just a friend." He fought back a wince as he spoke the lie, his chest tightening with the memory of the brush of her lips over his skin. His pulse raced every time he touched her. Hell, every time he looked at her. She was a friend, sure. But even though they'd only met one short week ago, she'd already become so much more than that.

But no way was he sharing that fact with his sister.

Secrets.

He swallowed, feeling their weight.

The secret he kept from his sister about the woman he craved.