My Beautiful Sin
J. Kenner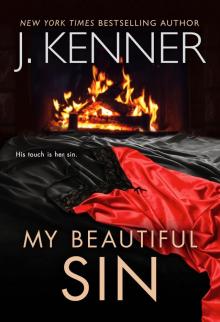 Learn more at:

www.jkenner.com

Instagram

Facebook

Bookbub

* * *

For exclusive content and updates, sign up for JK's newsletter & join her Facebook fan group!

* * *

Text JKenner to 21000 for new release announcements!

Contents

Praise for The Fallen Saint Series

Chapter 1

Chapter 2

Chapter 3

Chapter 4

Chapter 5

Chapter 6

Chapter 7

Chapter 8

Chapter 9

Chapter 10

Chapter 11

Chapter 12

Chapter 13

Chapter 14

Chapter 15

Chapter 16

Chapter 17

Chapter 18

Chapter 19

Chapter 20

Chapter 21

Chapter 22

Chapter 23

Chapter 24

Chapter 25

Chapter 26

Chapter 27

Chapter 28

Chapter 29

Chapter 30

Chapter 31

Chapter 32

Chapter 33

Chapter 34

Chapter 35

Chapter 36

Chapter 37

Chapter 38

Chapter 39

Chapter 40

Chapter 41

Chapter 42

Chapter 43

Chapter 44

Epilogue

Release Me - excerpt

Explore JK's Books

About the Author

Praise for the Fallen Saint Series

"MY BEAUTIFUL SIN was another mysterious and sexy book in this beautiful new romantic suspense series! … I can't wait to see where this story will take us in the final book. And can someone please get Netflix on the phone for this already!!!????" BJ's Book Blog

* * *

"J. Kenner knows how to deliver a tortured alpha that everyone will fall for hard. Saint is exactly the sinner I want in my bed." Laurelin Paige, NYT bestselling author

* * *

"J. Kenner has done it again! Fans of her Damien Stark series are going to totally fall for Devlin Saint in this sexy, compelling page-turner." NYT Bestselling author Carly Phillips

* * *

"This story ticked all my boxes, I swooned, I sighed, and at times I held my breath as Devlin and Ellie push trust and love to the limits, the chemistry is sizzling, the characters loveable and I can't wait to see where we go with book 2 in this series." Thelma and Louise Book Blog

* * *

"Devlin Saint rocked my world. And he definitely ain't no saint. He's the best kind of bad...sigh. I have to say, this new series, Fallen Saint is so damn good I want to read it again, and I just turned the last page." iScream Books Blog

* * *

"Move over Damien Stark. A new king is here. Something unimaginable and extraordinary has happened in My Fallen Saint. Devlin Saint just captured my heart's number one spot as a broken, dominating and delicious alpha man from J. Kenner. This story was explosive and enticing. It was such a powerful mix of passion, suspense and angst. I have no words. No words." PP's Bookshelf

* * *

"MY FALLEN SAINT was a very exciting & mysterious & sparky & sexy & heartbreaking first book in a brand new epic romantic suspense series!" BJ's Book Blog

About My Beautiful Sin

Everything Ellie thinks she knows is about to change.

* * *

Despite his dangerous past, billionaire Devlin Saint finally has Ellie Holmes in his life—and in his bed. Yet shadows still cling to Saint, obscuring his dark secrets and the confidences he swore never to reveal.

* * *

An investigative reporter, Ellie is certain the man she loves hasn't told her everything. And when she starts receiving anonymous warnings about Devlin, she vows to investigate. Soon it becomes clear that Devlin isn't the only one with things to hide, and the more Ellie learns, the more she realizes how dangerous it is to love Devlin Saint.

* * *

His touch is her sin…

* * *

The Fallen Saint Series

By J. Kenner

My Fallen Saint

My Beautiful Sin

My Cruel Salvation

* * *

Don't miss a thing.

Subscribe to JK's newsletter

Chapter One

Devlin Saint propped himself up on his elbow and gazed down at the naked woman sleeping beside him, her pale skin illuminated by a shaft of moonlight, her soft brown waves fanned out on the white pillow.

Gently, he ran his hand over her bare shoulder, then down her arm, relishing her heat and the softness of her skin beneath his palm.

His.

The word flashed neon in his mind, and he had to bite back an ironic chuckle. He hadn't felt possessive of a woman since his first love, and he'd been a different man then. A different name. A different look.

In the years since he'd left Alex Leto behind and become Devlin Saint, the women in his life had been disposable, and he'd never expected that to change. There was no woman who had charmed or challenged him. No woman who'd made his heart sing. Not a single female for whom he'd felt even remotely possessive. Only that first, lost love.

The same woman who, through some miracle he didn't deserve, was now curled up beside him, her soft skin teasing his senses as his mind struggled to believe that she was his again after all this time. That somehow, despite who he was and what he'd done, she believed in him enough to fight her way back into his life.

His El. His love. His light.

She'd been his heart all those long years ago. The best part of him. The part that made him want to be a better man.

The part that he'd clung to and cherished and tried to keep alive during the hellish years after he'd walked away.

He hadn't wanted to leave her, and looking at her now, he couldn't remember how he'd ever found the strength. Except that he'd had to. There'd been no other choice. It hadn't been about him, but about her. About keeping her safe. Because being aligned with him in those cold, dark days would have been no life at all.

And now? The voice in his head was harsh. Is it really so different now?

With a sigh, he slipped from the bed, careful not to wake her. He crossed to the sliding door and looked out toward the moonlit ocean. The night was quiet, peaceful, and he embraced it, knowing better than most that such moments were all too rare.

Then he turned to look back at Ellie, enjoying the way the moon's kiss set her skin aglow. For as long as he'd known her, she'd burned from within, as wild and bright as a living flame lighting his way.

Christ, she was everything to him.

Slowly, so as not to wake her, he returned to the bed and slid in beside her, his fingertips once again drawn to her soft curves.

Damn him for ever leaving her. And damn him now for fighting for her. For claiming her. For drawing her in instead of shoving her away when he'd had the chance, not to mention the strength.

But he couldn't bear the thought of being without her. So he'd allowed her into his orbit, knowing damn well that was a dangerous place to be.

He was a selfish bastard, but how could he push her away when he finally understood how dead he'd been inside for the last ten years? She'd brought him back to life. She made him whole.

He'd told the truth when he'd sworn to protect her. He only hoped that he could. Because the wolves were circling. Soon, they'd attack, letting loose a swarm of secrets he'
d tried to keep contained. Secrets he kept hidden from the world. From the public that thought of him only as a reclusive and intriguing philanthropist.

And, yes, secrets he still hid from El.

Not paltry secrets like the identity of his father or even the truth surrounding the death of her uncle. But bone-deep confidences and dangerous lies.

His biggest fear was that once revealed, he'd lose Ellie all over again.

For now, though, she was his, and his secrets were safe.

And Devlin was going to do his damnedest to make sure it stayed that way.

Chapter Two

I wake to the feel of Devlin's body pressed against mine, his heat burning through me. I don't move, just breathe in, enjoying this still-new sensation of having the man I love so deliciously close.

I don't know what time it is now, but wide shafts of light slice the room, squeezing in through the gaps in the drapes that block the eastern-facing windows. My eyes are only half-open, my mind still fuzzy with the remnants of lust and heat as I watch the tiny flecks of dust dancing in the sunshine.

I'm guessing that it's past ten, and though I know we should both get out of bed, I don't want to. I want to stay here forever, safe in Devlin's arms, well away from the grasping claws of the outside world.

You're in over your head. Find the truth. Don't trust anyone.

The memory of the text I received last night sends a chill through me. I hadn't shown it to Devlin. I'm not sure if I wanted to protect the sensual intimacy of our night together or if I was afraid of what I'd see on his face—the things he might feel compelled to tell me. And the shadow of the secrets he's withholding.

After all, everything I'd learned recently nearly broke me. The knowledge that he's the son of one of the most notorious criminals to ever walk the earth was bad enough. But when I learned that it was Devlin who'd killed my uncle Peter all those years ago, the ground had fallen out from under me.

It had taken long talks and even longer forays deep into my own soul to accept the truth, understand his motivations, and not only forgive him, but realize how deeply I need him. I'd run back to him with a change of clothes and the determination to convince him that everything could be right between us.

Then that text arrived.

What if there's another horrible revelation? Maybe I can face it now, in the morning light. But last night? With candles and kisses, and the fervor of reconciliation?

No way—that hadn't even been an option.

So instead of sharing the text, I'd shoved down my fears.

I haven't even considered the possibility that the vague language refers to something other than Devlin. Of course it's about him.

He told me straight out that he's still clinging to secrets. But secrets are slippery. It's rare that they are truly secure. Someone else knows what he's trying to hide.

But whether this text was meant as a warning or a threat, I don't know. Either way, it was meant to divide us, Devlin and me.

I won't let it, though, and now I draw strength from the knowledge that I know this man. The real man, not merely the picture he paints for the world.

Except that's not entirely true, and I tremble. Not because I know the secrets he's keeping, but because I fear that he loves me enough to walk away if those secrets put a target on my back. He did it once already, after all.

That certainty weighs on me, and I close my eyes, longing for the return of sleep. I want to wake up again, only this time with no memory of the text. I want it to be nothing more than the remnant of a nightmare. Something I can ignore.

Something I don't have to tell him.

As if the mental storm in my head has awakened him, his hand slides along my thigh, rising higher until he's caressing my hip. His lips brush the nape of my neck, and my body immediately responds, my nipples going hard, that insistent pulse between my legs increasing.

Without a word, I roll over and find his chiseled face smiling back at me. His chin-length dark hair frames his face, and his eyes—sandy brown at the moment—watch me with such tender intensity that my heart actually aches.

We've been through so much in such a short time. Secrets, lies, promises. His revelations had both scared and horrified me, but I'm still here, despite Devlin trying his damnedest to push me away.

Now, someone else is pushing, suggesting even darker secrets. But it doesn't matter. I'm fighting back against that someone, too.

I've gone from hating Alex Leto for walking away from me all those years ago, to loving Devlin Saint with an intensity so deep I know that I would sacrifice anything to keep him near me. There is darkness around him, true. But I like to think that I'm the light he needs in his life.

I know for certain that he's what I need in mine. And I'll be damned if I'll let random, anonymous threats shake my faith in him.

He studies my face, and the silence that still lingers between us seems thick with possibility. I don't break it. Instead, I use my forefinger to gently trace the scar on his face.

It's not a scar he had in our youth, and though he has yet to tell me the full story of how he got it, I know that it's a mark of the man he is now. It bisects his right brow, then continues down his cheek, the offending blade having thankfully spared his eye.

It terminates on his upper lip beneath the close-trimmed mustache that I brush lightly before cupping his jaw with my hand, enjoying the sensation of his rough beard against my palm.

He'd been clean-shaven when we were young, but he'd been a different person then, too. And honestly, I can't complain. The Alex Leto I'd loved then could turn heads, no doubt. But Devlin Saint is the full package. He's confidence, control, and a hint of danger all wrapped up in a man who must have been designed by the gods on a particularly good day.

Best of all, he's mine.

"Hi, there," I say, my voice the barest hint of a whisper.

He doesn't respond. At least not with words. Instead, he rolls us over so that I'm on my back and he's straddling me, his hands sliding up my body as he lowers his mouth to mine.

The kiss is slow and deep, and I want to melt into it. Into him. I spread my legs, wanting everything he is willing to give, then cringing when I remember. "Wait," I whisper, tightening my grip on his shoulders. "Do you have a condom?"

He hesitates a second too long before stretching his arm out to pull open the bedside drawer. He may not have even realized he hesitated, but I know he did. And I know why.

We'd forgotten about protection last night. Which isn't a huge problem since I've got an implant. Except that before Devlin, I wasn't exactly playing it safe. I haven't played it safe in years. On the contrary, from fast cars to anonymous fucks, I've spent much of the last ten years standing at the edge of a metaphorical volcano, daring the world to push me in.

I hadn't feared death; I'd danced with it, tempting it to claim me the way it had my entire family.

Now, though, I understand fear.

Now, I have something to lose. It's been a while since I've been tested, and the thought that I might pass something horrible on to him haunts me.

But from Devlin's perspective … well, he probably assumed I didn't press last night because we're truly, finally together. So what must he think it means for me to ask now?

He says none of that, though. Instead, he sheaths himself then flashes me a humor-filled grin as he says, "Take two."

I laugh—probably more than the joke really called for—and hook my arms around his neck. "Kiss me," I murmur. "Make love to me."

"Baby, that's exactly what I have in mind."

We're both beyond ready, as if our naked limbs tangled in sleep had been foreplay enough. I arch up, silently begging him to enter me, wanting nothing more than this man, his hands on me, his cock inside me. It's fast and urgent, both of us spiraling upward in a frenzy of heat and need.

&
nbsp; Soon, I'm gasping, on the cusp of going completely over.

"Now," he says. "Come for me now, baby."

It's a command I can't disobey, and my body breaks apart, my core tightening around him, taking him over the cliff with me as we fall off into space, tumbling over and over until we are spent and gasping, locked in each other's arms as sunshine fills the room, welcoming us to the day.

I stretch languorously as he moves off of me and deals with the condom. "That was so much better than an alarm clock," I say.

"Such high praise." I hear the tease in his voice as his fingers stroke my hair. "Do you want coffee?"

I start to sit up, "Always," I say. "I'll go start some."

He shakes his head, then bends over to kiss me lightly on the lips. "No, stay where you are. I like the thought of you staying in my bed as long as possible."

I lift a brow and lean back. "Waiting on me? I could get used to this."

"That's the idea." He winks, and I laugh. Then I simply sit there and enjoy the view as he gets out of bed and pulls on a pair of sweatpants that he'd left hanging over the back of the chair.