Ruined With You
J. Kenner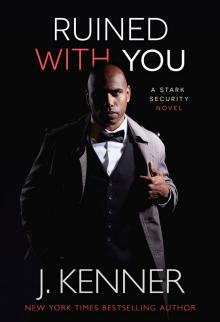 Ruined With You

J. KENNER

Contents

Title Page

About Ruined With You

Stark Security

Preface

Chapter 1

Chapter 2

Chapter 3

Chapter 4

Chapter 5

Chapter 6

Chapter 7

Chapter 8

Chapter 9

Chapter 10

Chapter 11

Chapter 12

Chapter 13

Chapter 14

Chapter 15

Chapter 16

Chapter 17

Chapter 18

Chapter 19

Chapter 20

Chapter 21

Chapter 22

Chapter 23

Chapter 24

Chapter 25

Chapter 26

Chapter 27

Chapter 28

Epilogue

Dirtiest Secret - Excerpt

About the Author

Broken With You

* * *

by

* * *

J. Kenner

* * *

Learn more at:

www.jkenner.com

Instagram

Facebook

Bookbub

* * *

For exclusive content and updates, sign up for JK's newsletter & join her Facebook fan group!

* * *

Text JKenner to 21000 for new release announcements!

Ruined With You

When her high maintenance boss is assaulted, manager Xena Morgan contacts the only person who can help—the sexy, arrogant, incredibly capable Stark Security agent Liam Foster. The former vigilante takes every case personally, and he's determined to find answers—particularly since he thought he'd cleared this threat already.

* * *

Xena had been thrilled when Liam completed his assignment, because he affected her in ways she didn't want to contemplate, awakening yearnings that threatened her deepest secrets.

* * *

But now she needs him, and her body won't let her forget it.

* * *

As their attraction heats to a feverish degree, the web of lies, danger, and passion they find themselves in tangles further. Liam will stop at nothing to protect his client, even if it means sacrificing everything he holds dear.... and exposing the secrets that may destroy him—and Xena—forever.

Charismatic. Dangerous. Sexy as hell.

Meet the elite team of Stark Security.

* * *

Shattered With You

* * *

Shadows Of You

(free prequel to Broken With You)

* * *

Broken With You

* * *

Ruined With You

* * *

Wrecked With You

Ruined With You is a work of fiction. Names, characters, places, and incidents are products of the author's imagination or are used fictitiously; they are not real, and any resemblance to events, establishments or persons (living or dead or undead) is entirely coincidental.

* * *

Ruined With You Copyright © 2019 by Julie Kenner

Cover design by Michele Catalano, Catalano Creative

Cover image by Annie Ray/Passion Pages

ISBN: 978-1-940673-88-2

Published by Martini & Olive Books

v-2019-9-23D

* * *

All rights reserved. No part of this book may be reproduced, scanned, or distributed in any printed or electronic form without permission. Please do not participate in or encourage piracy of copyrighted materials in violation of the author's rights. This is a work of fiction. Names, places, characters and incidents are the product of the author's imagination and are fictitious. Any resemblance to actual persons, living or dead, events or establishments is solely coincidental.

For Keeana -

thank you so much for your help and support …

and for putting up with my crazy, partial emails!

Preface

I haven't gotten close to anyone for years. How can I, when every conversation is tinged with dread that someone will learn the truth? That my past will come back to haunt me, and that despite all the care I took to disappear, I'll be hauled out of the life I've built and thrust back into hell.

At first, I wore my fear like a cloak, wrapped tight around me for protection. Now it's an innate part of me, as necessary for my survival as blood and oxygen. It is constant. Familiar.

It is the core of the battlements I've constructed to keep myself hidden, and I never once believed that anyone could shatter my defenses.

Then he crashed into my world like a thunderbolt, his strong arms as soothing as his eyes are vexing. Because this is a man who sees things. But the more he breaks through the wall that surrounds me, the more I'm afraid he'll discover my secrets. And that the truth will destroy everything.

Chapter One

Liam Foster slipped on a pair of aviator glasses, shielding his eyes from the brutal Nevada sun as he stepped out of the private Stark Security jet, all the while trying to convince himself that he hadn't fucked up last week and put his client in danger.

He paused at the top of the stairs, then scanned the executive area of Las Vegas's McCarran International Airport before descending. Not that he anticipated enemy fire, but he'd spent too many years dodging bullets and bad guys to ever break the ingrained habit.

As he set foot on the tarmac, a rising wall of heat engulfed him, as if daring him to keep his suit coat on. It was late afternoon in the summer, and the place was hot as Hades. Liam had been to Vegas more times than he could count, and never under pleasant circumstances. Today wasn't any different, and he silently cursed himself as he tried to pinpoint the exact moment when he'd quit protecting Ellie Love and had instead shoved her into harm's way.

Even now, his mind echoed with the harsh words tossed at him by Xena Morgan, Love's personal assistant. He'd been at a celebration just a few hours ago, laughing and drinking with his friends over brunch, when his phone had rung. Her name had popped up, and he'd felt that familiar twisting in his gut. Longing tinged with dread. And he was such a goddamn chickenshit that he'd almost let it roll to voice mail. Almost broke his own code by dodging instead of confronting.

But he'd got his act together, and he'd hit the button to connect the call, expecting—well, he still wasn't sure what he'd expected. Not after their last hour on the patio of Ellie's house in the Hollywood Hills, her a little tipsy on wine, him a little drunk on her, and the entire city lit up below them.

He may not have known what to expect on that call, but it damn sure hadn't been the thick, controlled voice that had come across the line, telling him only that Ellie had been attacked during an early morning jog. Xena had spoken with the emotional control of a seasoned police officer, and refused to give him any other details. "She's okay, and you can hear the whole damn story when you get here, because for some insane reason you're the only one she wants looking into this. Crazy, right? Because you're the one who said there was no legitimate threat. That she was safe." Only a slight quiver betrayed her steady tone. "Maybe I'm naive, but this sure as shit doesn't look like safe to me."

"Xena…" The name had barely passed his lips when she handed the phone to her boss, and the rising pop star had said simply, "Haul your ass to Vegas, Foster. I need you on this. You're the only one I trust."

Trust.

He hadn't thought he could feel any worse after Xena's rant. But that one simple word had just about done him in.

With a sigh, he ran his hand over his shaved head. He didn'
t take failure lightly—he never had. Somehow, he was going to make this right. Somehow, he was going to deserve that trust.

A space gray Range Rover pulled into view beside the hanger, and Liam walked forward to meet it. The car slowed to a stop in front of him, and the driver, a poised twenty-something with a hint of a beard, started to get out. Liam held up a hand, then opened the back door himself. There were times when rank and position mattered, but this sure as hell wasn't one of them.

"The Starfire, Mr. Foster?" It was a good guess. A Stark International property, the Starfire Resort and Casino was well-equipped to provide support for any Stark Security operation taking place in the Las Vegas area.

"The Delphi, actually. And take me to the performers' entrance. I'm late for a meeting." At least as big as the Starfire, the competing Delphi Casino and Hotel also boasted the Delphi Auditorium, a venue that consistently booked the hottest acts in town.

"Right away, sir."

Liam leaned back, meeting the driver's eyes in the rearview mirror as he settled in. "What's your name?"

"Frederick."

"Summer job?"

Frederick nodded. "Yes, sir. I'm a driver at the Starfire, but I fill in at the front desk when I'm needed. I'll be a sophomore next year. UCLA."

"Did you happen to catch Ellie Love's concert last night?"

His face lit up. "Oh, yeah. It was fuc—I mean fantastic."

"No glitches? Nothing out of the ordinary?"

The kid's brow furrowed, but whether in thought or confusion, Liam wasn't sure. "Well, no. I mean, maybe something backstage, but we sure couldn't tell in the audience."

"Good to know." He'd interview everyone in Ellie's band and crew, plus the on-site employees of the Delphi Auditorium. But unless he missed his guess, the show had gone as smooth as silk, without the slightest hint of trouble. At least until this morning.

"Um—sir? Are the rumors true?"

"What rumors are those?" Liam repeated, knowing exactly what Frederick was talking about.

"My buddy—he's a bellman at the Delphi—and he told me that Ellie—well, Ms. Love—that she was attacked this morning."

"What makes you think I know anything about that?"

"Oh." He could see the kid swallow in the rearview mirror. "I guess—well, you work for Stark Security. And you're going to a meeting at the Delphi Auditorium where Ms. Love's performing tonight. So I just thought, well, you know."

"I know that you'd be an asset in my line of work," Liam said with a chuckle.

"Nah, I just read a lot of thrillers and mysteries. I'm heading for law school."

"A man with a plan. Even better."

His phone chimed with an incoming text, this one from Rye Callahan, Ellie's fiancé and manager, giving Liam the keypad code for the backstage door.

Rehearsal's running long. Feel free to watch or wait in El's dressing room. Will find you.

Liam shot back a thumbs-up, then used the rest of the ride to scroll through his new emails. He smiled at the pictures his friend Dallas Sykes had sent of Jane, his pregnant and bedridden wife. Knowing Jane, Liam was sure she was going out of her mind, but that didn't alter the beatific look on her beautiful face. Considering everything the couple had been through, they deserved this happy ending—and new beginning.

Not for the first time, a wave of unwelcome envy hit him. Dallas and Jane were his closest friends in the world, and he didn't begrudge them one iota of happiness. He told himself he didn't want what they had, but that wasn't true. He did want it. And for a few shining months, he'd had it.

But he knew damn well he'd never have it again.

Fuck.

"Sir?"

He bit back a curse; he hadn't realized he'd spoken aloud. "Nothing," he told Frederick. "Just checking messages."

The rest of his inbox was work-related. Status updates from his team, reports he'd requested, briefings on potential clients and new matters. He shot back a half-dozen answers, including one to Ryan Hunter, the Operating Director of Stark Security and Liam's immediate supervisor, who'd requested status updates on several ongoing matters.

And then there was the message from Quince Radcliffe. Like Liam, Quince had worked for his government before signing up for Deliverance, a now-defunct vigilante group financed and run by Dallas for the purpose of finding, rescuing, and ensuring justice for kidnap victims from around the globe. Also like Liam, he'd joined the Stark Security Agency after Deliverance dissolved.

Both men had wanted to stay in the game, and they believed in the organization's mission statement. Formed after tragedy had struck the home of billionaire Damien Stark, the SSA existed to provide help where it was needed, no matter the size of the job. Moreover, because of the technical input from Stark divisions such as Stark Applied Technology, the organization was at least as well equipped as most government intelligence operations. Probably better.

Liam loved the work. Hell, he lived the work. And he respected the hell out of his colleagues and never withheld information about a case without a reason.

Last week, he'd had a reason.

At the request of Ellie Love, Liam had told no one at Stark Security except Ryan about the absurd outcome of the assignment. But Quince was former MI6 and the guy didn't miss a trick. Ellie Love, the message read. Want to share with the class?

Liam frowned. Soon, he wrote back. The rest of the SSA team deserved to know about the bogus threat in LA last week—and about the fact that this morning's events suggested it wasn't bogus after all. Which meant that Liam had screwed up. He'd cleared the threat in LA and told the entire Ellie Love entourage that it was safe to head on to the next concert venue, and the next and the next.

The case had been open and shut—or so he'd believed. The pop star had been receiving threatening text messages and notes, causing upheaval among her crew. Vague statements about how Ms. Love would "pay," and that she needed to watch her back.

Scary, yes, but it hadn't taken long for Liam to learn that the threats had been a publicity stunt by her over-eager publicist, who'd been determined to get Love as much buzz during her tour as possible.

The publicist had confessed and resigned—fortunately before the threats were leaked on social media. After satisfying himself that the threats were a hoax, Liam had closed the case and promised the embarrassed Ms. Love that he'd file his final report only to those at the SSA who needed to know. As a result, the only people who knew about the fake threats were Ellie Love herself, her now-former publicist, her fiancé, her personal assistant, Liam, and Ryan Hunter.

Bottom line, the threats had been bullshit.

And yet Ms. Love had been attacked that very morning.

So what had he missed? What the fuck had he missed?

Or maybe it was a copycat? Someone jumping into the fray after the stage had been set?

Or even just a random mugging?

He didn't know, but he was going to figure it out. Because no matter what rationalizations and excuses got tossed around, the bottom line was that her assault this morning landed squarely in his domain. And he wasn't going to rest until he found her attacker—and proved to himself that he hadn't screwed up and inadvertently tossed Ellie Love right into her attacker's arms.

Chapter Two

From his position in the wings, Liam watched as Ellie Love strutted across the stage in five-inch heels, her tiny, bronzed dynamo of a body bending and twisting to the hip-hop beat as she belted out the lyrics of the show's final song. Considering that morning's attack and the stress she'd been under since the threats started in LA, Liam had to give the rising pop icon her props. If there was anything on her mind other than preparing for tonight's show, he couldn't see it.

She was a professional, through and through. More than that, she was a star.

A narcissistic and obst
inate star, but in Liam's experience, that tended to be part and parcel of the celebrity package. And the truth was, he liked her in spite of all those qualities. Or maybe because of them. The daughter of an Irish-born auto-mechanic and a third-generation Latina mother who put herself through nursing school, Ellie was a woman who worked hard, believed in her own talent, and knew what she wanted, which was why her latest album had finally shot her to the top of the charts. And why all eyes in the theater—crew, invited fans, and hotel personnel—were locked on her during the final moments of the rehearsal.

All eyes except his.

Despite admiring her talent and work ethic, Ellie wasn't the woman who kept drawing his focus. That dubious honor went to the woman directly across the stage from him. The tall, skinny white woman with the cornflower blue eyes. The sharp-tongued blonde who'd spent most of the previous week standing like a damn guard dog between him and Ellie.