Tempt Me: A Stark International Novella
J. Kenner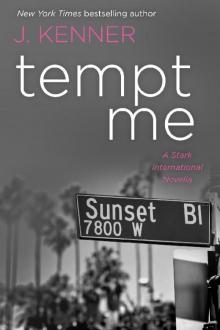 Tempt Me

A Stark International Novella

By J. Kenner

Tempt Me

A Stark International Novella By J. Kenner

Published by Evil Eye Concepts, Incorporated Copyright (c) 2017 Julie Kenner ISBN: 978-1-945920-08-0

All rights reserved. No part of this book may be reproduced, scanned, or distributed in any printed or electronic form without permission. Please do not participate in or encourage piracy of copyrighted materials in violation of the author's rights.

Book Description

Tempt Me

A Stark International Novella 1001 Dark Nights By J. Kenner

Sometimes passion has a price ...

When sexy Stark Security Chief Ryan Hunter whisks his girlfriend Jamie Archer away for a passionate, romance-filled weekend so he can finally pop the question, he's certain that the answer will be an enthusiastic yes. So when Jamie tries to avoid the conversation, hiding her fears of commitment and change under a blanket of wild sensuality and decadent playtime in bed, Ryan is more determined than ever to convince Jamie that they belong together.

Knowing there's no halfway with this woman, Ryan gives her an ultimatum - marry him or walk away. Now Jamie is forced to face her deepest insecurities or risk destroying the best thing in her life.

And it will take all of her strength, and all of Ryan's love, to keep her right where she belongs...

About J. Kenner

J. Kenner (aka Julie Kenner) is the New York Times, USA Today, Publishers Weekly, Wall Street Journal and #1 International bestselling author of over seventy novels, novellas and short stories in a variety of genres.

JK has been praised by Publishers Weekly as an author with a "flair for dialogue and eccentric characterizations" and by RT Bookclub for having "cornered the market on sinfully attractive, dominant antiheroes and the women who swoon for them." A five-time finalist for Romance Writers of America's prestigious RITA award, JK took home the first RITA trophy awarded in the category of erotic romance in 2014 for her novel, Claim Me (book 2 of her Stark Trilogy).

In her previous career as an attorney, JK worked as a lawyer in Southern California and Texas. She currently lives in Central Texas, with her husband, two daughters, and two rather spastic cats.

Visit JK online at www.jkenner.com

Subscribe to JK's Newsletter

Text JKenner to 21000 to subscribe to JK's text alerts Twitter

Instagram

Facebook Page

Facebook Fan Group

By J. Kenner

Click here for an updated Printable Booklist

The Stark Trilogy:

Release Me

Claim Me

Complete Me

Anchor Me

Stark Ever After:

Take Me

Have Me

Play My Game

Seduce Me

Unwrap Me

Deepest Kiss

Entice Me

Hold Me

Stark International

Steele Trilogy:

Say My Name

On My Knees

Under My Skin

Steal My Heart (short story - free download)

Take My Dare (novella)

Jamie & Ryan Novellas:

Tame Me

Tempt Me

Dallas & Jane (S.I.N. Trilogy):

Dirtiest Secret

Hottest Mess

Sweetest Taboo

Most Wanted:

Wanted

Heated

Ignited

Also by Julie Kenner

Click here for an updated Printable Booklist

The Protector (Superhero) Series:

The Cat's Fancy (prequel)

Aphrodite's Kiss

Aphrodite's Passion

Aphrodite's Secret

Aphrodite's Flame

Aphrodite's Embrace (novella)

Aphrodite's Delight (novella - free download)

Demon Hunting Soccer Mom Series:

Carpe Demon

California Demon

Demons Are Forever

Deja Demon

The Demon You Know (short story)

Demon Ex Machina

Pax Demonica

Day of the Demons

The Dark Pleasures Series:

Caress of Darkness

Find Me In Darkness

Find Me In Pleasure

Find Me In Passion

Caress of Pleasure

The Blood Lily Chronicles:

Tainted

Torn

Turned

Rising Storm:

Tempest Rising

Quiet Storm

Discover 1001 Dark Nights Collection One

Click here to explore

FOREVER

WICKED by Shayla Black CRIMSON

TWILIGHT by Heather Graham

CAPTURED

IN SURRENDER by Liliana Hart

SILENT

BITE: A SCANGUARDS WEDDING by Tina Folsom DUNGEON

GAMES by Lexi Blake

AZAGOTH by Larissa Ione

NEED

YOU NOW by Lisa Renee Jones

SHOW

ME, BABY by Cherise Sinclair

ROPED

IN by Lorelei James

TEMPTED

BY MIDNIGHT by Lara Adrian

THE

FLAME by Christopher Rice

CARESS

OF DARKNESS by Julie Kenner

Also from 1001

Dark Nights:

TAME

ME by J. Kenner

Discover 1001 Dark Nights Collection Two

Click here to explore

WICKED

WOLF by Carrie Ann Ryan

WHEN

IRISH EYES ARE HAUNTING by Heather Graham EASY

WITH YOU by Kristen Proby

MASTER

OF FREEDOM by Cherise Sinclair

CARESS

OF PLEASURE by Julie Kenner

ADORED by Lexi Blake HADES by Larissa Ione

RAVAGED by Elisabeth Naughton DREAM

OF YOU by Jennifer L. Armentrout STRIPPED

DOWN by Lorelei James

RAGE/KILLIAN by Alexandra Ivy/Laura Wright DRAGON

KING by Donna Grant

PURE

WICKED by Shayla Black

HARD

AS STEEL by Laura Kaye

STROKE

OF MIDNIGHT by Lara Adrian

ALL

HALLOWS EVE by Heather Graham

KISS

THE FLAME by Christopher Rice

DARING

HER LOVE by Melissa Foster

TEASED by Rebecca Zanetti

THE

PROMISE OF SURRENDER by Liliana Hart Also from 1001 Dark Nights: THE SURRENDER GATE By Christopher Rice SERVICING

THE TARGET By Cherise Sinclair

Discover 1001 Dark Nights Collection Three

Click here to explore HIDDEN

INK by Carrie

Ann Ryan

BLOOD

ON THE BAYOU by Heather

Graham

SEARCHING

FOR MINE by Jennifer Probst

DANCE OF

DESIRE by

Christopher Rice

ROUGH

RHYTHM by Tessa

Bailey

DEVOTED by Lexi Blake Z by Larissa Ione FALLING

UNDER YOU by Laurelin Paige EASY

FOR KEEPS by Kristen Proby

UNCHAINED by Elisabeth Naughton

HARD

TO SERVE by Laura

Kaye

DRAGON

FEVER by Donna

Grant

/> KAYDEN/SIMON by Alexandra Ivy/Laura Wright STRUNG

UP by Lorelei

James

MIDNIGHT

UNTAMED by Lara Adrian

TRICKED by Rebecca Zanetti

DIRTY WICKED by Shayla Black THE ONLY ONE by Lauren Blakely SWEET SURRENDER by Liliana Hart

Sign up for the 1001 Dark Nights Newsletter

and be entered to win a Tiffany Lock necklace.

There's a contest every quarter!

Click here to subscribe.

As a bonus, all subscribers will receive a free

1001 Dark Nights story

The First Night

by Lexi Blake and M.J. Rose

Table of Contents

Book Description

About J. Kenner

Also by J. Kenner

Discover 1001 Dark Nights Collection One

Discover 1001 Dark Nights Collection Two

Discover 1001 Dark Nights Collection

Three

Chapter One

Chapter Two

Chapter Three

Chapter Four

Chapter Five

Chapter Six

Chapter Seven

Chapter Eight

Chapter Nine

Chapter Ten

Discover 1001 Dark Nights Collection Four

Discover the World of 1001 Dark Nights

Discover More J. Kenner/Julie

Kenner

An excerpt from Anchor Me by J.

Kenner

Special Thanks

Chapter One

More.

The word pounds into my head, beating a sensual rhythm in my blood.

More, yes. Please, please, more.

I'm neither awake nor asleep. Instead, I'm floating on a cloud somewhere above a horizon of dreams. I feel alive. I feel on fire.

I feel wildly, incredibly, insanely turned on.

Mostly, I feel loved. Cherished.

Arousal tugs at me, pulling me into consciousness. Into a place where I'm aware of the reason for the fire that rips through my body, igniting my skin and settling between my legs, making me achy and needy.

His lips. His hands.

They are roaming over me, strong and sure. Each caress like a tongue of flame. Each kiss a cool oasis, keeping me from melting under the heat that he is igniting inside me.

I know this touch, of course. This man.

Ryan Hunter.

I sigh, simply from the pleasure of his name in my mind. Hunter. My Hunter.

Before Hunter, I'd been with a lot of guys. Like, a lot of guys.

Once upon a time, that's something I took as a point of pride. That Jamie Archer could fuck around with the best of them, without ever letting anyone get too close. Because if you let them get too close, you could end up getting hurt.

But then Hunter came along and he broke through my defenses. All of my defenses.

He tamed me, and now he's always with me. In my heart. In my head.

Even now--with my eyes still closed, half-in and half-out of sleep--I can picture him. The thick, chestnut-colored hair that he wears short, but with just enough length that I can run my fingers through it. Fathomless blue eyes that see me so intimately. A long, lean body that he uses expertly--in bed and out of it.

He is so clear in my mind, and yet it's not enough. I want to actually see him. The humor and heat in his eyes. The way his lips twitch when he watches me, as if he can't decide if he wants to kiss me or devour me. The tightness of his jaw as he fights desire, holding back his own pleasure until he's made me explode again and again and again.

"Ryan," I murmur as I start to open my eyes, unable to wait a moment longer.

"No." The word is simple, yet firm. Full of the command that comes so naturally to him. And though I whimper, I acquiesce obediently. "Good girl." His voice washes over me like a warm caress, and I bite my lip, forcing myself to stay quiet.

"I want you lost in fantasy," he continues. "I want to watch your body move under my hand, not knowing where the next touch will be. Not knowing if I'm going to kiss your breast or spank your ass."

He does neither. In fact, his hands barely move at all. Instead, he simply grips my hips, his hands perfectly still. Only his thumbs move--a gentle back and forth caress that has hardly any more substance than a butterfly beating its wings, but to me is so intense that I can feel the thread of that contact all the way to my clit. I'm hot and wet and needy, and I writhe beneath him, silently begging for a more substantial touch.

He doesn't disappoint, and I cry out in both surprise and pleasure as his fingers pinch my nipples. Then moan when he crushes my mouth with a bruising kiss.

He runs his hands over me, his touch hard. Possessive. He palms my breasts, squeezing just enough that I arch up, wanting more. Wanting his mouth on my tit. Wanting him to suck. To tease.

But he leaves me wanting and instead draws his hands down. Not feather light this time, but with heat and pressure so that he leaves a trail of red hot fire down my body. So that when his hands stop at the juncture of my pelvis and my thighs, I cry out, "Please, Hunter, oh, fuck, please."

I can practically feel the heat of his skin on my cunt, and yet he doesn't move. Instead, he shifts his position and I feel the mattress dip, and then the warmth of his breath at my ear.

"I want all that," he whispers as he shifts his thumb just enough so that I feel it graze along the soft skin just above my clit. "Mouth. Breasts. Ass. Pain. Pleasure. And everything in between."

His thumb dips inside me, and I arch up, willing him to go deeper. To fill me.

But he's still teasing me, and instead of thrusting his fingers deep inside me, he withdraws them, forcing me to bite my lip simply to keep from whimpering.

"In other words, kitten," he murmurs as his thumb traces lazy circles around my clit, "I want you at my mercy."

"I am." My words are a gasp. "You know I am." The bed shifts again as I speak, and my skin feels cool as he removes his warm hands from my body. For a moment, panic rushes through me, and I fear that he's playing a game. That he's going to leave me here, naked and alone, lost with my thoughts of his touch, my skin flushing as I anticipate his return. As I fight the urge to touch myself when all I want is his hands on me and his cock deep inside me.

"Hunter." His name is a plea, and I reach out blindly, grasping for him.

"Shhh," he says, and the soft brush of his fingertip over my lips soothes me. "Wait," he says, as the finger moves lower and lower until finally I feel both hands on my hips, and he strokes them down along my outer thigh.

A pounding, liquid heat pools between my legs. I'm beyond aroused--I'm desperate. Wanton. And I move my hips in a silent demand that goes sadly, frustratingly unfulfilled.

"Christ, that's beautiful," he says as his hands reach my ankles and he slowly--so painfully slowly--spreads my legs. "You're so wet, you glisten. You're ripe, baby, so ripe I think I have to taste you."

The words have barely passed his lips when his mouth brushes my inner thigh and he begins to kiss me, higher and higher as his fingers trail along, lightly stroking the opposite thigh. I whimper and writhe, but then the intensity of his touch increases and instead of light strokes to my tender skin, his strong hands are holding me down. I'm immobile, trapped in place, my legs spread so wide it's almost painful, and I'm completely open to him. Completely exposed.

His tongue grazes the soft skin at the top of my thigh and I shudder. I try to squirm, but he's holding me tight. I hear someone begging and realize it's me. A soft "please, please, oh please, yes, please" escaping my lips, barely a murmur, and so much more like a prayer.

Finally, his mouth closes over my sex and he sucks and teases, playing with my overly sensitive clit as I try to move--to relieve some of this astounding, amazing, incredible assault. But I can't, and I can only endure it as a storm builds inside me, brought on by a pleasure so intense that it crosses over into pain.

And then, just as my body starts to quake
with sweet release, he pulls back, gently stroking me, his tongue dipping inside me, thrusting hard, and I cry out, because I want more. I want to be filled completely. I want to feel my body stretching, welcoming him. I want him to own me. To use me. I want to break apart under the power that is this man I love.

"Hunter," I cry out, and as he lifts his hands to let me move, I piston my hips, fucking his tongue as he slides his hands up and cups my breasts, his thumbs teasing my nipples. "Please," I beg, because at this point I am officially desperate. "Please," I repeat as my eyes flutter open. "I want to feel you inside me."

He lifts his head, his expression a mix of passion and playfulness, then kisses his way up my body with slow, lingering caresses designed to drive me even wilder than I already am.

"Ryan--" But he silences me with a long kiss, so deep and intimate and claiming that it feels like fucking.

"Shhh," he murmurs, his mouth brushing mine. Tasting mine. Teasing my lips. Tracing a path along my jaw as his fingers dip deep inside me. "You're so wet," he says as I lose my mind and grind against him. I want him. I want everything. And I'm both frustrated that he isn't yet giving it to me, and deliciously, wildly, insanely turned on by the way he's extending this unimaginable pleasure into an infinite, crazed delight.

"I don't want to stop," he admits. "I want to keep teasing you. I like it when you beg, kitten. I like hearing how much you want me. Tell me again, baby. Tell me what you want."

"You." My voice is cracked, as shattered as my body. "I want you inside me. I want you to come inside me."

"Christ, Jamie," he says, his voice sharp and urgent. "I can't take it any longer. Turn over, kitten. On your knees for me."

I comply eagerly. Right then I'd hang from the damn chandelier if he asked me to, even though we don't even have a chandelier. I just want him. Want to please him. Want to feel him.

"Beautiful," he murmurs once I'm on my knees, my head on the pillow and my elbows on the bed. His hand smacks my ass lightly, and I groan, squeezing my legs together to fight the growing sense of pressure in my cunt. I'm so fucking turned on right now that another touch could send me spiraling over the edge, and that's not what I want. Not yet.

No, what I want is to feel him inside me. I want that connection, that most intimate union, and when I finally feel his cock at my opening, my entire body rejoices. This. This is what I want. This man, one with me.

"Yes," I beg. "Now, Ryan. Now."

I'm beyond wet, and when he grips my hips and thrusts forward, his cock fills me. He stays still for a moment, our bodies joined, then pulls out before slamming back into me again and again and again. Wilder and faster, in a rhythm that has me gasping, my hips moving in time with his thrusts so as to make it deeper.

"I adore you," he murmurs. "Christ, you feel good."

"Yes," I murmur, because my mind can't come up with any more words. "More."