Wicked Grind
J. Kenner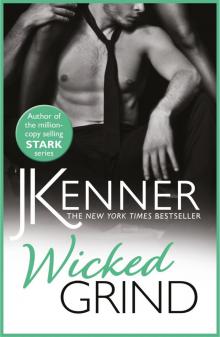 Copyright (c) 2017 Julie Kenner

Excerpt from Wicked Dirty copyright (c) 2017 Julie Kenner Cover photograph (c) Nasgul/Bigstock

Author photo (c) Kathy Whittaker Photography The right of J. Kenner to be identified as the Author of the Works has been asserted by her in accordance with the Copyright, Designs and Patents Act 1988.

First published in this Ebook edition in 2017

by HEADLINE ETERNAL

An imprint of HEADLINE PUBLISHING GROUP

Apart from any use permitted under UK copyright law, this publication may only be reproduced, stored, or transmitted, in any form, or by any means, with prior permission in writing of the publishers or, in the case of reprographic production, in accordance with the terms of licences issued by the Copyright Licensing Agency.

All characters in this publication are fictitious and any resemblance to real persons, living or dead, is purely coincidental.

Cataloguing in Publication Data is available from the British Library eISBN 978 1 4722 4693 6

HEADLINE PUBLISHING GROUP

An Hachette UK Company

Carmelite House

50 Victoria Embankment

London EC4Y 0DZ

www.headlineeternal.com

www.headline.co.uk

www.hachette.co.uk

Table of Contents

Title Page

Copyright Page

About the Author

Praise for J. Kenner

By J. Kenner

About the Book

Dedication

Prologue

Chapter 1

Chapter 2

Chapter 3

Chapter 4

Chapter 5

Chapter 6

Chapter 7

Chapter 8

Chapter 9

Chapter 10

Chapter 11

Chapter 12

Chapter 13

Chapter 14

Chapter 15

Chapter 16

Chapter 17

Chapter 18

Chapter 19

Chapter 20

Chapter 21

Chapter 22

Chapter 23

Chapter 24

Chapter 25

Chapter 26

Chapter 27

Chapter 28

Chapter 29

A special excerpt from Wicked Dirty

The Stark Series

The Stark International Series

The S.I.N Series

Other unforgettable books by J. Kenner

Find out more about Headline Eternal

About the Author

J. Kenner (aka Julie Kenner) is the New York Times, USA Today, Publishers Weekly, Wall Street Journal, and No. 1 internationally bestselling author of over seventy novels, novellas, and short stories in a variety of genres.

Kenner has been praised by Publishers Weekly as an author with a 'flair for dialogue and eccentric characterizations' and by Romantic Times for having 'cornered the market on sinfully attractive, dominant antiheroes and the women who swoon for them.' A five-time finalist for Romance Writers of America's prestigious RITA award, Kenner took home the first RITA trophy awarded in the category of erotic romance in 2014 for her novel, Claim Me (book two of her Stark Trilogy).

In her previous career as an attorney, Kenner worked as a lawyer in Southern California and Texas. She currently lives in Central Texas with her husband, two daughters and two cats.

Visit J. Kenner online at www.jkenner.com. Or connect with her via Twitter @juliekenner or through www.facebook.com/JKennerBooks.

Just some of the rave reviews for J. Kenner's powerfully sensual and erotic novels:

'Kenner may very well have cornered the market on sinfully attractive, dominant antiheroes and the women who swoon for them . . . Her characters' scorching, scandalous affair explores the very nature of attraction and desire, redeeming and changing them beyond measure' Romantic Times

'The plot is complex, the characters engaging, and J. Kenner's passionate writing brings it all perfectly together' Harlequin Junkie

'Another J. Kenner masterpiece . . . This was an intriguing look at self-discovery and forbidden love all wrapped into a neat little action-suspense package. There was plenty of sexual tension and eventually action . . . But can we expect anything less from J. Kenner?' Reading Haven

'The heat practically radiates from the page . . . This book is sexy, romantic, steamy and thrilling all wrapped into one extremely well written package' Books & Boys Book Blog

'J. Kenner's evocative writing thrillingly captures the power of physical attraction, the pull of longing, the universe-altering effect one person can have on another . . . Claim Me has the emotional depth to back up the sex . . . Every scene is infused with both erotic tension, and the tension of wondering what lies beneath Damien's veneer - and how and when it will be revealed' Heroes and Heartbreakers

'A toe-curling smokin' hot read, full of incredible characters and a brilliant storyline that you won't be able to get enough of. I can't wait for the next book in this series . . . I'm hooked!' Flirty & Dirty Book Blog

'I do believe that I just found my newest guilty pleasure' Hooker Heels Book Blog

'Kenner definitely knows how to write steamy love scenes and how to push the pain/pleasure envelope with her characters' Harlequin Junkie

'PERFECT for fans of Fifty Shades of Grey and Bared to You. Release Me is a powerful and erotic romance novel that is sure to make adult romance readers sweat, sigh and swoon' Reading, Eating & Dreaming Blog

'[A] sexy and exciting ride' Fresh Fiction

'This is deeply sensual and the story packs an emotional punch that I really hadn't expected . . . If you enjoyed Fifty Shades [and] the Crossfire books, you're definitely going to enjoy this one. It's compelling, engaging and I was thoroughly engrossed' Sinfully Sexy Blog

'Once again Kenner has written a book that reaches into your soul, pulls out all your emotions and leaves you with a smile' The Book Reading Gals

'I am in the "I loved Fifty Shades" camp, but after reading Release Me, Mr Grey only scratches the surface compared to Damien Stark' Cocktails and Books Blog

'It is not often when a book is so amazingly well-written that I find it hard to even begin to accurately describe it . . . I recommend this book to everyone who is interested in a passionate love story' Romancebookworm's Reviews

'Delivers both scorching hot scenes along with the evolution and unpeeling of emotional barriers built by past dark secrets. Moreover, the characters are complex, the passion is intense and the ultimate message that love can heal all is inspiring' The Romance Reviews (five stars)

'The story is one that will rank up with the Fifty Shades and Crossfire trilogies' Incubus Publishing Blog

'Be prepared for a roller coaster filled with twists and turns, ups and downs, hope, heartbreak and cliffhangers' Book Boyfriend Blog

By J. Kenner

The Stark World Series

Wicked Grind

Wicked Dirty (September 2017) Wicked Torture (November 2017) The Stark Series

Release Me

Claim Me

Complete Me

Anchor Me

The Stark Ever After Novellas

Take Me (e-novella) Have Me (e-novella) Play My Game (e-novella) Seduce Me (e-novella) Unwrap Me (e-novella) Deepest Kiss (e-novella) Entice Me (e-novella) The Stark International Series

Say My Name

On My Knees

Under My Skin

Steal My Heart (free short story) Take My Dare (e-novella) The S.I.N. Series

Dirtiest Secret

Hottest Mess

Sweetest Taboo

The Most Wanted Series

Wanted

Heated

Ig
nited

About the Book

Sometimes it feels so damn good to be bad . . .

Photographer Wyatt Royce's career is on the verge of exploding. All he needs is one perfect model to be the centrepiece of his sexy, controversial show and he's sure to have a winner.

Then Kelsey Draper walks in. Stunning. Vibrant. And far too fragile for a project like this. Wyatt should know - he remembers vividly how their relationship ended all those years ago.

Desperate for cash and frustrated with her good-girl persona, Kelsey sets her sights on Wyatt's show - and only the show. Because Wyatt Royce is a danger to her heart. Still, she can't help wondering if she's in too deep when Wyatt agrees to give her the job only if he has complete control on camera - and in his bed . . .

Spellbinding romance. Electrifying passion. Why not indulge in J. Kenner . . .

For Melissa.

Because she's the boss.

Prologue

I'd thought he was out of my life forever. That all that remained of him was a memory, sharp and forbidden. Terrifying, yet tempting.

The one man who changed everything.

The one night that destroyed my world.

I told myself I was past it. That I could see him again and not feel that tug. Not remember the hurt or the shame.

That's what I believed, anyway.

Honestly, I should have known better . . .

1

He was surrounded by naked women, and he was bored out of his mind.

Wyatt Royce forced himself not to frown as he lowered his camera without taking a single shot. Thoughtfully, he took a step back, his critical eye raking over the four women who stood in front of him in absolutely nothing but their birthday suits.

Gorgeous women. Confident women. With luscious curves, smooth skin, bright eyes, and the kind of strong, supple muscles that left no doubt that each and every one of them could wrap their legs around a man and hold him tight.

In other words, each one had an erotic allure. A glow. A certain je ne sais quoi that turned heads and left men hard.

None of them, however, had it.

"Wyatt? You ready, man?"

Jon Paul's voice pulled Wyatt from his frustrated thoughts, and he nodded at his lighting director. "Sorry. Just thinking."

JP turned his back to the girls before flashing a wolfish grin and lowering his voice. "I'll bet you were."

Wyatt chuckled. "Down, boy." Wyatt had hired the twenty-three-year-old UCLA photography grad student as a jack-of-all-trades six months ago. But when JP had proved himself to be not only an excellent photographer, but also a prodigy with lighting, the relationship had morphed from boss/assistant to mentor/protege before finally holding steady at friend/colleague.

JP was damn good at his job, and Wyatt had come to rely on him. But JP's background was in architectural photography. And the fact that the female models he faced every day were not only gorgeous, but often flat-out, one hundred percent, provocatively nude, continued to be both a fascination to JP and, Wyatt suspected, the cause of a daily cold shower. Or three.

Not that Wyatt could criticize. After all, he was the one who'd manufactured the sensual, erotic world in which both he and JP spent their days. For months, he'd lost himself daily inside this studio, locked in with a series of stunning women, their skin warm beneath his fingers as he gently positioned them for the camera. Women eager to please. To move however he directed. To contort their bodies in enticing, tantalizing poses that were often unnatural and uncomfortable, and for no other reason than that he told them to.

As long as they were in front of his camera, Wyatt owned those women, fully and completely. And he'd be lying to himself if he didn't admit that in many ways the photo shoots were as erotically charged as the ultimate photographs.

So, yeah, he understood the allure, but he'd damn sure never succumbed to it. Not even when so many of his models had made it crystal clear that they were eager to move from his studio to his bedroom.

There was just too much riding on this project.

Too much? Hell, everything was riding on his upcoming show. His career. His life. His reputation. Not to mention his personal savings.

Eighteen months ago he'd set out to make a splash in the world of art and photography, and in just twenty-seven days, he'd find out if he'd succeeded.

What he hoped was that success would slam against him like a cannonball hitting water. So hard and fast that everybody in the vicinity ended up drenched, with him squarely at the center, the unabashed cause of all the commotion.

What he feared was that the show would be nothing more than a ripple, as if he'd done little more than stick his big toe into the deep end of the pool.

Behind him, JP coughed, the harsh sound pulling Wyatt from his thoughts. He glanced up, saw that each of the four women were staring at him with hope in their eyes, and felt like the ultimate heel.

"Sorry to keep you waiting, ladies. Just trying to decide how I want you." He spoke without any innuendo, but the petite brunette giggled anyway, then immediately pressed her lips together and dipped her gaze to the floor. Wyatt pretended not to notice. "JP, go grab my Leica from my office. I'm thinking I want to shoot black and white."

He wasn't thinking that at all, not really. He was just buying time. Talking out of his ass while he decided what--if anything--to do with the girls.

As he spoke, he moved toward the women, trying to figure out why the hell he was so damned uninterested in all of them. Were they really that inadequate? So unsuited for the role he needed to fill?

Slowly, he walked around them, studying their curves, their angles, the soft glow of their skin under the muted lighting. This one had a haughty, aquiline nose. That one a wide, sensual mouth. Another had the kind of bedroom eyes that promised to fulfill any man's fantasies. The fourth, a kind of wide-eyed innocence that practically begged to be tarnished.

Each had submitted a portfolio through her agent, and he'd spent hours poring over every photograph. He had one slot left in the show. The centerpiece. The lynchpin. A single woman that would anchor all of his carefully staged and shot photos with a series of erotic images that he could already see clearly in his mind. A confluence of lighting and staging, of body and attitude. Sensuality coupled with innocence and underscored with daring.

He knew what he wanted. More than that, somewhere in the deep recesses of his mind, he even knew who he wanted.

So far, she hadn't wandered into his studio.

But she was out there, whoever she was; he was certain of it.

Too bad he only had twenty-seven days to find her.

Which was why he'd stooped to scouring modeling agencies, even though his vision for this show had always been to use amateur models. Women whose features or attitude caught his attention on the beach, in the grocery store, wherever he might be. Women from his past. Women from his work. But always women who didn't make a living with their bodies. That had been his promise to himself from the beginning.

And yet here he was, begging agents to send their most sensual girls to him. Breaking his own damn rule because he was desperate to find her. That elusive girl who was hiding in his mind, and who maybe--just maybe--had an agent and a modeling contract.

But he knew she wouldn't. Not that girl.

No, the girl he wanted would be a virgin with the camera, and he'd be the one who would first capture that innocence. That was his vision. The plan he'd stuck to for eighteen long months of squeezing in sessions between his regular commercial photography gigs. Almost two years of all-nighters in the dark room and surviving on coffee and protein bars because there wasn't time to order take-out, much less cook.

Months of planning and worrying and slaving toward a goal. And those sweet, precious moments when he knew--really knew--that he was on the verge of creating something truly spectacular.

He was exhausted, yes. But he was almost done.

So far, he had forty-one final images chosen for the show, each and every one perfect
as far as he was concerned.

He just needed the final nine. That last set of photos of his one perfect woman. Photos that would finally seal his vision--both of the girl in his mind and of what he wanted to accomplish with this solo exhibition.

He'd sacrificed so much, and he was finally close. So damn close . . . and yet here he was, spinning his wheels with models who weren't what he wanted or needed.

Fuck.

With a sigh of frustration, Wyatt dragged his fingers through his thick, short hair. "Actually, ladies, I think we're done here. I appreciate your time and your interest in the project, and I'll review your portfolios and be in touch with your agent if you're selected. You're free to get dressed and go."

The girls glanced at each other, bewildered. For that matter, JP looked equally puzzled as he returned to the studio with Wyatt's Leica slung over his shoulder and a tall, familiar redhead at his side.

"Siobhan," Wyatt said, ignoring the trepidation building in his gut. "I didn't realize we had a meeting scheduled."

"I thought you were going to shoot a roll of black and white," JP said at the same time, holding up the Leica in the manner of a third grader at Show-and-Tell.

In front of Wyatt, the girls paused in the act of pulling on their robes, obviously uncertain.

"We're done," Wyatt said to them before turning his attention to his assistant. "I have everything I need to make a decision."

"Right. Sure. You're the boss." But as JP spoke, he looked sideways at Siobhan, whose arms were now crossed over her chest, her brow furrowed with either confusion or annoyance. Quite probably both.

But Wyatt had to hand it to her; she held in her questions until the last model had entered the hallway that led to the dressing room, and the door had clicked shut behind her.

"You got what you needed?" she asked, cutting straight to the chase. "Does that mean one of those models is the girl you've been looking for?"

"Is that why you're here? Checking my progress?" Shit. He sounded like a guilty little boy standing in front of the principal.

Siobhan, thank God, just laughed. "One, I'm going to assume from the defensive tone that the answer is no. And two, I'm the director of your show first and foremost because we're friends. So take this in the spirit of friendship when I ask, what the hell are you doing? We have less than a month to pull all of this together. So if none of those girls is the one you need, then tell me what I can do to help. Because this is on me, too, remember? This show flops, and we both lose."