Seduce Me
J. Kenner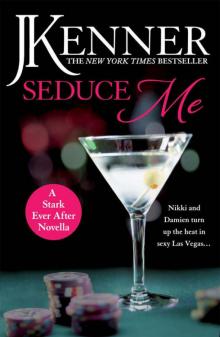 Copyright (c) 2015 Julie Kenner

Cover photo (c) Food Image Source/O'Gara/Bissell/Getty Images Author photo by Kathy Whittaker Photography The right of J. Kenner to be identified as the Author of the Work has been asserted by her in accordance with the Copyright, Designs and Patents Act 1988.

First published in this Ebook edition in 2015

by HEADLINE ETERNAL

An imprint of HEADLINE PUBLISHING GROUP

Published by arrangement with Bantam Books, an imprint of Random House,

a division of Penguin Random House LLC, New York.

Apart from any use permitted under UK copyright law, this publication may only be reproduced, stored, or transmitted, in any form, or by any means, with prior permission in writing of the publishers or, in the case of reprographic production, in accordance with the terms of licences issued by the Copyright Licensing Agency.

All characters in this publication are fictitious and any resemblance to real persons, living or dead, is purely coincidental.

Cataloguing in Publication Data is available from the British Library eISBN 978 1 4722 3636 4

HEADLINE PUBLISHING GROUP

An Hachette UK Company

Carmelite House

50 Victoria Embankment

London EC4Y 0DZ

www.headlineeternal.com

www.headline.co.uk

www.hachette.co.uk

Contents

Title Page

Copyright Page

About the Author

Praise for J. Kenner

By J. Kenner

About the Book

Author's Note

Chapter 1

Chapter 2

Chapter 3

Chapter 4

Chapter 5

Chapter 6

Chapter 7

Chapter 8

Chapter 9

Chapter 10

The Stark Series

Other unforgettable books by J. Kenner

Find out more about Headline Eternal

About the Author

J. Kenner (aka Julie Kenner) is the New York Times, USA Today, Publishers Weekly, Wall Street Journal, and No. 1 internationally bestselling author of over seventy novels, novellas, and short stories in a variety of genres.

Though known primarily for her award-winning and internationally bestselling erotic romances (including the Stark and Most Wanted series) that have reached as high as No. 2 on the New York Times bestseller list, Kenner has been writing full-time for over a decade in a variety of genres, including paranormal and contemporary romance, 'chicklit' suspense, urban fantasy, and paranormal mommy lit.

Kenner has been praised by Publishers Weekly as an author with a 'flair for dialogue and eccentric characterizations' and by Romantic Times for having 'cornered the market on sinfully attractive, dominant antiheroes and the women who swoon for him.' A four-time finalist for Romance Writers of America's prestigious RITA award, Kenner took home the first RITA trophy awarded in the category of erotic romance in 2014 for her novel, Claim Me (book two of her Stark Trilogy). Her books have sold well over a million copies and are published in over twenty countries.

Visit her online at www.juliekenner.com to learn more about her and her other pen names, and to get a peek at what she's working on. Or connect with her via Twitter @juliekenner or through www.facebook.com/JKennerBooks.

Just some of the rave reviews for J. Kenner's powerfully sensual and erotic novels:

'Kenner may very well have cornered the market on sinfully attractive, dominant antiheroes and the women who swoon for them . . . Her characters' scorching, scandalous affair explores the very nature of attraction and desire, redeeming and changing them beyond measure . . . Fans will no doubt love the games of power, overwhelming passion and self-defining relationship that Kenner has crafted, and come away eager for more' Romantic Times

'The plot is complex, the characters engaging, and J. Kenner's passionate writing brings it all perfectly together' Harlequin Junkie

'In Julie Kenner's typical masterful storytelling, nothing is as it seems. We are taken deeply into the plot twists and the danger of this erotic journey. The chemistry first felt by both Tyler and Sloane during their first encounter roars into an all-consuming fire neither one can put out . . . Take the same journey I did and you will not be disappointed!' As You Wish Reviews

'Wanted is another J. Kenner masterpiece . . . This was an intriguing look at self-discovery and forbidden love all wrapped into a neat little action-suspense package. There was plenty of sexual tension and eventually action. Evan was hot, hot, hot! Together, they were combustible. But can we expect anything less from J. Kenner?' Reading Haven

'Wanted by J. Kenner is the whole package! A toe-curling smokin' hot read, full of incredible characters and a brilliant storyline that you won't be able to get enough of. I can't wait for the next book in this series . . . I'm hooked!' Flirty & Dirty Book Blog

'I loved this story! It had substance, lovable characters, and unexpected discoveries. And the love between Evan and Angelina was passionate, explosive, and utterly wonderful' Part of That World

'J. Kenner's evocative writing thrillingly captures the power of physical attraction, the pull of longing, the universe-altering effect one person can have on another. She masterfully draws out the eroticism between Nikki and Damien . . . Claim Me has the emotional depth to back up the sex . . . Every scene is infused with both erotic tension, and the tension of wondering what lies beneath Damien's veneer -- and how and when it will be revealed' Heroes and Heartbreakers

'Claim Me by J. Kenner is an erotic, sexy and exciting ride. The story between Damien and Nikki is amazing and written beautifully. The intimate and detailed sex scenes will leave you fanning yourself to cool down. With the writing style of Ms Kenner you almost feel like you are there in the story riding along the emotional rollercoaster with Damien and Nikki' Fresh Fiction

'PERFECT for fans of Fifty Shades of Grey and Bared to You. Release Me is a powerful and erotic romance novel that is sure to make adult romance readers sweat, sigh and swoon' Reading, Eating & Dreaming Blog

'Release Me . . . just made the top of my list with Damien and Nikki . . . the way in which J. Kenner tells the story, how vulnerable and real Damien and Nikki feel, makes this story so good, and re-readable many times over' In Love With Romance Blog

'This is deeply sensual and the story packs an emotional punch that I really hadn't expected . . . If you enjoyed Fifty Shades [and] the Crossfire books, you're definitely going to enjoy this one. It's compelling, engaging and I was thoroughly engrossed' Sinfully Sexy Blog

'I will admit, I am in the "I loved Fifty Shades" camp, but after reading Release Me, Mr Grey only scratches the surface compared to Damien Stark' Cocktails and Books Blog

'It is not often when a book is so amazingly well-written that I find it hard to even begin to accurately describe it . . . I recommend this book to everyone who is interested in a passionate love story' Romancebookworm's Reviews

'The story is one that will rank up with the Fifty Shades and Crossfire trilogies' Incubus Publishing Blog

'Release Me gives readers tantalizing pages of sensual delight, leaving us reeling as we journey with this couple and their passions are released. Release Me is a must read!' Readaholics Anonymous

By J. Kenner

The Stark Series

Release Me

Claim Me

Complete Me

The Stark International Novellas

Take Me (e-novella)

Have Me (e-novella)

Play My Game (e-novella)

Seduce Me (e-novella)

The Stark International Series

Say My Name

On My Knees

Under My Skin

T
he Most Wanted Series

Wanted

Heated

Ignited

About the Book

There's no better place to turn up the heat than in Sin City . . .

I've never felt as close to anyone as I have with Damien Stark. I know every line of his body, every secret within his soul. There's nothing I crave more than his touch, and with his kiss, he seals his claim.

Las Vegas is the perfect place for us, where we can indulge every desire and fantasy. But when someone from my past resurfaces, I can't ignore my instinct that I have to make things right.

With Damien by my side, I feel safe no matter the danger. Our passion protects us, drives us, makes us whole. His pleasure is an exquisite game, and one that I'll play forever.

Find out how it all began for Damien and Nikki in J. Kenner's hot and addictive bestselling Stark series: Release Me, Claim Me, Complete Me, Take Me, Have Me and Play My Game.

Return to the smoking hot Stark world with the Stark International trilogy: Say My Name, On My Knees and Under My Skin is the explosively emotional story of Jackson Steele and Sylvia Brooks.

Don't miss J. Kenner's sizzling Most Wanted series of three enigmatic and powerful men, and the striking women who can bring them to their knees: Wanted, Heated and Ignited.

Dear Reader,

In 2012 I had the pleasure of meeting former tennis star turned billionaire entrepreneur Damien Stark when he leaped full-blown into my imagination. After the first book featuring Damien Stark and Nikki Fairchild hit shelves in January 2013, I was thrilled to discover that so many readers loved these characters as much as I did. Loved them so much in fact, that both readers and I wanted to see more of Nikki and Damien, even after their courtship concluded in book three of the original Stark Trilogy (Release Me, Claim Me, and Complete Me).

Thus, Stark Ever After novellas were born. Writing these novellas has allowed me to spend more time with the characters I so love writing, and to offer readers extra glimpses inside their life after "happily ever after."

Seduce Me is the fourth Stark Ever After novella, and was originally published as part of the limited-release Sweet Seduction anthology, a charity project for the benefit of juvenile diabetes. Because some readers were coming to that anthology without having met Nikki and Damien, I wrote this novella in a way that allows any reader to follow and enjoy the story, whether or not he or she has met Nikki and Damien on the page before.

If you are already a fan of the series, this story falls chronologically after Play My Game (a Stark Ever After novella) and before Say My Name (book one of the new Stark International Trilogy, in which Damien and Nikki are secondary characters).

For those of you who are already familiar with Nikki and Damien, I hope you enjoy this novella that peeks into their lives after marriage. For new readers, I hope the characters intrigue you and you check out the series.

XXOO

J. Kenner

Chapter 1

I scowl at my calendar for today and wonder how I am possibly going to be able to cram everything into one workday. I have three meetings, half a dozen phone calls to return, a lunch appointment, and plans to meet my best friend, Jamie, for drinks at seven. And somewhere in there I have to schedule time to actually get work done.

Frankly, I'm not sure if it's possible without the aid of time travel devices or, at the very least, a part-time assistant.

I'm tapping the end of my pencil against the overfull sheet--because despite owning my own web-and mobile-app development company, I print my schedule every morning--when Damien approaches.

I know that he is there even though he has yet to say a word. Perhaps I heard his bare feet on the wooden floor. Perhaps the air shifted as he passed. Or perhaps he is simply Damien Stark, and I could no more fail to notice his presence than I could miss a tidal wave.

But more likely, I think it is because he has so thoroughly claimed me that there is never a moment when I am not blissfully and totally aware of him.

I am in the library on the mezzanine of the exceptional Malibu house that was still under construction when I first started dating Damien. Now it is our home, and every space within these walls is precious to me. I'm at the desk near the section where Damien has shelved his sci-fi/fantasy collection, tattered paperbacks tucked in alongside pristine, signed first editions. A few feet away, in one of the comfy leather chairs, the newest addition to our household is curled up into a tiny ball of orange fluff.

This is Damien's favorite place to work, and that's part of why I come here almost every morning--I like to feel close to him.

Right now, I feel very close indeed.

"You're amazing, you know." I speak without turning around, then smile when I hear his soft chuckle behind me.

"Because I can sneak up on you?" This time I do hear his footsteps as he moves even closer.

"I knew you were there. By definition, that isn't sneaking. Or, at least, it's not successful sneaking."

"You make a good point, Mrs. Stark." His hands press gently on my shoulders, and I close my eyes, just soaking up the feel of him. It's more potent than coffee, and if I could bottle this sensation, I'd be richer than my husband.

I haven't yet turned to look at him, but I don't need to. I long ago memorized every delicious inch of him. His lush, raven-black hair, so familiar to my fingers. His perfectly sculpted face, softened by the slightest shadow of beard stubble. His lean, well-muscled athlete's body that looks equally exceptional in jeans or a tux. And, of course, his dual-colored eyes that can look right to my core and see all my secrets.

It is not yet seven on a Friday morning and though I'm still in my typical morning uniform of a T-shirt and baggy shorts, I know that he is already dressed. I inhale, confirming that assumption. I smell the soap from his shower. The hint of musk from the cologne I bought him in Paris on our honeymoon, just a few months ago.

"So tell me, why am I amazing?"

"To properly answer that, I'd need PowerPoint, a projector, and at least two days." I tilt my head back so that I can grin at him, and my heart skitters when I see his face, even more perfect than the picture I keep tucked away in my mind. "But in this particular instance, I was referring to your time management skills." Damien accomplishes more in a day than most people do in a year. Frankly, I think it's highly likely that superpowers are involved.

"Busy day?"

"By human standards. For you, it's probably a cakewalk. But I'm going to have to do some juggling."

I stand as I push the chair away from the desk, then turn and lean back so that I'm half-sitting on it, my rear pressed against the edge. Damien's attention is entirely on my face, and there is such a look of hunger in his eyes that I have to smile. "Careful, or you'll be late for work."

"I find that's one of the perks of running my own company. There's no one to slap my hand when I break the rules."

I hear the thread of playfulness in his voice and match it. "Do you break the rules often, Mr. Stark?"

He lifts his hand, then brushes my hair away from my neck, so that his fingertips stroke my tender skin, tracing down along my collarbone. "As often as possible," he says.

I try very hard to continue breathing normally as his fingers drift lower, over the swell of my breast to linger on my nipple, now pebble-hard beneath the threadbare cotton of my favorite University of Texas T-shirt. He flicks it lightly, causing me to gasp. Causing a hell of a lot more than that, actually, as every nerve ending in my body suddenly seems to be connected to my breast by some sensual network that his touch has illuminated.

I say nothing, biting my lower lip against the instinct to cry out his name in demand and longing. He meets my eyes, his crinkling at the corners as his mouth curves up into a grin. He understands perfectly what I am not saying--what he is doing to me. He holds my gaze, his clever fingers traveling lower and lower until he slides his hand between my legs, cupping me intimately and making me moan. "What do you say?" he murmurs. "Want to break some rules with me?
"

"Desperately," I admit.

He makes a low noise of approval, then eases closer, taking his hand away so that I can feel the length of his erection hard between my legs. He pulls me fully upright, his hands now cupping my rear as he grinds against me, a slow sensual movement like a sexy dance in a dimly lit nightclub.

I tilt my head back and he bends to press a kiss to the corner of my mouth, that simple contact as wildly erotic as the deepest kiss, the hardest fuck. And though the brush of his lips against my skin is feather soft, I feel the hard, demanding weight of it between my legs, and I press my hips tighter against his in silent, desperate demand.

He brushes his lips over my cheek to my ear, the sensation sending shivers of pleasure through me.

"I appreciate the sentiment, Mrs. Stark," he whispers. "But we'll have to wait to be naughty."

It takes a moment for my sex-fogged mind to process his words, and when I do, I turn my head to look at him, and see both heat and laughter on his face. I pull back, narrowing my eyes. "Will we?"

"The helicopter will be here soon. I have a meeting in San Diego at eight."

"You, Damien Stark, are a very cruel man."

"I can be." He steps back, fully breaking the contact between us and leaving me feeling soft and needy and very, very turned on. "But isn't it nice to know that your schedule is more flexible than you thought?"

I cock my head. "You're not off the hook, mister. There will be blowback."

"I look forward to your most creative punishment. Tonight, perhaps?" he says, and the eagerness in his voice makes me laugh out loud.

I'm about to tell him that he has no idea how creative I can be when my cellphone chirps in time with his. It's the automatic signal that is sent when someone uses a code to operate the gated entry to the property. Damien pulls his phone out of his pocket and glances at the screen. "Jamie."

"Really?" Jamie Archer is my best friend, and I have no problem with her popping by unexpectedly. I'm just not sure why she would, particularly this early. After all, she lives in Studio City, which is almost an hour away. More in morning rush hour, which in Los Angeles lasts from dawn until about lunch. Texting is more Jamie's speed, and so by the time she lets herself in the front door and is calling my name, my imagination has run wild with all sorts of horrible scenarios.