Deepest Kiss
J. Kenner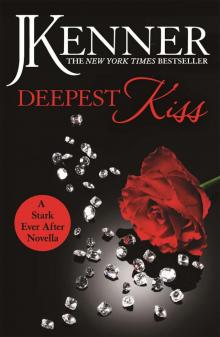 Copyright (c) 2016 Julie Kenner

Excerpt from Dirtiest Secret copyright (c) 2016 Julie Kenner

Cover image (c) Mark Wragg/Getty Images

Author photo (c) Kathy Whittaker Photography

The right of J. Kenner to be identified as the Author of the Work has been asserted by her in accordance with the Copyright, Designs and Patents Act 1988.

Published by arrangement with Bantam Books,

an imprint of Random House,

a division of Penguin Random House LLC, New York.

First published in this Ebook edition in 2016

by HEADLINE ETERNAL

An imprint of HEADLINE PUBLISHING GROUP

Apart from any use permitted under UK copyright law, this publication may only be reproduced, stored, or transmitted, in any form, or by any means, with prior permission in writing of the publishers or, in the case of reprographic production, in accordance with the terms of licences issued by the Copyright Licensing Agency.

All characters in this publication are fictitious and any resemblance to real persons, living or dead, is purely coincidental.

Cataloguing in Publication Data is available from the British Library

eISBN 978 1 4722 3638 8

HEADLINE PUBLISHING GROUP

An Hachette UK Company

Carmelite House

50 Victoria Embankment

London EC4Y 0DZ

www.headlineeternal.com

www.headline.co.uk

www.hachette.co.uk

Table of Contents

Title Page

Copyright Page

About the Author

Praise for J. Kenner

By J. Kenner

About the Book

Chapter 1

Chapter 2

Chapter 3

Chapter 4

Chapter 5

Chapter 6

Chapter 7

Chapter 8

Chapter 9

Chapter 10

Chapter 11

Author's Note

A stunning extract from Dirtiest Secret

The Stark Series

Other unforgettable books by J. Kenner

Find out more about Headline Eternal

About the Author

J. Kenner (aka Julie Kenner) is the New York Times, USA Today, Publishers Weekly, Wall Street Journal, and No. 1 internationally bestselling author of over seventy novels, novellas, and short stories in a variety of genres.

Though known primarily for her award-winning and internationally bestselling erotic romances (including the Stark and Most Wanted series) that have reached as high as No. 2 on the New York Times bestseller list, Kenner has been writing full-time for over a decade in a variety of genres, including paranormal and contemporary romance, 'chicklit' suspense, urban fantasy, and paranormal mommy lit.

Kenner has been praised by Publishers Weekly as an author with a 'flair for dialogue and eccentric characterizations' and by Romantic Times for having 'cornered the market on sinfully attractive, dominant antiheroes and the women who swoon for them.' A four-time finalist for Romance Writers of America's prestigious RITA award, Kenner took home the first RITA trophy awarded in the category of erotic romance in 2014 for her novel, Claim Me (book two of her Stark Trilogy). Her books have sold well over a million copies and are published in over twenty countries.

Visit her online at www.juliekenner.com to learn more about her and her other pen names, and to get a peek at what she's working on. Or connect with her via Twitter @juliekenner or through www.facebook.com/JKennerBooks.

Just some of the rave reviews for J. Kenner's powerfully sensual and erotic novels:

'Kenner may very well have cornered the market on sinfully attractive, dominant antiheroes and the women who swoon for them . . . Her characters' scorching, scandalous affair explores the very nature of attraction and desire, redeeming and changing them beyond measure . . . Fans will no doubt love the games of power, overwhelming passion and self-defining relationship that Kenner has crafted, and come away eager for more' Romantic Times

'The plot is complex, the characters engaging, and J. Kenner's passionate writing brings it all perfectly together' Harlequin Junkie

'In Julie Kenner's typical masterful storytelling, nothing is as it seems. We are taken deeply into the plot twists and the danger of this erotic journey. The chemistry first felt by both Tyler and Sloane during their first encounter roars into an all-consuming fire neither one can put out . . . Take the same journey I did and you will not be disappointed!' As You Wish Reviews

'Wanted is another J. Kenner masterpiece . . . This was an intriguing look at self-discovery and forbidden love all wrapped into a neat little action-suspense package. There was plenty of sexual tension and eventually action. Evan was hot, hot, hot! Together, they were combustible. But can we expect anything less from J. Kenner?' Reading Haven

'Wanted by J. Kenner is the whole package! A toe-curling smokin' hot read, full of incredible characters and a brilliant storyline that you won't be able to get enough of. I can't wait for the next book in this series . . . I'm hooked!' Flirty & Dirty Book Blog

'I loved this story! It had substance, lovable characters, and unexpected discoveries. And the love between Evan and Angelina was passionate, explosive, and utterly wonderful' Part of That World

'J. Kenner's evocative writing thrillingly captures the power of physical attraction, the pull of longing, the universe-altering effect one person can have on another. She masterfully draws out the eroticism between Nikki and Damien . . . Claim Me has the emotional depth to back up the sex . . . Every scene is infused with both erotic tension, and the tension of wondering what lies beneath Damien's veneer - and how and when it will be revealed' Heroes and Heartbreakers

'Claim Me by J. Kenner is an erotic, sexy and exciting ride. The story between Damien and Nikki is amazing and written beautifully. The intimate and detailed sex scenes will leave you fanning yourself to cool down. With the writing style of Ms Kenner you almost feel like you are there in the story riding along the emotional rollercoaster with Damien and Nikki' Fresh Fiction

'PERFECT for fans of Fifty Shades of Grey and Bared to You. Release Me is a powerful and erotic romance novel that is sure to make adult romance readers sweat, sigh and swoon' Reading, Eating & Dreaming Blog

'Release Me . . . just made the top of my list with Damien and Nikki . . . the way in which J. Kenner tells the story, how vulnerable and real Damien and Nikki feel, makes this story so good, and re-readable many times over' In Love With Romance Blog

'This is deeply sensual and the story packs an emotional punch that I really hadn't expected . . . If you enjoyed Fifty Shades [and] the Crossfire books, you're definitely going to enjoy this one. It's compelling, engaging and I was thoroughly engrossed' Sinfully Sexy Blog

'I will admit, I am in the "I loved Fifty Shades" camp, but after reading Release Me, Mr Grey only scratches the surface compared to Damien Stark' Cocktails and Books Blog

'It is not often when a book is so amazingly well-written that I find it hard to even begin to accurately describe it . . . I recommend this book to everyone who is interested in a passionate love story' Romancebookworm's Reviews

'The story is one that will rank up with the Fifty Shades and Crossfire trilogies. I am impatiently awaiting book two' Incubus Publishing Blog

'Release Me gives readers tantalizing pages of sensual delight, leaving us reeling as we journey with this couple and their passions are released. Release Me is a must-read!' Readaholics Anonymous

By J. Kenner

The Stark Series

Release Me

Claim Me

Complete Me

The Stark Ever After Novellas

Take Me (e-novella)


Have Me (e-novella)

Play My Game (e-novella)

Seduce Me (e-novella)

Unwrap Me (e-novella)

Deepest Kiss (e-novella)

The Stark International Series

Say My Name

On My Knees

Under My Skin

The S.I.N. Series

Dirtiest Secret

Hottest Mess

Sweetest Taboo

The Most Wanted Series

Wanted

Heated

Ignited

About the Book

My love for Damien Stark runs deep, and my need for his touch runs even deeper. He's my shelter in this world, my light when everything seems dark, and all it takes is one kiss for my body to come alive. Yet no matter where we go, our secrets threaten to surface. Someone dangerous from my past is back to stir up trouble, and now it feels like there's nowhere I can hide. I know Damien will always protect me, that our fierce desire will give us strength. In his arms I find safe harbour - and the sweetest release.

Includes a special preview of J. Kenner's provocative new novel, Dirtiest Secret!

Look for Dallas's story in the sexy Stark S.I.N. series: Dirtiest Secret, Hottest Mess and Sweetest Taboo.

Find out how it all began for Damien and Nikki in J. Kenner's hot and addictive bestselling Stark series: Release Me, Claim Me, Complete Me, Take Me, Have Me, Play My Game, Seduce Me, Unwrap Me and Deepest Kiss.

Return to the smoking hot Stark world with the Stark International trilogy: Say My Name, On My Knees and Under My Skin is the explosively emotional story of Jackson Steele and Sylvia Brooks.

Don't miss J. Kenner's sizzling Most Wanted series of three enigmatic and powerful men, and the striking women who can bring them to their knees: Wanted, Heated and Ignited.

Chapter 1

I'm not sure why, but I've always assumed a baby shower would be an elegant, classy affair.

Apparently, I was wrong.

"It was either this or Pin the Penis on the Hunk," Cass explains to my best friend, Jamie, as my sister-in-law, Sylvia, holds her hands over her belly, which is huge at thirty-seven weeks into her pregnancy. Honestly, I'm not sure if she's trying to keep the laughter at bay, or prevent her unborn infant from hearing all our crazy banter.

Jamie shrugs. "I'm totally okay with fondling a cock while blindfolded."

"Uh, lesbian here," Cass says with a devious grin toward her girlfriend, Siobhan. "Plus I can claim the party planner privilege." She nods toward the table where two dozen paper sperm are laid out, ready to be pinned to a poster with an image of a woman's uterus and a smiling, waving, welcoming egg.

Forget Pin the Penis on the Hunk. For that matter, forget Pin the Tail on the Donkey. We're playing Pin the Sperm on the Egg. And I'm having a very hard time not laughing. Which may have more to do with the five mimosas I've downed than the game, but either way, I'm having a great time.

Jamie turns to look at me. "Told you, Nik. You and I should totally have planned this party."

"I offered, but Cass pulled rank on me."

"I played the best friend card," Cass admits. "Besides, Nikki did plenty. Offering her bungalow, for one thing. Not to mention being all sneaky and coaxing Syl to the island."

"It wasn't easy," I say. "The woman's a workaholic." I'd told Sylvia we needed to take a family getaway before the baby arrived--just me and Damien joined by her and Jackson and their four-year-old, Ronnie--but she insisted she couldn't afford the time away from the office when she had maternity leave looming.

I even felt a bit guilty about my ulterior motives when Syl confessed that she was a little nervous.

"I'm not nervous about actually giving birth," she clarified, then immediately corrected herself. "Well, actually, yeah. That's kind of got me freaking out, but I figure it is what it is, and there's always drugs, right?"

"Absolutely," I agreed.

"It's just, the whole thing about being a mom is more than a little terrifying."

"But you're already a great mom," I pointed out, since Jackson, her husband and Damien's half-brother, came into the relationship with a daughter.

Syl lifted a shoulder. "I guess. I mean, I hope so. I try, that's for sure. And I love Ronnie so much." She let out a long breath, and when she looked me in the eye, I could see both fear and courage. "I was so scared at first. Scared enough that I almost blew it. And I think I'm over that--I really do. But I knew what I was getting with Ronnie. I mean, she was already a little person. But a baby? And one who's inheriting all of my family's crazy baggage? It's a little scary."

"It's wonderful," I assured her. "Any baby would be lucky to have you and Jackson as parents."

Her smile was watery but genuine, and when she held out her arms I hugged her close. "Thanks," she whispered. "I promise I'm not melting down, and every book says doubt is normal. But it's just so much responsibility, you know?"

I did know. Hell, I do know. Even Sunshine, Damien's and my cat, is one hell of a lot of responsibility. More than that, I understand the fear of passing on all that familial baggage. I don't know all the details about Syl's relationship with her parents, but I do know there's some bad blood. And it's the same with me and Damien. Frankly, any child we had would be buried under a boatload of crap.

Honestly, it scares me.

Not that I'm staying up nights worrying about that. I'm not ready to be a mom yet--my business has enough growing pains at the moment, and I'm more than happy being Aunt Nikki. But sometimes I can't help but wonder...

At any rate, it was my role as Aunt Nikki to Syl's unborn child that had motivated me to get Syl to the island for her secret shower. And since I'd had no luck with the family getaway angle, I'd ended up calling in the big guns and having Damien fabricate some bullshit crisis that could only be handled on the island.

"I would have been more compliant if I'd had any sort of a clue what you all were cooking up," Sylvia admits. "But I really wasn't expecting a second shower."

"You had the boring work one," Cass tells her. "And now you're getting the fabulous girlfriend one."

"Um, excuse me," Rachel says. "The boring work one was so not boring."

Sylvia used to be Damien's assistant, but now Rachel has taken over that role. And in that capacity, Rachel organized Syl's office shower. Which, from what I heard, really was fun.

Syl's still a Stark employee, of course. But now she's a project manager for Stark Real Estate Development. In fact, her first project was the development of the high-end vacation property that encompasses this island, The Resort at Cortez.

Her husband, Jackson Steele, is an architect, and he designed the entire resort, which features a small hotel, private bungalows, plenty of recreational areas, restaurants, shops, and a gated area that surrounds five privately owned vacation bungalows on a secluded beach.

We're in one right now--mine and Damien's. Jackson and Syl own the one next door, and Dallas Sykes--who was one of the resort's primary investors--owns the third. The other two are unoccupied, and Damien uses them as corporate perks for key clients and colleagues.

Since this is a girls-only shower, Jackson is over at his bungalow, along with Jamie's boyfriend, Ryan, Dallas, and the other men who accompanied the female baby-shower guests. As far as I know, they're hanging out drinking and playing poker or doing other guy-type things. All except for Damien, that is. He was supposed to be there, too, but he got held up in a meeting in Santa Barbara.

Honestly, I'm feeling a little antsy. He said he'd be en route by early evening, but there's a storm rolling in, and I'm not keen on him being either in the air or on the ocean during a downpour.

"Nicholas. Nikki." Jamie bumps me with her hip, then lifts her brows. "Where the hell are you?"

"Sorry." I realize I've been looking out the window at the late afternoon sky that is growing darker and darker as the storm kicks up. "I was just--"

"He's fine, Texas." Evelyn Dodge, a bold and brassy woman I've pretty much adopted as
my surrogate mom, says from across the room. She's read my mind, of course. I'm guessing everyone in the room knows that I'm missing Damien. And that with the storm on its way, I'm worried, too.

"I know he is," I say, forcing myself to shrug off the worry. "Worst case he'll just stay in Malibu or at the apartment. Or not even leave Santa Barbara at all." All of which would suck, as I want him here with me in our bed. But I want him safe more.

"Come on," Syl says, holding out a hand. "Help me out of this chair, then we'll both take our turns. Nothing gets your mind off your man better than fondling paper sperm."

Since I certainly can't argue with that, I help her up, and we both grab one of the six inch long sperms from the card table set up by where the uterus poster has been taped to the wall.

"Who's going first?" Lisa Reynolds asks, holding a blindfold. She's a friend and a business consultant whose fiance, Preston, also works in Damien's universe. "Syl's choice. The mommy-to-be always gets to decide if she's last or not."

"I'm already standing," Syl says. "Might as well go for it."

Lisa gets her all trussed up, turns her in a circle, then aims her toward the giant uterus--which Sylvia misses by approximately one mile.

Everyone is laughing as she pulls off the blindfold. "Wow," she says. "With aim like that it's a wonder I ever got pregnant."

"Guess you have Jackson to thank," Cass says.

Syl blows her a kiss and flashes a wicked smile. "In so many delicious ways." She holds the blindfold out to me. "Okay, Nikki's turn."

I start to take it, but Lisa grabs it first and puts it over my eyes. As she does, I hear Jamie laugh. "What?" I demand.

"Just guessing this is the first time you've been blindfolded when Damien's not around."

I feel my cheeks burn, but I don't deny it. What she says is absolutely true.

"Okay, now spin," Lisa says, helping me twirl without falling over or knocking into the furniture. "And...go!"

I walk blindly forward, holding my free hand out until I reach the wall. Then I push the sperm forward, sticky side out, until it adheres to the wall. Once it does, I back away, and the women behind me burst into applause.

I pull off my blindfold and can't help but grin--my sperm is right on top of the egg.

"Good job," Jamie says, coming up from behind and giving me a hug. "Looks like you just made a baby."