Please Me: A Stark Ever After Novella
J. Kenner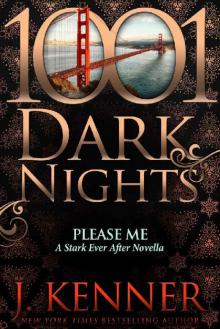 Please Me

A Stark Ever After Novella

By J. Kenner

1001 Dark Nights

Please Me

A Stark Ever After Novella

By J. Kenner

Copyright 2018 Julie Kenner

ISBN: 978-1-948050-16-6

Published by Evil Eye Concepts, Incorporated

All rights reserved. No part of this book may be reproduced, scanned, or distributed in any printed or electronic form without permission. Please do not participate in or encourage piracy of copyrighted materials in violation of the author's rights.

This is a work of fiction. Names, places, characters and incidents are the product of the author's imagination and are fictitious. Any resemblance to actual persons, living or dead, events or establishments is solely coincidental.

Book Description

Please Me: A Stark Ever After Novella

By Julie Kenner

From New York Times and USA Today bestselling author J. Kenner comes a new story in her Stark Ever After series…

Each day with Damien is a miracle, each moment with our children a gift. And yet I cannot escape the growing sense that a storm is gathering, threatening to pull me away, to rip us apart. To drag me down, once again, into a darkness to which I swore never to return.

I have to fight it—I know that. And I am waging the battle with of all my heart. But it is Damien who is my strength, and we both know that the only way to push away the darkness is for him to fold me in his arms and claim me completely. And for me to surrender myself, once again, to the fire that burns between us.

**Every 1001 Dark Nights novella is a standalone story. For new readers, it's an introduction to an author's world. And for fans, it's a bonus book in the author's series. We hope you'll enjoy each one as much as we do.**

About J. Kenner

J. Kenner (aka Julie Kenner) is the New York Times, USA Today, Publishers Weekly, Wall Street Journal and #1 International bestselling author of over one-hundred novels, novellas and short stories in a variety of genres.

JK has been praised by Publishers Weekly as an author with a "flair for dialogue and eccentric characterizations" and by RT Bookclub for having "cornered the market on sinfully attractive, dominant antiheroes and the women who swoon for them." A six-time finalist for Romance Writers of America's prestigious RITA award, JK took home the first RITA trophy awarded in the category of erotic romance in 2014 for her novel, Claim Me (book 2 of her Stark Trilogy) and in 2018 for her novel Wicked Dirty (Wicked Nights, Stark World).

In her previous career as an attorney, JK worked as a lawyer in Southern California and Texas. She currently lives in Central Texas, with her husband, two daughters, and two rather spastic cats.

Visit JK online at www.jkenner.com

Subscribe to JK's Newsletter

Text JKenner to 21000 to subscribe to JK's text alerts

Twitter

Instagram

Facebook Page

Facebook Fan Group

Also from J. Kenner

Click to purchase

Click here for an updated Printable Booklist

The Stark Trilogy:

Release Me

Claim Me

Complete Me

Anchor Me

Lost With Me, Coming Oct. 2018

Stark Ever After:

Take Me

Have Me

Play My Game

Seduce Me

Unwrap Me

Deepest Kiss

Entice Me

Hold Me

Please Me

Damien, Coming Jan. 2019

Stark International

Steele Trilogy:

Say My Name

On My Knees

Under My Skin

Take My Dare (novella, includes bonus short story: Steal My Heart)

Stark World Standalone Stories:

Justify Me (part of the Lexi Blake Crossover Collection)

One Night (short story)

Jamie & Ryan Novellas:

Tame Me

Tempt Me

Dallas & Jane (S.I.N. Trilogy):

Dirtiest Secret

Hottest Mess

Sweetest Taboo

Most Wanted:

Wanted

Heated

Ignited

Wicked Nights:

Wicked Grind

Wicked Dirty

Wicked Torture

Man of the Month:

Down On Me

Hold On Tight

Need You Now

Start Me Up

Get It On

In Your Eyes

Turn Me On

Shake It Up

All Night Long

In Too Deep

Light My Fire

Walk The Line

Bar Bites: A Man of the Month Cookbook

Also by Julie Kenner

Click here for an updated Printable Booklist

Demon Hunting Soccer Mom Series:

Carpe Demon

California Demon

Demons Are Forever

Deja Demon

The Demon You Know

Demon Ex Machina

Pax Demonica

The Dark Pleasures Series:

Caress of Darkness

Find Me in Darkness

Find Me in Pleasure

Find Me in Passion

Caress of Pleasure

Rising Storm:

Tempest Rising

Quiet Storm

The Protector (Superhero) Series:

The Cat's Fancy (prequel)

Aphrodite's Kiss

Aphrodite's Passion

Aphrodite's Secret

Aphrodite's Flame

Aphrodite's Embrace

Aphrodite's Delight (free download)

Discover 1001 Dark Nights Collection One

Click here to explore

FOREVER WICKED by Shayla Black

CRIMSON TWILIGHT by Heather Graham

CAPTURED IN SURRENDER by Liliana Hart

SILENT BITE: A SCANGUARDS WEDDING by Tina Folsom

DUNGEON GAMES by Lexi Blake

AZAGOTH by Larissa Ione

NEED YOU NOW by Lisa Renee Jones

SHOW ME, BABY by Cherise Sinclair

ROPED IN by Lorelei James

TEMPTED BY MIDNIGHT by Lara Adrian

THE FLAME by Christopher Rice

CARESS OF DARKNESS by Julie Kenner

Also from 1001 Dark Nights

TAME ME by J. Kenner

Discover 1001 Dark Nights Collection Two

Click here to explore

WICKED WOLF by Carrie Ann Ryan

WHEN IRISH EYES ARE HAUNTING by Heather Graham

EASY WITH YOU by Kristen Proby

MASTER OF FREEDOM by Cherise Sinclair

CARESS OF PLEASURE by Julie Kenner

ADORED by Lexi Blake

HADES by Larissa Ione

RAVAGED by Elisabeth Naughton

DREAM OF YOU by Jennifer L. Armentrout

STRIPPED DOWN by Lorelei James

RAGE/KILLIAN by Alexandra Ivy/Laura Wright

DRAGON KING by Donna Grant

PURE WICKED by Shayla Black

HARD AS STEEL by Laura Kaye

STROKE OF MIDNIGHT by Lara Adrian

ALL HALLOWS EVE by Heather Graham

KISS THE FLAME by Christopher Rice

DARING HER LOVE by Melissa Foster

TEASED by Rebecca Zanetti

THE PROMISE OF SURRENDER by Liliana Hart

Also from 1001 Dark Nights

THE SURRENDER GATE By Christopher Rice

SERVICING THE TAR
GET By Cherise Sinclair

Discover 1001 Dark Nights Collection Three

Click here to explore

HIDDEN INK by Carrie Ann Ryan

BLOOD ON THE BAYOU by Heather Graham

SEARCHING FOR MINE by Jennifer Probst

DANCE OF DESIRE by Christopher Rice

ROUGH RHYTHM by Tessa Bailey

DEVOTED by Lexi Blake

Z by Larissa Ione

FALLING UNDER YOU by Laurelin Paige

EASY FOR KEEPS by Kristen Proby

UNCHAINED by Elisabeth Naughton

HARD TO SERVE by Laura Kaye

DRAGON FEVER by Donna Grant

KAYDEN/SIMON by Alexandra Ivy/Laura Wright

STRUNG UP by Lorelei James

MIDNIGHT UNTAMED by Lara Adrian

TRICKED by Rebecca Zanetti

DIRTY WICKED by Shayla Black

THE ONLY ONE by Lauren Blakely

SWEET SURRENDER by Liliana Hart

Discover 1001 Dark Nights Collection Four

Click here to explore

ROCK CHICK REAWAKENING by Kristen Ashley

ADORING INK by Carrie Ann Ryan

SWEET RIVALRY by K. Bromberg

SHADE'S LADY by Joanna Wylde

RAZR by Larissa Ione

ARRANGED by Lexi Blake

TANGLED by Rebecca Zanetti

HOLD ME by J. Kenner

SOMEHOW, SOME WAY by Jennifer Probst

TOO CLOSE TO CALL by Tessa Bailey

HUNTED by Elisabeth Naughton

EYES ON YOU by Laura Kaye

BLADE by Alexandra Ivy/Laura Wright

DRAGON BURN by Donna Grant

TRIPPED OUT by Lorelei James

STUD FINDER by Lauren Blakely

MIDNIGHT UNLEASHED by Lara Adrian

HALLOW BE THE HAUNT by Heather Graham

DIRTY FILTHY FIX by Laurelin Paige

THE BED MATE by Kendall Ryan

PRINCE ROMAN by CD Reiss

NO RESERVATIONS by Kristen Proby

DAWN OF SURRENDER by Liliana Hart

Also from 1001 Dark Nights

TEMPT ME by J. Kenner

Sign up for the 1001 Dark Nights Newsletter

and be entered to win a Tiffany Key necklace.

There's a contest every month!

Click here to subscribe.

As a bonus, all subscribers will receive a free copy of

Discovery Bundle Three

Featuring stories by

Sidney Bristol, Darcy Burke, T. Gephart

Stacey Kennedy, Adriana Locke

JB Salsbury, and Erika Wilde

Table of Contents

Book Description

About J. Kenner

Also from J. Kenner

Discover 1001 Dark Nights Collection One

Discover 1001 Dark Nights Collection Two

Discover 1001 Dark Nights Collection Three

Discover 1001 Dark Nights Collection Four

Foreword

Chapter One

Chapter Two

Chapter Three

Chapter Four

Chapter Five

Chapter Six

Chapter Seven

Chapter Eight

Chapter Nine

Chapter Ten

Discover 1001 Dark Nights Collection Five

Discover the World of 1001 Dark Nights

Discover More J. Kenner

Special Thanks

One Thousand and One Dark Nights

Once upon a time, in the future…

I was a student fascinated with stories and learning.

I studied philosophy, poetry, history, the occult, and

the art and science of love and magic. I had a vast

library at my father's home and collected thousands

of volumes of fantastic tales.

I learned all about ancient races and bygone

times. About myths and legends and dreams of all

people through the millennium. And the more I read

the stronger my imagination grew until I discovered

that I was able to travel into the stories... to actually

become part of them.

I wish I could say that I listened to my teacher

and respected my gift, as I ought to have. If I had, I

would not be telling you this tale now.

But I was foolhardy and confused, showing off

with bravery.

One afternoon, curious about the myth of the

Arabian Nights, I traveled back to ancient Persia to

see for myself if it was true that every day Shahryar

(Persian: شهريار, "king") married a new virgin, and then

sent yesterday's wife to be beheaded. It was written

and I had read, that by the time he met Scheherazade,

the vizier's daughter, he'd killed one thousand

women.

Something went wrong with my efforts. I arrived

in the midst of the story and somehow exchanged

places with Scheherazade – a phenomena that had

never occurred before and that still to this day, I

cannot explain.

Now I am trapped in that ancient past. I have

taken on Scheherazade's life and the only way I can

protect myself and stay alive is to do what she did to

protect herself and stay alive.

Every night the King calls for me and listens as I spin tales.

And when the evening ends and dawn breaks, I stop at a

point that leaves him breathless and yearning for more.

And so the King spares my life for one more day, so that

he might hear the rest of my dark tale.

As soon as I finish a story... I begin a new

one... like the one that you, dear reader, have before

you now.

Chapter One

"Well, I think it's a brilliant idea," I say, squatting on the floor and smiling into my daughter's eyes, even though the words are meant for Abby, my business partner. "And so does Anne, don't you, my sweet little girl?"

"Mama!" She belts the word, and it wraps around me like a hug to my heart. Her chubby arms reach for me as she toddles over, and I eagerly cuddle her close as she yawns and rubs her eyes, then snuggles against me. It's forty minutes past her usual nap time, and although she's peaceful now, I know that crankiness is imminent if I don't get her down pronto.

Carefully, I settle her into the white crib that takes up a large chunk of the space beside my desk. "Nap time," I say, then bend over and give her forehead a kiss. "Time for Anne to go sleepy-bye and dream of Miss Abby's awesome idea."

As her lids flutter closed, she reaches for me. But I know it's not Mommy she wants but her blankie, and I bend down to grab the striped hospital blanket that came home with us just shy of twenty months ago. We've tried urging stuffed animals on her. A smiling tiger. A silly giraffe. But no animal wins out over her blankie.

Her lips curve into a smile at the same time as her little fingers curl around the blanket. I feel a hitch in my chest, as if the weight of my love for this tiny little person is too much to bear. Then I draw in a breath and try to shift my thoughts away from my youngest daughter and back to the world of smartphone apps.

When I turn, Abby flashes a wide grin, her eyes shining with humor. "You're cracking me up, Nikki," she whispers. "I mean, this has got to be the weirdest developmental meeting ever."

I lift a shoulder in a casual shrug. "What can I say?" I whisper back. "I like to be different." I grab the baby monitor, then nod toward the back door and the patio beyond where we can talk without the risk of waking my little girl. "Come on."

Anne's always been a good sleeper. But like her namesake, Ashley Anne Fairchild Price, she's a cranky little monster if she doesn't get enough.

My sister Ashley was my rock when I was growing up,
the reason I survived the horror of a childhood with our mother at the helm. I relied on Ashley. Looked up to her. And loved her unconditionally.

But dear God, that girl was a bitch if she didn't get a good night's sleep.

My youngest, I fear, is going to be a lot like her auntie.

The thought makes my chest tighten again, only this time the love is tainted with pain. Because Anne will never know my sister. For so many years, I'd believed that Ashley had escaped from the hell our mother had inflicted on us. I thought that only I remained caught in her spiderweb, forced to starve and suffer all sorts of abuse at my mother's hand simply so that I could be her pretty, polished pageant doll.

Cutting had been my ultimate escape. A release valve for all the horror and pain that built up inside of me. And when the deep cuts on my thighs rendered me useless in a bathing suit competition, I finally found my freedom. From that particular horror, anyway.

Ashley's escape was more permanent. Believing that she'd failed as a wife—that she would never live up to that model of perfection our mother so rigidly demanded—she killed herself.

Her death ripped a hole in my heart.

I've missed her for years, but now that I have children, her absence weighs on me even more. Now there are two little girls who will never know their aunt. And I'm the only one who will ever truly understand the hole Ashley's absence will leave in their lives.

"You okay?" Abby catches my eye before settling into one of the upholstered patio chairs.

"Fine," I say, then manufacture a smile, willing my mood to match the lie. "Mind wandering." I take the chair next to her so that we're both looking out over the pristine Malibu beach and the crashing waves of the Pacific beyond.