Entice Me
J. Kenner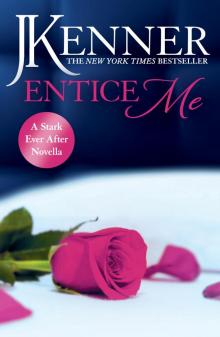 Copyright © 2017 Julie Kenner

Excerpt from Anchor Me copyright © 2017 Julie Kenner

Cover photos © KieferPix/Shutterstock (rose), Robert Nyholm/Shutterstock (headboard)

Author photo © Kathy Whittaker Photography

The right of J. Kenner to be identified as the Author of the Works has been asserted by her in accordance with the Copyright, Designs and Patents Act 1988.

First published in this Ebook edition in 2017

by HEADLINE ETERNAL

An imprint of HEADLINE PUBLISHING GROUP

Apart from any use permitted under UK copyright law, this publication may only be reproduced, stored, or transmitted, in any form, or by any means, with prior permission in writing of the publishers or, in the case of reprographic production, in accordance with the terms of licences issued by the Copyright Licensing Agency.

All characters in this publication are fictitious and any resemblance to real persons, living or dead, is purely coincidental.

Cataloguing in Publication Data is available from the British Library

eISBN 978 1 4722 4689 9

HEADLINE PUBLISHING GROUP

An Hachette UK Company

Carmelite House

50 Victoria Embankment

London EC4Y 0DZ

www.headlineeternal.com

www.headline.co.uk

www.hachette.co.uk

Table of Contents

Title Page

Copyright Page

About the Author

Praise for J. Kenner

By J. Kenner

About the Book

Chapter One

Chapter Two

Chapter Three

Chapter Four

Chapter Five

Chapter Six

Chapter Seven

Chapter Eight

Chapter Nine

Chapter Ten

An enticing excerpt from Anchor Me

The Stark Series

The S.I.N Series

The Stark International Series

Other unforgettable books by J. Kenner

Find out more about Headline Eternal

About the Author

J. Kenner (aka Julie Kenner) is the New York Times, USA Today, Publishers Weekly, Wall Street Journal, and No. 1 internationally bestselling author of over seventy novels, novellas, and short stories in a variety of genres.

Kenner has been praised by Publishers Weekly as an author with a 'flair for dialogue and eccentric characterizations' and by Romantic Times for having 'cornered the market on sinfully attractive, dominant antiheroes and the women who swoon for them.' A five-time finalist for Romance Writers of America's prestigious RITA award, Kenner took home the first RITA trophy awarded in the category of erotic romance in 2014 for her novel, Claim Me (book two of her Stark Trilogy).

In her previous career as an attorney, Kenner worked as a lawyer in Southern California and Texas. She currently lives in Central Texas, with her husband, two daughters, and two rather spastic cats.

Visit J. Kenner online at www.jkenner.com. Or connect with her via Twitter @juliekenner or through www.facebook.com/JKennerBooks.

Just some of the rave reviews for J. Kenner's powerfully sensual and erotic novels:

'Kenner may very well have cornered the market on sinfully attractive, dominant antiheroes and the women who swoon for them . . . Her characters' scorching, scandalous affair explores the very nature of attraction and desire, redeeming and changing them beyond measure . . . Fans will no doubt love the games of power, overwhelming passion and self-defining relationship that Kenner has crafted, and come away eager for more' Romantic Times

'The plot is complex, the characters engaging, and J. Kenner's passionate writing brings it all perfectly together' Harlequin Junkie

'In Julie Kenner's typical masterful storytelling, nothing is as it seems. We are taken deeply into the plot twists and the danger of this erotic journey. The chemistry first felt by both Tyler and Sloane during their first encounter roars into an all-consuming fire neither one can put out . . . Take the same journey I did and you will not be disappointed!' As You Wish Reviews

'Wanted is another J. Kenner masterpiece . . . This was an intriguing look at self-discovery and forbidden love all wrapped into a neat little action-suspense package. There was plenty of sexual tension and eventually action. Evan was hot, hot, hot! Together, they were combustible. But can we expect anything less from J. Kenner?' Reading Haven

'Wanted by J. Kenner is the whole package! A toe-curling smokin' hot read, full of incredible characters and a brilliant storyline that you won't be able to get enough of. I can't wait for the next book in this series . . . I'm hooked!' Flirty & Dirty Book Blog

'I loved this story! It had substance, lovable characters, and unexpected discoveries. And the love between Evan and Angelina was passionate, explosive, and utterly wonderful' Part of That World

'J. Kenner's evocative writing thrillingly captures the power of physical attraction, the pull of longing, the universe-altering effect one person can have on another. She masterfully draws out the eroticism between Nikki and Damien . . . Claim Me has the emotional depth to back up the sex . . . Every scene is infused with both erotic tension, and the tension of wondering what lies beneath Damien's veneer — and how and when it will be revealed' Heroes and Heartbreakers

'Claim Me by J. Kenner is an erotic, sexy and exciting ride. The story between Damien and Nikki is amazing and written beautifully. The intimate and detailed sex scenes will leave you fanning yourself to cool down. With the writing style of Ms Kenner you almost feel like you are there in the story riding along the emotional rollercoaster with Damien and Nikki' Fresh Fiction

'PERFECT for fans of Fifty Shades of Grey and Bared to You. Release Me is a powerful and erotic romance novel that is sure to make adult romance readers sweat, sigh and swoon' Reading, Eating & Dreaming Blog

'Release Me . . . just made the top of my list with Damien and Nikki . . . the way in which J. Kenner tells the story, how vulnerable and real Damien and Nikki feel, makes this story so good, and re-readable many times over' In Love With Romance Blog

'This is deeply sensual and the story packs an emotional punch that I really hadn't expected . . . If you enjoyed Fifty Shades [and] the Crossfire books, you're definitely going to enjoy this one. It's compelling, engaging and I was thoroughly engrossed' Sinfully Sexy Blog

'I will admit, I am in the "I loved Fifty Shades" camp, but after reading Release Me, Mr Grey only scratches the surface compared to Damien Stark' Cocktails and Books Blog

'It is not often when a book is so amazingly well-written that I find it hard to even begin to accurately describe it . . . I recommend this book to everyone who is interested in a passionate love story' Romancebookworm's Reviews

'The story is one that will rank up with the Fifty Shades and Crossfire trilogies' Incubus Publishing Blog

'Release Me gives readers tantalizing pages of sensual delight, leaving us reeling as we journey with this couple and their passions are released. Release Me is a must-read!' Readaholics Anonymous

By J. Kenner

The Stark Series

Release Me

Claim Me

Complete Me

Anchor Me (coming April 2017)

The Stark Ever After Novellas

Take Me (e-novella)

Have Me (e-novella)

Play My Game (e-novella)

Seduce Me (e-novella)

Unwrap Me (e-novella)

Deepest Kiss (e-novella)

Entice Me (e-novella)

The Stark International Series

Say My Name

On My Knees


Under My Skin

Steal My Heart (free short story)

Take My Dare (e-novella)

The S.I.N. Series

Dirtiest Secret

Hottest Mess

Sweetest Taboo

The Most Wanted Series

Wanted

Heated

Ignited

About the Book

I didn't understand passion until I met Damien, the man who turned my world upside down and swept me off my feet.

And though our life together feels perfect, we can't escape our secrets – and the danger that continually threatens to surface.

But for one night, I seek a respite. A birthday wish for my husband, my lover, my friend – one absolutely perfect night.

It is my most ardent wish.

And I only hope that it will come true . . .

Find out how it all began for Nikki and Damien in J. Kenner's hot and addictive bestselling Stark series: Release Me, Claim Me, Complete Me, Take Me, Have Me, Play My Game, Seduce Me, Unwrap Me and Deepest Kiss.

Return to the smoking hot Stark world with the Stark International trilogy: Say My Name, On My Knees, Under My Skin and Take My Dare, is the explosively emotional story of Jackson Steele and Sylvia Brooks.

Don't miss J. Kenner's sizzling Most Wanted series of three enigmatic and powerful men, and the striking women who can bring them to their knees: Wanted, Heated and Ignited.

Chapter One

"Dinner and a movie just isn't going to cut it," I say to Rachel Peters, my husband's executive assistant. We're on the fifty-seventh floor of Stark Tower, which is divided in half between the residence and the penthouse office suite. I'd been working in the apartment living room on my laptop while Damien took a phone call, but I'd slipped over to the office side specifically to enlist Rachel's help.

Her mouth twists, and she glances down at the print-out of Damien's agenda that shows both his personal and professional appointments. "Considering you're planning Mr. Stark's birthday, I'm going to assume that movie is a euphemism for something much more entertaining."

I roll my eyes. Yes, Rachel has become a good friend over the last few months. And, yes, I've become comfortable using corporate resources such as the limo without going through Damien. But that doesn't mean I think that having Rachel help me plan a night of unbridled sex with her boss would be a fair use of corporate resources. "Assume whatever you want," I say. "But what I need help pulling off doesn't involve that kind of entertainment." I bat my eyes innocently. "Believe me. I have the extracurricular part of the equation covered."

She presses her lips together in what I can only assume is an attempt to hold back a full-on laugh. "I bet you do," she finally says. "Okay, so just tell me what you need and I'll make it happen. But tell me fast. His car's going to be downstairs soon."

"We should have at least five more minutes," I say. "He was still packing his overnight bag when I left." Damien's flying to New York tonight, hitting a couple of meetings about Stark International's acquisition of a biomedical research facility in the morning, then returning to LA tomorrow just in time for cocktails with a tech genius he's been courting to head up a new division of Stark Applied Technology.

Damien had suggested that I join him on the trip, offering to reschedule the cocktails so that we could spend a long weekend in Manhattan. I turned him down, reminding him that I'm in the thick of putting together a key proposal for a corporate account.

That's not entirely a lie. I do have a corporate proposal on my desk. I've been working my tail off to build my web and mobile app development business, and if I win this new client, my clout in the industry will grow exponentially. So Damien knows I've been working almost non-stop on it.

What he doesn't know is that I'm taking a little break from it while I plan Damien's birthday extravaganza.

"A surprise party?" Rachel repeats when I tell her what I have in mind. "Are you sure?"

"You don't like it?"

"Are you kidding? I love it. I just don't see how you'll be able to keep it a secret. I mean, I have a few friends who wouldn't have a problem at all because their husbands are basically clueless. But Mr. Stark notices everything. And where you're concerned, he notices everything and then some. You really think you can do it?"

"Absolutely," I say, though I'm not sure at all, because the truth is, Rachel's right. But I want to do this. It feels right. And certainly more meaningful than a gift, because what the hell can you get a man who can buy anything he wants on a whim?

I tell Rachel as much, and she nods. "It's a good point. I mean, the man bought you an island, didn't he? It's kind of hard to top that."

"I did buy a really fancy watch that I had engraved, but that's just so meh. I'm going to put it in his Christmas stocking."

"It's a nice gift, though."

"I suppose. But what I want to give him is a celebration. Not just of his birthday, but of everything we have together."

When we'd said "I do," we'd both believed that we were setting out on the journey alone. After all, his father is a reprehensible man whom Damien disowned, and my mother is a controlling self-centered bitch whom I try to keep out of my head at all times. As far as we were concerned, our family consisted of exactly two people—me and Damien.

But nothing ever goes the way you expect it, and now Damien is close with Jackson Steele, the half-brother he never knew he had, and Jackson's wife Sylvia is not only Damien's former assistant, but has become one of my closest friends. They have two adorable kids, and Damien and I couldn't be happier spoiling our niece and nephew. In other words, in the blink of an eye, our family portrait went from two to six.

And if that wasn't enough, my father is now in the mix. I was a little dubious about his motives when he first stepped back into my life—and Damien was more so—but we've gotten to know each other over the last few months, and while I'm not sure I'll ever truly think of Frank as my father, he's definitely part of my family.

And of course we have our friends. Jamie and Ryan and Ollie and Evelyn and Blaine and Wyatt and Cass and Siobhan and Lisa and Preston and Rachel and on and on and on.

For a girl whose only family was once the mother she despised, I've grown into a woman surrounded by an extended, boisterous, loving family made up of relatives and friends—and I owe most of that to Damien.

So that's what I want to celebrate on his birthday—the family we've made together.

"I can't pull it off without your help," I tell Rachel.

"I'm not sure you can pull it off with my help," she counters. "His birthday is next Friday. In case you hadn't noticed, it's Thursday. That gives us just a little over a week to plan. That's hardly any time at all."

"No, this is good. Less time for him to see that we're up to something."

"I guess. . ."

"It'll work," I say firmly, as much to convince her as myself. "But I need you to keep his calendar clear and help me with some of the logistics."

She scrunches up her nose. "I'll do whatever you need, but honestly, Nikki, come on. We both know you're never going to manage to pull it off."

"Pull what off?" The surprising sound of Damien's voice makes me jump, and I fight the urge to cringe as I meet Rachel's apologetic eyes before I quickly turn around to face my husband.

He's just a few feet away, his overnight bag slung over his shoulder. He's dressed in jeans and a short-sleeved linen button down. It's a simple, casual look, but so damn compelling. I want to reach out and touch him. I want to feel his arms around me, his lips brushing mine. I want to get lost with him—and I can't help but wonder if there will ever be a time when I'll no longer have such a deep, sensual, visceral reaction to nothing more than the sight of him.

Mentally, I shake myself, then hurry tow
ard him. "I thought you were still in the apartment." I slide my arms around his waist. "Is your car here already?"

"It is," he says, nodding at Rachel. "Tell Edward I'll be right down."

"Of course, Mr. Stark."

"I just want to hear what my wife is going to pull off before I go." The corner of his mouth twitches as he speaks, and I narrow my eyes at him. Of course, I'd thought I'd distracted him. And, of course, he hadn't been distracted at all.

"I was trying to convince Rachel to secretly reschedule your cocktails with Noah tomorrow for next week so that I could show up at the airport in your limo and, you know, take you out for an evening of dinner and debauchery." I lift a shoulder and give him a seductive smile. "But there's no point now that you know about it."

"And I told her she'd never pull it off anyway," Rachel adds. "Because first of all, if I rescheduled Noah, you might fire me, and that would totally suck. And second, surprising you takes a minor miracle." She waves her hand, indicating Damien standing right there, then looks at me. "I rest my case."

I sigh heavily. "Well, it was a worth a shot." I point a finger at Damien. "Just remember when you're having drinks with Noah what you could have been doing instead." I press my mouth to his, kissing him long and hard and so deep, I feel it all the way down to my toes.

When I pull away, I'm breathless. And though he's doing a damn good job of staying professional in front of Rachel, I see the banked heat in his eyes and the restraint in his body. He's like a spring—and right now he's held together by a single tight wire. Let it go, though, and he'll have me pressed against a wall and naked before I even have time to take a breath.

The thought makes me shiver—and makes me anticipate his return home all the more.

"Until tomorrow, Mrs. Stark," he says, clearly following my thoughts.

"I'll be waiting," I say, then watch as Rachel hands him an itinerary. He tucks it his briefcase, kisses me once more, then heads toward his private elevator.