Fear and Loathing on the Campaign Trail '72, Page 1
Hunter S. Thompson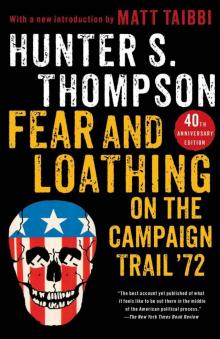 "The BEST STUFF ON THE CAMPAIGN I've read any where."

—The Washington Post

"AN AMERICAN ORIGINAL. He hit the high notes out on the ragged edge, and thousands of us heard him above the canned din of the safe center."

—Los Angeles Times

Forty years after its original publication, Fear and Loathing on the Campaign Trail '72 remains a cornerstone of American political journalism and one of the bestselling campaign books of all time. Hunter S. Thompson's searing account of the battle for the 1972 presidency—from the Democratic primaries to the eventual showdown between George McGovern and Richard Nixon—is infused with the characteristic wit, intensity, and emotional engagement that made Thompson "the flamboyant apostle and avatar of gonzo journalism" (The New York Times). Hilarious, terrifying, insightful, and compulsively readable, Fear and Loathing on the Campaign Trail '72 is an epic political adventure that captures the feel of the American democratic process better than any other book ever written.

"Thompson should be recognized for contributing some of the clearest, MOST BRACING AND FEARLESS ANALYSIS of the possibilities and failures of American democracy in the past century."

—Chicago Tribune

"Some of the FINEST POLITICAL AND SOCIAL WRITING of our times." —The Seattle Times

"OBSCENE, HORRID, REPELLENT … Driving, urgent, candid, searing… A fascinating, compelling book." —New York Post

© WILLIAN J. DIBBLE

HUNTER S. THOMPSON was born and raised in Louisville, Kentucky. His books include Hell's Angels, Fear and Loathing in Las Vegas, and Fear and Loathing at Rolling Stone. He died in 2005.

MEET THE AUTHORS, WATCH VIDEOS AND MORE AT

SimonandSchuster.com

THE SOURCE FOR READING GROUPS

COVER DESIGN BY TOM McKEVENY • COVER ART BY TOM W. BENTON

"It is Nixon himself who represents that dark, venal and incurably violent side of the American character almost every other country in the world has learned to fear and despise."

—HUNTER S. THOMPSON

Fear and Loathing on the Campaign Trail '72

"Unnerving."

—NEWSWEEK

"The best reportage in years… gives politics some flesh."

—SATURDAY REVIEW

"Shocks you into laughter."

—DETROIT FREE PRESS

"The best, the fastest, the hippest, the most unorthodox account you'll read."

—SAN FRANCISCO EXAMINER & CHRONICLE

"From this moment on, let all those who feel that Americans can be as easily led to truth as to public relations be said to be suffering from Hunter Thompson's disease."

—KURT VONNEGUT JR.

Also by Hunter S. Thompson

The Rum Diary

Hell's Angels

Fear and Loathing in Las Vegas

The Great Shark Hunt

The Curse of Lono

Generation of Swine

Songs of the Doomed

Screwjack

Better Than Sex

The Proud Highway

Fear and Loathing in America

Kingdom of Fear

Hey Rube

Fear and Loathing at Rolling Stone

Thank you for purchasing this Simon & Schuster eBook.

Sign up for our newsletter and receive special offers, access to bonus content, and info on the latest new releases and other great eBooks from Simon & Schuster.

or visit us online to sign up at

eBookNews.SimonandSchuster.com

To Sandy, who endured almost a year of grim exile in Washington, D.C., while this book was being written.

—HST

Simon & Schuster Paperbacks

A Division of Simon & Schuster, Inc.

1230 Avenue of the Americas

New York, NY 10020

www.SimonandSchuster.com

Copyright © 1973 by Hunter S. Thompson Introduction © 2012 by Matt Taibbi Originally published by Straight Arrow Press

The author gratefully acknowledges permission to print the following: Lines from "Taxi" by Harry F. Chapin, © 1972 Story Songs Ltd, used by permission, all rights reserved. "Eagleton Reveals Illness," "Vacation Ordeal" and "The McGovern Course," by William Greider, copyright © 1972 Washington Post Company, by permission of the Washington Post. "Be Angry at the Sun," copyright 1941, renewed 1969 by Donnan Jeffers and Garth Jeffers, reprinted by permission of Random House, Inc. "The McGovern Image," by James Naughton © 1972 by The New York Times Company; reprinted by permission.

All rights reserved, including the right to reproduce this book or portions thereof in any form whatsoever. For information address Simon & Schuster Paperbacks Subsidiary Rights Department, 1230 Avenue of the Americas, New York, NY 10020.

First Simon & Schuster trade paperback edition June 2012

SIMON & SCHUSTER PAPERBACKS and colophon are registered trademarks of Simon & Schuster, Inc.

The Simon & Schuster Speakers Bureau can bring authors to your live event. For more information or to book an event contact the Simon & Schuster Speakers Bureau at 1-866-248-3049 or visit our website at www.simonspeakers.com.

ISBN 978-1-4516-9157-3

ISBN 978-1-4516-9158-0 (ebook)

Between the Idea and the Reality…. Falls the Shadow.

—T. S. Eliot

Contents

Introduction by Matt Taibbi

Author's Note

Chapter 1: December 1971

Is This Trip Necessary?… Strategic Retreat into National Politics… Two Minutes & One Gram Before Midnight on the Pennsylvania Turnpike… Setting Up the National Affairs Desk… Can Georgetown Survive the Black Menace?… Fear and Loathing in Washington…

Chapter 2: January

The Million Pound Shithammer… Pros Scorn the Youth Vote… Fresh Meat for the Boys in the Back Room… "The Death of Hope" & A Withering of Expectation… Another McCarthy Crusade?… John Lindsay?… The Rancid Resurrection of Hubert Humphrey… Violence in the Press Box & Mano a Mano on TWA… Who Is Big Ed & Why Is Everybody Sucking Up to Him?…

Chapter 3: February

Fear & Loathing in New Hampshire… Back on the Campaign Trail in Manchester, Keene & the Booth Fish Hatcheries… Harold Hughes Is Your Friend… Weird Memories of '68: A Private Conversation with Richard Nixon… Will Dope Doom the Cowboys?… A First, Massive & Reluctantly Final Judgment on the Reality of George McGovern… Small Hope for the Hammer & No Hope at All for the Press Wizards…

Chapter 4: March

The View from Key Biscayne… Enter the Savage Boohoo; Madness & Violence on the "Sunshine Special"… Lindsay Runs Amok, Muskie Runs Scared… First Flexing of the Big Wallace Muscle; First Signs of Doom for the Democrats… Abandon All Hope, Ye Who Enter Here… Except Maybe Ted Kennedy…

Chapter 5: Later in March

The Banshee Screams in Florida… The Emergence of Mankiewicz… Hard Times for the Man from Maine… Redneck Power & Hell on Wheels for George Wallace… Hube Slithers out of Obscurity… Fear and Loathing on the Democratic Left…

Chapter 6: April

Stunning Upset in Wisconsin… McGovern Juggernaut Croaks Muskie… Humphrey Falters; Wallace Rolls On… Big Ed Exposed as Ibogaine Addict… McGovern Accosts the Sheriff… Bad News from Bleak House: Mojo Madness in Milwaukee; or How Nazis Broke My Spirit on Election Night… Mankiewicz Predicts First Ballot Victory in Miami…

Chapter 7: May

Crank Time on the Low Road… Fear and Loathing in Ohio & Nebraska… Humphrey Gets Ugly, McGovern Backs Off… Delirium Tremens at the National Affair
s Desk… Acid, Amnesty & Abortion… Massive Irregularities on Election Night in Cleveland; Death Watch in the Situation Room… Wallace Gunned

Down in Maryland… Showdown Looms in California…

Chapter 8: June

California: Traditional Politics with a Vengeance… Return of the Vincent Black Shadow… The Juggernaut Roars on; McGovern Troops Ease off as Polls Predict Sweeping Victory… Hubert's Last Stand: Vicious Attacks, Desperate Appeals, Strange Tales of Midnight Money from Vegas… Free Booze & Foul Rumors in the Press Room… Ominous Eleventh-Hour Slump Reveals Fistula in McGovern's Woodpile…

Chapter 9: Later in June

Mass Burial for Political Bosses in New York… McGovern over the Hump… The Death by Beating of a Six-Foot Blue-Black Serpent… What Next for the Good Ole Boys?… Anatomy of a Fixer… Treachery Looms in Miami…

Chapter 10: July

Fear and Loathing in Miami: Old Bulls Meet the Butcher… A Dreary Saga Direct from the Sunshine State… How George McGovern Ran Wild on the Beach & Stomped Almost Everybody… Flashback to the Famous Lindsay Blueprint & A Strange Epitaph for the Battle of Chicago… More Notes on the Politics of Vengeance, Including Massive Technical Advice from Rick Stearns & the Savage Eye of Ralph Steadman…

Chapter 11: Dark Interlude

Chapter 12: August

Down & Out in the Fontainebleau… Nixon Sells Out the Party… Goldwater on the Comeback Trail; Agnew in '76… Mankiewicz Amok; Midnight Violence at The Wayfarer… The Origins of Eagleton; Death Rattle for the New Politics… Can a Bull Elk in the Rut Pass through the Eye of a Camel?… A Vicious Attack on the Demonstrators: "These People Should Go Back Where They Belong"…

Chapter 13: September

Fat City Blues… Fear and Loathing on the White House Press Plane… Bad Angst at McGovern Headquarters… Nixon Tightens the Screws… "Many Appeared to Be in the Terminal Stages of Campaign Bloat"…

Chapter 14: October

Ask Not for Whom the Bell Tolls…

Chapter 15: November

At the Midnight Hour… Stoned on the Zoo Plane; Stomped in Sioux Falls… A Rambling, Manic/Depressive Screed in Triple-Focus on the Last Day of the Doomed McGovern Campaign… Then Back to America's Heartland for a Savage Beating… Fear and Loathing at the Holiday Inn…

Chapter 16: Be Angry at the Sun

Chapter 17: December

Purging the McGovernites… Shoot-Out in the Dung-Heap Corral… Where Do We Go From Here: What Next for the "New Politics"?… A Crude Autopsy & Quarrelsome Analysis on Why McGovern Got Stomped…

Epitaph

Four More Years… Nixon Uber Alles… Fear and Loathing at the Super Bowl…

Introduction by Matt Taibbi

I doubt any book means more to a single professional sect than Fear and Loathing on the Campaign Trail '72 means to American political journalists. It's been read and reread by practically every living reporter in this country, and just as you're likely to find a dog-eared paperback copy of Evelyn Waugh's Scoop somewhere in every foreign correspondent's backpack, you can still spot the familiar red (it was red back then) cover of Fear and Loathing '72 poking out of the dufflebags of the reporters sent to follow the likes of Mitt Romney, Rick Santorum, and Barack Obama on the journalistic Siberia known as the Campaign Trail.

Decades after it was written, in fact, Fear and Loathing '72 is still considered a kind of bible of political reporting. It's given birth to a whole generation of clichés and literary memes, with many campaign reporters (including, unfortunately, me) finding themselves consciously or unconsciously making villainous Nixons, or Quislingian Muskies, or Christlike McGoverns out of each new quadrennial batch of presidential pretenders.

Even the process itself has evolved to keep pace with the narrative expectations for the campaign story we all have now because of Hunter and Fear and Loathing. The scenes in this book where Hunter shoots zingers at beered-up McGovern staffers at places like "a party on the roof of the Doral" might have just been stylized asides in the book, but on the real Campaign Trail they've become formalized parts of the messaging process, where both reporters and candidates constantly use these Thompsonian backdrops as vehicles to move their respective products.

Every campaign seems to have a hotshot reporter and a campaign manager who re-create and replay the roles of Hunter and Frank Mankiewicz (Karl Rove has played the part a few times), and if this or that campaign's staffers don't come down to the hotel bar often enough for the chummy late-night off-the-record bull sessions that became campaign legend because of this book, reporters will actually complain out loud, like the failure to follow the script is a character flaw of the candidate.

Some of this seems trite and clichéd now, but at the time, telling the world about all of these behind-the-scenes rituals was groundbreaking stuff. That this is a great piece of documentary journalism about how American politics works is beyond question—for as long as people are interested in the topic, this will be one of the first places people look to find out what our electoral process looks like and smells like and sounds like, off-camera. Thompson caught countless nuances of that particular race that probably eluded the rest of the established reporters. It shines through in the book that he was not merely interested in the 1972 campaign but obsessed by it, and he followed the minutiae of it with an addict's tenacity.

For instance, there's a scene early in the book when he confronts McGovern's New Hampshire campaign manager, Joe Granmaison, badgering the portly pol about having been a Johnson delegate in 1968:

"Let's talk about that word accountable," I said. "I get the feeling you stepped in shit on that one."

"What do you mean?" he snapped. "Just because I was a Johnson delegate doesn't mean anything. I'm not running for anything."

"Good," I said.

Now, not many reporters would bother to find out what a lowly regional manager for a primary longshot candidate was doing four years ago, but Hunter had to know. The whole book reeked of a kind of desperation to know where absolutely everyone he met stood on the manic quest to find meaning and redemption that was his campaign adventure.

The obsession made for great theater, but it also produced great journalism. Hunter knew the geography of the 1972 campaign the way a stalker knows a starlet's travel routine, and when he put it all down on paper, it was lit up with the kind of wildly vivid detail that only a genuinely crazy person, all mixed up with rage and misplaced love, can bring to a subject.

But saying Campaign Trail '72 is a good source on presidential campaigns is almost like saying Moby-Dick is a good book about whales. This is more than a nonfiction title that's narrowly about modern American elections. If it were only that, it wouldn't endure the way it has or resonate so powerfully the way it still does.

Hunter had such a brilliantly flashy narrative style that a lot of people were fooled into thinking that's all he was—a wacky, drug-addled literary party animal with a gift for memorable insults and profanity-laden one-liners. The people who understood him the least (and a lot of these sorry individuals came out of the woodwork, bleating their complaints on right-wing talk shows and websites, when Thompson died) had this idea that he was just the journalistic version of a rock star, an abject hedonist with a gift for the catchy tune who was popular with kids because he stood for Letting Loose and Getting Off without consequence. I particularly remember this passage from someone named Austin Ruse in the National Review:

[Thompson's] famous aphorism, "When the going gets tough, the weird turn pro" was the font of more ruined GPAs than any other single source back in the 1970s. "When the going gets tough, the weird turn pro" meant that you could stay up all night doing every manner of substance and in the few milky hours between sunrise and the start of morning classes churn out a master term paper. Almost all of us discovered this was not true. Some, like Hunter himself, never learned it.

People like this either n
ever read Hunter's books, or they read them and didn't understand them at all. All the drugs and the wildness and the profanity… I'm not going to say it was an act, because as far as I know it was all very real, but they weren't central to what made his books work.

People all over the world don't identify with Hunter Thompson because he was some kind of all-world fraternity-party God who made a sexy living mainlining human adrenal fluids and spray-painting obscenities on the sides of racing yachts. No, they connect with the deathly earnest, passionate, troubled person underneath, the one who was so bothered by the various unanswerable issues of life that he went overboard trying to medicate the questions away.

Hunter obviously went farther than most of us would in dealing with his problems, but he still made himself a character we could all relate to—a person who desperately tries to make sense of the world and is never quite able to, who constantly hatches brilliant schemes that actually turn out to be moronic (like the high-speed four-lane drift that completely fails to impress the highway cop in Fear and Loathing in Las Vegas), and who, even though the world keeps elevating the Bushes and Reagans and Nixons of the world to power, never gives up believing that there's a "Great Shark" of an honest politician out there who'll make things right for all of us.

That's why people who describe Thompson's dark and profane jokes as "cynical humor" don't get it. Hunter Thompson was always the polar opposite of a cynic. A cynic, in the landscape of Campaign Trail '72, for instance, is someone like Nixon or Ed Muskie, someone who cheerfully accepts the fundamental dishonesty of the American political process and is able to calmly deal with it on those terms, without horror.