Marrying the sheikh, p.1





Marrying The Sheikh, p.1

Part #1 of The Sheikh Wants A Wife series by Holly Rayner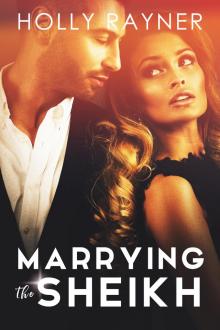 MARRYING THE SHEIKH
By Holly Rayner
Copyright 2016 by Holly Rayner
All rights reserved. Except for use in any review, the reproduction or utilization of this work in whole or in part by any means, now known or hereafter invented, including xerography, photocopying and recording, or in any information storage or retrieval system, is forbidden without the explicit written permission of the author.
All characters depicted in this fictional work are consenting adults, of at least eighteen years of age. Any resemblance to persons living or deceased, particular businesses, events, or exact locations are entirely coincidental.
Table Of Contents:
CHAPTER ONE
CHAPTER TWO
CHAPTER THREE
CHAPTER FOUR
CHAPTER FIVE
CHAPTER SIX
CHAPTER SEVEN
CHAPTER EIGHT
CHAPTER NINE
CHAPTER TEN
CHAPTER ELEVEN
CHAPTER TWELVE
CHAPTER THIRTEEN
CHAPTER FOURTEEN
CHAPTER FIFTEEN
CHAPTER SIXTEEN
CHAPTER SEVENTEEN
CHAPTER EIGHTEEN
CHAPTER NINETEEN
ONE
Ella Jones awoke to the feeling of soft fur on her cheek.
"Oh, Princess," she said lazily as the cat nuzzled her whiskers against her face. "That tickles!" Ella giggled and stroked the cat lightly. "Good morning to you, too."
The sun filtered through the sheer curtains hanging from the wall of windows in Ella's bedroom. She had chosen the apartment for its incredible views and astounding amounts of natural light. As a designer, Ella had always been drawn to the way light played on architecture and had used that to enhance her creations. She had developed such a talent for design that right after graduating from college, she had been snatched up by a prestigious firm in New York City.
Ella came from a small town in Rhode Island and had first visited New York on a high school field trip. Her class had been given a tour of all of the landmarks, the theater district, the monuments and of course, the architecture. As soon as Ella saw St. Patrick's Cathedral and The Plaza Hotel, she was hooked. All of the stained glass windows, the atriums, drew her in and filled her mind with images. She began sketching and drawing the moment she left the city.
She got a full scholarship to Columbia University and headed off to the big city to pursue her dreams. Ella sailed through her undergraduate, completing her degree in just three and half years. She interned with several high-end firms in the city and was offered a full-time position with E.J. Munford Design before she left school. Because she had interned briefly with them, she knew the outfit well and was more than happy to stay on in New York to begin her career.
But Ella's first year at Munford turned out to be very different than what she expected. When she interned, she had had the opportunity to sit in on design meetings and provide input to some small scale designs and projects. But when she came on full-time at the firm, her position changed drastically.
Gone were the days of sitting in glamorous board rooms with polished tables and gleaming windows. Ella's days were instead spent checking designs for spelling and spec errors, and running plans to builders and clients. She no longer got to be part of the conversation and felt more like a servant or errand girl.
Over time, Ella's creative juices began to get the best of her. After a year at the firm, she still hadn't been actively involved on one design project. She thought about pursuing a job with another firm or even going out on her own, but her parents and friends discouraged her from doing so.
"It will look terrible on your resume," said her mother, a retired nurse who had held the same job her entire adult life. "Employers want to see longevity and loyalty to a job. A year isn't long enough to show that you've given it an honest try."
"But I'm so frustrated," Ella said to her mother every time the conversation came up. "All I want to do is design."
Ella had gotten close with one of her colleagues at E. J. Munford and asked her opinion. Hannah was an executive secretary who'd been working for the firm for two years when Ella came on board. The two women were about the same age and had a lot in common; they both enjoyed cooking, working hard and watching black and white movies with a good bottle of wine.
"Listen," Hannah told Ella every time she brought the subject up. "Why don't you just say something to Munford? Or Mini Munford?" Hannah was referring to the firm's senior partner and his son.
"I don't know," Ella would say. "I don't want to get a reputation as a whiner. I mean, I do have a job and it pays well. It's just not the job they hired me for."
Hannah supported Ella's decision, even though she had her own reasons for wanting her to stay; aside from their blossoming friendship, Ella had agreed to help Hannah plan her upcoming wedding. Hannah and her fiancé Trent had been engaged for six months and couldn't afford a New York City wedding planner. They knew how creative and organized Ella was and had asked if she wouldn't mind helping them out. She was only too happy to oblige.
Ella had decided that she would commit to staying on at the firm until the wedding. During that time, she would use the wedding as a way to exercise her creative talents. She and Hannah spent the next six months planning every detail of the wedding, right down to the color of the flowers on the tables. They worked diligently and even when Hannah got tired and wanted to beg off, Ella kept on going. She really enjoyed planning the wedding and when it was time to make a decision about staying at Munford or leaving, she knew what she wanted to do.
"I'm going to start my own business…" she told Hannah after she returned from her honeymoon. "I'm going to be a wedding planner!"
A week later, Ella gave her notice at E.J. Munford and set up her own website and menu of services for couples in the tri-state area.
At first, business was slow. But Ella wasn't worried. She had always been frugal, she had a tiny apartment and took the subway everywhere. In her year and a half at the firm, she had managed to save enough money to support herself during her first year or so as a wedding planner.
She started out with only Hannah's wedding in her portfolio. But within months, Ella had amassed a handful of happy clients who began referring her to their friends. At the end of her second year in business, Ella was so busy that she had stopped advertising and only took clients by personal referral, and only if they could afford her.
One of Ella's selling points was her particular attention to light. She used natural and indoor lighting in the most unique ways, drawing on her design skills. This allowed her to create weddings that were both stunning and completely unique. In fact, her talent with light became her signature and soon Ella was sought after by New York's elite. As the supply of her time went down, the demand for her services went up and her rates increased.
In time, Ella became the wedding planner all of the New York socialites wanted. She was mingling with stars and being flown all over the world to help plan some of the most extravagant weddings. She was making five times what she was making as a first year designer and was loving spending time helping people make their dreams come true.
Her success afforded her the opportunity to move into a luxury New York City apartment. Her new home was on the Upper West Side and had six rooms and a doorman. Just four years out of college and barely 25 years old, Ella had everything a girl could want. Except love.
"Okay, okay," Ella said, lifting the kitty off her pillow. "I'm up."
Ella stretched her arms out wide, letting her dark brown hair tumble loosely over her smooth shoulders. She stood up and rubbed her emerald green
eyes as she walked to the windows. She reached up and pulled the sheers back and looked down at the city below as it woke up for another day.
"Good morning NYC," she said, wrapping her body in a fine cotton robe. She smiled, grabbed Princess, and headed to the kitchen to turn on the espresso maker she had received as a gift from a wealthy family in Sicily.
She walked through the French doors and into her sun-splashed office that overlooked Central Park. Ella glanced at her messy desk and let her eyes rest on the planner she had open on top of a stack of swatches from a fabric vendor in the garment district. She walked around the desk and looked at her schedule, running her finger over the writing on the page.
"Oh yeah," she said to nobody in particular. "The Sheikh."
Ella was referring to her latest client, Sheikh Karim al-Qadir bin Zayed. She had spoken with him over the phone several times, but hadn't met him in person yet. She hadn't spoken to his fiancée, oil heiress and socialite, Nadia al Jalal, at all. At first Ella thought that was kind of weird, dealing with the groom and not the bride. But Ella reasoned that she knew very little about the customs of Al Ibran, the country in the Middle East that they were from.
She decided to get a quick run in before she met the couple at 10:00 at the café uptown. She grabbed a quick cup of espresso, threw on her running clothes and ran out the door, headed for Central Park.
TWO
Ella arrived at the café a few minutes before 10:00, looking refreshed, polished and professional. She swept her hair up in a loose bun and wore minimal make-up to accentuate her natural good looks. The dark gray blazer and pencil skirt hugged her womanly frame perfectly, showing off just enough without being too revealing.
The maître d' greeted Ella and escorted her to a table on the sidewalk that was bathed in the warm April sun. A tall, dark and very handsome man stood up as Ella approached.
Sheikh Karim al-Qadir bin Zayed stood tall, a good six inches above Ella's five-foot-eight stature. He wore a pinstripe navy blue suit with gold cuff links and brown brogues that looked like they might have cost more than Ella's apartment.
Ella reached out and shook his offered hand, smiling slightly as the maître d' pulled her chair out for her and handed them each a menu.
"Coffee?" the maître d' asked, while pouring her white ceramic mug full of steaming hot coffee.
"Sure," Ella said, laughing at the fact that it was too late to refuse now. She set her black attaché case down on the empty chair next to her and looked over at the Sheikh.
"Well," Ella said slowly, looking around for signs of his fiancée, Nadia. "It's so nice to finally meet you."
The Sheikh removed his sunglasses and placed them on the table next to his coffee cup. Ella noticed the richness of his eyes and how they complemented his olive skin and thick, dark hair. His eyes were not just brown and warm, they were the eyes of a sensitive man.
Ella had learned a lot about the couple in preparation for the wedding. The Sheikh was a distant heir to the monarchy in the principality of Al-Ibran. Although Ella didn't know how distant, she did know that meant that the Sheikh had enough money that he never had to worry about working a day in his life. And yet, despite that, he worked hard.
Karim had been sent to America at the age of twelve, when his parents sent him to an exclusive private school on the Connecticut shore. Upon graduation, he attended university and had received a degree in business. He had insisted on opening an office in New York so that he could work between the States and his homeland, and grow his family's already vast fortune. He dealt mostly with investments and loved his work.
Karim had met Nadia while he was at school. They were both from the same country and their families knew each other. As the heiress to her family's oil empire, Nadia never had any need to worry about her financial future either. But unlike Karim, when Nadia graduated, she took up residency in New York and began living the high life of an international socialite.
Nadia and Karim had been friendly in school, but they had never dated. In fact, Karim had told Ella, they didn't even really like each other that much back then. When they ran into each other again years later at a New York society ball, however, they reconnected. Weeks later, they were engaged, and found Ella through the recommendation of a friend. Even though Ella's calendar had been full, the wedding was to take place in only a few months and the bride and groom were willing to pay top dollar for her services. It was a job that Ella just couldn't refuse.
"You too," Karim replied. "I feel like we know each other already, having talked so much on the phone."
Ella blushed a little. She wasn't used to dealing with the grooms. And such a handsome groom at that. Stop it, she said to herself. He isn't your groom, he is your client. Whew, you really need to get a love life, girl.
Ella laughed at the thoughts swirling in her head and then smiled back at Karim. "And I assume we're still waiting on Nadia?" she asked.
Karim sat back in his chair uncomfortably, playing with his fork. "Um, no," he said, avoiding Ella's eyes. "She won't be joining us today."
Ella looked at Karim suspiciously. "Oh, so…." She wasn't sure how to continue.
"She prefers if I handle the details of the wedding," Karim said sternly. "For the most part. I mean, there might be things she wants to know more about, like the venue."
Ella took the hint. Enough chit chat about the private details of their relationship. On to the wedding.
How odd, she thought. She had seen a lot of couples get married in the past few years. And she had seen a lot of strange relationships. Many were relationships of convenience, and many were loveless. But this was something she had never seen: an absent bride.
"Okay, so before we talk about the venue in more detail, I've got some sketches for you to look at."
Ella took out her drawings and began going over them while their breakfast was served. When they were done, Karim went over the details of their upcoming trip to the Bahamian island of Eleuthera, the location he and Nadia had chosen for their wedding.
"Wow," she said, looking at the pictures Karim had on his tablet. "It's beautiful!"
"Yes," Karim said, leaning in close to Ella so that she could get a better view. "And the weather is perfect. The average temperature is 72 degrees and the water temperature is 76."
"Oh my goodness. That sounds fantastic," Ella said, trying not to notice how good Karim smelled. He must have been wearing some exotic cologne because it was something she was sure she had never smelled before.
"That's a lot better than here!"
"And a lot better than back home," Karim said, referring to the desert heat of his home country.
"So, as I mentioned before, I will take the morning flight to Eleuthera from Miami," Ella said. "I have an appointment with some clients there the day before."
Ella knew that leaving New York for a whole day was a suck on her time, despite how much she was being paid. She had decided she would get a visit in with a famous football player and his fiancée who had a winter home in Miami, before heading over to Eleuthera for a few hours.
"Yes," Karim said, shutting his tablet off. "That will work out perfectly. We will arrive in Miami in the late morning and I will have a driver bring you to the air strip to meet us."
"Okay," said Ella, jotting down the details of the itinerary. "If there's anything else, please just email me and I'll make sure to take care of it."
Ella smiled at the waiter as he came over and cleared the breakfast dishes. She stood up and smoothed out her skirt as Karim watched her. He was so glad their friend had recommended Ella. She was so professional, so courteous and so easy to talk to. He had felt an instant connection with her the first time they spoke on the phone. But now, in person, he felt it even stronger. He knew theirs was purely a business relationship, but he was glad for it regardless.
"Well
, thank you," Ella said as she grabbed her attaché.
"No," Karim said, standing up as Ella prepared to leave. "Thank you for coming to meet me. I know you're a very busy woman and I appreciate you taking the time to come here and to the island."
Ella laughed to herself when she heard his words. Yeah, she was a very busy woman. And he was a Sheikh, for goodness' sake. She thought the value of his time rated just a tad higher than hers.
"No problem," she said reaching out and shaking his strong hand. "And please tell Nadia I said hello and look forward to meeting her."
Karim smiled and watched Ella leave and then sat back down. He reached over and unlocked his cellphone, frowning when he saw that none of his messages or texts to Nadia had been returned. He knew that meant only one thing: that she was still sleeping off her late night. Karim closed his phone and sighed heavily as he finished his coffee alone.