Home is the Hunter
Helen Macinnes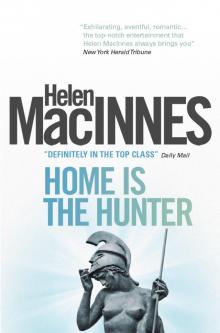 HOME IS THE HUNTER

ALSO BY HELEN MacINNES

AND AVAILABLE FROM TITAN BOOKS

Pray for a Brave Heart

Above Suspicion

Assignment in Brittany

North From Rome

Decision at Delphi

The Venetian Affair

The Salzburg Connection

Message from Málaga

While Still We Live

The Double Image

Neither Five Nor Three

Horizon

Snare of the Hunter

Agent in Place

Ride a Pale Horse

Prelude to Terror

The Hidden Target

I and My True Love

Cloak of Darkness

Rest and Be Thankful

Friends and Lovers

Helen

MacINNES

HOME IS THE HUNTER

TITAN BOOKS

Home is the Hunter

Print edition ISBN: 9781781163313

E-book edition ISBN: 9781781164334

Published by Titan Books

A division of Titan Publishing Group Ltd

144 Southwark Street, London SE1 0UP

First edition: February 2014

This is a work of fiction. Names, characters, places, and incidents either are the product of the author's imagination or are used fictitiously, and any resemblance to actual persons, living or dead, business establishments, events, or locales is entirely coincidental. The publisher does not have any control over and does not assume any responsibility for author or third-party websites or their content.

Copyright © 1964, 2014 by Helen MacInnes. All rights reserved.

No part of this publication may be reproduced, stored in a retrieval system, or transmitted, in any form or by any means without the prior written permission of the publisher, nor be otherwise circulated in any form of binding or cover other than that in which it is published and without a similar condition being imposed on the subsequent purchaser.

A CIP catalogue record for this title is available from the British Library.

What did you think of this book?

We love to hear from our readers. Please email us at: [email protected], or write to us at the above address.

To receive advance information, news, competitions, and exclusive offers online, please sign up for the Titan newsletter on our website.

www.titanbooks.com

To the Angel who will appear, some day

CHARACTERS

(in order of appearance)

ATHENA

Goddess of Reason

ULYSSES

A hero of the Trojan War

EUMAEUS (YU-MAY-US)

The swineherd

CLIA (CLEE-A)

Ulysses' old nurse, now maid to Penelope

AMARYLLIS (AMA-RILL-IS)

One of the three maidservants in the House of Ulysses

PENELOPE

Wife of Ulysses

TELEMACHUS (TEL-EM-ACUS)

Son of Ulysses

MELAS (MEE-LAS)

One of Penelope's suitors

ERYX

Another of the suitors

HOMER

Poet

PHILETIUS (FIL-EET-IUS)

The stableman

SOME OTHER SUITORS

THE PLACE IS ITHACA, GREECE.

THE TIME IS 1177 B.C.

THE ACTION OCCURS IN, OR NEAR, THE HOUSE OF ULYSSES, ON THE DAY OF HIS RETURN HOME.

ACT I

SCENE 1

On the road to Ulysses' House. Dawn

SCENE 2

Penelope's room. Early morning

SCENE 3

Penelope's room. Later that morning

ACT II

SCENE 1

The Great Hall of Ulysses' House. Early afternoon

SCENE 2

The same. Later that afternoon

SCENE 3

The same. That evening

ACT I

SCENE 1

By the dim light of dawn, just beginning, we can see a small shack huddled at one side of the stage, but everything else is shadowed and dark. Across the stage, a spot of light strengthens, and ATHENA, Goddess of Reason, limps delicately into view. She wears a long white pleated robe as a Goddess should, but the long scarf attached to one shoulder is trailing, and the circlet of golden leaves on her high-piled hair is a little askew. She looks exhausted.

ATHENA

(Sighing, as she looks back over her shoulder)

Oh, come on, Ulysses! You've rushed all the way from the harbour, not a thought in your head, nothing but silly emotions. "I'm home, I'm home!" you kept saying. Then, "What's wrong, what's wrong?" you kept asking.

(Her voice changes from joy to worry, as she mimics ULYSSES, who enters and halts, looking across at the shack. He is a tall man, handsome, in his late thirties. A long rough cape is pushed back from his shoulders, to show a simple tunic, a plain leather belt, an inconspicuous knife at his waist. He carries a battered hat in one hand.)

Well, you're right on both counts, my friend. You are home. And there is something wrong.

(ULYSSES walks past ATHENA, quite unaware of her, for she is invisible to mortal men. The closest they come to seeing Reason is to listen to her, but her words seem only a part of their interior monologues, of the battle in their minds. ULYSSES halts again, eying the shack, frowning.)

Go on, Ulysses! Find out what is the trouble. But don't blame me—I had nothing to do with it. I can't deal with the irrational. I am only the Goddess of Reason!

(She looks down at her dress, then speaks to the audience with wry amusement, as she drapes the scarf back into place.)

Yes, I am Athena. But who would believe it after that mad rush from the harbour?

(She straightens the circlet of leaves.)

He wouldn't listen to one word I said.—Or did he?

(For ULYSSES has pulled the cape around him, settled the hat over his eyes, stooped a little as he approaches the door of the shack.)

He did, he did listen!

(She smiles delightedly, steps slowly back into the darkness, merges with the deep shadows.)

ULYSSES

(Softly)

Anyone at home?

(Silence. He takes a step toward the doorway.)

EUMAEUS

(The swineherd, who calls this shack his home, springs from the dark doorway with a knife in his hands. He is old, ugly, wiry, and dangerous. He circles slowly around ULYSSES.)

No, you don't! Thought you'd sneak up on an old man and finish him off in the dark?

ULYSSES

(Standing very still, raising his empty hands)

I was only looking for a place to rest... Why should I kill you? You haven't much to steal—

EUMAEUS

That's for sure. So why are you here?

ULYSSES

I heard you kept the pigs and chickens for the big house up on the hill. Ulysses' house.

EUMAEUS

There isn't a pig left, and only a couple of chickens. You aren't getting them! So clear out! That's the road to the harbour! Do your begging in the village.

ULYSSES

I didn't come to beg.

EUMAEUS

So—they did send you to kill me. The way they killed Penelope's servants, one by one, secretly, in the dark, and threw their bodies off the cliff. Then they told everyone the men had deserted, run off, taken a ship for the mainland and—

ULYSSES

They? Who are they?

EUMAEUS

A bit of an actor, are you? Go on, start moving out.

(He gestures angrily with his knife.)
>
ULYSSES

But I've just arrived, here, in Ithaca. Got off the boat this morning, an hour ago. I'm a stranger looking for—

EUMAEUS

You won't find it here. What brought you sneaking along the shore to my door, anyway?

ULYSSES

I was on my way to the Big House. I thought I'd get food and shelter, there. Ulysses always made any stranger welcome.

EUMAEUS

(Less suspicious, now)

Ulysses isn't there. Hasn't been for years. Never did get back from the Trojan War.

ULYSSES

But his wife, Penelope—doesn't she still live there? She would give a stranger a place to sleep, some bread, and wine—

EUMAEUS

You'll get more than that.

ULYSSES

Such as what?

EUMAEUS

Insults and blows—if you keep your mouth shut. Death—if you try to help the lady Penelope.

ULYSSES

What?

EUMAEUS

Didn't anyone tell you, back in the village?

ULYSSES

They all seemed frightened. Wouldn't say much... That's why I came here. Thought I had better find out what's wrong, before I went to Ulysses' house.

EUMAEUS

What's wrong?

(He crows with bitter laughter, sheathes his knife at his waist.)

Wrong... I could talk with you from now until sunset, and still wouldn't have told you the half of it. Don't go near that house. Get back to the harbour, take the first ship out. Get away from this island.

ULYSSES

Why don't you take your own advice? You could slip away, now. There's a ship leaving this noon.

EUMAEUS

I've thought of it, don't think I haven't. I've thought of it for these last three years—since they came here, and took over, and—

ULYSSES

(Grimly serious)

They? Who are they?

EUMAEUS

It's no business of yours. Get out, while you're still alive. That's good advice. It's all I can give you.

ULYSSES

(Pretending to leave)

Why don't you come with me, old man? There isn't much to keep you here.

EUMAEUS

I'm not running out. Penelope—I'm not leaving her alone. I'm not leaving her son. I can't do much. But at least, I don't desert them.

ULYSSES

As Ulysses did?

EUMAEUS

(Angry)

Ulysses was my friend.

ULYSSES

Was?

EUMAEUS

He's dead.

ULYSSES

Are you sure?

EUMAEUS

Yes.

ULYSSES

What if he isn't?

EUMAEUS

Then he'd be here.

ULYSSES

Perhaps he is as big a coward as he was a fool. Perhaps he heard of them, whoever they are, and—

EUMAEUS

(Whipping out his knife again)

You're double my height and half my age, but you don't call Ulysses a coward.

ULYSSES

He was certainly a fool to stay away so long.

EUMAEUS

That wasn't his choosing! He would never forget Penelope.

ULYSSES

Forget her? No... Not that... He forgot time. So that makes him a very great fool—

EUMAEUS

(Threatening)

No man calls him that!

ULYSSES

(Catching EUMAEUS' arm, knocking the knife to the ground)

Not even Ulysses?

(He throws his cloak open, takes off his hat, stands erect. EUMAEUS stares unbelievingly.)

EUMAEUS

That grip is the same—but it can't be—it can't—

ULYSSES

(As EUMAEUS still stares, ULYSSES points to the outside of his leg, where a scar runs above and below the knee.)

Recognise this scar?

(He claps EUMAEUS on the shoulder.)

Yes, it's still the same old Ulysses. A bit older. That's all.

EUMAEUS

(Recovering)

Seventeen years older.

ULYSSES

(Amused, as EUMAEUS suddenly grabs him and begins to laugh)

As long as that? Yes, I suppose it is. Ten years at Troy, seven years wandering—Eumaeus, stop that—stop it! Hold on, there. You'll have everyone come running—quiet, now, quiet! Take it easy. I'm home—home to stay.

(He frees himself from the hysterical welcome. He grins, takes a seat on the ground, his back against the shack's wall.)

EUMAEUS

Yes, the same old Ulysses, playing his damned tricks.

(He squats down near ULYSSES, and studies him.)

But why play one on me? Didn't you trust me?

ULYSSES

I had to make sure of you. Everyone is changed. The minute I stepped off the ship, this morning, I knew something was wrong. I kept silent, told no one who I was, listened, and looked. I didn't like what I saw. It's a dead village.

EUMAEUS

It's a frightened village. They close their doors and shutter their windows, whenever they see a ship coming into the harbour.

ULYSSES

But why? They used to welcome strangers. This island used to be a friendly place.

EUMAEUS

No more, Ulysses. No more. When people are scared, they turn selfish, keep to themselves. We've had enough of strangers coming here, pretending to be honest travellers, pleasant young men—

ULYSSES

Young men?

EUMAEUS

—until they got their grip on the whole island, and took what they wanted.

ULYSSES

Took?

EUMAEUS

Everything and everyone—some by persuasion, some by promises, some by threats. Except Penelope. She has held out against them.

ULYSSES

(Worriedly)

She is well? She's safe?

EUMAEUS

Barely.

ULYSSES

What do you mean?

EUMAEUS

For three years, the men have been living in the Big House.

ULYSSES

Penelope let these men into my house? God damn it, what the hell was she doing?

EUMAEUS

Strangers were always welcomed into your house, Ulysses. That was your custom.

ULYSSES

But, a bunch of—

EUMAEUS

And who was to throw them out, when they stayed on—and on—and on? Your son was only fourteen when they arrived.

ULYSSES

My son... Did they kill him?

EUMAEUS

Some of them planned that, but it didn't come off. Thanks to Penelope. She has managed to keep him—and the rest of us— alive. He's a good lad, but useless against eleven men.

ULYSSES

(Slowly)

And how did Penelope manage all that?

EUMAEUS

She used her head, that's how.

ULYSSES

(Rising abruptly, angry)

Was that all she used?

EUMAEUS

(Sharply)

It was! Penelope keeps to herself. She's a prisoner in her own room. The men may be masters of your house, but she is still your wife.

ULYSSES

(More subdued; still bitter)

All right, all right... So I come home, and I find eleven men living in my house. That's just the welcome I wanted.

EUMAEUS

You're lucky. There used to be more of them. Nearly a hundred at one time.

ULYSSES

What?

EUMAEUS

Sure, sure... Then some got killed—a quarrelsome lot they are. And the cowards gave up, and drifted away. Now there are only eleven. But they are the danger
ous ones. There are two, in particular—real bastards they are... The women seem to like them, though.

ULYSSES

Just how young are they?

EUMAEUS

Younger than you are.

ULYSSES

How do they fight?

EUMAEUS

They can fight, all right. They're strong. Well set-up. Women would call them handsome.

ULYSSES

(Puzzled)

But what keeps them here? I'd imagine that the attractions of Ithaca are a little limited for eleven handsome braggarts.

EUMAEUS

Well—you see—

ULYSSES

I don't. They aren't the type to work the land. Food is short, you said. So what keeps them here?

EUMAEUS

They have the idea that one of them is going to marry Penelope and become lord of this island. That's what they are gambling for—power, and a beautiful woman. Isn't that enough to keep them waiting?

ULYSSES

Marry my wife?

EUMAEUS

You're dead, aren't you? That's what brought them here, in the first place.

ULYSSES

(Boiling up)

And who is this lout, this pretentious oaf, who's going to marry my wife?

EUMAEUS

She will decide.

ULYSSES

(Exploding)

Penelope will choose?

EUMAEUS

That's the agreement. Women have brains, too, you know. She has kept them dangling and bickering and waiting for three years. Don't ask me how she does it, but—

ULYSSES

(Grimly)

I won't.

EUMAEUS

Now, Ulysses—

ULYSSES

Eleven of them...

EUMAEUS

And their servants, of course. They each brought two.

ULYSSES

All men? Can they fight?