Decision at Delphi
Helen Macinnes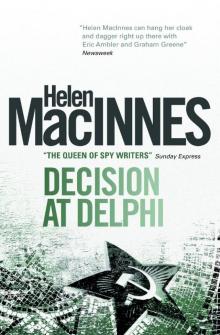 DECISION AT DELPHI

ALSO BY HELEN MacINNES

AND AVAILABLE FROM TITAN BOOKS

Pray for a Brave Heart

Above Suspicion

Assignment in Brittany

North From Rome

The Venetian Affair (October 2012)

The Salzburg Connection (November 2012)

Helen

MacINNES

DECISION AT DELPHI

TITAN BOOKS

Decision At Delphi

Print edition ISBN: 9781781161548

E-book edition ISBN: 9781781161609

Published by Titan Books

A division of Titan Publishing Group Ltd

144 Southwark Street, London SE1 0UP

First edition: June 2012

10 9 8 7 6 5 4 3 2 1

© 1960, 2013 by the Estate of Helen MacInnes. All rights reserved.

This is a work of fiction. Names, characters, places, and incidents either are the product of the author's imagination or are used fictitiously, and any resemblance to actual persons, living or dead, business establishments, events, or locales is entirely coincidental.

No part of this publication may be reproduced, stored in a retrieval system, or transmitted, in any form or by any means without the prior written permission of the publisher, nor be otherwise circulated in any form of binding or cover other than that in which it is published and without a similar condition being imposed on the subsequent purchaser.

A CIP catalogue record for this title is available from the British Library.

Printed and bound in Great Britain by CPI Group Ltd.

What did you think of this book?

We love to hear from our readers. Please email us at: [email protected].com, or write to us at the above address.

To receive advance information, news, competitions, and exclusive offers online, please sign up for the Titan newsletter on our website.

www.titanbooks.com

For G, as ever

Contents

1

2

3

4

5

6

7

8

9

10

11

12

13

14

15

16

17

18

19

20

21

22

23

24

25

26

27

28

29

30

Acknowledgments

Author's Note

About the Author

Also Available From Titan Books

1

Now there's a pretty girl, Kenneth Strang thought, as he relaxed his efforts to open the porthole of his cabin and glanced down at the cluster of upturned faces planted along the pier's edge. For a moment, he wondered who was the lucky fellow on the deck above who had won that smile and wave. Then, quickly, he renewed his attack. The porthole swung open with a surprised shriek, letting the cold March air pour into the overcrowded cabin.

"Oh, Ken! Must you?" his sister Jennifer called, pointing his pen-knife, which she had borrowed to spread caviar, at the open window. "This is still New York, you know. You aren't in the Mediterranean yet!" Josephine, his other sister, had her own comment. "You are breaking all the rules and regulations, Kenneth," she warned him, exchanged her usual isn't-that-like-him glance with husband Carl Underwood, and went on listening in her peculiarly intent way to Mason Farmer. Farmer must have been astounded twice in a row, which was quite a record for a publisher, when Josephine again interrupted her understanding nods and extreme concentration on his smooth prose to say, "To whom were you waving, Kenneth?" But that was Josephine, correct to the last dative.

"A pretty girl," Strang told her. No one believed him, of course.

Except Lee Preston, who had left his own pretty girl—a beauty, this one, an astounding smooth-haired brunette, and why had he brought her to this party?—in the austere care of Jennifer's husband, Philip Beecham, and was making his way determinedly through the packed cabin toward Strang. He glanced at the heavy window and shook his head. "Forceful, aren't you? I thought you were about to lose your right hand there. If it isn't valuable to you, it's valuable to me," he reminded Strang with a smile. Lee Preston was a small man with an energetic body and a restless head, a generous mouth, sharp eyes under black eyebrows. His hair was, appropriately, iron-grey. "Perhaps we ought to have insured it with Lloyd's," Preston was saying, still smiling easily, but there was a brief uneasy flicker in his watchful eyes: perhaps, in all his carefully arranged plans for Kenneth Strang's assignment, he had forgotten something.

"There are only two ways to deal with an inanimate object," Strang told him. "Either you sneak up on it when it isn't looking or you double the charge of explosive and use a hammer." He studied Preston unobtrusively, wondering what had brought him down to the ship. Lee Preston had a reputation, certainly, for carrying all his projects through, from his first bright idea for a three-part series right up to the supervision of layout and colour reproduction. He was more than editor of Perspective, a monthly magazine dealing with architecture and its decorative arts: his proper title, Strang had often thought, should be inspector-in-chief. But to pay a last-minute visit to a man he had commissioned to travel to southern Italy and Greece was a refinement of efficiency.

Strang's briefing was long since complete: suggestions and discussions had been exhausted in those last four months of hectic preparation; his research was finished, all carefully compressed into a thick sheaf of notes, now lying between the absolutely necessary reference books in his heavy brief case. He had carried the brief case and his specially constructed portfolio on board ship himself, trusting only his suitcase to someone else. His job for the next five months was to visit the ruins of ancient Greece and its western empire, to reconstruct in his drawings—based on the facts that were known, bolstered by his own close guesswork—the temples and theatres as they had once stood. These drawings were to be published in three major instalments in Perspective, along with photographs of the temples and theatres as they appeared today, in all their stark ruin.

Stefanos Kladas was to be the photographer. He was flying next week to Italy, to start his part of the job. Unlike most Greeks, he was a bad sailor. Besides, he had become so accustomed in those last few years of success to fly to Peru, or Alaska, or Bali, complete with all his elaborate gear, that the idea of taking a ship would have astonished him as much as travelling by covered wagon to reach Chicago. In any case, as a photographer, Steve Kladas had no need of the specialised knowledge that Strang had had to accumulate to make his reconstructions of the past. He didn't need the peace of ten nicely anonymous days at sea to review his homework and get his notes into order. Perhaps I ought to have become a photographer, Strang thought, instead of an architect who has never been freed from his ambition to paint, and is now trapped by archaeology. Steve's career seemed so pleasantly simple and assured.

Lee Preston glanced again out of the porthole at the increasing bedlam of good will on the dock, then at his watch. "Ken," he said urgently, "just one final point—"

Strang had been watching the dark-haired girl who had come to this party with Preston. She was still standing near the door of the cabin. Shy? Poised for flight, if only the corridor behind her were not so jammed with laughing people and worried stewards? Or simply trapped? She was listening, anyway, to Philip Beecham. (Who would have thought the old boy had so much talk in him?) "And what's that?" he asked Preston now. He was amused. Had P
reston come here to give him one of those little afterthoughts that plague the perfectionists?

"About Kladas—" Preston began, and then stopped, watching Jennifer Beecham in dismay. "There's your sister bringing us some of that stuff she's been spreading."

"What about Steve Kladas?" Strang asked quickly.

"He left yesterday for Italy."

"Did he? I thought he was flying next Friday."

"So did I."

Well, what of it? Strang thought. Steve had probably wanted to dodge any send-off parties like this one. "Hello, Jenny," he said to his sister's round flushed face. "Keep your mink out of the caviar, will you?"

"Thank you, no," Preston said.

"He doesn't like small black eggs tasting of fish oil," Strang explained. "I'll tell you what, Lee, I'll trade. You don't eat caviar. I don't like champagne. Have my glass, untouched, with beaded bubbles winking at the brim. It was standing just behind me here—" He turned to search for the ledge where he had set his glass before his assault on the window.

"It gave one wink too many," the practical Jennifer said.

"Be an angel and bring Lee another glass."

"And if you find some way of steering Miss Hillard over here," Lee Preston added to that, seeing a chance to have at least two minutes more alone with Kenneth Strang "—oh, not immediately but in a little while. After all, she came to meet Ken."

"Did she?" Strang was startled for a moment. Then he smiled. Preston's excuses always had the ring of truth. He had almost believed that one.

"You know what?" Jennifer asked. "I don't think you want me around. And I had a poem of farewell all ready to deliver. I learned it especially."

"I'll hear The Isles of Greece later."

"Oh, Ken—how could you guess? You won't have time later," she said gloomily. "The first warning has gone; didn't you hear it? The second is due any minute. Where's the rest of your luggage?"

"There's only a suitcase still to come."

"Heavens, don't tell me that's all you're taking for five months. Ken, I warned you! Just wait until you find yourself in one of those bathrooms with no shower-curtain rod—then where will you hang any drip to dry?"

"I'll hammer a nail into the wall."

"I believe you would."

"What about that drink for Lee?"

"I'm getting it, don't you see?"

"I see."

"Beaded bubbles. Coming up, sir," she called back over her shoulder. (But the beautiful brunette might be more difficult to deliver on time. Behind Philip, those two mad friends of Ken were already lining up, in position to pounce once Philip stopped talking about his fishing trips.)

Lee Preston said thoughtfully, "I never had any sisters." He looked grateful for a moment. Then he was back to business. "Kladas—I like him. Don't misunderstand me, Ken. Steve Kladas is first-rate. I know that. Does splendid work. Those studies he brought back from Yucatan, two years ago, when you made the drawings of the Mayan sites—excellent, yes, excellent. He works well with you, Ken. That's why I agreed to get him for the Greek assignment when we started talking about this trip. If you remember—" He paused delicately.

"Yes, I remember. You suggested Johnnie Kupheimer or C. L. Hillard for the job. But Kladas and I have worked together. I know his ways, he knows mine. We like a certain amount of freedom, of independence, not always breathing down the back of each other's neck." Strang could pause delicately, too.

Preston said, with a touch of stiffness, "I have little interest in a man who is not independent. But—" his worry humanised him into a quick rush of words—"it's just that we must have dependable men, too. Are we going to have the photographs we want by this summer? The end of July is the absolute deadline. We must have his first prints by then. And your first sketches. It's a matter of planning layouts and space. You can finish the sketches we choose, later. But we've got to see the general shape of this series by the end of July."

"You'll see it. But if it would help you stop worrying, I'll remind Steve about July when I meet him in Taormina."

"Taormina? Aren't you seeing him before that?"

"I doubt it. We thought we'd each work on our own in Sicily, following our joint plan, of course. Then, before we leave Sicily, we'll meet at Taormina and compare notes on what we've done. Steve has the name of a first-rate photographer in Taormina who will rent him his dark room, so he can make some test prints and—well, make sure they are just what he wants." He gave Preston's shoulder a reassuring pat. "Steve won't slouch on the job. You'll have his prints and my sketches by July."

Then, as Preston still frowned at the floor, Strang said sharply, "What is worrying you, Lee?"

"Kladas has other things on his mind besides our assignment."

"You think he's doing work for other publications on the side?" There was no written law against that. Some might consider an all-expenses-paid trip, and a rousing fee, as a natural restraint on any other work until Perspective had got all the material it wanted; others, however, did not see things in that light. Provided he did the job for Perspective and did it well, Steve might feel free to tackle a few other projects on the side.

"Perhaps. Greeks are keen businessmen. I was prepared for that," Preston said.

"Then what weren't you prepared for?"

"A young woman who came to the office this morning, saying that she had something urgent to tell me about Steve Kladas, that she had only a few minutes... Miss Taylor believed her, and got me out from an editorial meeting. The girl was terribly upset. No doubt about it. And frightened. But her words were quick and clear, as if she had been rehearsing what she had to tell me, as if she did indeed have only a few minutes. She said she couldn't telephone Kladas. But he had to be warned. He must cancel his visit to Greece. Or postpone it. For two months, at least. And then, as I stared at her, she looked at the clock on my desk, said, 'Oh!' and ran out. Ran! Miss Taylor, in the office outside, followed her. She didn't wait for the elevator—she kept on running down the stairs."

"What was she like?"

"Small, slender, expensively dressed. But no coat, no hat or gloves. A chiffon scarf over her head. Miss Taylor said her hair was in pins under the scarf."

"In pins?" Strang restrained an impulse to laugh.

"The kind of torture females endure in a beauty parlour."

"Oh!" Strang thought over the strange array of little facts. No coat in early March, pin curls. "Is there a hair-dressing place in your building?"

"Two floors below."

"Oh!" Strang said again.

"Miss Taylor agrees with you. She went downstairs, made some excuse to get into the beauty salon, or whatever fancy name the damn thing is called. No luck, though. About twenty cubicles, some with curtains drawn across them. But she did notice there was a back entrance to the place beside the washroom. The staircase is just outside the back entrance. You follow me?"

Strang nodded.

"What do you make of it?"

Strang thought for a moment. "You've got a very efficient secretary."

"That's all we'll ever know about this whole thing," Preston agreed gloomily. "I had Miss Taylor send off a letter to Kladas, telling him someone seemed very much against his trip. If there was any real reason for the girl coming to worry us like that, I thought Kladas could fill in the details for himself."

"But you took the girl seriously enough to write Kladas. Where?"

"At the first address on his itinerary. Naples. But you know Kladas," Preston added fatalistically. "He probably won't even go there. Probably, he'll decide to stay at Sorrento, or someplace..."

"Perhaps you'd have done better to hire Johnnie Kupheimer or C. L. Hillard, after all," Strang said dryly. The t
ruth was that Kladas and Preston had respect for each other's talent but little liking for each other's personality. It was a case of complete emotional incompatibility, and Strang began to wish he had never even tried to act as the hinge between a door and a wall that were off-angled.

"He is the best man for the job," Preston said generously.

"And he speaks Greek," Strang said with a grin. "That's no small accomplishment, let me tell you. After my struggles with the language this winter, I begin to think that all Greek two-year-olds are geniuses."

"How is your own Greek coming along?"

"A little more bite in the consonants and rasp in the vowels, and I'll make the eighth grade." So, Strang thought, as he watched Preston's tight lips relax, we end our little talk with smiles all around. That was much better. "And there is sister Jennifer with the last bottle of champagne," he added. Jennifer was really a very good girl in many ways. She had, for instance, timed the end of their conversation quite neatly. Now, she was detaching the dark-haired girl from Wallis and O'Brien, no mean accomplishment. Strang said to Preston, "Your Miss Hillard is attractive. Any relation to C. L. Hillard?"

"She is C. L. Hillard." Unashamedly, he enjoyed the jaw-dropped look on Strang's face. "And she is not mine, I am sorry to say. We were lunching together—discussing an assignment for her in Mexico, this April—and I thought it might be amusing to bring her along to the ship."

"Amusing for whom?" Strang asked wryly. His idea of C. L. Hillard had been—and why did men jump to conclusions about successful women they had never seen?—one of those tremendously capable battle-axes who chopped their way to success. From the tantalising distance of fifteen feet or so, partially blocked by other people's heads and annoyingly screened by other people's voices, Miss Hillard had looked young, serenely beautiful, quietly elegant. Within handshaking distance, she still was young, serenely beautiful, quietly elegant. But now were added the sudden warmth of her wide-set dark-blue eyes, the smile on her lips. Weeks later, he still couldn't remember what he said to her as they shook hands.