Unintended: A Sin Series Standalone Novel (The Sin Trilogy Book 5)
Georgia Cates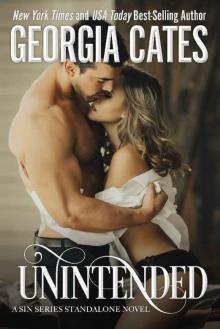 Table of Contents

Also by Georgia Cates

Prologue

Chapter 1

Chapter 2

Chapter 3

Chapter 4

Chapter 5

Chapter 6

Chapter 7

Chapter 8

Chapter 9

Chapter 10

Chapter 11

Chapter 12

Chapter 13

Chapter 14

Chapter 15

Chapter 16

Chapter 17

Chapter 18

Chapter 19

Chapter 20

Chapter 21

Epilogue

Sneak Peek

Author Note

Excerpt: Beauty from Pain

Excerpt: Tap

Excerpt: Indulge

Excerpt: Dear Agony

About the Author

Other books by Georgia

Unintended

A Sin Series Standalone Novel

Georgia Cates

Published by Georgia Cates Books, LLC

Copyright © 2017 Georgia Cates

All rights reserved.

This ebook is licensed for your personal enjoyment only. This book may not be resold or given to other people. If you would like to share this ebook with another person, please purchase an additional copy for each recipient. If you're reading this book and did not purchase it, or it was not purchased for your use only, then please purchase your own copy. Thank you for respecting the hard work of this author.

This is a work of fiction. Names, characters, places, brands, media and incidents are either the product of the author's imagination or are used fictitiously. The author acknowledges the trademarked status and trademark owners of various products referenced in this work of fiction, which have been used without permission. The publication/use of these trademarks is not authorized, associated with, or sponsored by the trademark owners.

Sign-up for Georgia's newsletter. Get the latest news, first look at teasers, and giveaways just for subscribers.

Editing services provided by Lisa Aurello

Formatting by Jeff Senter of Indie Formatting Services

Cover artwork by Jeff Senter of Indie Formatting Services

Cover photography by Lauren Perry of Perrywinkle Photography

ISBN: 978-1-948113-98-4

Contents

Also by Georgia Cates

Prologue

Chapter 1

Chapter 2

Chapter 3

Chapter 4

Chapter 5

Chapter 6

Chapter 7

Chapter 8

Chapter 9

Chapter 10

Chapter 11

Chapter 12

Chapter 13

Chapter 14

Chapter 15

Chapter 16

Chapter 17

Chapter 18

Chapter 19

Chapter 20

Chapter 21

Epilogue

Sneak Peek

Author Note

Excerpt: Beauty from Pain

Chapter 1

Chapter 2

Excerpt: Tap

Chapter 1

Excerpt: Indulge

Prologue

Chapter 1

Chapter 2

Excerpt: Dear Agony

Chapter 1

About the Author

Other books by Georgia

Also by Georgia Cates

STANDALONES

Dear Agony: A Novel

Indulge

Sweet Torment: A Novella

THE SIN TRILOGY

A Necessary Sin: Book I

The Next Sin: Book II

One Last Sin: Book III

The Sin Trilogy Bundle

THE SIN SERIES NOVELS

Endurance: Jamie and Ellison's Story

Unintended: Westlyn and Kieran's Story

Redemption: Leith and Lorna's Story (TBA)

THE BEAUTY SERIES

Beauty from Pain: Book I

Beauty from Surrender: Book II

Beauty from Love: Book III

The Beauty Series Bundle

MEN OF LOVIBOND

Tap

Stout

Porter

Men of Lovibond Bundle

GOING UNDER SERIES

Going Under: Book I

Shallow: Book II

Going Under Complete Duo

THE VAMPIRE AGAPE SERIES

Blood of Anteros: Book I

Blood Jewel: Book II

Blood Doll: Book III

The Complete Vampire Agape Series

Captor becomes lover…

I'm a marksman. Mobster. Deadly assassin.

My job is to protect my brotherhood, but that isn't my only responsibility.

I'm Kieran Hendry, the up-and-coming leader of The Order, and a new duty calls. I must take a wife.

A wife I don't know.

A wife born into a position at the top of The Fellowship hierarchy.

A wife who will forge a strong alliance between her brotherhood and mine.

A wife I don't want.

I knew next to nothing about Westlyn Breckenridge when I abducted her, but I quickly discover that she's intelligent, strong, defiant, selfless. And beautiful.

One night with her is all it takes for me to see that she is no typical Mafia princess. I'm hopeful this arranged marriage won't be the miserable union I imagined it to be. But convincing my intended to give us a chance won't be easy when she sees me as the enemy. The brute who kidnapped her. The vile fiend who threatened to do as he wished with her body.

It's true. I am all those things. I had cruel intentions. But everything has changed. My affection for her is unexpected. My love, unintended.

***Unintended can be read as a standalone novel although it is a novel accompanying The Sin Trilogy. It is best enjoyed after reading The Sin Trilogy and Endurance: A Sin Series Standalone novel.

This day.

It's been a jack-in-the-box ever since I became a man. Dormant, but hiding inside its refuge, always threatening to make an appearance at any time. Each day has represented a crank of the handle controlling its release.

Today, it escaped.

It's time for me to fulfill my obligation to my new brotherhood. It's the burden that comes with being in a leadership role.

I must take a wife.

A wife I don't know. A wife born into a position at the top of a hierarchy. A wife who will forge a strong alliance between The Order and The Fellowship.

A wife I don't want.

I am Kieran Hendry. Eldest son of Lennox Hendry and Arabella Grieves Hendry, the new leaders of The Order. Many would kill to be in their position. Literally. But that isn't how the brotherhood works. We are born into the role. Like royalty.

My mother has been called home to preside over the brotherhood that her father and brother once led. My dad will act on her behalf until I'm ready to take my place as the leader of these people. My first act as their future leader will be to enter into a marriage treaty with a Fellowship woman. Bring peace between The Order and their enemy, The Fellowship.

I've been conditioned to accept an arranged marriage as my fate for as long as I can remember. Doesn't make it any easier though.

I always thought I'd marry from within The Syndicate, the brotherhood in which I was raised. I expected to forge a union with a woman I'd known my entire life, whose position within my brotherhood would strengthen
my claim to leadership in the event of my paternal uncle's and cousins' deaths. A woman with virtue and purity who'd saved herself for her husband. Who the hell knows what I'll be getting with a woman from The Fellowship?

The Fellowship killed my maternal uncle and the brothers want retribution. They demand blood. A lot of it. But vengeance isn't our way. Revenge and death only yield rotting corpses. That isn't profitable: a dead man can't make money for us. Alliances. Those yield gain. Profit is always our focus.

My father pours two whiskies and brings one to me. "I know you need this; I still haven't forgotten what it felt like to hear my father tell me that I was going to marry a woman from The Order as part of a marriage treaty alliance."

I need more than one whisky. "I don't want a wife."

"I don't have to tell you that what you want doesn't matter. You're a Grieves and a Hendry. Future leader of The Order. Being at the helm of this organization means you don't get a choice. It's your duty to strengthen your brotherhood with an advantageous marriage. You will marry a woman from The Fellowship."

This marriage isn't something I can refuse. "Do I at least get to choose which woman I'll marry?"

"You have three choices." Well, at least there's that. "The most desirable is Abram Breckenridge's older daughter, Evanna. The next would be his younger daughter, Westlyn. Last choice is Sinclair's sister-in-law. Not a Breckenridge, or even a member of The Fellowship yet, but she will be soon."

"Why is the sister-in-law a consideration?"

"She's the sister of Bleu Breckenridge. Sinclair will do whatever it takes to maintain Ellison's safety because he wants to keep his wife happy."

An American who wasn't raised in a brotherhood. "She'll be weak."

"Agreed. Hence the reason she's your third choice. You'll only marry her if the other choices don't work out."

I've heard of Abram Breckenridge. None of it good. "What do you know about Abram's daughters?"

"Not a lot yet, but I've placed both under surveillance. We'll learn as much as we can before you choose."

It won't matter that The Order is under new leadership. "The Fellowship isn't going to willingly agree to an alliance with us, and Thane Breckenridge isn't going to hand over one of his nieces as a treaty bride."

"That's why we're going to force his hand by taking the bride of your choosing. He'll have no choice but to consider our proposition." My father pauses a moment. "And as a symbol of our good intention, I'm going to offer Shaw in marriage to his younger son or nephew."

Shaw is only eighteen. Still a child. And so headstrong. She has dreams and plans and ideas about the way she wants her life to go. My sister won't take well to being told she must marry anyone, treaty for the well-being of the brotherhood or not. "Won't my marriage suffice so Shaw doesn't have to marry?"

"Not with The Fellowship. There's too much bad blood between them and The Order. We have to propose an equal offering, or they'll never consider it."

"When is this going to happen?"

"As soon as you decide which woman you want."

I don't want any of them.

"I'll have a full report from the surveillance by the end of the week."

"Then I guess I'm claiming a wife this weekend." Which means I'm getting laid. I'm not pissed off about that.

"You'll need to bind your union to her as soon as possible." Bind my union. He means impregnate her. "Once your bairn is inside her, the claiming can't be undone by anyone."

A bairn. I don't want that either.

I was born nine months after my parents married. My father didn't waste any time binding his union with my mother. We've never discussed it, but I'm guessing he was persuaded to do so by his father just as he's doing with me now. "How did you feel when Grandfather told you that you were going to marry Mother?"

"I wasn't happy, but I knew taking Arabella as my wife was my duty to the brotherhood. Your mother and I both understood, and we made the most out of it."

Maybe theirs hasn't been a fairy tale romance, but my parents love and respect each other. And they share a common goal: they want the best for The Syndicate and The Order. That includes making this alliance with The Fellowship.

I'm the future leader of The Order. It's my job to ensure the prosperity of my brotherhood and those we're in alliance with. If that means taking a Fellowship woman as a wife and putting my child inside her then that's what I'll do.

Even if it's the last thing on earth that I want.

I'm a marksman for my brotherhood. An assassin. A hit man. But tonight I'm not ending the life of a loose end or an enemy or an opposition. The man I've been for the last twenty-eight years is the one being ended; I'll soon be mated to a Fellowship woman. Probably tonight.

"What can you tell me about the Fellowship women we're considering?"

My father sighs. "Bleu Breckenridge's sister is living with Thane's nephew. They're sharing a bedroom."

Good thing that one isn't a front-runner.

"And the older Breckenridge sister…" Dad pauses. "She's spending a lot of time with a Fellowship man. Behind closed doors. And overnight."

"What you're telling me is that two of my three choices are fucking other men?"

"Aye."

That eliminates both of them in my book. I won't have my wife hopping out of one man's bed and into mine.

"What of the younger Breckenridge sister?"

"My men saw nothing unbecoming."

"She hasn't kept the company of any man?"

"Westlyn's only interactions have been with family and female friends."

I could ask my father to tell me more about this woman, but the truth is that nothing he tells me will matter. She's the only option I'll consider for my wife at this point. "Where is she now?"

"I've been informed that she left her apartment with Sin's sister-in-law, and they just arrived at Duncan's Pub."

I have planned and carried out countless assassinations without so much as a qualm. But this… this, I dread like hell. I don't tolerate the weaker sex well. The tears. The whimpering. The whole fragility thing. I despise all of it.

But the pussy… I deal with that just fine.

"I've called Niall to bring the limo around."

What is my father thinking? "The limo will call too much attention."

"The limo will have the room you'll need for the men going with you."

I've never taken anyone with me on a job. "You know I work alone."

"This is different. You aren't shooting someone while you're perched at a distance. You're going into Fellowship territory, a place where they're always on guard, and you're going to take a woman of great value. No one person should attempt to do that."

I don't know the brothers of The Order yet. I don't trust them to carry this mission out flawlessly, but my father is right. I can't pull off this kidnapping by myself. "All right. I'll take four men from your surveillance team. But they need to understand that I expect them to stay the fuck out of my way. And fuckups won't be tolerated." If this effort fails, we'll likely not get another opportunity; Westlyn will be placed under a watchful eye. And that means I'll be forced to take one of the others as my bride.

I can't let that happen.

I'm surrounded by four men who've watched my wife-to-be for a week. They know more about her than I do, including what she looks like. I'm tempted to ask about her appearance, but I don't; these men have possibly seen parts of Westlyn Breckenridge that should be reserved for my eyes only. If I found out one of them had looked upon her unclothed, I'd be tempted to yank his eyeballs out of their sockets.

I've only had a few days to adjust to the idea of taking Westly
n as my mate. Don't ask me to explain it, but I already consider her my property although I've never laid eyes on her. My possessive feelings are completely insane, considering how much I don't want her or this marriage.

"Westlyn and Ellison… that's them coming out of the pub, boss."

They didn't stay long. I slide upward in my seat and watch the two women leaving the pub with a man. "Who is he?"

"Jamie Breckenridge."

Family. Good girl, Westlyn. "Drive slowly until we reach them. When the car stops, we'll exit together. First man who gets to Westlyn will hood her face and pull her into the backseat. Once she's inside, we're out of here."

"Jamie will be armed."

I'd expect no less. "I'll take care of him." I won't hesitate to put a bullet in him if he comes between me and my taking Westlyn tonight.

The back door opens, and we spill out of the car. Jamie Breckenridge moves in front of the two women, shoving both behind him. One of the women goes down, landing on the sidewalk.

He pulls his weapon just as I knew he would, but he doesn't stand a chance at this showdown. Gunman versus doctor. It isn't a fair fight.

My bullet enters his upper shoulder, the exact target I was aiming for. It isn't my intention to kill the man who is about to become my brother-in-law. Just need to hinder him a little.

He collapses to the sidewalk. One of the women screams and crawls to him on her hands and knees as though it's the end of the world. With that kind of reaction, I'm assuming that she's his American lover who wasn't raised in a brotherhood. A woman accustomed to these things wouldn't behave that way.