Five On A Treasure Island
Enid Blyton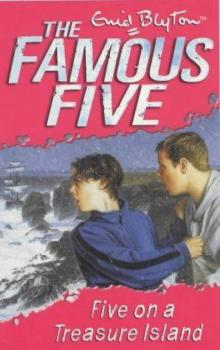 Five On A Treasure Island

Enid Blyton

The very first Famous Five adventure, featuring Julian, Dick, Anne, not forgetting tomboy George and her beloved dog, Timmy! There's a shipwreck off Kirrin Island! But where is the treasure? The Famous Five are on the trail – looking for clues – but they're not alone! Someone else has got the same idea. Time is running out for the Famous Five, who will follow the clues and get to the treasure first?

Enid Blyton

Five On A Treasure Island

The first book in the Famous Five series, 1942

Chapter One. A GREAT SURPRISE

"Mother, have you heard about our summer holidays yet?" said Julian, at the breakfast-table. "Can we go to Polseath as usual?"

"I'm afraid not," said his mother. "They are quite full up this year."

The three children at the breakfast-table looked at one another in great disappointment. They did so love the house at Polseath. The beach was so lovely there, too, and the bathing was fine.

"Cheer up," said Daddy. "I dare say we'll find somewhere else just as good for you. And anyway, Mother and I won't be able to go with you this year. Has Mother told you?"

"No!" said Anne. "Oh, Mother-is it true? Can't you really come with us on our holidays? You always do."

"Well, this time Daddy wants me to go to Scotland with him," said Mother. "All by ourselves! And as you are really getting big enough to look after yourselves now, we thought it would be rather fun for you to have a holiday on your own too. But now that you can't go to Polseath, I don't really quite know where to send you."

"What about Quentin's?" suddenly said Daddy. Quentin was his brother, the children's uncle. They had only seen him once, and had been rather frightened of him. He was a very tall, frowning man, a clever scientist who spent all his time studying. He lived by the sea- but that was about all that the children knew of him!

"Quentin?" said Mother, pursing up her lips. "Whatever made you think of him? I shouldn't think he'd want the children messing about in his little house."

"Well," said Daddy, "I had to see Quentin's wife in town the other day, about a business matter- and I don't think things are going too well for them. Fanny said that she would be quite glad if she could hear of one or two people to live with her for a while, to bring a little money in. Their house is by the sea, you know. It might be just the thing for the children. Fanny is very nice- she would look after them well."

"Yes- and she has a child of her own too, hasn't she?" said the children's mother. "Let me see- what's her name- something funny- yes, Georgina! How old would she be? About eleven, I should think."

"Same age as me," said Dick. "Fancy having a cousin we've never seen! She must be jolly lonely all by herself. I've got Julian and Anne to play with- but Georgina is just one on her own. I should think she'd be glad to see us."

"Well, your Aunt Fanny said that her Georgina would love a bit of company," said Daddy. "You know, I really think that would solve our difficulty, if we telephone to Fanny and arrange for the children to go there. It would help Fanny, I'm sure, and Georgina would love to have someone to play with in the holidays. And we should know that our three were safe."

The children began to feel rather excited. It would be fun to go to a place they had never been to before, and stay with an unknown cousin.

"Are there cliffs and rocks and sands there?" asked Anne. "Is it a nice place?"

"I don't remember it very well," said Daddy. "But I feel sure it's an exciting kind of place. Anyway, you'll love it! It's called Kirrin Bay. Your Aunt Fanny has lived there all her life, and wouldn't leave it for anything."

"Oh Daddy, do telephone to Aunt Fanny and ask her if we can go there!" cried Dick. "I just feel as if it's the right place somehow. It sounds sort of adventurous!"

"Oh, you always say that, wherever you go!" said Daddy, with a laugh. "All right- I'll ring up now, and see if there's any chance."

They had all finished their breakfast, and they got up to wait for Daddy to telephone. He went out into the hall, and they heard him putting the call through.

"I hope it's all right for us!" said Julian. "I wonder what Georgina 's like. Funny name, isn't it? More like a boy's than a girl's. So she's eleven- a year younger than I am- same age as you, Dick- and a year older than you, Anne. She ought to fit in with us all right. The four of us ought to have a fine time together."

Daddy came back in about ten minutes' time, and the children knew at once that he had fixed up everything. He smiled round at them.

"Well, that's settled," he said. "Your Aunt Fanny is delighted about it. She says it will be awfully good for Georgina to have company, because she's such a lonely little girl, always going off by herself. And she will love looking after you all. Only you'll have to be careful not to disturb your Uncle Quentin. He is working very hard, and he isn't very good-tempered when he is disturbed."

"We'll be as quiet as mice in the house!" said Dick. "Honestly we will. Oh, goody, goody- when are we going, Daddy?"

"Next week, if Mother can manage it," said Daddy.

Mother nodded her head. "Yes," she said, "There's nothing much to get ready for them- just bathing suits and jerseys and shorts. They all wear the same."

"How lovely it will be to wear shorts again," said Anne, dancing round. "I'm tired of wearing school tunics. I want to wear shorts, or a bathing suit, and go bathing and climbing with the boys."

"Well, you'll soon be doing it," said Mother, with a laugh. "Remember to put ready any toys or books you want, won't you? Not many, please, because there won't be a great deal of room."

"Anne wanted to take all her fifteen dolls with her last year," said Dick, "Do you remember, Anne? Weren't you funny?"

"No, I wasn't," said Anne, going red. "I love my dolls, and I just couldn't choose which to take- so I thought I'd take them all. There's nothing funny about that."

"And do you remember, the year before, Anne wanted to take the rocking-horse?" said Dick, with a giggle.

Mother chimed in. "You know, I remember a little boy called Dick who put aside two golliwogs, one teddy bear, three toy dogs, two toy cats and his old monkey to take down to Polseath one year," she said.

Then it was Dick's turn to go red. He changed the subject at once.

"Daddy, are we going by train or by car?" he asked.

"By car," said Daddy. "We can pile everything into the boot. Well- what about Tuesday?"

"That would suit me well," said Mother. "Then we could take the children down, come back, and do our own packing at leisure, and start off for Scotland on the Friday. Yes- we'll arrange for Tuesday."

So Tuesday it was. The children counted the days eagerly, and Anne marked one off the calendar each night. The week seemed a very long time in going. But at last Tuesday did come. Dick and Julian, who shared a room, woke up at about the same moment, and stared out of the nearby window.

"It's a lovely day, hurrah!" cried Julian, leaping out of bed. "I don't know why, but it always seems very important that it should be sunny on the first day of a holiday. Let's wake Anne."

Anne slept in the next room. Julian ran in and shook her. "Wake up! It's Tuesday! And the sun's shining."

Anne woke up with a jump and stared at Julian joyfully. "It's come at last!" she said. "I thought it never would. Oh, isn't it an exciting feeling to go away for a holiday!"

They started soon after breakfast. Their car was a big one, so it held them all very comfortably. Mother sat in front with Daddy, and the three children sat behind, their feet on two suitcases. In the luggage-place at the back of the car were all kinds of odds and ends, and one small trunk. Mother really thought they had remembered everything.

Along the crowded
London roads they went, slowly at first, and then, as they left the town behind, more quickly. Soon they were right into the open country, and the car sped along fast. The children sang songs to themselves, as they always did when they were happy.

"Are we picnicking soon?" asked Anne, feeling hungry all of a sudden.

"Yes," said Mother. "But not yet. It's only eleven o'clock. We shan't have lunch till at least half-past twelve, Anne."

"Oh, gracious!" said Anne. "I know I can't last out till then!"

So her mother handed her some chocolate, and she and the boys munched happily, watching the hills, woods and fields as the car sped by.

The picnic was lovely. They had it on the top of a hill, in a sloping field that looked down into a sunny valley. Anne didn't very much like a big brown cow who came up close and stared at her, but it went away when Daddy told it to. The children ate enormously, and Mother said that instead of having a tea-picnic at half-past four they would have to go to a tea-house somewhere, because they had eaten all the tea sandwiches as well as the lunch ones!

"What time shall we be at Aunt Fanny's?" asked Julian, finishing up the very last sandwich and wishing there were more.

"About six o'clock with luck," said Daddy. "Now who wants to stretch their legs a bit? We've another long spell in the car, you know."

The car seemed to eat up the miles as it purred along. Tea-time came, and then the three children began to feel excited all over again.

"We must watch out for the sea," said Dick. "I can smell it somewhere near!"

He was right. The car suddenly topped a hill- and there, was the shining blue sea, calm and smooth in the evening sun. The three children gave a yell.

"There it is!"

"Isn't it marvellous!"

"Oh, I want to bathe this very minute!"

"We shan't be more than twenty minutes now, before we're at Kirrin Bay," said Daddy. "We've made good time. You'll see the bay soon- it's quite a big one- with a funny sort of island at the entrance of the bay."

The children looked out for it as they drove along the coast. Then Julian gave a shout.

"There it is- that must be Kirrin Bay. Look, Dick- isn't it lovely and blue?"

"And look at the rocky little island guarding the entrance of the bay," said Dick. "I'd like to visit that."

"Well, I've no doubt you will," said Mother. "Now, let's look out for Aunt Fanny's house. It's called Kirrin Cottage."

They soon came to it. It stood on the low cliff overlooking the bay, and was a very old house indeed. It wasn't really a cottage, but quite a big house, built of old white stone. Roses climbed over the front of it, and the garden was gay with flowers.

"Here's Kirrin Cottage," said Daddy, and he stopped the car in front of it. "It's supposed to be about three hundred years old! Now- where's Quentin? Hallo, there's Fanny!"

Chapter Two. THE STRANGE COUSIN

The children's aunt had been watching for the car. She came running out of the old wooden door as soon as she saw it draw up outside. The children liked the look of her at once.

"Welcome to Kirrin!" she cried. "Hallo, all of you! It's lovely to see you. And what big children!"

There were kisses all round, and then the children went into the house. They liked it. It felt old and rather mysterious somehow, and the furniture was old and very beautiful.

"Where's Georgina?" asked Anne, looking round for her unknown cousin.

"Oh, the naughty girl! I told her to wait in the garden for you," said her aunt. "Now she's gone off somewhere. I must tell you, children, you may find George a bit difficult at first- she's always been one on her own, you know. And at first may not like you being here. But you mustn't take any notice of that- she'll be all right in a short time. I was very glad for George's sake that you were able to come. She badly needs other children to play with."

"Do you call her 'George'?" asked Anne, in surprise. "I thought her name was Georgina."

"So it is," said her aunt. "But George hates being a girl, and we have to call her George, as if she was a boy. The naughty girl won't answer if we call her Georgina."

The children thought that Georgina sounded rather exciting. They wished she would come. But she didn't. Their Uncle Quentin suddenly appeared instead. He was a most extraordinary looking man, very tall, very dark, and with a rather fierce frown on his wide forehead.

"Hallo, Quentin!" said Daddy. "It's a long time since I've seen you. I hope these three won't disturb you very much in your work."

"Quentin is working on a very difficult book," said Aunt Fanny. "But I've given him a room all to himself on the other side of the house. So I don't expect he will be disturbed."

Their uncle looked at the three children, and nodded to them. The frown didn't come off his face, and they all felt a little scared, and were glad that he was to work in another part of the house.

"Where's George?" he said, in a deep voice.

"Gone off somewhere again," said Aunt Fanny, vexed. "I told her she was to stay here and meet her cousins."

"She wants spanking," said Uncle Quentin. The children couldn't quite make out whether he was joking or not. "Well, children, I hope you have a good time here, and maybe you will knock a little common-sense into George!"

There was no room at Kirrin Cottage for Mother and Daddy to stay the night, so after a hurried supper they left to stay at a hotel in the nearest town. They would drive back to London immediately after breakfast the next day. So they said goodbye to the children that night.

Georgina still hadn't appeared. "I'm sorry we haven't seen Georgina," said Mother. "Just give her our love and tell her we hope she'll enjoy playing with Dick, Julian and Anne."

Then Mother and Daddy went. The children felt a little bit lonely as they saw the big car disappear round the corner of the road, but Aunt Fanny took them upstairs to show them their bedrooms, and they soon forgot to be sad.

The two boys were to sleep together in a room with slanting ceilings at the top of the house. It had a marvellous view of the bay. The boys were really delighted with it. Anne was to sleep with Georgina in a smaller room, whose windows looked over the moors at the back of the house. But one side-window looked over the sea, which pleased Anne very much. It was a nice room, and red roses nodded their heads in at the window.

"I do wish Georgina would come," Anne said to her aunt. "I want to see what she's like."

"Well, she's a funny little girl," said her aunt. "She can be very rude and haughty-but she's kind at heart, very loyal and absolutely truthful. Once she makes friends with you, she will always be your friend- but she finds it very difficult indeed to make friends, which is a great pity."

Anne suddenly yawned. The boys frowned at her, because they knew what would happen next. And it did!

"Poor Anne! How tired you are! You must all go to bed straight away, and have a good long night. Then you will wake up quite fresh tomorrow," said Aunt Fanny.

"Anne, you are an idiot," said Dick, crossly, when his aunt had gone out of the room. "You know quite well what grown-ups think as soon as we yawn. I did want to go down on the beach for a while."

"I'm so sorry," said Anne. "Somehow I couldn't help it. And anyway, you're yawning now, Dick, and Julian too!"

So they were. They were as sleepy as could be with their long drive. Secretly all of them longed to cuddle down into bed and shut their eyes.

"I wonder where Georgina is," said Anne, when she said good-night to the boys, and went to her own room. "Isn't she queer- not waiting to welcome us- and not coming in to supper- and not even in yet! After all, she's sleeping in my room- goodness knows what time she'll be in!"

All the three children were fast asleep before Georgina came up to bed! They didn't hear her open Anne's door. They didn't hear her get undressed and clean her teeth. They didn't hear the creak of her bed as she got into it. They were so tired that they heard nothing at all until the sun awoke them in the morning.

When Anne awoke she couldn't at first think w
here she was. She lay in her little bed and looked up at the slanting ceiling, and at the red roses that nodded at the open window- and suddenly remembered all in a rush where she was! "I'm at Kirrin Bay – and it's the holidays." she said to herself, and screwed up her legs with joy.

Then she looked across at the other bed. In it lay the figure of another child, curled up under the bed-clothes. Anne could just see the top of a curly head, and that was all. When the figure stirred a little, Anne spoke.

"I say! Are you Georgina?"

The child in the opposite bed sat up and looked across at Anne. She had very short curly hair, almost as short as a boy's. Her face was burnt a dark-brown with the sun, and her very blue eyes looked as bright as forget-me-nots in her face. But her mouth was rather sulky, and she had a frown like her father's.

"No," she said. "I'm not Georgina."

"Oh!" said Anne, in surprise. "Then who are you?"

"I'm George," said the girl. "I shall only answer if you call me George. I hate being a girl. I won't be. I don't like doing the things that girls do. I like doing the things that boys do. I can climb better than any boy, and swim faster too. I can sail a boat as well as any fisher-boy on this coast. You're to call me George. Then I'll speak to you. But I shan't if you don't."

"Oh!" said Anne, thinking that her new cousin was most extraordinary. "All right! I don't care what I call you. George is a nice name, I think. I don't much like Georgina. Anyway, you look like a boy."

"Do I really?" said George, the frown leaving her face for a moment. "Mother was awfully cross with me when I cut my hair short. I had hair all round my neck; it was awful."

The two girls stared at one another for a moment. "Don't you simply hate being a girl?" asked George.

"No, of course not," said Anne. "You see- I do like pretty frocks- and I love my dolls- and you can't do that if you're a boy."

"Pooh! Fancy bothering about pretty frocks," said George, in a scornful voice. "And dolls! Well, you are a baby, that's all I can say."