Seven Types of Ambiguity
Elliot Perlman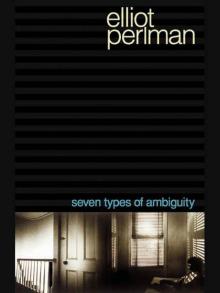 This is a work of fiction. Names, characters, places, and incidents are either the product of the author's imagination or are used fictitiously, and any resemblance to actual persons, living or dead, business establishments, events or locales is entirely coincidental.

Seven Types of Ambiguity

A Riverhead Book / published by arrangement with the author

All rights reserved.

Copyright © 2003 by Elliot Perlman

This book may not be reproduced in whole or part, by mimeograph or any other means, without permission. Making or distributing electronic copies of this book constitutes copyright infringement and could subject the infringer to criminal and civil liability.

For information address:

The Berkley Publishing Group, a division of Penguin Putnam Inc.,

375 Hudson Street, New York, New York 10014.

The Penguin Putnam Inc. World Wide Web site address is

http://www.penguinputnam.com

ISBN: 978-1-1012-1733-7

A RIVERHEAD BOOK®

Riverhead Books first published by The Riverhead Publishing Group, a member of Penguin Putnam Inc.,

375 Hudson Street, New York, New York 10014.

RIVERHEAD and the "R" design are trademarks belonging to Penguin Putnam Inc.

Electronic edition: August, 2005

PERMISSIONS

Excerpt from "God Has Pity on Kindergarten Children," from The Selected Poetry of Yehuda Amichai by Yehuda Amichai, translated by Chana Bloch and Stephen Mitchell, used with permission of University of California Press.

Excerpt from "The Love Song of J. Alfred Prufrock" (on page 11), from Collected Poems 1909–1962 by T. S. Eliot, used with permission of Faber and Faber.

Excerpt from "To Speak of Woe That Is in Marriage," from Collected Poems by Robert Lowell, used with permission of Faber and Faber.

"Celebration" © 1980 EMI Longitude Music Co. Used by permission of EMI Music Publishing Australia Pty Limited. All rights reserved.

"Some Advice to Those Who Will Serve Time in Prison," from Poems of Nazim Hikmet by Nazim Hikmet, translated by Randy Blasing and Mutlu Konuk. Translation © 1994, 2002 by Randy Blasing and Mutlu Konuk. Reprinted by permission of Persea Books, Inc. (New York).

"Them There Eyes" by Maceo Pinkard, William Tracey and Doris Tauber © Copyright 1930 by Bourne Co. Copyright renewed. This arrangement © Copyright 1993 by Bourne Co. All rights reserved. International copyright secured.

Excerpt from "Howl," from Howl by Allen Ginsberg, Penguin Books.

"Them There Eyes" by Maceo Pinkard, William Tracey and Doris Tauber © 1930 by Bourne Co. Copyright renewed. All rights reserved. International copyright secured.

"Celebration" by Ronald Bell, Claydes Smith, George Brown, James Taylor, Robert Mickens, Earl Toon, Dennis Thomas, Robert Bell and Eumir Deodato. Copyright © 1980 Warner-Tamerlane Publishing Corp., Second Decade Music

Co. and WB Music Corp. All rights o/b/o Second Decade Music Co. administered by Warner-Tamerlane Publishing Corp. All Rights Reserved. Used By Permission. WARNER BROS. PUBLICATIONS U.S. INC., Miami, FL 33014.

While all efforts have been made to contact copyright holders of material used in this work, any oversights will gladly be corrected in future editions.

For Debbie

Contents

part one

1.

2.

3.

4.

5.

6.

7.

8.

9.

10.

11.

12.

13.

14.

15.

part two

1.

2.

3.

4.

5.

6.

7.

8.

9.

10.

11.

12.

13.

14.

15.

16.

17.

18.

19.

20.

21.

22.

part three

1.

2.

3.

4.

5.

6.

7.

8.

9.

10.

11.

12.

13.

14.

15.

16.

17.

18.

19.

20.

part four

1.

2.

3.

4.

5.

6.

7.

8.

9.

10.

11.

12.

13.

14.

15.

16.

17.

18.

19.

part five

1.

2.

3.

4.

5.

6.

7.

8.

9.

10.

11.

12.

13.

14.

15.

16.

17.

18.

19.

20.

21.

22.

part six

1.

2.

3.

4.

5.

6.

7.

8.

9.

10.

11.

12.

13.

14.

15.

16.

17.

18.

19.

20.

21.

22.

23.

24.

25.

part seven

1.

2.

3.

4.

5.

6.

7.

8.

9.

10.

11.

12.

13.

14.

15.

16.

17.

ACKNOWLEDGMENTS

PERMISSIONS

God has pity on kindergarten children. He has less pity on school children. And on grownups he has no pity at all, he leaves them alone, and sometimes they must crawl on all fours . . .

YEHUDA AMICHAI

part

one

1. He nearly called you again last night. Can you imagine that, after all this time? He can. He imagines calling you or running into you by chance. Depending on the weather, he imagines you in one of those cotton dresses of yours with flowers on it or in faded blue jeans and a thick woollen button-up cardigan over a checked shirt, drinking coffee from a mug, looking through your tortoiseshell glasses at a book of poetry while it rains. He thinks of you with your hair tied back and that characteristic sweet scent on your neck. He imagines you this way when he is on the train, in the supermarket, at his parents' house, at night, alone, and when he is with a woman.

He is wrong, though. You didn't read poetry at all. He had wanted you to read poetry, but you didn't. If pressed, he confesses to an imprecise recollection of what it was you read and, anyway, it wasn't your reading that started this. It was the laughter, the carefree laughter, the three-dimensional Coca-Cola advertisement that you were, the try-anything-once friends, the imperviousness to all that came before you, the chain telephone calls, the in-jokes, the instant music, the sunlight yo
u carried with you, the way he felt when you spoke to his parents, the introductory undergraduate courses, the inevitability of your success, the beach houses, the white lace underwear, the private dancing, the good-graced acceptance of part-time shift work, the apparent absence of expectations, the ever-changing disposable cults of the rural, the family, the eastern, the classical, the modern, the postmodern, the impoverished, the sleekly deregulated, the orgasm, the feminine, the feminist, and then the way you canceled with the air of one making a salad.

You would love the way he sees you. He uses you as a weapon against himself and not merely because you did. He sits in his car at traffic lights on his way out sometimes and tries to estimate how many times he has sat here, waiting at these traffic lights on his way somewhere without you, hoping to meet someone with the capacity to consign you to an anecdote, to be eventually confused with others. He thinks of you when the woman lying next to him thinks he's asleep. It would not surprise you that there are many women. Do you remember you thought him beautiful? You never told him. He had to assume it. He was beautiful and is now, some nine years later, even more so. The years have refined him so that once-boyish good looks have evolved into a clean, smooth charm. Not always though. First thing in the morning or after he's been drinking the charm disappears. The drinking is not really the problem at the moment though, not right now. Of late it has been no more of a problem with him than it is with your husband, which is to say, of late the quantity itself is no cause for alarm. But there is a secret need in both men to have their inhibitors inhibited. In Simon's case this is merely the tip of an older and more fundamental iceberg.

It is often almost too much for Simon to undertake even basic daily tasks: to shower and shave, to dress, to wash his clothes, to feed himself and Empson. He runs out of all but the most essential of foods and doesn't do anything about it until there's nothing for the dog to eat. You couldn't know Empson. Simon got him as a puppy. He would be about three and a half now. He used to take him to school with him. This was the sort of thing he would do. The children loved Empson almost as much as they loved Simon. You loved him, too. I can imagine he was a wonderful teacher. You might remember that Simon's father, William (or did you call him Mr. Heywood?), was disappointed that Simon was going to be a teacher, particularly a primary-school teacher. He felt that this was not a sufficiently manly occupation for his son and that Simon would be wasted. Ironically though, had Simon still been teaching, William may not have felt the need to contact me.

It was very late one night. I could tell by his voice that William was embarrassed. He was at home and I was, of course, in my office getting the last little bit of my dinner from the bottom of a cup. I don't know why he thought I'd still be there. He almost whispered into the telephone that he was calling on his son's behalf but without his knowledge. For all his embarrassment, and I have since learned that this is characteristic of him, he very soon got to the point. He told me he had a thirty-two-year-old son who lived alone with a dog in an apartment by the sea, in Elwood. He told me that his son, always obsessed with poetry, seldom went out since losing his job in the first wave of the downsizing epidemic. In getting directly to the point, William missed so many others. Simon has said that the reason his father has no time for poetry is that he is afraid of the messiness of life. Poetry feeds on all that spills over the boundaries of the usual things, the everyday things with which most people are obsessed, so William has no time for it. He cannot think of anything more unnecessary. What about you? What's your excuse?

2. The conversation must have lasted about half an hour—most of it taken up with William's examples of his son's lack of interest in things other than poetry and perhaps "the damn dog." He seems to have had no idea of Simon's continuing interest in you and everything about you. He told me that Simon was severely depressed, from which I concluded nothing much except that William wanted me to think that he thought his son was severely depressed. He told me that I had been highly recommended to him by someone or other and that he was willing to pay for Simon to see me. I found that an interesting way of putting it. He was willing to pay for Simon to see me—as opposed to him being willing to pay me to treat Simon. His wife knew nothing about all this, and he asked me in advance to forgive him if she came into the room unexpectedly and he was forced to hang up, suddenly, without saying good-bye. William has spent much of his time planning to cope with people doing things unexpectedly. He would probably not recognize that he has ever done this, let alone the futility of doing it. He certainly would not recognize the utility of preparing for the expected just that little bit more—and planning for the unexpected just that little bit less. His wife didn't surprise him at all, not then.

At first there was nothing to be done because, as I explained to William, Simon had to want to see me. I couldn't call him up and say, "Your father thinks you're disturbed in some way. How's Wednesday at four?" Since he had never broached the subject with Simon, I really didn't know what he thought I could do. We said good-bye and that, I thought, would be the end of it. Clearly, it wasn't.

About a month later William and Simon's mother, May, were out for dinner with Henry and Diane Osborne. You may remember the Osbornes; they are Simon's parents' closest friends. Simon assures me that Henry's contempt for poetry is probably second only to his father's. It was a Friday night and the Osbornes had taken Simon's parents to a French restaurant to celebrate William's retirement from the bank that very day. As they were leaving, having been feted by the owner, a drunk Simon literally walked into his parents, apparently by chance, with his arm around the waist of a very attractive young woman. The two older couples, seeing the short-skirted advertisement for herself that she was, guessed her occupation fairly quickly and were clearly embarrassed. William started to apologize to everyone as though he were responsible. Henry tried to make light of it, asking the young woman if she had ever eaten at the restaurant before. Simon was trying to hail a taxi and the young woman, who said her name was Angelique, told him she had eaten there many times and that the owner was a client.

On the Monday Simon called me. He told me the whole story and explained that it was a condition of the rapprochement with his parents that he arrange to see me. It was a brief conversation. He said that he would rather we didn't meet in my office and gave an address at which I was to meet him one evening. It was summer then, and he said to come around the back into the garden where he would be waiting. I wouldn't normally ever agree to an arrangement like this, but something in his voice, an intelligence, and the honesty with which he told the story about his parents, the Osbornes, and Angelique—a disarming honesty—made me agree. And, if I am to share the honesty I admired in Simon, I needed another full-paying private client. I still do. My wife and I have recently separated.

3. It is quite well understood that a clinically depressed person will show little, if any, interest in constructive activity concerning future events or outcomes. In this respect, Simon has only flirted with depression in its definitive or clinical form. But if that is all that depression required, then I could say without much hesitation that Simon has always been, other than for short periods, too involved in things to be clinically depressed. William really knows very little about what's on his son's mind. What he and many people don't understand is that there is more to depression than a sometimes overwhelming feeling of inadequacy and hopelessness and profound sadness. When people are depressed they are sometimes very, very angry. They are not just quietly miserable. They can be filled with great passion.

Simon was sitting on a chair under a sun umbrella in a large well-cared-for garden with an in-ground swimming pool in the center and birches and firs along the perimeter. He got up, and we shook hands and introduced ourselves. I was struck by his clean handsomeness and by his calm. One rarely meets anyone who makes a better first impression than Simon. Do you remember? He thanked me for coming, saying he realized such a meeting was
probably unusual. I said something banal about having to expect the unexpected in my line of business and then he quoted someone, some verse about surprises or chance, in that soothing voice of his. I don't know why, but I was a bit nervous. He asked me questions as though he was interviewing me and making mental notes: middle-aged, separated, lives in inner city, et cetera. I must have passed because he seemed to take a bit of a liking to me, albeit with some reserve. Perhaps I didn't fit his stereotype of a psychiatrist. I don't know. He told me not to completely ignore whatever it was his father had told me about him, saying his father's description of him no doubt contained what Simon called "that dangerous element of truth," just enough to make me suspect that everything else his father had said, and would ever say, was true.

He was utterly charming, witty, and seemingly quite relaxed and intelligent. I was a little surprised he hadn't offered me at least a drink, but I didn't comment. We Europeans are instinctively better hosts, whether we have personality disorders or not. I didn't know him, and perhaps he would never again be so forthcoming. It's not that I expect patients to entertain me, but the circumstances here were quite unusually informal. And I didn't want to interrupt him. Perhaps he felt a little uncomfortable offering me his parents' alcohol. I figured a place of that size with the in-ground pool, the tennis court, and the satellite dish had to belong to his parents. They must have agreed to go out for the evening as part of the deal.

"I am a thirty-two-year-old out-of-work teacher living on my own in an apartment in Elwood," he laughed, "but just because I don't work doesn't mean I'm broken."

Then, after some small talk, he started telling me about you. At first I didn't realize how long it had been since you had been together. It wasn't clear, so I asked him.

"It was finished nine years ago," he said, "and you want to know why I'm still talking about it, right?"

"No, I didn't say that," I responded.

"No. You didn't, but only because my father is paying you not to tell me I'm mad, or at least to tell him first. I think it's admirable what you guys do but, shit, it's embarrassingly primitive, wouldn't you say? What do you really know? And in any particular case, in my case, what do you really want to know? I'm afraid it won't make sense to you. I really mean that. I am genuinely afraid it won't make sense. I am not trying to sound casual or smug.