The Reasons I Won't Be Coming
Elliot Perlman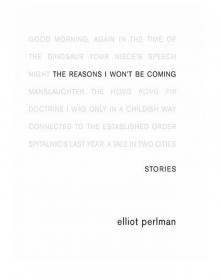 Table of Contents

Title Page

Copyright Page

GOOD MORNING, AGAIN

IN THE TIME OF THE DINOSAUR

YOUR NIECE'S SPEECH NIGHT

THE REASONS I WON'T BE COMING

MANSLAUGHTER

THE HONG KONG FIR DOCTRINE

I WAS ONLY IN A CHILDISH WAY CONNECTED TO THE ESTABLISHED ORDER

SPITALNIC'S LAST YEAR

A TALE IN TWO CITIES

Acknowledgements

ABOUT THE AUTHOR

PRAISE FOR The Reasons I Won't Be Coming

"All of Perlman's stories remain undeniably assured and carefully devised, and hold out nine complete and whole worlds for us to discover and contemplate."—San Francisco Chronicle

"Perlman's voices draw you in and hold you. . . . A gradual introduction to the full breadth of Perlman's talents. 'A Tale in Two Cities' [the final story in the collection] is almost worth the price of the book by itself."—The Boston Globe

"Fans of Perlman's grapplings with both the minutiae and the sweeping 'big questions' of life won't be disappointed. . . . As a writer, Perlman's obsession is with epic yet individual moments of truth when everything—from marriage to career to a person's innate sense of right and wrong—seems up for grabs. Ambiguous indeed, but never less than compulsively readable."—Elle

"The nine stories serve as a varied introduction to an accomplished stylist and storyteller. . . . Present[s] satisfying rewards for the discerning reader."—The Seattle Times

"Coldly luminous . . . dead-on . . . Perlman in full: mystery, tight dialogue, layers of irony."—Publishers Weekly

"Impressive . . . Evident in all of these stories are the writer's talent and ambition. . . . Perlman shows he has the skills to fully manifest the ambitions, ideas, perspectives, and plots for the stories he wants to tell. . . . The Reasons I Won't Be Coming is proof positive that Perlman will continue to grow as a restless, thoughtful, and interesting writer."—The Miami Herald

"Unashamedly various without being feeble, a series of exercises in voice, perspective, and style, deal in violence, exile, and much else besides. . . . Deftly switching perspectives is his most impressive technique . . . yet Perlman's work isn't all juggling tricks: at times, he manages to pack whole lives into a few paragraphs."

—The New York Times Book Review

"Hopelessly conscious of embarrassing personal truths—the sort we realize, then yearn to forget—Perlman's characters are erudite specialists of anomie. Hyperliterate and brutally funny, alternatively self-assured and self-loathing, they are mostly noble and deserving of our sympathy, even if we're implicated in our schadenfreude. The effect might be depressing if Perlman didn't show such care in imbuing his characters with devious charm. . . . Scant evidence exists to suggest that casual flirtation with Perlman's fiction will not end in total obsession."—The Believer

"Perlman has a winner with this collection of nine eloquent short stories that examine the various natures of the human condition via a cast of remarkable characters."—The Sacramento Bee

"Perlman mines pure narrative gold. . . . Insistently readable . . . provocative and powerful fiction from one of the best new writers on the international scene."—Kirkus Reviews (starred review)

"Readers intrigued by Perlman's well-received Seven Types of Ambiguity will be delighted that he has upped the ante with nine stories whose characters range from lawyers to immigrants. . . . This story collection showcases the talent of young, Australian-born Perlman. . . . Expansively written with admirable control and generous detail, this is an excellent collection and is highly recommended for fiction collections."—Library Journal

PRAISE FOR Seven Types of Ambiguity A New York Times Notable Book

"A bustling, kaleidoscopic, Rashomonian novel. Why did Simon kidnap his ex-lover's small son? Seven narrators in this novel ponder the question. . . . There are traces of Dickens's range in Perlman and of George Eliot's generous humanist spirit. . . . This is an exciting gamble of a novel, one willing to lose its shirt in its bid to hold you. But most of all, be prepared to stay with it. . . . It's worth it."—The New York Times Book Review

"Seven Types of Ambiguity soars. A cerebral dazzler of a psychodrama about obsessive love. The novel brilliantly captures the complex feel of modern life. Perlman pulls off everything. . . . Ambiguity also succeeds as a suspenseful page-turner. This exhilarating novel contains multitudes."—Entertainment Weekly

"Perlman writes with such convincing simplicity—his sentences read like whiskey-fueled confessions—that you can't help but imagine being locked in a room with his characters, devising a plan to palliate their woes."—Esquire

"Audacious and complex . . . a sprawling epic of urban life . . . written in the unadorned style of Raymond Carver, but with the wild metaphysical vision of Thomas Pynchon. It is that most unusual thing—a novel that is both intellectually fun and spiritually harrowing."—The Baltimore Sun

"Elliot Perlman has many things working in his favor as a novelist: curiosity, erudition, daring, and a gift for seducing readers into going along with him for the ride."—The Washington Post Book World "Perlman has a rare gift for keeping the pages turning while never giving up on his vision of an encompassing and incisive social satire. . . . The Aussie equivalent of the Franzens, Roths, and yes, Austens of the world."—Elle

"Compulsively readable."—The New Yorker

"A brilliant book."—The Miami Herald

"This serious, searing character study . . . rotates through seven astonishingly intimate character studies revolving around one act by a charismatic but depressed former schoolteacher. Novelist Perlman, a Melbourne lawyer, must be hugely commended for the excruciating depth to which he follows the conflicts from Simon's mistake, and his writing is often piercing. A love story, domestic drama, and courtroom thriller . . . richly rewarding."—People

"Nuanced, dynamic storytelling, layered with essential digressions on everything from psychiatry to the stock market."

—The Washington Post

"A dazzling thriller . . . Rashomon style."—Newsweek

"Perlman . . . has created a novel with just the right amount of meaning, intelligence, and beauty."—The Boston Globe

"[A] brilliant, absorbing novel . . . breathtaking but so intimately involving and densely plotted that it becomes that anomaly of a literate and urgent page-turner."—New York Post

"A big, ambitious novel."—GQ

ALSO BY ELLIOT PERLMAN

Three Dollars

Seven Types of Ambiguity

RIVER HEAD BOOKSNew York

THE BERKLEY PUBLISHING GROUP

Published by the Penguin Group

Penguin Group (USA) Inc.

375 Hudson Street, New York, New York 10014, USA

Penguin Group (Canada), 90 Eglinton Avenue East, Suite 700, Toronto, Ontario M4P 2Y3, Canada

(a division of Pearson Penguin Canada Inc.)

Penguin Books Ltd., 80 Strand, London WC2R 0RL, England

Penguin Group Ireland, 25 St. Stephen's Green, Dublin 2, Ireland (a division of Penguin Books Ltd.)

Penguin Group (Australia), 250 Camberwell Road, Camberwell, Victoria 3124, Australia

(a division of Pearson Australia Group Pty. Ltd.)

Penguin Books India Pvt. Ltd., 11 Community Centre, Panchsheel Park, New Delhi—110 017, India

Penguin Group (NZ), cnr Airborne and Rosedale Roads, Albany, Auckland 1310, New Zealand

(a division of Pearson New Zealand Ltd.)

Penguin Books (South Africa) (Pty
.) Ltd., 24 Sturdee Avenue, Rosebank, Johannesburg 2196, South Africa

Penguin Books Ltd., Registered Offices: 80 Strand, London WC2R 0RL, England

This is a work of fiction. Names, characters, places, and incidents either are the product of the author's imagination or are used fictitiously, and any resemblance to actual persons, living or dead, business establishments, events, or locales is entirely coincidental. While the author has made every effort to provide accurate telephone numbers and Internet addresses at the time of publication, neither the publisher nor the author assumes any responsibility for errors, or for changes that occur after publication. Further, publisher does not have any control over and does not assume any responsibility for author or third-party websites or their content.

The author gratefully acknowledges permission to quote from:

T. S. Eliot, "The Love Song of J. Alfred Prufrock," from Collected Poems, 1909-1962, Faber and Faber Ltd.; Osip Mandelstam, "I Was Only in a Childish Way Connected to the Established Order," from Selected Poems, translated by James Greene, Penguin Books (UK); "I've Many Years to Live," from The Moscow Notebooks, translated by Richard and Elizabeth McKane, Bloodaxe Books (UK); and "Poem on Stalin," reproduced by permission of The Harvill Press. Vitaly Shentalinsky, The KGB's Literary Archive, first published by The Harvill Press in 1995. Copyright © Editions Robert Laffont, SA, Paris. English translation Copyright © John Crowfoot 1995.

Copyright © 2005 by Elliot Perlman

All rights reserved.

No part of this book may be reproduced, scanned, or distributed in any printed or electronic form without permission. Please do not participate in or encourage piracy of copyrighted materials in violation of the author's rights. Purchase only authorized editions. RIVERHEAD is a registered trademark of Penguin Group (USA) Inc. The RIVERHEAD logo is a trademark of Penguin Group (USA) Inc.

eISBN : 978-1-594-48223-6

1. Australia—Social life and customs—Fiction. I. Title.

PR9619.3.P3619R

813'.54—dc22

http://us.penguingroup.com

GOOD MORNING, AGAIN

Her sinuses are blocked and she doesn't know. She would be embarrassed if she did. I shouldn't know, either. At four o'clock in the morning, I with a new friend asleep four o'clock in the morning, with a new friend asleep beside me, I remember standing in the rain that night feeling angrily disconnected as you cried with incomprehensible frustration at my failure to agree that group therapy was just as likely to be of benefit to someone—someone unnamed—as private sessions. We had just eaten Thai food. It had been a good day in spite of the rain towards the end.

At four o'clock in the morning I haven't slept at all but when she wakes up I will have to continue the date as though I had slept—part lover, part waiter, part Tonight Show host. After sheltering from the rain for a little while, sharp and brittle, apart, I could tell that you were going to cry but you were not sad, not yet, you were frustrated and I was equally frustrated. It's just that I don't cry at those times. What time is it now? Way past four. She sprawls diagonally in bed, leaning towards me, assuming an inequitable familiarity. As tempting as it may be to mistake this for an accelerated form of love, I quickly attribute it to her youth, her previous experience or lack of it, her urgent need for more experience. She is the young friend of a friend, my new friend, and I will learn soon that neither she nor I really need any rude awakenings at the moment. The neighbors have started making a racket again. They never care what time it is. They sell antique furniture not far from here and he gets up early every weekend to make it. His wife takes their young son into the garden, where they can perfect his tantrums without the artificial restriction of walls. My new friend won't be able to sleep through all of this. You never could.

Why was it so important to either of us? You were trying to tell me something and I was trying to tell you something else. We didn't trust each other and that was reason enough to make each of us right. You thought I was too rigid. I thought you were too open—prone to putting your faith in something just because you wanted to, even when you had been shown it contained some logical flaws. But you are intelligent and the contradictions hurt you as much as the fact that it was me pointing them out. Your eyes became red. I should have hugged you then in that rain but I was never one for public displays of affection, was I, except in comparison to you, that is. I discovered this when we met. It had been such a long time since I had met someone who didn't care what my star sign was.

"Good morning," my new friend says with one eye open.

"How did you sleep?" I ask.

"Great," she says, putting her hand gently to my forehead. She's breathing through her mouth now.

"Did they wake you?" I ask her, indicating towards next door. There is a throbbing in my head.

"Something did, I suppose. What is that noise?"

"It's just a local amalgam of irritating sounds. There's a hammer, a sander, of course, and a circular saw. He's building some really delightful Victorian pieces. They'll be ready by noon. And that shrill hysteria which occasionally approximates language—that's his wife and their new gargantuan son. It was bad enough before he was born but now it's impossible. One day she was merely a scrawny suburban shrew enjoying the simple pleasures of humiliating her anemic husband in the garden, and then, all of a sudden, without giving anyone a chance to lodge an objection with the council, she was pregnant. The fetus gestated for about an hour and a half and then there were three—a cacophony of three, first thing on a Sunday morning—with matching washstand, recently varnished, ideal for indoor plants that are hard of hearing. Would you like a cup of tea?"

I am avoiding her.

"They must be crazy to be up at this time making a noise like this," she said.

"They're just selfish. The really crazy ones are on the other side. He sells insurance and she sells cosmetics. If she can't restore your skin's natural smoothness in six days, he has a policy that will refund fifty percent of the retail price. Of course, this is only available to approved customers, and I think they know that I don't approve at all."

She nestles just below my shoulder. She thinks my attempt to amuse her is a compliment when actually it is the by-product of other things.

"I think you're the craziest one in the street," she says, snuggling beside me. But she doesn't know you. Anyway, you're not in this street anymore.

It's not true to say I didn't sleep at all. I must have, no matter what contrary arguments are put by the throbbing in my head. My eyes would have moved rapidly, perhaps in time with my new friend's breathing, because I dreamed that stupid dream again, the one that particularly embarrasses me. It must be based on something that happened or else on a composite of many things, because its form doesn't vary. You would chide me if I told you about it, even if you were not somewhere else now. How can I put it? I have come home from somewhere. It is cold outside but you are waiting for me in this bed. It's dark. I have this dream too often, I know that. Joseph Brodsky put it best, as though the dream was his:

... For darkness restores what light cannot repair. There we are married, blest, we make once more the two-backed beast and children are the fair excuse of what we're naked for.

There, I said it, albeit in someone else's words. Are you flattered? Is it pathetic or just out of the question for us now? Many times I have dreamed of having children with you, not just sleeping with you, although, of course, I think about that too.

My new friend has drifted off to sleep again, this time in my arms. I can't really move without disturbing her. That's how it's seemed since we got into bed all those hours ago. There is some kind of code or etiquette for sleeping with someone for the first time but it is constantly changing and I never knew it in the first place. Do you keep any clothes on, even if only for a little while? Can the temperature of the room be taken into account? If you disrobe
too quickly, does it look presumptuous or crassly eager? You have to feign at least a little surprise at being in this position with someone when you've never known them this way before. On the other hand, you have to behave as if you're under the influence of the other person's body with an insatiable hunger to know their soft and hidden parts, as though this person was the apotheosis of everyone you had ever lusted after.

Our clothes are scattered on the floor. We could not have done it more randomly. Once the pretense that we might not sleep together had evaporated, everything else followed with the grace of a runaway train. If she brought her own condoms, I was too much of a gentleman to let her offer them. But when I reached for my own, it suddenly occurred to me that the ease and system of it might appear a little slick and too practiced. I didn't want to insult her gratuitously. So I kissed her as though she meant everything to me that I had wanted you to always mean to me, only without the need to protect myself, and she kissed me back, in gratitude, as though I was going to rid her of all the pain she had ever known and would tell me about when this was over. Although she was lovely and welcoming, her hair spilling out all over the pillow, I wished she wasn't here. Consumed by her moist gratitude and what must have been exaggerated passion—it was as though she had come straight from a dentist's waiting room having just read "Twenty Ways to Please Your Man"—I felt under the same obligation not to climax as I will feel to drive her home at the end. She has decided to give older men a try, and, as old as she makes me feel, on behalf of all the older men who won't sleep with her but who will merely follow her step as she passes by, I must show her the utmost courtesy. That is the attribute used to "market" us. It's how older men get a look in.