The rebels of gold, p.1





The Rebels of Gold, p.1

Elise Kova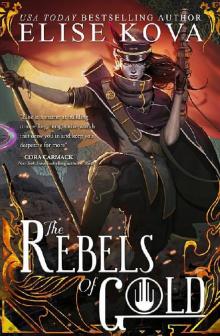 This book is a work of fiction. The names, characters and events in this book are the products of the author's imagination or are used fictitiously. Any similarity to real persons living or dead is coincidental and not intended by the author.
Published by Keymaster Press
3971 Hoover Rd. Suite 77
Columbus, OH 43123-2839
Copyright © 2017 by Elise Kova
All rights reserved. Neither this book, nor any parts within it may be sold or reproduced in any form without permission.
Edited by: Rebecca Faith Heyman
Cover Design by: Nick D. Grey
Proofreading by: Loan Le
Layout Design by: Gatekeeper Press
ISBN: 9781619846531
eISBN: 9781619846548
Library of Congress Control Number: 2017954348
Printed in the United States of America
Also by Elise Kova
LOOM SAGA
The Alchemists of Loom
The Dragons of Nova
The Rebels of Gold
AIR AWAKENS SERIES
Air Awakens
Fire Falling
Earth's End
Water's Wrath
Crystal Crowned
GOLDEN GUARD TRILOGY
The Crown's Dog
The Prince's Rogue
The Farmer's War
Contents
MAP – LOOM
MAP – NOVA
PART ONE
Arianna
Florence
Cvareh
Arianna
Coletta
Arianna
Cvareh
Coletta
Arianna
Florence
Coletta
Cvareh
Arianna
Cvareh
Florence
Arianna
Coletta
Florence
Arianna
Coletta
Florence
Arianna
Florence
Arianna
Cvareh
Arianna
Cvareh
Arianna
Florence
Cvareh
Coletta
Arianna
Florence
Cvareh
Coletta
Cvareh
Arianna
Cvareh
Florence
PART TWO
Arianna
Coletta
Florence
Coletta
Arianna
Coletta
Florence
Cvareh
Florence
Coletta
Cvareh
Florence
Arianna
Florence
Cvareh
Coletta
Arianna
Coletta
Cvareh
Arianna
Cvareh
Arianna
Florence
Cvareh
Florence
Arianna
World of Loom
Pronunciation Guide
The Five Guilds of Loom
Guild Brands
Dragon Houses
Dragon Names
Acknowledgements
About the Author
MAP – LOOM
MAP – NOVA
PART ONE
ARIANNA
Drip.
Some kind of coupling or welding had come loose.
Drip.
Arianna groaned softly. The sound brought her body back to life from what felt like death itself.
Drip. Drip.
There was not a section of muscle tissue that didn't protest in fiery agony at her insistence on movement. She was in tatters from head to toe, her mental state no better. Her fingers twitched and the joints popped softly.
Drip. Drip. Drip.
"If a Rivet doesn't fix that soon, the wrench will touch their temple before it touches the pipe." Using her voice—what there was of it—was enough to make her head feel as though it was splitting open.
A loud clang shot between her ears as metal met cement. The aforementioned tool slid across the ground with all the cacophony of an industrial machine gone awry, and came to a stop at her toes.
Arianna's eyes cracked open.
The room came into focus slowly, very, very slowly. Hazy orbs formed into the cold glow of electric lighting, two sconces illuminating the weeping condensation that poured down the wall she faced. A skeleton of piping ran across the ceiling. Arianna's eyes followed the lead lines to the corner where one usually found such imperfections and sure enough . . .
Drip.
"Convenient for me. It seems I have a Rivet right here who could perform the fix."
Her lolling eyes stilled. Arianna could only muster the strength to move so much of her body at one time. Refocusing, she tilted her head forward off the cold metal. She drew her shoulders in, only to be arrested by the restraints strapped across her entire body.
A crimson face loomed before her.
Yveun'Dono, the Dragon King.
Arianna snapped her eyes shut and used the darkness to drop a curtain on the memory of the last time she was so confined. The last time someone had held her captive.
"I'll need more than a wrench for that . . ." she mumbled. No matter how broken her body was, the machinations of her mind ground to life around numbers. She had to keep herself moving, couldn't allow herself to freeze. The pipes were lead construction, likely fifty years old based on the jointing techniques. "I'd need a welding tool."
She shifted her vision from the ceiling to look at the speaker. A corpse lounged in a chair pressed flush against the door and stared back at her. He was lanky, all knobby bones and translucent skin. His black hair was pulled back tightly, stretching the skin of his face and turning his beady eyes to near slits.
She had traded being the captive of one king for another.
"King Louie."
"Not so much a king anymore." The man grinned wide enough to show teeth yellowed with age. "Kings need kingdoms."
She put a pin in that statement. It was too early to ask questions. So Arianna said nothing, and let Louie continue in the face of her silence.
"It's well past time we met face-to-face, my dear White Wraith."
A single sentence had never said more. He knew who she was. She knew who he was. "Glad there's no need for pretense." Arianna continued to take stock of her situation. "And I am not 'your dear.'"
"You're not? And here I was hopeful that the White Wraith would be fond of me."
"Not in this lifetime," she muttered, wishing her voice sounded stronger. Her head ached, but Arianna didn't allow the pain to betray as anything more than a narrowing of her eyes. How did she get here?
Arianna quickly assessed herself. She was likely underground, judging from the condensation on the walls and the heavy stillness that often came from such locations. Louie was here, a man she'd never interacted with before and certainly wouldn't have gone to for help. And she'd been right to avoid him, evidenced by the restraints holding her against an organ harvesting table—a tilted contraption that propped her at an angle, bound her down so she couldn't escape or struggle as someone, theoretically, cut her flesh from her body.
Yes, she knew where she was as it pertained to this singular room. But none of it indicated how she had arrived here. For that, she needed to go back further.
She'd escaped the Dragon King's prison with Cvareh's help. Cvareh. The name brought on a deluge of emotions, none of which she was equipped to handle under the circumstances. Arianna pushed the onslaught from her mind. Just anot
her item to put a pin in, for now. Tackle one problem at a time.
She'd stolen a glider. Yveun's voice rattled through her mind again. "Let go." Her memories after that numbered three snapshots: Nova shrinking above her. The glider's metal handles just under her fingertips. Her body slamming against the contraption as she hit the clouds that separated the two worlds.
Then, nothing.
She must have fallen down to somewhere in Dortam, close enough to Mercury Town for Louie to get his grubby little hands on her.
"How did you know who I am?" Arianna willed her voice to sound the slightest bit more stable. Maybe it would, if she weren't diverting so much focus to merely keeping screams of pain and frustration dormant. Her mind was moving too slowly for her to tolerate. "I always sent someone else to meet with you."
"Your coat—among other factors—was a giveaway." Arianna desperately wanted to know what these "other factors" were. "And 'someone else'? Let's call her by name, shall we? Florence."
If she were more in her right mind, she never would have given him the chance to say the name. Nor would she have risked giving away how much that single utterance meant to her with her traitorous face. Horror and heartache swept across her like a burst steam pipe, no doubt altering the landscape before she could patch the rupture. In a matter of moments she mastered herself once more—but Louie watched her closely, and the scalding emotion had left its mark.
"Quite a little upstart, that one." Louie made a display of picking lint off his knee to hide his satisfied grin. "Are you certain she's not a Rivet? Because she seems to be redesigning the world according to her own secret schematics." His eyes returned to her slowly in the wake of her silence.
Arianna struggled to keep her face impassive, to betray nothing, to give up no more weaknesses—for Florence's sake, if no one else's. But her heart screamed for any word of the young woman who had been her ward for years. The less she said before she had full control of her mind, the better.
"You don't know . . . do you?" Louie whispered like a child just discovering where their parents hid the sweets.
"I know enough."
"Where are we?" He called her bluff without so much as blinking.
"Mercury Town," Arianna surmised. The slowly widening grin—almost a snarl—on his face convinced her she had guessed wrong. "Oh? Did you find some new hole to terrorize?"
"Mercury Town is the hole." Louie shifted, bringing his left foot off his right knee and settling it to the floor. Leaning forward, he placed his elbows on his narrow thighs. "I suppose it's going to be hard to strike a deal with you if you don't understand the situation you're in."
"What makes you think I'd strike a deal with you?" She hated the feeling of ignorance. It was like drowning in a sea of ink, the world obscured, clarity lost. Her mind didn't know how to proceed in such a void.
"I have no doubt you'll prefer it to the alternatives."
"And what are those?" Give me information, her hungry mind pleaded. Something, anything. She needed just enough for a direction. For a strike to her flywheel to get things moving again. Her magic was slow, body aching, mind stunted. Something had to improve, or everything would break.
"Alternative one." Louie held up a skeletal finger. "I keep you here forever, and harvest you as I would any of my other pets."
"Resorting to harvesting and trying to pass off black organs? That's a new low, even for you."
"Black organs? No, no." He let out a wheezing chuckle and lifted another finger. "However, that does bring me to alternative two—I sell you back to your Florence and her rebellion for the heftiest sum I can imagine."
"Florence wouldn't pay for me." Arianna hoped. She didn't want the girl to waste any resources on her. She didn't want Florence to risk anything further by being near Louie and the dangers that seemed to lurk perpetually around him.
"Oh, I think she would. How else will she live up to her promise of producing a Philosopher's Box?"
Arianna barely missed the final point over the ringing in her ears.
"Or three . . . You cut me in on the deal to produce the infamous box. You show me what's been making you so deadly all these years. You show me the schematics that let you bleed gold."
All at once, the pain vanished. The buzzing between her ears stopped. And everything went numb.
FLORENCE
Wind blew dust over the ramparts of Ter.0, curling around the ghosts that were the only other occupants of the crumbling glory of a world long lost.
It was a wasteland of sand and rock, littered with hollowed skeletons of gnarled iron and cement that rose insistently from their shadowed graves. Florence tilted her head back to gaze at the shifting skies and semi-translucent clouds that swirled between worlds. Her pale companions played a game of hide-and-seek—mostly hide—with the moon.
She was the only creature alive here. She was the beating heart and shallow breaths of a land forgotten. She was the only remnant of life to return to this broken corner of their world.
No, she wasn't the only one. She was merely the first. All of Loom would come to converge in this once-hallowed place of knowledge. They would return, and the Vicar Tribunal would be born anew.
It was a beautiful idea—one she'd believed in enough to shoot a dangerously stubborn vicar between the eyes for. But now Florence was forced to admit her hasty plan that led her to this point hadn't been thought through as much as she would've liked.
Somehow, everything would work itself out, as it had her entire life.
The next morning, Florence moved again. She traversed the cracked earth and rubble toward a structure that was once a distant point on her horizon. Like a mighty hand's fingers stretching up from the horizon, five points reached toward the sky as if to grasp the universe.
Florence trudged along. She didn't have much—just the basic necessities she'd collected in Ter.2.3 before chartering a boat. Her pack grew lighter with each fading night.
On her seventh day in Ter.0, she crossed through the gate. The wall housing it had been blown apart on either side, but the gate still stood, a symbolic entrance standing in defiance of time—and Dragons.
Florence stopped to adjust her tattered frock. She combed her fingers through her hair, though she imagined this did little to tame it. Her knuckles brushed the tattoo that marred her cheek. But Florence gave it no thought, choosing instead to adjust the tilt of her top hat.
The hatter in Ter.2.3 had only a few options for her. The current top hat she was sporting offered only one buckle around the base and a single feather. It was a style from two years ago, and nothing like the fashions she'd seen in the windows of Dortam practically a lifetime ago.
But it was something.
It was the regalia of the woman she had once been. She'd carry the remnants of her past life into this old world so that both could be rebuilt together. Florence dropped her hands and continued through the gate.
Ter.0 was once the breeding center for all of Loom. Every year, the five vicars converged upon this place to share knowledge, and initiate their reproductive cycles together. A selection of initiates, journeymen, and masters from each guild remained after the tribunal, to teach the children the fundamentals of thought and the basis for the world in which they all lived.
Florence was born here, but she had no recollection of this place. She was one of the thousands of children split among the guilds when the Dragons assumed control of Loom. She was selected for the Ravens and left to die.
And she would have, if she hadn't fought her way out.
The main entry to the Hall of Ter.0, the most important building in the world, was blocked. Its massive doors had splintered off their hinges and tilted against each other drunkenly, leaving Florence to seek another entrance. Windows cut beams of light from the hollow center of the hall through to the shaded ground below. Florence stroll
ed across their beacons until she came upon a rubble-strewn entry she could crawl through.
Inside, an anterior passageway snaked around the perimeter of the hall. Florence pressed forward until she reached the grand atrium—the center for all learning and knowledge. The grandiose glass dome that had once arched above it all was shattered into hundreds of shards that painted rainbows across the marble floor.
With glass grinding beneath her heels, Florence stepped into the sunlight, and onto the stage of destiny.
She strode to the center of the atrium, surrounded by still-standing statues of the five guild symbols. The revolver chambers, the raven, the sickle, inverted triangles, and crossed tools for the Rivets—they were all there, but none seemed to fit her. None defined her. She did a half-turn, taking in the remnants of what was once the foundation of Loom.