Marked (eternal guardian.., p.1





Marked (Eternal Guardians #1), p.1

Elisabeth Naughton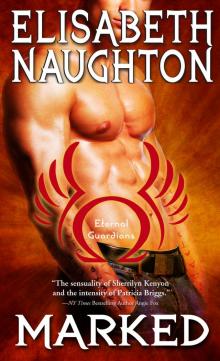 MARKED
ELISABETH NAUGHTON
Copyright 2011 by Elisabeth Naughton
Cover art and design by Patricia Schmitt/Pickyme
This book is a work of fiction. References to real people, events, establishments, organizations, or locations are intended only to provide a sense of authenticity, and are used fictitiously. All other characters, and all incidents and dialogue, are drawn from the author's imagination and are not to be construed as real.
All rights reserved.
No part of this book may be reproduced, scanned or distributed in any printed or electronic form without permission. Please do not participate in encouraging piracy of copyrighted materials in violation with the author's rights. Purchase only authorized editions.
PRAISE FOR
TEMPTED
"Endlessly twisting plots within plots, a cast of complex and eminently likeable characters, and a romance as hot as it is complicated."—Publisher's Weekly, starred review
"Dark, dangerous, and absolutely addicting."—NY Times bestselling author Christina Dodd
"Ms. Naughton has taken the Greek Argonaut myth, turned it on its head, and OWNED it!"—Bitten By Paranormal Romance
ENTWINED
"An action-packed creative wonder guaranteed to snag your attention from page one."—Fresh Fiction
"Do NOT miss this series!"—NY Times bestselling author Larissa Ione
MARKED
"Naughton has tremendous skill with steamy passion, dynamic characterization and thrilling action."—Publisher's Weekly
"Elisabeth Naughton's MARKED gives an incredibly fresh spin on Greek Mythology that is full of humor, action, passion and a storyline that keeps you from putting down the book."—Fresh Fiction
STOLEN SEDUCTION
"This third book in the Stolen series is full of intrigue, secrets and undeniable love with characters you can't get enough of…an awesome read!"—Fresh Fiction
"An adventurous story of twists and turns, this story will keep you guessing until the very end. And the chemistry between Hailey and Shane is sizzling hot. Naughton combines passion and danger in one fast-paced story."—News and Sentinel
STOLEN HEAT
"This book has got it all: an adventure that keeps you turning the pages, an irresistible hero, and a smoking romance."—All About Romance
"Stolen Heat is an awesome combination of deadly suspense, edgy action and a wonderful romance with characters that you'll laugh, cry and yell with."—Night Owl Romance
STOLEN FURY
"A rock solid debut…Naughton's intelligent adventure plot is intensified by the blazing heat that builds from Lisa and Rafe's first erotic encounter."—Publisher's Weekly
"Naughton deftly distills deadly intrigue, high adrenaline action, and scorchingly hot passion into a perfectly constructed novel of romantic suspense."—Chicago Tribune
Titles by Elisabeth Naughton
Eternal Guardians Series
(Paranormal romance)
ENRAPTURED
TEMPTED
ENTWINED
MARKED
Stolen Series
(Romantic Suspense)
STOLEN SEDUCTION
STOLEN HEAT
STOLEN FURY
Single Titles
WAIT FOR ME
(Contemporary Romance)
Anthologies
BODYGUARDS IN BED
(with Lucy Monroe and Jamie Denton)
For Alice,
who listened to the idea for this book first
and encouraged me to write it.
Alice, I blame you.
And next I caught a glimpse of powerful Heracles.
Around him cries of the dead rang out like cries of birds
Scattering left and right in horror as on he came like night…
—THE ODYSSEY
Chapter One