The Dew Breaker
Edwidge Danticat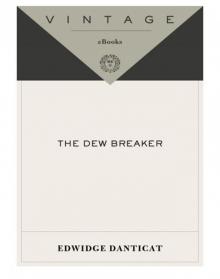 Table of Contents

Title Page

Epigraph

Praise

THE BOOK OF THE DEAD

SEVEN

WATER CHILD

THE BOOK OF MIRACLES

NIGHT TALKERS

THE BRIDAL SEAMSTRESS

MONKEY TAILS - (FEBRUARY 7, 1986/FEBRUARY 7, 2004)

THE FUNERAL SINGER

WEEK 1

WEEK 2

WEEK 3

WEEK 4

WEEK 5

WEEK 6

WEEK 7

WEEK 8

WEEK 9

WEEK 10

WEEK 11

WEEK 12

WEEK 13

WEEK 14

THE DEW BREAKER CIRCA 1967

1

2

3

4

5

6

7

8

9

10

11

12

13

Acknowledgments

About the Author

Also by Edwidge Danticat

Copyright Page

Maybe this is the beginning of madness . . .

Forgive me for what I am saying.

Read it . . . quietly, quietly.

—OSIP MANDELSTAM

Acclaim for Edwidge Danticat's THE DEW BREAKER

"Breathtaking. . . . With terrifying wit and flowered pungency, Edwidge Danticat has managed over the past 10 years to portray the torment of the Haitian people. . . . In The Dew Breaker, Danticat has written a Haitian truth: prisoners all, even the jailers."

—The New York Times Book Review

"Danticat [is] surely one of contemporary fiction's most sensitive conveyors of hope's bittersweet persistence in the midst of poverty and violence."

—The Miami Herald

"Thrillingly topical. . . . [The Dew Breaker] shines. . . . Danticat leads her readers into the underworld. It's furnished like home."

—Los Angeles Times Book Review

"Stunning. . . . Beautifully written fiction [that] seamlessly blend[s] the personal and political, [and] asks questions about shame and guilt, forgiveness and redemption, and the legacy of violence . . . haunting."

—USA Today

"Fascinating. . . . Danticat is a fine and serious fiction writer who has slowly grown as an artist with each book she has written."

—Chicago Tribune

"In its varied characters, its descriptive power and its tightly linked images and themes, [The Dew Breaker] is a rewarding and affecting read, rich with insights not just about Haiti but also about the human condition."

—San Francisco Chronicle

"[The Dew Breaker] is, most profoundly, about love's healing powers. From its marvelous descriptions of place to the gentle opening up of characters, this is a book that engages the imagination."

—Elle

"With her grace and her imperishable humanity . . . [Danticat] makes sadness beautiful."

—The New York Observer

"Danticat has an emotional imagination capable of evoking empathy for both predator and prey."

—Entertainment Weekly

"With characteristic lyricism and grace, Danticat probes the painful legacy of a time when sons turned against their fathers, children were orphaned, and communities were torn apart."

—The Philadelphia Inquirer

"Delicate and poetic. . . . Danticat [is] more than a storyteller, she's a writer. . . . Her voice is like an X-Acto knife—precise, sharp and perfect for carving out small details."

—Minneapolis Star Tribune

"Filled with quiet intensity and elegant, thought-provoking prose. . . . An elegiac and powerful novel with a fresh presentation of evil and the healing potential of forgiveness."

—People

"[Danticat] fuses the beauty and tragedy of her native land, a land her characters want to forget and remember all at once."

—Ebony

"In these stories Edwidge Danticat continues to speak eloquently for those who in losing their sorrowful homeland have lost their voices."

—The Boston Globe

"Haitian-American writer Edwidge Danticat presents simple truths . . . this, the novelist seems to be saying, is how you understand; here is the primer for survival."

—The Atlanta Journal-Constitution

THE BOOK OF THE DEAD

My father is gone. I'm slouched in a cast-aluminum chair across from two men, one the manager of the hotel where we're staying and the other a policeman. They're both waiting for me to explain what's become of him, my father.

The hotel manager—MR. FLAVIO SALINAS, the plaque on his office door reads—has the most striking pair of chartreuse eyes I've ever seen on a man with an island Spanish lilt to his voice.

The police officer, Officer Bo, is a baby-faced, short, white Floridian with a potbelly.

"Where are you and your daddy from, Ms. Bienaimé?" Officer Bo asks, doing the best he can with my last name. He does such a lousy job that, even though he and I and Salinas are the only people in Salinas' office, at first I think he's talking to someone else.

I was born and raised in East Flatbush, Brooklyn, and have never even been to my parents' birthplace. Still, I answer "Haiti" because it is one more thing I've always longed to have in common with my parents.

Officer Bo plows forward with, "You all the way down here in Lakeland from Haiti?"

"We live in New York," I say. "We were on our way to Tampa."

"To do what?" Officer Bo continues. "Visit?"

"To deliver a sculpture," I say. "I'm an artist, a sculptor."

I'm really not an artist, not in the way I'd like to be. I'm more of an obsessive wood-carver with a single subject thus far—my father.

My creative eye finds Manager Salinas' office gaudy. The walls are covered with orange-and-green wallpaper, briefly interrupted by a giant gold leaf–bordered print of a Victorian cottage that resembles the building we're in.

Patting his light green tie, which brings out even more the hallucinatory shade of his eyes, Manager Salinas reassuringly tells me, "Officer Bo and I will do our best."

We start out with a brief description of my father: "Sixty-five, five feet eight inches, one hundred and eighty pounds, with a widow's peak, thinning salt-and-pepper hair, and velvet-brown eyes—"

"Velvet?" Officer Bo interrupts.

"Deep brown, same color as his complexion," I explain.

My father has had partial frontal dentures since he fell off his and my mother's bed and landed on his face ten years ago when he was having one of his prison nightmares. I mention that too. Just the dentures, not the nightmares. I also bring up the blunt, ropelike scar that runs from my father's right cheek down to the corner of his mouth, the only visible reminder of the year he spent in prison in Haiti.

"Please don't be offended by what I'm about to ask," Officer Bo says. "I deal with an older population here, and this is something that comes up a lot when they go missing. Does your daddy have any kind of mental illness, senility?"

I reply, "No, he's not senile."

"You have any pictures of your daddy?" Officer Bo asks.

My father has never liked having his picture taken. We have only a few of him at home, some awkward shots at my different school graduations, with him standing between my mother and me, his hand covering his scar. I had hoped to take some pictures of him on this trip, but he hadn't let me. At one of the rest stops I bought a disposable camera and pointed it at him anyway. As usual, he protested, covering his face with bo
th hands like a little boy protecting his cheeks from a slap. He didn't want any more pictures taken of him for the rest of his life, he said, he was feeling too ugly.

"That's too bad," Officer Bo offers at the end of my too lengthy explanation. "He speaks English, your daddy? Can he ask for directions, et cetera?"

"Yes," I say.

"Is there anything that might make your father run away from you, particularly here in Lakeland?" Manager Salinas asks. "Did you two have a fight?"

I had never tried to tell my father's story in words before now, but my first completed sculpture of him was the reason for our trip: a three-foot mahogany figure of my father naked, kneeling on a half-foot-square base, his back arched like the curve of a crescent moon, his downcast eyes fixed on his very long fingers and the large palms of his hands. It was hardly revolutionary, rough and not too detailed, minimalist at best, but it was my favorite of all my attempted representations of my father. It was the way I had imagined him in prison.

The last time I had seen my father? The previous night, before falling asleep. When we pulled our rental car into the hotel's hedge-bordered parking lot, it was almost midnight. All the restaurants in the area were closed. There was nothing to do but shower and go to bed.

"It's like paradise here," my father had said when he'd seen our tiny room. It had the same orange-and-green wallpaper as Salinas' office, and the plush emerald carpet matched the walls. "Look, Ka," he said, his deep, raspy voice muted with exhaustion, "the carpet is like grass under our feet."

He'd picked the bed closest to the bathroom, removed the top of his gray jogging suit, and unpacked his toiletries. Soon after, I heard him humming loudly, as he always did, in the shower.

I checked on the sculpture, just felt it a little bit through the bubble padding and carton wrapping to make sure it was still whole. I'd used a piece of mahogany that was naturally flawed, with a few superficial cracks along what was now the back. I'd thought these cracks beautiful and had made no effort to sand or polish them away, as they seemed like the wood's own scars, like the one my father had on his face. But I was also a little worried about the cracks. Would they seem amateurish and unintentional, like a mistake? Could the wood come apart with simple movements or with age? Would the client be satisfied?

I closed my eyes and tried to picture the client to whom I was delivering the sculpture: Gabrielle Fonteneau, a Haitian American woman about my age, the star of a popular television series and an avid art collector. My friend Céline Benoit, a former colleague at the junior high school where I'm a substitute art teacher, had grown up with Gabrielle Fonteneau in Tampa and, at my request, on a holiday visit home had shown Gabrielle Fonteneau a snapshot of my Father piece and had persuaded her to buy it.

Gabrielle Fonteneau was spending the week away from Hollywood at her parents' house in Tampa. I took some time off, and both my mother and I figured that my father, who watched a lot of television, both at home and at his Nostrand Avenue barbershop, would enjoy meeting Gabrielle Fonteneau too. But when I woke up, my father was gone and so was the sculpture.

I stepped out of the room and onto the balcony overlooking the parking lot. It was a hot and muggy morning, the humid air laden with the smell of the freshly mowed tropical grass and sprinkler-showered hibiscus bordering the parking lot. My rental car too was gone. I hoped my father was driving around trying to find us some breakfast and would explain when he got back why he'd taken the sculpture with him, so I got dressed and waited. I watched a half hour of local morning news, smoked five mentholated cigarettes even though we were in a nonsmoking room, and waited some more.

All that waiting took two hours, and I felt guilty for having held back so long before going to the front desk to ask, "Have you seen my father?"

I feel Officer Bo's fingers gently stroking my wrist, perhaps to tell me to stop talking. Up close Officer Bo smells like fried eggs and gasoline, like breakfast at the Amoco.

"I'll put the word out with the other boys," he says. "Salinas here will be in his office. Why don't you go on back to your hotel room in case your daddy shows up there?"

Back in the room, I lie in my father's unmade bed. The sheets smell like his cologne, an odd mix of lavender and lime that I've always thought too pungent, but that he likes nonetheless.

I jump up when I hear the click from the electronic key in the door. It's the maid. She's a young Cuban woman who is overly polite, making up for her lack of English with deferential gestures: a great big smile, a nod, even a bow as she backs out of the room. She reminds me of my mother when she has to work on non-Haitian clients at her beauty shop, how she pays much more attention to those clients, forcing herself to laugh at jokes she barely understands and smiling at insults she doesn't quite grasp, all to avoid being forced into a conversation, knowing she couldn't hold up her end very well.

It's almost noon when I pick up the phone and call my mother at the salon. One of her employees tells me that she's not yet returned from the Mass she attends every day. After the Mass, if she has clients waiting, she'll walk the twenty blocks from the church to the salon. If she has no appointments, then she'll let her workers handle the walk-ins and go home for lunch. This was as close to retirement as my mother would ever come. This routine was her dream when she first started the shop. She had always wanted a life with room for daily Mass and long walks and the option of sometimes not going to work.

I call my parents' house. My mother isn't there either, so I leave the hotel number on the machine.

"Please call as soon as you can, Manman," I say. "It's about Papa."

It's early afternoon when my mother calls back, her voice cracking with worry. I had been sitting in that tiny hotel room, eating chips and candy bars from the vending machines, chain-smoking and waiting for something to happen, either for my father, Officer Bo, or Manager Salinas to walk into the room with some terrible news or for my mother or Gabrielle Fonteneau to call. I took turns imagining my mother screaming hysterically, berating both herself and me for thinking this trip with my father a good idea, then envisioning Gabrielle Fonteneau calling to say that we shouldn't have come on the trip. It had all been a joke. She wasn't going to buy a sculpture from me after all, especially one I didn't have.

"Where Papa?" Just as I expected, my mother sounds as though she's gasping for breath. I tell her to calm down, that nothing bad has happened. Papa's okay. I've just lost sight of him for a little while.

"How you lost him?" she asks.

"He got up before I did and disappeared," I say.

"How long he been gone?"

I can tell she's pacing back and forth in the kitchen, her slippers flapping against the Mexican tiles. I can hear the faucet when she turns it on, imagine her pushing a glass underneath it and filling it up. I hear her sipping the water as I say, "He's been gone for hours now. I don't even believe it myself."

"You call police?"

Now she's probably sitting at the kitchen table, her eyes closed, her fingers sliding back and forth across her forehead. She clicks her tongue and starts humming one of those mournful songs from the Mass, songs that my father, who attends church only at Christmas, picks up from her and also hums to himself in the shower.

My mother stops humming just long enough to ask, "What the police say?"

"To wait, that he'll come back."

There's a loud tapping on the line, my mother thumping her fingers against the phone's mouthpiece; it gives me a slight ache in my ear.

"He come back," she says with more certainty than either Officer Bo or Manager Salinas. "He not leave you like that."

I promise to call my mother hourly with an update, but I know she'll call me sooner than that, so I dial Gabrielle Fonteneau's cell phone. Gabrielle Fonteneau's voice sounds just as it does on television, but more silken, nuanced, and seductive wit
hout the sitcom laugh track.

"To think," my father once said while watching her show, in which she plays a smart-mouthed nurse in an inner-city hospital's maternity ward. "A Haitian-born actress with her own American television show. We have really come far."

"So nice of you to come all this way to personally deliver the sculpture," Gabrielle Fonteneau says. She sounds like she's in a place with cicadas, waterfalls, palm trees, and citronella candles to keep the mosquitoes away. I realize that I too am in such a place, but I'm not able to enjoy it.

"Were you told why I like this sculpture so much?" Gabrielle Fonteneau asks. "It's regal and humble at the same time. It reminds me of my own father."

I hadn't been trying to delve into the universal world of fathers, but I'm glad my sculpture reminds Gabrielle Fonteneau of her father, for I'm not beyond the spontaneous fanaticism inspired by famous people, whose breezy declarations seem to carry so much more weight than those of ordinary mortals. I still had trouble believing I had Gabrielle Fonteneau's cell number, which Céline Benoit had made me promise not to share with anyone else, not even my father.

My thoughts are drifting from Gabrielle Fonteneau's father to mine when I hear her say, "So when will you get here? You have the directions, right? Maybe you can join us for lunch tomorrow, at around twelve."

"We'll be there," I say.

But I'm no longer so certain.

My father loves museums. When he's not working at his barbershop, he's often at the Brooklyn Museum. The Ancient Egyptian rooms are his favorites.

"The Egyptians, they was like us," he likes to say. The Egyptians worshiped their gods in many forms, fought among themselves, and were often ruled by foreigners. The pharaohs were like the dictators he had fled, and their queens were as beautiful as Gabrielle Fonteneau. But what he admires most about the Ancient Egyptians is the way they mourn their dead.

"They know how to grieve," he'd say, marveling at the mummification process that went on for weeks but resulted in corpses that survived thousands of years.

My whole adult life, I have struggled to find the proper manner of sculpting my father, a quiet and distant man who only came alive while standing with me most of the Saturday mornings of my childhood, mesmerized by the golden masks, the shawabtis, and the schist tablets, Isis, Nefertiti, and Osiris, the jackal-headed ruler of the underworld.