Haiti Noir 2
Edwidge Danticat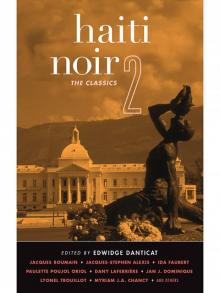 Table of Contents

___________________

Introduction by Edwidge Danticat

PART I: HUNTED/HAUNTED

Praisesong for Port-au-Prince

DANIELLE LEGROSS GEORGES

Port-au-Prince, 1999

Preface to the Life of a Bureaucrat

JACQUES ROUMAIN

Bolosse, 1930

A Strange Story

IDA FAUBERT

Turgeau, 1959

The Enchanted Second Lieutenant

JACQUES-STEPHEN ALEXIS

Bassins-Coquilleaux, 1960

A White House with Pink Curtains in the Downstairs Windows

JAN J. DOMINIQUE

Kenscoff, 1996

Oresca

PAULETTE POUJOL ORIOL

Source Diquini, 2001

Children of Heroes (excerpt)

LYONEL TROUILLOT

Place des Héros, 2002

PART II: SEDUCED

Remember One Day

EMMELIE PROPHÈTE

Boulevard Jean-Jacques Dessalines, 1999

Rêve Haitien

BEN FOUNTAIN

Pacot, 2000

Heading South

DANY LAFERRIÈRE

Kaliko Beach, 2006

Three Letters You Will Never Read

GEORGES ANGLADE

Quina, 2006

The Port-au-Prince Marriage Special

EDWIDGE DANTICAT

Delmas, 2008

True Life

MICHÈLE VOLTAIRE MARCELIN

Rue des Miracles, 2008

PART III: LOSING MY WAY

I Just Lost My Way

ÈZILI DANTÒ

Anba Dlo, Lan Ginen, 1997

The Mission

MARIE-HÉLÈNE LAFOREST

Bonair, 2002

Barbancourt Blues (excerpt)

NICK STONE

Pétionville Square, 2007

Dame Marie

MARILÈNE PHIPPS-KETTLEWELL

Dame Marie, 2007

Surrender (excerpt)

MYRIAM J.A. CHANCY

Port-au-Prince Central Prison, 2010

Things I Know About Fairy Tales

ROXANE GAY

Cité Soleil, 2011

About the Contributors

Haiti Noir excerpt

"Noir Indeed" by Edwidge Danticat

"The Last Department" by Katia D. Ulysse

Also in the Akashic Noir Series

Akashic Noir Series Awards and Recognition

Copyright and Credits

About Akashic Books

——————————————————

Haitians speak Creole . . . which has only a present tense. I have lived in Haiti with my brother for the past six months, so I can speak it some. Felix and I are innkeepers now. We have bought the Grand Hotel Oloffson, a gingerbread palace at the base of a cliff in Port-au-Prince. Imagine a language with only a present tense. Our headwaiter, Hippolyte Paul De Mille, who claims to be eighty and have fifty-nine descendants, asked me about my father.

"He is dead?" he said in Creole.

"He is dead," I agreed. There could be no argument about that.

"What does he do?" he said.

"He paints," I said.

"I like him," he said.

—from Deadeye Dick by Kurt Vonnegut

INTRODUCTION

Noir Deux

How often are you asked to put together an amazing literary party? In my case, a mind-blowing two times. The lit party of my dreams has been Haiti Noir, and lo and behold, I get asked to do it again.

As you can imagine, I wanted everybody to be here. The noir genre, or elements thereof—however stretched—narrowed that a bit. The contributions had to be, well, "noir" and they had to not only be about Haiti, but be set there as well. It also helped if they could be pinned down to a particular neighborhood—real or imagined—so that we could make a map. (All the books in Akashic Books' award-winning Noir Series have maps.)

Like all parties, this one began with a dream list, and the narrowing of it. Because there was still so much ground left to cover after the January 2011 publication of the original Haiti Noir—which comprised brand-new stories—those writers who had been in that volume could not be included in this one. Though the term "classics" in this project's subtitle made it seem as if everyone had to be ancient or dead, there was thankfully some wiggle room to allow in contributions which are nearly vintage.

As with the first book, the idea of all these writers—dead or alive, classic or vintage or almost new—being together between these pages thrills me to no end. And I can't help imagine them joking, laughing, as well as arguing about Haitian politics and culture, all while swapping their unique stories.

Like all parties, not everyone we invited could make it. (The cost of reprint rights or the difficulty locating heirs for several writers were insurmountable obstacles.) So we are grateful and celebrate those who could, keeping in our hearts those who cannot be with us. Besides, a book like this is meant to be a sampler anyway, something to give you a desire, a yearning for more. So for every writer here you should seek out at least ten more, noir or otherwise, in the cannon of Haitian literature. This is especially important for a country that is unfairly known more for its natural and political disasters than its exciting and vibrant literature.

After the first Haiti Noir was published, people kept asking if I wasn't contributing to a negative image of the country by editing a book filled with so many "dark" stories about Haiti. My answer was, and remains, that showing the brilliance of our writers and their ability to address Haiti's difficulties through their art can only contribute to a more nuanced and complex presentation of Haitian lives. After all, the writers here are not Haiti virgins, to paraphrase from "Heading South," Dany Laferrière's story, included here, of sex tourism gone wrong. They are all old hats, either by blood or their deep love for Haiti. Also, the beauty of using, unlike the last time, previously published writings, is that they have been tried and tested and have already traveled their own paths in the world. For this is not just a party, folks, but also a costume party, a noir party. The author of each story, poem, or novel excerpt has shed his or her skin and has sunk into the deepest and most revealing places of the human heart.

Most of these works remain timeless and one imagines might be written the same way today as they were seventy, fifty, or even just three years ago. Others display their visions of their time, especially when it comes to Vodou. While some of the older writers handle the subject of Vodou in the same way that an outsider might, there is still an attempt to adjust their initial approach and show its misuse rather than blame it. And though the police procedural is hinted at in a few of the stories—Jan J. Dominique's "A White House with Pink Curtains in the Downstairs Windows," for example—most of the time when crimes are solved, this is done by individuals, either through confession, personal endeavors, or communal action.

Recently, Haiti saw its own "you can't make this up" high-profile crime stories explode then fizzle, in a way that might intrigue then disappoint any noir reader. The son of a very rich family was revealed to be part of a massive kidnapping ring. He had abducted the son and daughter of another rich family, with whom his family was feuding. He was arrested then forced to lead an elite police team to the house where his victims were being held. The kidnapping victims' rescue and subsequent reunion with their families was all captured on tape and later aired on a Cops-like television program called Alo Lapolis (Hello Police). Aside from a single brief court appearance, the kidnapping ringleader, as of this writing, was never heard from again. He had supposedly been taken to a brand-new American prison, where he a
nd his comrades were the sole inmates.

Then, in another case, a judge died while investigating the first family. His doctors said he suffered a stroke, but many, including members of the judge's family, believed that he was poisoned via a glass of whiskey. Several weeks later, the man who had filed the corruption complaint against the first family was arrested for an unsolved murder from a few years earlier. His future, as of now, is unclear.

These events could inspire several noir novels. Yet beyond the realm of fiction, they might never be resolved. That elusive justice might never come. Which makes the noir genre rather redemptive in Haiti. At least justice can be found in our writers' imaginations. At least justice can be found in art. Children who suffer abuse can find revenge. Nature can join the fight against invaders and occupiers with surprising results. Choices can be made, good or bad, in marital beds, hotel rooms, and prison cells. Dreams, though perhaps not the dreams one expects, can still be had. We lose our way, but not all in the same manner. We are haunted and hunted by ghosts as real as kidnappers and as imaginary as fairy tales. But as Jacques Roumain's novelist-protagonist soon discovers in "Preface to the Life of a Bureaucrat," sometimes art creeps into life and sometimes life creeps into art.

This is why we open each of the sections of Haiti Noir 2: The Classics with a poem to set the mood. I am grateful to Danielle Legros George, Emmelie Prophète, and Èzili Dantò for allowing us to include their work. Their poetry definitely adds a special element to this book.

Some years ago, when I met the late American writer Kurt Vonnegut through his wife Jill Krementz, he mentioned in passing that he had been to Haiti and had incorporated some of his experiences there in a book called Deadeye Dick in which, as he explains in the preface, the country becomes New York City. I chose a scene from Deadeye Dick as an epigraph at the front of this book not so much because of his notion that Creole has no past tense—it does—but because I like the idea that a dead man can paint. I am also grateful for the prerogative that is offered the editors of the Akashic Noir Series to also contribute a story when possible. I am the only repeat offender here. My story "The Port-au-Prince Marriage Special," though set in a hotel, doesn't take place at Vonnegut's or anyone else's version of the Oloffson Hotel, which appears in various noir and ghost stories, including a most famous novel by Graham Greene called The Comedians.

Once again, as the humble hostess, I am happy and proud to introduce you to this book filled with both my literary ancestors and my contemporary peers. It is wonderful to have them here—and it is wonderful to have you here with us—from the oldest, Ida Faubert, one of Haiti's first published female writers, to Roxane Gay, a rising literary star on the verge of publishing her first novel, An Untamed State, which grew out of "Things I Know About Fairy Tales," her story in this anthology. I imagine Ida and Roxane, and many of the other contributors, being very happy to meet at my little party and kissing one another on both cheeks as a roomful of other illustrious literary lights look on. And while some konpa or rasin music and even some blues is playing in the background, I am still bringing out the salt cod–filled chiktay and the Barbancourt rum, and putting the finishing touches on my welcoming address. And it would be rather brief, my welcoming address. It would begin with "How often are you asked to put together an amazing literary party?" and end with a traditional welcome.

"Onè," I would say. Honor.

Then "Respè." Respect.

Much respect indeed.

Edwidge Danticat

October 2013

PRAISESONG FOR PORT-AU-PRINCE

BY DANIELLE LEGROSS GEORGES

Port-au-Prince

(Originally published in 1999)

Cold kills slowly.

One moves and keeps

moving until suddenly

an arm grows dead

then a foot falls off

and the torso freezes

as if submerged in chilled water,

ice and swimmer

forming a block.

It's a slow death,

never red or yellow

with guts hanging out

and decay that spreads

its blanket and birds

that descend with feathers

and beaks,

and finally peace:

efficient, spectacular.

You, city of the fast death,

of the bloody coup,

I bow to you.

For you I cut flowers

to put into a blue vase

of cold, clear water.

PREFACE TO THE LIFE OF A BUREAUCRAT

BY JACQUES ROUMAIN

Bolosse

(Originally published in 1930)

Translated by George Lang

I

Waking, Michel Rey watched the dirty day slipping in through the blinds. He smiled his own special smile—a sorrowful slit that drew his lips aside with two diagonal wrinkles—and faced the usual question: why smile at that dead light, at that room whose shabby furniture was his wife's pride and where there floated traces of strong perfume and the acrid rubber smell of his raincoat drenched in the shower that had caught him coming home at dawn, and which was still sweating the occasional drop of humidity . . .

Seeing the little half-evaporated puddle dark on the floor, Michel smiled again. This time he knew why.

Five years ago . . . he remembered the day he had returned to Haiti. The noonday sun beat down on a silent sea of smooth and crestless swells. He was filled with joy: in the anonymous crowd pushing and shoving up toward the bridge, in the visitors and porters, he recognized himself at last. He was a happy echo of this Black world, and he felt melting within him the ice shored up in Europe. What he bitterly called "The Great White Silence" (that racial gulf which friendship, loves, and contacts had never been able to bridge) began to disappear. Now he was among friends, his own people. He felt like kneeling to kiss that cherished soil.

The port danced before him in a mist of tears. His parents harassed him with questions as they carried him off toward town. He wanted to answer, but felt even more like escaping to walk alone in solemn ecstasy, like embracing the passing mango vendor: her fruit a queen's crown on her head, her back arched, her step certain, the ripe purple grapes of her breasts straining against the blue cloth of her coarse dress. Yes, he wanted to hold her tightly and say, "Sister." He wanted to take the tattered child holding out his hand to an American tourist, to draw him near: "Brother, little brother . . ."

But a clock struck somewhere, and Michel returned to the present. It must have been late; his wife was already up and about. Weary, he rose slowly and began moving about the room, dressing and thinking of his past: I embraced life too strongly. I took it by the throat, strangled it . . .

As he was finishing, someone knocked at the door. The servant entered, barefoot, eyes lowered; and with the respectable look of those who do make it to four o'clock Mass, announced that Mme. Ballin was downstairs waiting, yes.

The Widow Ballin is Michel's mother-in-law. He hates this woman swathed in yellow fat like rancid lard, in her funereal dresses that not even enormous cameos can brighten. Her tiny bony head, out of all proportion with her bulky body, and her wide thin mouth chopping out words like a butcher knife repulse him in a way the Widow Ballin would never understand. She is proud of her sharp face. When she refers to it, she has a droll but haughty way of saying, "I have overcome atavism." By this she means her features are no longer recognizably African. She is indeed the daughter of Mme. Ochsle, a brown-skin woman who married a German of poor extraction but of great recent wealth, and thereafter never stopped referring to "German ladies like ourselves . . ."

Michel cannot stand the woman, but is moved at the same time by a vague tenderness toward her. He cannot get along without her. She is his revenge on that corrupt, hypocritical, stupidly bourgeois Port-au-Prince society which has ruined him, and of which she is an excellent example. He takes
a malicious, exalting pleasure in wounding her, and can easily do so since the Widow Ballin—as superficial as they come—lends herself to it.

He knows his remarks are repeated in drawing rooms where the "Fates" of Turgeau and Bois Verna, assembly-line stiff in their 1880 corsets and blasted by bile, hold forth on the future of a young couple or the reputation of an honest man. And just knowing that his gibes are transmitted to all by the astonishing technique Haitians call télégueule makes him very happy indeed.

Michel Rey's hatred for his mother-in-law is perhaps the only feeling he has left to make his life bearable. He clings to it like a drowning man to a floating log; and if somehow the Widow Ballin were one day to die, he knows without a doubt that he would weep at her funeral.

Michel goes down to the drawing room without his jacket, wearing large old sandals. (His mother-in-law had proclaimed one day that it was "unaesthetic" to appear in shirt sleeves. She loved all words ending in "ic" and "ism"—words she was incapable of understanding, but which she thought distinguished.) She would be furious with him.

This in turn pleases him, because he still retains a touch of childishness, which is not a sign of innocence, but a holdover from a boyhood whose candor has long since passed. Basically, he is like those mistreated and battered kids, kept mischievous and lively by their youth, but whose sole pleasure consists of the dirty tricks which feed their bitterness.

The Widow Ballin spills over both sides of her chair. She has slipped her glasses up from her nose to her wide, low forehead. Michel, who has wished her good day, listens to her trivialities and examines her in detail. He feels she assesses the forces of each venomous phrase like a huge snake with glasses, coiled back upon herself waiting to strike.

"Jeanne isn't here?"

"No."

"You don't look at all well. You're working hard, aren't you? That's what they all say."

"My God, if they all say so, then there's no reason not to believe it."

"That's right. Everyone's waiting for your novel. It's supposed to be a masterpiece. You're working so hard on the documentation."

Michel keeps his silence.