An echo in the bone, p.1





An Echo in the Bone, p.1

Part #7 of Outlander series by Diana Gabaldon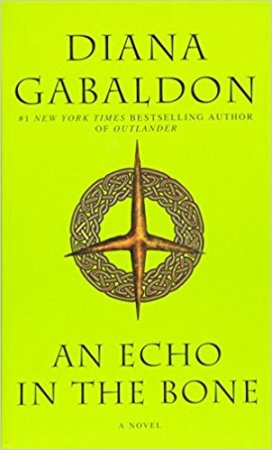 To all my good dogs:
Penny Louise
Tipper John
John
Flip
Archie and Ed
Tippy
Spots
Emily
Ajax
Molly
Gus
Homer and JJ
ACKNOWLEDGMENTS
It takes me a good three years to write one of these books, during which time I constantly ask people questions, and during which time helpful people offer me fascinating bits of information that I didn't think to ask for. I'll never remember them all, but think of them all with enormous gratitude.
In addition, I wish to offer grateful thanks to …
… John Flicker and Bill Massey, my editors, both gentlemen of gall and kidney, who coped nobly with a book written in pieces (lots of pieces), and an author who lives dangerously.
… Danny Baror and Russell Galen, my literary agents, two gentlemen literally worth their weight in gold—which is saying something in these recessionary days.
… Kathy Lord, heroic copy editor, and Virginia Norey, book designer (aka "the book goddess"), who are jointly responsible for the beauty and read ability of this book.
… Vincent La Scala and the other cruelly used members of the production crew, who succeeded in getting this book into print on time against looooong odds.
… Steven Lopata for his vivid description of being chased overland by a cottonmouth—as well as the poetic description of what copperheads smell like ("A combination of that snakehouse smell from the zoo and rotten cucumbers").
… Catherine MacGregor and Catherine-Ann MacPhee for Gàidhlig translations and help in the subtleties of Gaelic usage. Also Katie Beggs and various unsung but much appreciated members of the International Gaelic Mafia.
… Tess the nurse, Dr. Amarilis Iscold, Sarah Meir (Certified Nurse Midwife), and a number of other helpful medical professionals, for advice on matters medical, picturesque maladies, and horrifying surgical details.
… Janet McConnaughey for OEDILF (Omnificant English Dictionary in Limerick Form) entries, being the Muse of Bloody Axes, and drawing my attention to exploding cypress trees.
… Larry Tuohy (and others) for telling me what a Spitfire pilot's flight jacket looked like.
… Ron Parker, Helen, Esmé and Lesley, for 'elp with the 'airy ape.
… Beth and Matthew Shope and Jo Bourne for useful information regarding the Religious Society of Friends. Any inaccuracies are definitely my fault.
… Jari Backman, for his detailed time lines and excerpt listings, and for help with the night sky and which stars are visible in Inverness and Fraser's Ridge.
… Katrina Stibohar for her exquisitely detailed lists of who was born when and What Happened to Everybody then. Also to the hordes of kindly trivia freaks who are always on hand to tell me how old someone is, or whether Lord John met Fergus when he had the measles.
… Pamela Patchet Hamilton (and Buddy) for a nose-wrenchingly vivid description of a close-range skunking.
… Karen Henry, Czarina of Traffic, who keeps my folder in the Compuserve Books and Writers Community tidy and the inhabitants diplomatically herded. (https://community.compuserve.com/n/pfx/forum.aspx?nav=start&webtag = ws-books)
… Nikki Rowe and her daughter Caitlin, for the wonderful YouTube channel they created for me (https://www.youtube.com/user/voyagesoftheartemis—for those who want to see whether I really do sound like Donald Duck when I talk).
… Rosana Madrid Gatti, my web-mistress, for prompt and faithful updates and imaginative design.
… Susan Butler, for constant logistic support, dog sleepovers, keeping me supplied with black-ink cartridges, and for her brilliant suggestion regarding Jem.
… Allene Edwards, Catherine MacGregor, and Susan Butler, for proof reading and Extremely Helpful (if eyeball-numbing) nitpicking.
… Shirley Williams for the Moravian cookies and vistas of New Bern.
… Becky Morgan for the historical cookbooks.
… my great-grandfather, Stanley Sykes, for Jamie's line about marksmanship.
… Bev LaFrance, Carol Krenz, and many others for help with French. Also Florence the translator, Peter Berndt, and Gilbert Sureau for the nice distinctions between the French Lord's Prayer of 1966 (accorde-lui) versus the earlier, more formal version (accordes-lui).
… John S. Kruszka, for the proper spelling and pronunciation of "Kościuszko" (it's "kohs-CHOOSH-koh," in case you wondered; nobody in the Revolution could pronounce it, either—they really did all call him "Kos").
… the Ladies of Lallybroch, for continuous support and Really Interesting Gifts.
… my husband, because he knows fine what a man is for, too.
… Alex Krislov, Janet McConnaughey, and Margaret Campbell, sysops of the Compuserve Books and Writers Community, and the many, many, many helpful people who roam through the site daily, offering observations, information, and general entertainment.
… Alfred Publishing for permission to quote from the lyrics to "Tighten Up," by Archie Bell and the Drells.
"The White Swan," taken from Carmina Gadelica, is reproduced by kind permission of Floris Books.
Contents
Prologue
PART ONE
A Troubling of the Waters
1. SOMETIMES THEY'RE REALLY DEAD
2. AND SOMETIMES THEY AREN'T
3. LIFE FOR LIFE
4. NOT YET AWHILE
5. MORALITY FOR TIME-TRAVELERS
PART TWO
Blood, Sweat, and Pickles
6. LONG ISLAND
7. AN UNCERTAIN FUTURE
8. SPRING THAW
9. A KNIFE THAT KNOWS MY HAND
10. FIRESHIP
11. TRANSVERSE LIE
12. ENOUGH
13. UNREST
14. DELICATE MATTERS
15. THE BLACK CHAMBER
16. UNARMED CONFLICT
17. WEE DEMONS
18. PULLING TEETH
19. AE FOND KISS
20. I REGRET …
21. THE MINISTER'S CAT
22. FLUTTERBY
PART THREE
Privateer
23. CORRESPONDENCE FROM THE FRONT
24. JOYEUX NÖEL
25. THE BOSOM OF THE DEEP
26. STAG AT BAY
27. TUNNEL TIGERS
28. HILLTOPS
29. CONVERSATION WITH A HEADMASTER
30. SHIPS THAT PASS IN THE NIGHT
31. A GUIDED TOUR THROUGH THE CHAMBERS OF THE HEART
PART FOUR
Conjunction
32. A FLURRY OF SUSPICION
33. THE PLOT THICKENS
34. PSALMS, 30
35. TICONDEROGA
36. THE GREAT DISMAL
37. PURGATORY
38. PLAIN SPEECH
39. A MATTER OF CONSCIENCE
40. THE BLESSING OF BRIDE AND OF MICHAEL
41. SHELTER FROM THE STORM
PART FIVE
To the Precipice
42. CROSSROAD
43. COUNTDOWN
44. FRIENDS
45. THREE ARROWS
46. LEY LINES
47. HIGH PLACES
48. HENRY
49. RESERVATIONS
50. EXODUS
51. THE BRITISH ARE COMING
52. CONFLAGRATION
53. MOUNT INDEPENDENCE
54. RETURN OF THE NATIVE
55. RETREAT
56. WHILE STILL ALIVE
57. THE DESERTER GAME
58. INDEPENDENCE DAY
59. BATTLE OF BENNINGTON
60. DESERTER GAME, ROUND II
61. NO BETTER COMPANION THAN THE RIFLE
62. ONE
JUST MAN
63. SEPARATED FOREVER FROM MY FRIENDS AND KIN
64. A GENTLEMAN CALLER
65. HAT TRICK
66. DEATHBED
67. GREASIER THAN GREASE
68. DESPOILER
69. TERMS OF SURRENDER
70. SANCTUARY
PART SIX
Coming Home
71. A STATE OF CONFLICT
72. THE FEAST OF ALL SAINTS
73. ONE EWE LAMB RETURNS TO THE FOLD
74. TWENTY-TWENTY
75. SIC TRANSIT GLORIA MUNDI
76. BY THE WIND GRIEVED
77. MEMORARAE
78. OLD DEBTS
79. THE CAVE
80. OENOMANCY
81. PURGATORY II
82. DISPOSITIONS
83. COUNTING SHEEP
84. THE RIGHT OF IT
PART SEVEN
Reap the Whirlwind
85. SON OF A WITCH
86. VALLEY FORGE
87. SEVERANCE AND REUNION
88. RATHER MESSY
89. INK-STAINED WRETCH
90. ARMED WITH DIAMONDS AND WITH STEEL
91. FOOTSTEPS
92. INDEPENDENCE DAY, II
93. A SERIES OF SHORT, SHARP SHOCKS
94. THE PATHS OF DEATH
95. NUMBNESS
96. FIREFLY
97. NEXUS
98. MISCHIANZA
99. A BUTTERFLY IN A BUTCHER'S YARD
100. LADY IN WAITING
101. REDIVIVUS
102. BRED IN THE BONE
103. THE HOUR OF THE WOLF
Author's Notes
PROLOGUE