Lost Empire
Clive Cussler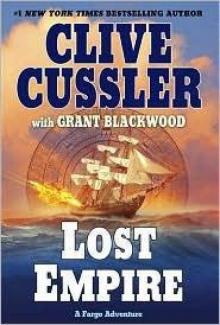 Table of Contents

Title Page

Copyright Page

Acknowledgements

CHAPTER 1

CHAPTER 2

CHAPTER 3

CHAPTER 4

CHAPTER 5

CHAPTER 6

CHAPTER 7

CHAPTER 8

CHAPTER 9

CHAPTER 10

CHAPTER 11

CHAPTER 12

CHAPTER 13

CHAPTER 14

CHAPTER 15

CHAPTER 16

CHAPTER 17

CHAPTER 18

CHAPTER 19

CHAPTER 20

CHAPTER 21

CHAPTER 22

CHAPTER 23

CHAPTER 24

CHAPTER 25

CHAPTER 26

CHAPTER 27

CHAPTER 28

CHAPTER 29

CHAPTER 30

CHAPTER 31

CHAPTER 32

CHAPTER 33

CHAPTER 34

CHAPTER 35

CHAPTER 36

CHAPTER 37

CHAPTER 38

CHAPTER 39

CHAPTER 40

CHAPTER 41

CHAPTER 42

CHAPTER 43

CHAPTER 44

CHAPTER 45

CHAPTER 46

CHAPTER 47

CHAPTER 48

CHAPTER 49

EPILOGUE

DIRK PITT® ADVENTURES BY CLIVE CUSSLER

Arctic Drift

(WITH DIRK CUSSLER)

Treasure of Khan

(WITH DIRK CUSSLER)

Black Wind

(WITH DIRK CUSSLER)

Trojan Odyssey

Valhalla Rising

Atlantis Found

Flood Tide

Shock Wave

Inca Gold

Sahara

Dragon

Treasure

Cyclops

Deep Six

Pacific Vortex!

Night Probe!

Vixen 03

Raise the Titanic!

Iceberg

The Mediterranean Caper

FARGO ADVENTURES BY CLIVE CUSSLER

WITH GRANT BLACKWOOD

Spartan Gold

ISSAC BELL NOVELS BY CLIVE CUSSLER

The Spy

(WITH JUSTIN SCOTT)

The Wrecker

(WITH JUSTIN SCOTT)

The Chase

KURT AUSTIN ADVENTURES BY CLIVE CUSSLER

WITH PAUL KEMPRECOS

Medusa

The Navigator

Polar Shift

Lost City

White Death

Fire Ice

Blue Gold

Serpent

OREGON FILES ADVENTURES BY CLIVE CUSSLER

WITH JACK DU BRUL

The Silent Sea

Corsair

Plague Ship

Skeleton Coast

Dark Watch

WITH CRAIG DIRGO

Golden Buddha

Sacred Stone

NONFICTION BY CLIVE CUSSLER AND CRAIG DIRGO

The Sea Hunters

The Sea Hunters II

The Clive Cussler and Dirk Pitt Revealed

G. P. PUTNAM'S SONS

Publishers Since 1838

Published by the Penguin Group

Penguin Group (USA) Inc., 375 Hudson Street, New York, New York 10014, USA • Penguin

Group (Canada), 90 Eglinton Avenue East, Suite 700, Toronto, Ontario M4P 2Y3, Canada

(a division of Pearson Penguin Canada Inc.) • Penguin Books Ltd, 80 Strand, London

WC2R 0RL, England • Penguin Ireland, 25 St Stephen's Green, Dublin 2, Ireland (a division of

Penguin Books Ltd) • Penguin Group (Australia), 250 Camberwell Road, Camberwell, Victoria

3124, Australia (a division of Pearson Australia Group Pty Ltd) • Penguin Books India Pvt Ltd,

11 Community Centre, Panchsheel Park, New Delhi-110 017, India • Penguin Group (NZ),

67 Apollo Drive, Rosedale, North Shore 0632, New Zealand (a division of

Pearson New Zealand Ltd) • Penguin Books (South Africa) (Pty) Ltd, 24 Sturdee Avenue,

Rosebank, Johannesburg 2196, South Africa

Penguin Books Ltd, Registered Offices: 80 Strand, London WC2R 0RL, England

Copyright © 2010 by Sandecker, RLLLP

All rights reserved. No part of this book may be reproduced, scanned, or distributed

in any printed or electronic form without permission. Please do not participate in or

encourage piracy of copyrighted materials in violation of the author's rights.

Purchase only authorized editions.

Published simultaneously in Canada

Library of Congress Cataloging-in-Publication Data

Cussler, Clive.

Lost empire / Clive Cussler with Grant Blackwood.

p. cm.

eISBN : 978-1-101-44255-5

I. Blackwood, Grant. II. Title.

PS3553.U75L68

2010

2010022403

813'.54—dc22

This is a work of fiction. Names, characters, places, and incidents either are the product of the author's imagination or are used fictitiously, and any resemblance to actual persons, living or dead, businesses, companies, events, or locales is entirely coincidental.

While the author has made every effort to provide accurate telephone numbers and Internet addresses at the time of publication, neither the publisher nor the author assumes any responsibility for errors, or for changes that occur after publication. Further, the publisher does not have any control over and does not assume any responsibility for author or third-party websites or their content.

http://us.penguingroup.com

ACKNOWLEDGMENTS

Thanks to the following people, without whom this book wouldn't be what it is:

Sam Craghead of the Museum of the Confederacy, whose insight was truly invaluable; John Koivula and Tim Thomas for their gemological and geological insights; Rich Hartney for helping us crash-land; Doug Lyle and C. J. Lyons for entertaining our medical questions; Geoff Irwin and Peter Bellwood for their willingness to entertain speculative anthropological questions; Tim Roufs and Sandra Noble for their Mesoamerican expertise; Jurgen Theiss for his Zanzibar and Tanzania help; Tom Chaffin, author of Sea of Gray, for brainstorming what might have happened; Victoria Lisi for her keen pen; Neil, Peter, Tom, Sara, and Pam for their patience, steadfastness, and candid input; the Kid and his wife for their friendship and support; and finally, Steve Berry: You truly are a big deal, my friend.

PROLOGUE

LONDON, ENGLAND, 1864

THE MAN KNOWN AS JOTUN STRODE PURPOSEFULLY THROUGH the predawn fog, the collar of his peacoat up and a scarf wrapped loosely around his throat and mouth. His breath misted in the air before him.

He stopped walking suddenly and listened. Had he heard footfalls? He turned his head to the left, then the right. Somewhere ahead he heard a muffled click. A boot on cobblestone. Moving lightly for such a big man, Jotun stepped back into the shadows between the pillars of an arched gate. In the pocket of his coat, he tightened his fist around the shaft of his lead-and-leather cosh. The side streets and back alleys of Tilbury were never a friendly place, and even less so between sunset and sunrise.

"Damn this city," Jotun grumbled. "Dark, dank, cold. God help me."

He missed his wife, he missed his country. But this was where he was needed, or so the powers that be said. He trusted their judgment, of course, but there were times when he would gladly trade his current duty for a proper battlefield. At least there he would know his enemy and know what to do with him: Kill or be killed. Very simple. Then a
gain, despite the distance, his wife much preferred his current posting to his earlier ones. "Better to be distant and alive than close and dead," she'd told him when he'd gotten his orders.

Jotun waited another few minutes but heard no further movement. He checked his watch: three-thirty. The streets would begin to stir in another hour. If his quarry was going to make a run for it, it would have to be before then.

He stepped back onto the street and continued north until he found Malta Road, then turned south for the docks. In the distance he could hear the lonely clanging of a buoy, and he could smell the stench of the Thames River. Ahead, through the fog, he glimpsed a lone figure standing on the southeast corner of Dock Road, smoking a cigarette. On cat's feet, Jotun crossed the street and strode ahead until he could see more of the corner. The man was indeed alone. Jotun stepped back into the alley entrance, then whistled softly, once. The man turned. Jotun lit a match with his thumbnail, let it flare briefly, then crushed it out between his thumb and index finger. The man walked over to Jotun.

"Mornin', sir."

"That's debatable, Fancy."

"Indeed it is, sir." Fancy looked down the block, then up.

"Nervous?" asked Jotun.

"What, me? What would I have to be nervous about? Tiny fella like me walking these alleys in the dark of night. What could be wrong with that?"

"So let's hear it."

"She's there, sir. Berthed as she's been the last four days. Lines are singled up, though. I chatted up a mate of mine that does odd jobs down on the docks. Rumor has it she's moving upriver."

"To where?"

"Millwall Docks."

"Millwall Docks aren't finished yet, Fancy. Why are you lying to me?"

"No, sir, that's what I heard. Millwall. Later this morning."

"I've got a man at Millwall already, Fancy. He says they're closed down for another week at least."

"Sorry, sir."

Jotun heard the distinctive scuff of leather on brick behind him in the alley and immediately realized Fancy was sorry for a different reason entirely. Jotun took some solace in the knowledge that this little weasel of a man probably hadn't betrayed him out of spite but rather out of greed.

"Run along now, Fancy . . . Far away. Out of London. If I see you again, I'll open your belly and feed you your own guts."

"You won't be seeing me again, sir."

"For your sake, make sure of it."

"Sorry again. I always liked—"

"Another word, and it will be your last. Go."

Fancy hurried off and disappeared into the fog.

Jotun quickly considered his options. The fact that Fancy had lied about the Millwall meant he was lying about the ship, which in turn meant she was going downriver, not up. He couldn't let that happen. Now the question became: Was it wiser to run from the men who were coming up behind him or to fight them? If he ran, they'd chase him, and the last thing he needed was a ruckus this close to the dock. The ship's crew was probably already on edge, and he needed to catch them calm and unawares.

Jotun turned around to face the alley.

There were three of them, one a little shorter than him, two much shorter, but they all had heavy, round shoulders and bucket-shaped heads. Street thugs. Throat cutters. Had there been enough light for Jotun to see their faces, he was certain there would be very few teeth, plenty of scars, and small, mean eyes.

"Good morning, gentlemen. How can I help you?"

"Don't be makin' this harder than it needs to be," the bigger of the three said.

"Knives or hands or both?" Jotun asked.

"Whot?"

"No matter. It's your choice. Come on, then, let's get on with it."

Jotun took his hands from his pockets.

The big one rushed in. Jotun saw the knife coming up from the man's waist, a well-timed slash designed to open up a femoral artery in the leg or tear open the lower belly. Jotun not only had two inches of height on the man but at least four inches of arm's reach, and he used it, lashing out with his own uppercut blow. At the last second he let the palmed cosh swing forward. The leather-wrapped lead bulb caught the big man squarely under the chin. His head flipped up, and he stumbled backward into his partners, then dropped hard on his butt. The knife clattered across the cobblestones. Jotun took one long stride forward, cocked his knee up to waist height, and slammed the heel of his boot down onto the big man's ankle, shattering the bone. The man started screaming.

The other two hesitated then but only for a moment. Often in these circumstances a wolf pack like this disperses once the big dog is put down, but these were men accustomed to easy fights.

The one on the right sidestepped his fallen partner, dropped his shoulder, and charged forward like a bull. The charge was a ruse, of course. There was a blade hidden in one of those hands; the moment Jotun grabbed ahold of the man, the knife would come up. Jotun took a quick step back on his left leg, coiled it, then sprung forward, simultaneously swinging his right foot forward. The kick caught the charging man fully in the face. Jotun heard the wet crunch of bone. The man dropped to his knees, teetered for a moment, then collapsed face-first onto the street.

The last man was against hesitating, and now Jotun saw what he was looking for: that watershed moment when a man realizes he's going to die if he doesn't make the right decision.

"They're alive," Jotun said. "If you don't turn around and run, I'm going to kill you."

The man stood rooted, knife before him.

"Come on, son, did they really pay you enough for this?"

The man lowered his knife. He swallowed hard, shook his head once, then turned and ran.

SO DID JOTUN. Ran for all he was worth, down the street, right onto Dock Road, then through a line of hedges and across St. Andrews. A short alley took him to a pair of warehouses. He sprinted between them, vaulted over a fence, landed hard, then rolled to his feet and kept going until he heard the pounding of wood beneath his boots. The docks. He looked left, then right, but saw only fog.

Which way?

He turned around, read the building number above his head, then turned on his heel and sprinted south for fifty yards. To his right he heard the sound of water lapping. He veered that way. A dark shape loomed before him. He skidded to a stop, bumped into the stack of crates, stumbled sideways, then found his feet. He hopped up onto the smallest crate, then boosted himself up one more level. Twenty feet below, he could just make out the surface of the water. He looked upriver, saw nothing, then turned to look downriver.

Twenty yards away he saw the faint glow of yellow light behind a mullioned window; above this, past the deck rail, a ship's wheelhouse.

"Damn it!" Jotun barked. "Damn it to hell!"

The ship faded into the fog and disappeared.

CHAPTER 1

CHUMBE ISLAND, ZANZIBAR,

TANZANIA

THE SHARKS DARTED AT THE EDGES OF THEIR VISION, SLEEK GRAY shapes that offered Sam and Remi Fargo only glimpses of knife-edged fins and flicking tails before disappearing into the curtain of swirling sand. As usual, Remi had refused to pass up the photo opportunity, and as usual she'd asked Sam to serve as scale as she focused her highspeed underwater camera past him and at the feeding frenzy. For his part, Sam was less worried about the sharks than he was the precipice at his back—a hundred-fifty-foot drop off the sandbank into the dark deep of the Zanzibar Channel.

Remi pulled her face up from the camera, smiled with her eyes behind the mask, and gave him an OK sign. Sam thankfully finned forward to join her. Together they knelt in the sand and watched the show. It was July off the coast of Tanzania, which meant monsoon season, which in turn meant the warm East African Coastal Current (EACC) was surging from the southeast until it met the southern tip of Zanzibar, where it split into inshore and offshore currents. For sharks this created a "f
ood funnel" in the eighteen-mile gap between Zanzibar and the mainland as prey fish were driven northward. An irresistible moving buffet, Remi called it.

Sam and Remi took care to stay within what they'd dubbed the Safe Zone, that fifty-yard, crystal-clear water strip off Chumbe Island. Past that was the drop into the channel. The demarcation was hard to miss: The current, moving at six knots or more, threw up a roiling curtain of sand as it scraped along the island's sandbar. This Sam and Remi had dubbed the Good-bye Zone; step into this rip current without a safety line and you were in for a one-way trip up the coast.

Despite the danger—or perhaps because of it—this yearly trip to Zanzibar was one of their favorites. Along with sharks, prey fish, rip currents, and underwater sandstorms that lasted for months, the EACC offered up treasure—albeit usually bits and pieces worth nothing more than their curiosity factor, but this was enough for Sam and Remi. Over the centuries, ships had been plying Africa's east coast from Mombasa to Dar es Salaam, many of them laden with gold and gems and ivory bound for colonial empire cities. Countless ships had sunk in and around the Zanzibar Channel, the contents of their holds spilled along the bottom, just waiting for the right current to uncover or move them within reach of curious divers such as the Fargos. Over the years they'd recovered gold and silver coins from the Roman Empire to Spain, Chinese ceramics, Sri Lankan jade, silverware . . . From the fascinating to the mundane, they'd uncovered it. So far on this trip, they'd found only one item of note: a diamond-shaped gold coin so barnacle-encrusted they could make out no details.

Sam and Remi watched the sharks feed for a few more minutes and then, by mutual nod, turned and began finning south along the bottom, each stopping occasionally to use a Ping-Pong paddle to waft at the sand, hoping the lump that had caught the eye might be a hidden bit of history.

Chumbe Island, roughly six miles long and two miles wide, is shaped like a woman's boot, with the shin, ankle, and forefoot facing the channel, and the back of the calf, the stiletto heel, and sole facing Zanzibar proper. Just above the ankle there was a break in the sandbar, an inlet that led to the lagoon created by the stiletto heel.