Snuff, p.1





Snuff, p.1

Chuck Palahniuk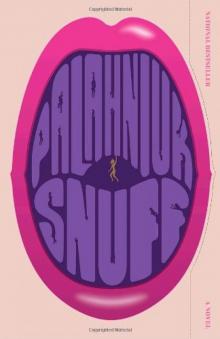 Chuck Palahniuk
Snuff
2008, EN
Six hundred dudes. One porn queen. A world record for the ages. A must-have movie for every discerning collector of things erotic."
"Didn't one of us on purpose set out to make a snuff movie."
Cassie Wright, porn priestess, intends to cap her legendary career by breaking the world record for serial fornication. On camera. With six hundred men. SNUFF unfolds from the perspectives of Mr. 72, Mr. 137, and Mr. 600, who await their turn on camera in a very crowded green room. This wild, lethally funny, and thoroughly researched novel brings the huge yet underacknowledged presence of pornography in contemporary life into the realm of literary fiction at last. Who else but Chuck Palahniuk would dare do such a thing? Who else could do it so well, so unflinchingly, and with such an incendiary (you might say) climax?
Table of contents
1: Mr. 600
2: Mr. 72
3: Mr. 137
4: Sheila
5: Mr. 600
6: Mr. 72
7: Mr. 137
8: Sheila
9: Mr. 600
10: Mr. 72
11: Mr. 137
12: Sheila
13: Mr. 600
14: Mr. 72
15: Mr. 137
16: Sheila
17: Mr. 600
18: Mr. 72
19: Mr. 137
20: Sheila
21: Mr. 600
22: Mr. 72
23: Mr. 137
24: Sheila
25: Mr. 600
26: Mr. 72
27: Mr. 137
28: Sheila
29: Mr. 72
30: Mr. 137
31: Sheila
32: Mr. 600
33: Mr. 72
34: Mr. 137
35: Sheila
∨ Snuff ∧
1
Mr. 600
One dude stood all afternoon at the buffet wearing just his boxers, licking the orange dust off barbecued potato chips. Next to him, a dude was scooping into the onion dip and licking the dip off the chip. The same soggy chip, scoop after scoop. Dudes have a million ways of peeing on what they claim as just their own.
♦
For craft services, we're talking two folding tables piled with open bags of store-brand corn chips and canned sodas. Dudes getting called back to do their bit – the wrangler announces their numbers, and these performers stroll back for their money shot still chewing a mouthful of caramel corn, their fingers burning with garlic salt and sticky with the frosting from maple bars.
Some one-shot dudes, they're just here to say they were. Us veterans, we're here for the face time and to do Cassie a favor. Help her one more dick toward that world record. To witness history.
On the buffet, they got laid out Tupperwares full of condoms next to Tupperwares of mini-pretzels. Fun-sized candy bars. Honey-roasted peanuts. On the floor, plastic wrappers from candy bars and condoms, bit and chewed open. The same hands scooping M & M's as reaching into the fly and elastic waistband of boxers to stroke their half-hard dicks. Candy-colored fingers. Tangy ranch-flavored erections.
Peanut breath. Root-beer breath. Barbecued-potato-chip breath getting panted into Cassie's face.
Tweakers scratching their arms bright red. High-school virgins wanting to lose it on camera. This one kid, Mr. 72, is looking to get deflowered and into history in the same shot.
Skinny dudes keeping their T–shirts on, shirts older than some other performers here, sent out for the launch of Sex with the City a lifetime ago. Fan-club shirts from back when Cassie was starring in Lust Horizons. T–shirts older than Mr. 72, silk-screened before he was born.
Loud dudes talk on cell phones, talking stock options and ground-floor opportunities at the same time they pinch and milk their foreskins. All the performers, the wrangler Magic Marker-ed their biceps with a number between one and six hundred. Their haircuts, a monument to gel and patience. Tans and fogs of cologne.
The room full of metal folding chairs. To set the mood, dog-eared skin magazines.
The talent wrangler is some babe, Sheila, with a clipboard, yelling for number 16, number 31, and number 211 to follow her up the stairway to the set.
Dudes wearing tennis shoes. Top-Siders. Bikini briefs. Wingtips with navy-blue calf-high socks held up with those old-time garters. Beach flip-flops still coated with sand, every step gritty with it.
That old joke: The way to get a babe to act in a blue movie is you offer her a million dollars. The way to get a dude is you just have to ask him…That's not actually a joke. Not like a ha-ha joke.
Except maybe us industry regulars, most of these nobodies saw the ad that ran in the back of Adult Video News. An open casting call. A hard-on and a doctor's release to show you're clean, that was the audition. That, and nobody's shooting kiddie porn, so you had to be eighteen.
We got shaved pecs and waxed pubes standing in line with a Downs-syndrome Softball team.
Asian, black, and spic dudes. A wheelchair dude. Something for every market segment.
The kid, dude 72, he's holding a bouquet of white roses starting to curl, droop, the petals slack and starting to brown. The kid's holding out one hand, words written on the back in blue ballpoint pen. Looking at them, the kid goes, "I don't want anything, but I've always loved you…"
Other dudes carry around wrapped boxes fluffy with bows and trailing ribbons, boxes small enough to fit in one hand, almost hidden inside their fingers.
The veteran talent wear satin bathrobes, prizefighter robes tied with a sash, while they wait their call. Professional woodsmen. Half them even dated Cassie, talked marriage, becoming the Lunts, the Desi and Lucy of adult entertainment.
Wasn't a performer at that shoot who didn't love Cassie Wright and want to help her make history.
Other dudes ain't dicked anything but their hand, watching nothing but Cassie Wright videos. To them, it's a kind-of fidelity. A marriage. These dudes, clutching their little gifts, for them today is their kind-of honeymoon. Consummation.
Today, her last performance. The opposite of a maiden voyage. Up those stairs, to anybody after the fiftieth dude, Cassie Wright will look like a missile crater greased with Vaseline. Flesh and blood, but like something's exploded inside her.
To look at us, you'd never guess we were making history. The record to end all records.
The talent wrangler comes around, calling out, "Gentlemen." The Sheila babe pushes the glasses up her nose and goes, "When I call you, you'll need to be camera-ready."
By that she means fully erect. Condom-ready.
The closest thing that comes to how the day felt is when you wipe back to front. You're on the toilet. You're not thinking, and you smear shit on the back of your hanging-down wrinkled ball skin. The more you try to wipe it clean, the skin stretches and the mess keeps getting bigger. The thin layer of shit spreads into the hair and down your thighs. That's how a day like this, how it feels to keep secret.
Six hundred dudes. One porn queen. A world record for the ages. A must-have movie for every discerning collector of things erotic.
Didn't one of us on purpose set out to make a snuff movie.
∨ Snuff ∧
2
Mr. 72
It was a lamebrain plan, bringing roses. I don't know. The first step inside the door, they give you a brown paper shopping bag with a number written on the side, some number between one and six hundred. They say, "Put your clothes in here, kid." And they give you a wood clothespin with the same number in black pen. They say, "Clip it to your shorts. Don't lose it or you won't get your stuff back." The crew girl, she wears a stopwatch on a cord, hanging on her chest where her heart would be.
/> Taped to the wall behind the table where you undress, they got a sign done in the same black pen, on brown paper; it says how the production company isn't responsible for anybody's valuables. Another sign they got says 'No Masks Allowed." Some bags, guys put their shoes in with a sock balled inside each. Their belt coiled tight and nested in one shoe. Their pants folded, the creases matched, and laid on top the shoes. Their shirts tucked under their chin while they match up the arms and fold the collar and tails so as to make the least wrinkles. Their undershirt, folded. Their necktie rolled and tucked in a pocket of their suit jacket. Guys with good clothes.
Other guys pull off their jeans or sweatpants, balled up, inside out. Their T–shirts or sweatshirts. They peel off their damp underwear, and stuff it into the bags, then on top they drop their stinking tennis shoes.
After you undress, the stopwatch girl takes your bag of clothes and puts it on the floor, against the concrete wall.
Everybody, they're standing around in their shorts, juggling their wallets and car keys, cell phones, and whatnot.
Me bringing a bouquet of roses, wilting and all, more junk to juggle, it was just plain stupid.
Getting undressed, I was unbuttoning my shirt, and the stopwatch girl giving out paper bags, she points at my chest and says, "You planning to wear that on camera?"
She's holding a bag marked with the number '72'. The clothespin clipped to one paper handle. My number. The stopwatch girl points her gun finger at my chest, and she says, "That."
Tucking my chin, I look down until it hurts, but all I can see is my crucifix on the gold chain around my neck.
I ask if that's a problem. A crucifix.
And the girl reaches out with the clothespin, squeezing it open. She jabs to pinch it on my nipple, but I pull back. She says, "We've been doing this a long time." She says, "We know to look out for you Bible thumpers." From her face, she could be a high-schooler, about my age.
The stopwatch girl says how the actress Candy Apples, when she set her record with 721 sex acts, they used the same group of fifty men for the entire production. That was in 1996, and Candy only stopped because the LAPD raided the studio and shut down the production.
She says, "True fact."
When Annabel Chong set her early record, the stopwatch girl says, performing 251 sex acts, even with eighty men showing up for the cattle call, some 66 percent of them couldn't get their dicks hard enough to do their job.
That same year, 1996, Jasmin St. Claire broke Chong's record with three hundred sex acts in a single shoot. Spantaneeus Xtasy broke the record with 551. In the year 2000, the actress Sabrina Johnson took on two thousand men, fucking until she hurt so bad the crew had to pack ice between her legs as she sucked off the remainder of the cast. After her royalty checks started to bounce, Johnson went public with the news that her record was bogus. At most, she'd done five hundred sex acts, and instead of two thousand men, only thirty-nine had answered the casting call.
The stopwatch girl points at the crucifix, saying, "Don't try to save anybody's soul here."
The next guy down the table, he pulls off a black T–shirt, his head and arms and chest the same even suntan brown. A ring shines gold, hanging from one nipple. His chest hair lies flat, every hair cropped down to the same stubble size. Looking at me, he says, "Hey, buddy…" He says, "Don't save her soul before they call me for my close-up, okay?" And he winks big enough to wrinkle half his face around one eye. His eyelashes big enough to fan a breeze.
Up close, he's smoothed a layer of pink all over his forehead and cheeks. Three colors of brown powder around his eyes, folded into the little wrinkles there. Clamped under one arm, between his elbow and tanned ribs, the guy holds a wad of white, maybe more clothes.
On the other side of the table, the stopwatch girl turns her head to look both ways. She stuffs a hand into one front pocket of her blue jeans, asking me, "Hey, preacher, you want to buy some insurance?" The girl fishes out a little bottle, big around as a test tube, but shorter. She shakes the bottle to rattle some blue pills inside. "Ten bucks each," she says, and shakes the blue pills next to her face. "Don't you be part of that sixty-six percent."
The guy wearing makeup, the stopwatch girl hands him a bag numbered '137', saying, "You want the teddy bear should go in your bag?"
She nods toward the white bundle under the guy's elbow.
Guy 137 whips the wad of white clothing from under his arm, saying, "Mr. Toto is nothing so pedestrian as a teddy bear…" He says, "Mr. Toto is an autograph hound." He kisses it, saying, "You wouldn't believe how old."
The stuffed animal is sewed out of white canvas, a long wiener-dog body with, sticking down, four stubby white canvas legs. Stitched on the top, a dog head with black button eyes and floppy canvas ears. Crabbed all over the white canvas is writing, blue, black, and red pen handwriting. Some loopy letters, some block letters. Some with dates. Numbers. A day, month, and year. Where the guy kissed it, the dog's smeared red with lipstick.
He holds the dog in the crook of one arm, the way they'd hold a baby. With his other hand, the guy points out writing. Signatures. Autographs. Carol Channing, he shows us. Bette Midler. Debbie Reynolds. Carole Baker. Tina Turner.
"Mr. Toto," he says, "is older than I myself would ever admit to being."
Still holding the bottle of blue pills, the stopwatch girl says, "You want Miss Wright should autograph your dog?"
Cassie Wright, the guy tells us, is his all-time favorite adult star. Her level of craft soars above her peers.
Guy 137, he says how Cassie Wright spent six months shadowing an endocrinologist, learning his duties, studying his demeanor and body language, before playing a doctor in the groundbreaking adult feature Emergency Room Back Door Dog Pile. Cassie Wright spent six months of research, writing to survivors and studying court documents, before she set foot on the set for the adult mega-epic Titanic Back Door Dog Pile. In her single line of dialogue, the moment Cassie Wright says, "This boat's not the only lady going down, tonight…" her west-country Irish accent is dead-on, depicting exactly how hot the steerage free-for-all sex must've been in the final moments of man's worst sea disaster.
"In Emergency Room," he says, "in the lesbian scene with the two hot laboratory assistants, it's obvious that Cassie Wright is the only performer who knows the correct way to work a speculum."
The critics, guy 137 says, justifiably raved about her portrayal of Mary Todd Lincoln in the Civil War epic Ford's Theatre Back Door Dog Pile. Later re-released as Private Box. Later re-released as Presidential Box. Guy 137 tells us, in the scene where Cassie Wright gets double-teamed by John Wilkes Booth and Honest Abe Lincoln, thanks to her research, she truly does make American history come alive.
Still cradling his canvas dog, its black button eyes against his gold nipple-ring, the guy says, "How much for your pills?"
"Ten bucks," says the stopwatch girl.
"No," the guy says. He stuffs the dog back under his arm and reaches around to his back pants pocket. Taking out his wallet, he pinches out twenty, forty, a hundred dollars, saying, "I mean, how much for the entire bottle?"
The stopwatch girl says, "Lean over so I can write your number on your arm."
And guy 137 winks at me again, his big eye looking bigger inside all that brown powder, and he says, "You brought roses." He says, "How sweet is that?"
∨ Snuff ∧
3
Mr. 137
You know those days at the gym when you're bench-pressing six plates or you're one-arming your body weight in preacher curls, and one rep you're pumped and stoked, split-setting cable rows with wide-grip pull-downs, you're knocking out reps and sets fast as you can rack the plates – but then, the next set, you're toast. Wasted. Every curl or press is just more effort. Instead of powering through, you're counting, sweating. Panting.
> It's not a sugar crash. Wouldn't you know it? The big shift is because some meathead at the front desk has shut off the music. Maybe you weren't listening listening, but when that music stops, working out turns into just plain work.
That's the same doom you feel, that drop in blood pressure, when the music shuts off, three in the morning, closing time at the ManRod or the Eagle, and you're left standing still unfucked, all alone.
That's the big letdown you'll notice about filming a movie: No underline music. No mood music. Down the hallway, in that room with Cassie Wright, you're not even getting wah-wah electric-guitar porno jazz. No, only after the editing, after looping any dialogue, then they'll add a music track to improve the continuity.
And wouldn't you know it? Bringing Mr. Toto here was a terrible plan.
But scoring a full bottle of Viagra…that just might pull me through.
Across the waiting area, the real-life genuine Branch Bacardi is talking to Mr. 72, that kid holding a bouquet of wilted roses. The two of them could be Before and After pictures of the same actor. Bacardi stands in red satin boxer shorts, talking, while one of his hands rubs his own chest in slow circles. In his other hand, he holds a blue throwaway razor. When his rubbing hand stops, his razor hand moves to the same spot, scraping away invisible stubble, the plastic razor scratching in the short, quick strokes you'd use to hoe weeds in a garden. Branch Bacardi keeps talking, never looking down as his rubbing hand roves to another spot, feeling, then pulling the tanned skin tight as the razor hand shaves the skin from every angle.
Right here: Branch Bacardi, star of The Da Vinci Load and To Drill a Mockingbird, The Postman Always Cums Twice and the first all-singing, all-dancing adult feature, Chitty Chitty Gang Bang.
Even indoors like this, Bacardi, Cord Cuervo, Beamer Bushmills – all the male dinosaurs of the adult industry still wear their sunglasses. They pat and smooth their hair. They're the generation of genuine stage actors; they studied their craft at UCLA or NYU, but needed to pay the rent between legitimate roles. To them, doing porn was a lark. A radical political gesture. Playing the male lead in The Twilight Bone or A Tale of Two Titties was a joke to put on their resume. After they were bankable legitimate stars, those early jobs would become fodder for anecdotes they'd tell on late-night talk shows.