Rebound, p.1





Rebound, p.1

Part #2.3 of Men of Inked series by Chelle Bliss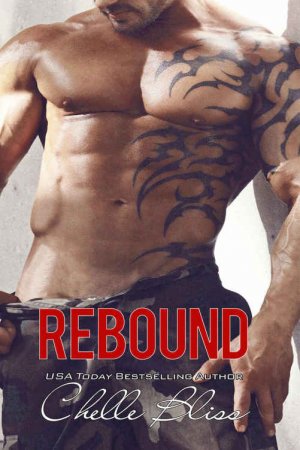 Rebound
Chelle Bliss
Contents
Copyright
Also by Chelle Bliss
Introduction
Dedication
1. Stay With Me Tonight
2. Getting Lost
3. New Orleans
4. Fortunes Be Damned
5. Sexual Healing
6. Home
7. Five Years Later
8. Problems…
Note from Chelle Bliss
About Chelle Bliss
Men of Inked #1 Sneak Peek
Copyright
Rebound Copyright © 2015 Chelle Bliss
All rights reserved. No part of this book may be reproduced or transmitted in any form, including electronic or mechanical, without written permission from the publisher, except in the case of brief quotations embodied in critical articles or reviews.
This is a work of fiction. Names, characters, businesses, places, events, and incidents are either the products of the author's imagination or used in a fictitious manner. Any resemblance to actual persons, living or dead, or actual events is purely coincidental. This book is licensed for your personal enjoyment only.
This book may not be re-sold or given away to other people. If you would like to share this book with another person, please purchase an additional copy for each person you share it with. If you are reading this book and did not purchase it, or it was not purchased for your use only, then you should return it to the seller and purchase your own copy. Thank you for respecting the author's work.
Published: October 15th 2015
OriginallyPublished: Chelle Bliss March 17th 2015
First Edition Copyright © 17th March 2015
Editor: Lisa A. Hollett, Silently Correcting Your Grammar
Proofreader: Fiona Wilson
Cover Photo: © Eric Battershell Photography/FITography
Cover Model: Matt Zumwalt
This book is intended for a mature audience only.
Also by Chelle Bliss
Men of Inked Series
Click title below to learn more!
Throttle Me | Hook Me | Throttled
Resisting | Resist Me | Uncover Me
Without Me
A sneak peek of Throttle Me is available at the end of this e-book.
Check it out and start the Men of Inked series today!
ALFA PI Series
Sinful Intent
Unlawful Desire
Introduction
Rebound
Sam & Fiona's Story
(Originally in the Night Shift Anthology)
by
Chelle Bliss
To my big, crazy, but loveable
Italian family… I love you!
1
Stay With Me Tonight
"Oh my God, Sam!" she cried out. "Yes!" I pounded into her. She was on all fours, fisting the sheets with her head tipped back.
"So fuckin' good," I bit out through gritted teeth. I held her by the waist, pulling her against my cock as I took the strokes deep. Her smooth skin was almost translucent under my hands. Perspiration started to collect on her flesh¸ glimmering in the candlelight. If my cock didn't feel so damn good inside her pussy, I would've licked a path up her spine, collecting the moisture.
"Harder," she begged.
I slowed my pace. Her short hair bounced with each thrust. I'd give her exactly what she asked for. I grabbed the strands in one hand, gathering them into a ponytail and gripping it tightly. Using it like reins, I pulled her back as I slammed into her.
"Oh!" she yelled as my dick rammed into her, leaving no space between us. She tried to pull away, trying to crawl forward, but I didn't give her the chance. I smacked her ass with my free hand, landing it on the fleshy part of her thigh.
"Fuckkk," she hissed and her body froze.
I couldn't help but smile. Her pussy contracted, gripping my cock like a vise as the effect of the crack radiated across her skin. Without warning, I brought down my palm on the spot next to my previous strike. Again her pussy contracted as she cried out, curse words spilling from her mouth.
I held her hair tighter, pulled her back hard, and pummeled into her wetness. I couldn't keep my eyes off her body. The way her waist curved in just above her hips, creating an amazing hourglass figure, drove me crazy. Her hips were significantly larger than her waist, making the visual even more impressive.
I couldn't wipe the dumb-ass smile off my face. This isn't how I thought I'd spend the weekend in New Orleans. Instead of losing myself in a drunken stupor, I had met an amazing woman and was currently banging the hell out of her.
"You like this?" I growled, soothing her thigh after the blow.
"Yesss," she drawled, pushing her ass farther into the air as her shoulder melted into the mattress.
I hadn't felt this wanted in forever. The way she tore at my clothes and worshiped my body was astounding. I felt like a Greek god when she removed my shirt and fell to her knees, licking the ridges of my abdominal muscles. If I had any doubts about fucking her tonight, they melted away as soon as her tongue touched my flesh.
The orgasm I had been fighting since the second I slipped my dick inside her was begging to be unleashed. Unable to resist the urge, I released her hair and tipped her ass higher in the air. Needing to hit her at just the right angle to send her over the edge with me. Planting my feet on the mattress, I held on to the headboard, using my arms as well as my hips to batter her inside with my dick.
Her face was sideways, giving me a full view as her mouth fell open and her eyes squeezed shut. She sucked in a breath, holding it as I moved inside her. Each time she held the air in her lungs, I could feel her pussy bearing down on my cock, trying to shove it out. She was close and exactly where I wanted her. Adjusting my body, I grasped the headboard tighter, using my arms to pull myself forward. As her pussy contracted around my shaft, I dove in deeper, leaving no space untouched. My body hummed with pleasure. My entire being craved the orgasm. The weight of my balls and the tingling down my spine made it clear that I couldn't wait any longer.
"Oh God. Oh God," she mumbled as I slammed into her a couple more times.
Unable to hold out any longer, I gave in, letting the orgasm rip through my system. Everything in my body began to quake. As the ecstasy gripped me, my fingers began to slip, sliding down the headboard.
"Fuck," I roared, throwing my head back and pushing through the burning pain in my thighs.
With my body still trembling, I fell forward onto her back. Breathing heavily, I gulped for air, exhausted. She collapsed beneath my weight. There were no words for the way I felt after being with Fiona. Not just hanging out or fucking her but the entire experience.
"Wow," she whispered, peering up at me.
"Yeah," I replied, still lost for words. Is this where I'm supposed to say thank you? But then again, maybe she was saying "Wow" as in, "Wow, that sucked."
"You're quite the stud, Sam." She giggled and wiggled her ass against my semi-erect cock, still partially buried inside her.
The laughter burst from my lips before I could stop it. I don't think anyone had ever called me a stud while my dick was still in her. I'd admit that I was a good fuck. I took pride in it.
Getting a woman off was the ultimate turn-on. The men who didn't give a fuck and only cared about getting their rocks off always baffled me. Who the fuck would come back for seconds when you're a selfish lover?
I rolled over, taking her with me. "Fiona, it's not hard to be when you're involved." My fingertips traced circles down her arm as she nestled into my side. "You're so beautiful. God, I was turned on. I'd stay buried inside you all night if I
could."
Her mouth formed an O as she blinked. "So you're a one-hit wonder?" she teased, quickly biting her lip as her body shook from laughter.
"Fuck no, I'm not! I'm not done with you yet, woman." I grabbed her shoulder, bringing her lips to mine. My breathing still hadn't returned to normal, but I wouldn't let something like that stop me.
"I was kidding," she mumbled against my lips, laughing.
"I wasn't," I replied, lifting my body above hers.
I kissed her jaw.
"Really," she said and exhaled.
Licking a trail down her neck, I stopped on her jugular and nestled my body between her legs.
"You don't have to, Sam," she mumbled as her back arched.
Sinking my teeth into her flesh, I tongued her skin between my teeth and ignored her. I watched her face as her cheeks grew pink and her mouth fell open. She wanted more, no matter what she said.
"I was kidding." Her eyes fluttered back and sealed shut.
I slid my tongue down her collarbone as I made a beeline for her nipple. It was still hard and ready. Capturing it in my mouth, I nipped it with my teeth.
"Fuck," she moaned. "It feels so damn good." Her back arched higher, pushing her breast into my mouth.
"Mmm," I mumbled against her nipple, letting the vibrations work with my mouth.
She trembled as her hands moved to my shoulders and dug in. The bite of her nails was divine, making my dick jump in reaction. Between the ways she reacted to me, the scent of her arousal, and the feel of her body, I knew I wanted more. I didn't know if I'd ever get my fill.
The need to taste her overtook my thoughts, sending me on a path down her body. Glancing up at her, I slid myself between her legs. God, she was so fucking beautiful. The paleness of her skin dancing in the light was a thing of grace. The roundness of her breasts hid her face, but the space between gave me just enough to gauge her reactions to my movements.
My mouth salivated with the scent of her arousal. Sweetness with a hint of my scent still clinging to her skin made my mouth water. I brushed my nose against her hair, taking a deep breath and getting my fill.
I stuck out my tongue, capturing her wetness on the tip. The taste was better than the smell as it spread through my mouth. A deep growl escaped my lips as I moved forward and licked her with the flat of my tongue. Using just enough to tease yet not enough to bring her sufficient pleasure to be satisfying.
"More," she demanded, thrusting herself toward my face.
Resting my hands on her thighs, I pushed down and out, holding her open and still. This was my show. She wouldn't control what happened, how hard, or where I licked. I wanted to touch her everywhere with my mouth.
I kept my licks light as she whimpered and struggled against my hands. There was no way I'd let her take charge. When she finally stopped moving, I drew her clit into my mouth and tongued it.
There was nothing more amazing than having the most sensitive spot on a woman's body inside my mouth. The feeling of power gave me a high. Staring up her body, I watched her respond to my touch. Even though I'd just fucked her like a champ, my dick grew stiff.
I was ready. Ready for more Fiona. Listening to her moan and scream my name in ecstasy was better than anything I'd ever heard. Maybe I was just drunk on pussy, overthinking everything that had happened. It felt right. Being with Fiona made me feel at peace.
There was no way in hell I'd fuck her again until I made her come against my tongue. My fingers itched to move, wanting to feel her pulse against them. I stroked her opening, feeling her legs spreading to my touch as an invitation.
Thrusting my fingers inside, I sucked her clit harder as she writhed against the mattress and bore down on my fingers. God, how I wished it were my dick inside her, feeling her from the inside, but it wasn't. My time would come. My cock's time was near.
This wasn't a sprint. I wanted a marathon. When I felt her begin to quake and her breathing grew uneven, I backed off and removed my mouth from her body
"Oh God," she moaned and pushed her pussy against my face. "Don't stop. Fuck," she hissed. She raised her head off the pillow and glared at me.
Before she had another chance to protest, I curled my fingers and brought my mouth down on her fast and hard. Her head dropped back onto the pillow as her fingers tangled in my hair. I wanted to laugh as she held my head against her pussy. I loved her greediness and knew the feeling of being denied an orgasm.
I made love to her pussy with my mouth. Luxuriating in her softness, engulfing her with the warmth of my lips. I was drunk on pussy. Drunk on her and intoxicated by her body, I relished every ounce of her wetness I swallowed.
"Yes!" she cried out, pushing my face against her almost to the point of suffocating me.
There are worse ways to go than being choked to death in the pussy of a lovely woman. When she cried out, her legs closed and trapped my head. I used my last bit of air to bring her through her orgasm without depriving her of the grand finish she deserved.
When her legs fell away and her body grew slack, I gasped for air. My brain felt light-headed as I tried to draw in breath but struggled. Watching her coming apart and feeling her body quake in my arms was worth the lack of oxygen.
I pushed myself up, still struggling to steady my breathing. "Whew," I snickered. "You almost killed me there," I huffed out, rubbing the sweat from my forehead. Sex sweat was the best kind. Fuck, it was cathartic.
She laughed, throwing her arms out to her sides. She swallowed hard and sighed. "If you would've stopped, I would've killed you."
As I crawled up her body, I laughed and shook my head. "You're an amazing woman, Fiona." It wasn't a lie. Less than twenty-four hours ago I didn't know she existed, but now I can't imagine going back to that lost soul. She was like an angel sent to bring me back to life.
"Stay with me tonight," she whispered as I hovered above her lips.
"I planned on it. I'm still not done with you." I smiled against her mouth before crushing my lips against hers.
I lost count of the number of times I made her come. Using my cock, tongue, and hands, I brought her more pleasure than any other woman in my life. Why did I care so much? I wanted her to remember me. I wanted her to want me. I didn't want to be a one-hit wonder. It was the only way I could think of to get an invitation back. This couldn't be the end for us. My future was before me, and I'd do anything to see how it turned out.
2
Getting Lost
The Day Before…
New Orleans is a place to get lost. Blending into the endless sea of people as you wander the streets, drowning your sorrows in Hand Grenades and Hurricanes.
Sex is everywhere. Strippers shaking their asses in doorways and tourists flashing their tits to get beads from a stranger on a balcony. Scantily clad women stagger down the streets, clutching their drinks like they are a lifeline.
All I wanted to do was forget about women—actually one woman in particular. I chose New Orleans for a weekend of fun, hoping to feel alive again.
It was an epic fucking fail.