Resist me, p.1





Resist Me, p.1

Part #3 of Men of Inked series by Chelle Bliss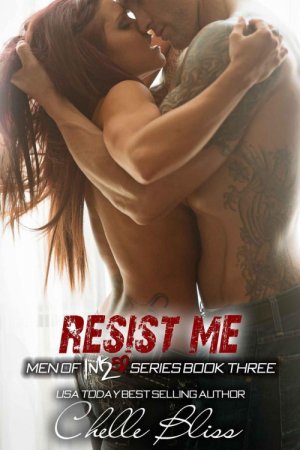 Resist Me Copyright © 2014 Chelle Bliss
Published by Chelle Bliss
All rights reserved. No part of this book may be reproduced or transmitted in any form, including electronic or mechanical, without written permission from the publisher, except in the case of brief quotations embodied in critical articles or reviews.
This is a work of fiction. Names, characters, businesses, places, events, and incidents are either the products of the author's imagination or used in a fictitious manner. Any resemblance to actual persons, living or dead, or actual events is purely coincidental. This book is licensed for your personal enjoyment only.
This book may not be re-sold or given away to other people. If you would like to share this book with another person, please purchase an additional copy for each person you share it with. If you are reading this book and did not purchase it, or it was not purchased for your use only, then you should return it to the seller and purchase your own copy. Thank you for respecting the author's work.
Published: Chelle Bliss August 13th 2014:
[email protected]
First Edition Copyright © 13th August 2014
Editor: Mickey Reed
Editor: Editing 720
Cover Design © Melissa Gill at MG BookCovers
Cover Photo: FuriousFotog
Cover Models: Alfie Gordillo and Colleen McMahon
Formatted by: Chelle Bliss
Chapter Headers: BigStockPhoto.com
This book is intended for a mature audience only.
To all the people who said,
"Don't do it."
I say…
"Go fuck yourself!"
~ Chelle Bliss
Prologue
"I don't like the idea of you going to Bike Week, Izzy," Joe fumed, slamming his beer on the worktable and glaring at me.
"I'm not a fucking child anymore, Joe. You can't tell me what to do." I stared at him, holding his gaze. I'd always been the little sister, the one everyone wanted to protect. When I was a child, I'd found it flattering, but now? Now it was just a fucking pain in my ass.
"We're not saying you're a kid, babe. Too much bad shit happens during Bike Week. It's not safe for you there. We're just looking out for ya." Michael leaned forward, running his fingers across the back of my hand.
"I can take care of myself. It's just for the weekend. Flash will be with me. I'm not going alone." I sat back, tilting my head to watch their reaction. I knew it wasn't going to be pretty.
"Flash?" Joe asked with wide eyes. "I thought I told you to stay away from that dumbass prick." He ran his hand down his face before squeezing the bridge of his nose. "It was bad enough you brought him to Thanksgiving dinner. I hate that asshole more than I ever did."
"Fucking unbelievable, Izzy." Michael shook his head.
"There's nothing wrong with Flash. He's harmless, but he'll look out for me."
Flash wasn't a pussy, but he wasn't a Gallo man either. I didn't give a shit. He was a friend and we hung out when he came through town. We had never been a couple, but he knew how to please me in bed. I liked being with him. He was uncomplicated and not looking for a relationship. He breezed into my life from time to time and exited just as quickly.
"Izzy," Joe warned. "He was a good kid, but now he's prospecting to get into the Sun Devils MC. I know what shit goes down in a club. I've spent enough time at the Neon Cowboy to know what the life is all about. What the fuck do you think Tommy would say if he knew you were going there with Flash?"
I loved my brothers. I truly did. But for shit's sake, they could be overbearing.
"I don't know what he'd say because I haven't seen him in over a year. I'm not Flash's old lady or his whore. We're going as friends. I'm going and you two can't stop me. He'll protect me." I smiled, crossing my arms.
"Flash is a fucking pussy." Michael hit the table with his fists. "Mia could protect you better than him. Jesus Christ, Izzy, why are you so damn hardheaded?"
"Didn't you two teach me how to protect myself?" I glared at them.
"Yes," they answered in unison.
"I can handle myself. I know how to kick ass and bring a man to his knees." I tried to hide my smile. I knew the double meaning wouldn't be lost on them. "I'll be good."
"It's not your behavior we're worried about, baby girl," Joe growled, cracking his knuckles. "Michael and I can't risk jail because we have to kick some fucker's ass for touching you."
"Speak for yourself, old man. You're still pretty fucked up from the accident, but I'm always down to kick ass, brother." Michael laughed. "Anthony is going to be fucking livid when he hears this shit."
I smiled at them. "He already knows, so shut it. I love you both and appreciate everything you've done for me, but I'm an adult. Have a little faith in me for once. Who's the first person you two run to when shit goes bad?" I arched my eyebrow and laughed. "Me. You're always coming to me for help. I'll be fine." I waved my hands. "Don't try and stop me. I promise to be safe and not go anywhere alone while I'm in Daytona. I'll stay with Flash and won't do anything stupid." I stood, completely done with the conversation.
"You'll call us every day," Michael insisted, giving in. He knew he wasn't going to win this battle.
"Text," I replied. "I'll text you every day while I'm gone, but that's all you're getting." I headed toward the front desk to cash out my tips.
"Fine." Michael sighed, shaking his head. "Don't like this shit one bit."
"Not my problem," I called out from the front of the shop.
"Women are a fucking pain in the ass," Joe said to Michael, and they both laughed. "And shut your fucking mouth. I'm healed from the bike accident, dumbass. I can kick your ass right now to prove it too."
"I don't hit the disabled." Michael laughed.
My boys. Their banter and laughter made me smile as I grabbed my money and slammed the drawer closed. I had everything I wanted in the world: four fantastic brothers, one that was MIA—Tommy—a flourishing business, a growing clientele. And I was totally unattached.
What more could a girl ask for?
Chapter 1 - Flash is a Dumbfuck
Rolling into Daytona was an unforgettable experience. The entire beachfront was lined with row after row of bikes, babes, and badass boys. Flash and I checked into the shitty, seedy-ass hotel, but at least it seemed clean and had a bed. I chuckled when I caught a glimpse of the old coin-operated machine that caused the bed to vibrate. We'd find a way to make that useful.
After throwing my bag down on the floor, I collapsed on the lumpy mattress. The vibration of the three-hour bike ride still hadn't left my system as I stared at the brown spot on the ceiling.
"Hey, baby." Flash crawled on top of me, crushing me with his weight. "I want to taste you before we head out." He planted soft kisses on my neck before biting down on the tender flesh of my ear.
I moaned, tangling my fingers in his hair. "You know how I like it," I whispered, pulling on his scalp. "Do me good." I pushed his head down my body, not wanting to waste any time.
"Don't I always?" He licked his lips as he unbuttoned my jeans.
"Mm-hmm. Usually." I smirked as I lifted my ass, allowing him to slide the denim down my legs.
Flash was a beautiful man. He didn't resemble the scrawny kid I used to play kickball with at recess. His blue eyes, killer smile, and chiseled body made my mouth water. I was sure I wasn't the only girl out there who enjoyed his beautifully bent cock—not broken, just curved. It wasn't too wide or thick, just total perfection.
Each stroke hit just the right spot, and I'd never found another one since. It was the reason I always welcomed him in my bed.
He threw my jeans across the room before he nestled between my legs. "No panties," he mumbled as he kissed the skin on my lower abdomen. "Landing strip too. You know how I like it."
"Just for you," I lied.
It was the start of bikini season in Florida. I wouldn't be caught dead with stubble or razor burn. I pulled my knees up, planting my feet flush with the comforter, to give him better access.
He inhaled, a gleam in his eye. "You smell better than I fucking remember. You have the sweetest pussy, Iz. Fucking fantastic." Sticking his tongue out, he flicked my clit as he gripped my hips, holding me in place.
A jolt of pleasure shot through my body as I arched my back, pushing my head into the mattress. Warmth cascaded across my body as he latched on to me, sucking my flesh. Letting my knees fall toward the bed, I lay before him, spread eagle and wanting more than his mouth.
His hands slid under my ass as he squeezed it roughly, kneading it with his fingers. He sucked and licked my core while he stared in my eyes. Our gazes were locked as he rubbed his fingers against my opening.
"You're so wet, baby. I can feel how much you've missed me."
"Stop talking, Flash." My body was overly sensitive from the long bike ride. The slightest touch of his lips sent tiny shockwaves down my legs, causing my toes to curl. "Make me come and maybe I'll let you stick your cock in me."
"I'm taking that shit," he muttered against my flesh as he thrust two fingers inside me.
I cried out, the pleasure too intense as he latched on to me. He rhythmically sucked and finger-fucked me until I screamed through the breath-stealing orgasm.
"It's my turn now, Izzy." Flash patted my thigh as he sat up.
"I said maybe." I closed my eyes, lost in a post-orgasm haze.
"I'm taking it. No maybe about that shit. I earned it," he murmured as he nudged my legs farther apart.
I smirked, closing my legs. "You didn't earn shit. Eating my pussy was your reward."
"I'll stick it in your ass, then, but I'm taking something," he said as he flipped me onto my stomach.
I reached back, covering my ass with my hands. "Oh, no you don't!" I yelled. Then I felt a sharp sting on my ass as the sound of the smack he'd just landed filled the air.
"You know you want my sweet cock, Izzy. Don't play hard to get. It's not a good look on you."
I laughed into the blanket as the bed sprang back from the loss of his weight. He opened his bag on the old wooden desk next to the television. The man could wear a pair of blue jeans. He looked in the mirror and caught my eye before turning with a condom in his hand.
"Liking what you see, baby?"
"Eh, it's all right," I mumbled putting an unimpressed look on my face. I did, but no fucking way would I ever tell him and let my foot off his throat.
With a smile, he unbuttoned his jeans and pulled them down before kicking them off. His cock bobbed as he straightened, waving at me in all its hard glory. He tore the wrapper open with his teeth, sheathing his stiff, curved member before walking toward the bed.
"Not even going to take your shirt off?" I asked, staring at his cock. Then I forced myself to look at his face.
"You didn't." He pointed to me with a shitty smirk.
I didn't even care. All I'd wanted was his mouth on my pussy and the orgasm that had been just out of reach during the trip to Daytona. "I'll fix that. You, off the bed and totally naked," I commanded, pulling my tank top over my head.
After grabbing the back of his collar, he pulled it over his head, exposing his washboard abs. Fuck. He was a sight. Then he crawled up the bed, his cock swaying and a shitty-ass grin on his face.
"I know you want it. You need my dick more than you'll ever admit, Izzy. No one makes you come like I do," he whispered in my ear as he rubbed his hard length against me. "You want it?"
"If you think you're man enough to give it," I challenged. I loved when Flash felt like he needed to prove himself. He worked harder at it, fucked me better, and outdid himself each time.
"I'm busting that shit, Izzy. I'll show you how a real man fucks." He stood on top of the bed, pulling me up by the hips. "Ass up, princess," he said as he smacked my other cheek.
I giggled into the comforter. Dipping my stomach toward the bed, I pushed my ass in the air, wiggling it.
"Don't move," he said as he landed another blow to my already stinging flesh.
My laughter became uncontrollable as I buried my face deeper into the blankets, trying not to hurt his pride. Flash was hot. But controlling? Not one bit. I'd let him play the part for the pleasure of feeling his cock in me.
He pushed into me in one quick thrust. His fingers dug into my hips as he pounded me. I moaned each time the head of his cock stroked my G-spot. I fisted the sheets, closing my eyes, and tried to remember to breathe. His body bounced off mine, slamming into me to the hilt before he withdrew. As our bodies collided, my ability to keep my upper body in place began to slip. I reached back, wrapping my hands around his ankles, holding our bodies together.
He rested his palm against my lower back and placed his finger against the one hole I'd never given him. I opened my eyes, looking behind me. He towered over me with a hand on my hip, his abs clenching and relaxing, and a trail of spit falling from his lips. I squeezed my eyes shut, trying to get my body to relax as he rubbed the saliva against my flesh.
"Fuck," he muttered as he pulled out his cock and pushed his thumb inside my ass.
I whimpered, wanting the feel of his cock as I dug my fingernails into his ankles. He rammed his cock into me, filling me in both holes. Pleasure shot through my body as he worked one in and the other out. Moving out of sync and in absolute fucking perfection.
"Who's fucking you, Izzy? I want to hear you scream my name." He stilled.
I mumbled, not able to form words.
His thumb dug deeper, pulling upward, hooking me. "What's my name?" he growled, taking out his cock.
"Flash. Fucking Flash," I answered in one quick breath, burying my face in the comforter.
He pummeled me, his balls slapping against my clit, the curved shaft stroking my G-spot, his thumb caressing my ass. The second orgasm tore through me without warning as I chanted his name.
I lay there panting as the world came back into focus. My grip slipped from his ankles as I became putty in his hands. Flash picked up the pace, slamming into me a couple of times before resting his chest against my back and twitching. He gasped behind me, trying to catch his breath. Our bodies were stuck together by sweat-soaked flesh.
"Fuck, darlin'. I've missed ya," he panted in my ear as his cock slipped out.
"I missed your cock, Flash." I chuckled, earning me a swift smack on the ass. I started to crawl off the bed, ready to hit the town and get out of this shithole of a room.
Flash grabbed my foot. "Where are you slithering off to?" he asked as he pulled me against his body.
"I wanna shower and go out. I'm ready for a little fun." I sighed.
"Just lie here for a minute. I'm tired and I want to hold you." He jerked me back, holding me tighter to his chest, and nuzzled his face in my neck.
I relaxed against him. He did feel really good, but I wasn't here to snuggle. Flash and I had never had that type of relationship.
"You want more pussy this weekend? If you do, you'll rest while I shower and take my ass out. Understand what I'm saying?" I looked at him, seeing only his eyes as he bit down on my shoulder.
He released me, pushing me off the bed. "What the fuck ya waiting for? Go shower, wench."
I laughed as I grabbed my bag and flipped him off. Pussy was the great equalizer and always won when you needed to get one over on a guy who thought
he was "the man."
When he'd said that he'd take me out and show me the town, I hadn't thought that included the shittiest biker bar in all of Daytona Beach. The place reeked of cigarettes; the air was hazy from the smoke. A band was playing behind a cage like in the movie 'Roadhouse'. I walked through the door with Flash at my side. The floors were filthy and the men inside didn't look much better.
"None of your mouthy bullshit that I love so much when we talk to these guys, got it?" Flash cocked an eyebrow at me, standing like a statue as he waited for my answer.
"I'm not mouthy," I insisted, crossing my arms over my chest.
"Darlin', ya are, and I fuckin' love it." His smile grew wider, giving me a glimpse of why they called him Flash. He had a perfect smile filled with shiny, pearly-white teeth, one that could charm the pants off any girl. It did funny things to my brain, and I couldn't say no to him. "In this bar, with these guys, it's not the place. Understand? I'm a prospect, and that shit won't fly here."
I slid my arm around his waist, looking up into his baby blues. "I got it. I'm to be seen and not heard?"
He grabbed my shoulders and stared back at me. "That's how these guys are. You don't like something they say, just keep quiet."
The last thing I wanted to be was a piece of arm candy that faded away in the background. It was not how I'd been raised. "Let's get one thing straight, Flash. I know you're badass and all, but I don't stand in the shadows for anyone. Understand?"
"Fucking hell," he muttered, rubbing his face.
"I'll play the part this once, for you, but hear me now, mister. I'm not a club whore and I sure as hell ain't your old lady. I don't know what in the hell we are exactly, but if you want to be more than whatever the fuck this is"—I waved my hand in the air between us—"I will not stay quiet and be a mindless twat."
"Calm the fuck down, woman," he croaked as he wrapped his fingers around my wrist. "I don't think of you that way. This is for them." He turned his attention to the table full of rough-looking men about twenty feet away. I could handle big and burly. I hadn't grown up a pussy. "Just please do this for me and I'll make sure to make it worth your while," he said, wiggling his eyebrows and giving me a cocky-ass grin.
"I won't make a scene and walk out, but you owe me big time." I tore my wrist from his grip.
"Whatever you want, Izzy. You know that." His eyes softened as he looked down at me.
"I'm going to use my silent time to come up with something really big." I swiped my fingers across the small hint of chest hair just below his throat.
"I can do big." He laughed and grabbed my hand to pull me toward the table.
"Fucker," I muttered to myself as I followed behind.
He looked over his shoulder and said, "I heard that."
When he stopped suddenly, I ran into his back, and it felt like hitting a brick wall. I used his body as a shield from the men at the table. I didn't know if I had an off switch, but this wasn't really the place for me to test it. I just needed to keep my eyes down and pray their little hello didn't last long.