An Illustrated History of Notable Shadowhunters & Denizens of Downworld
Cassandra Clare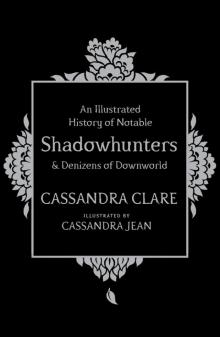 Contents

THE INFERNAL DEVICES

THE LAST HOURS

THE MORTAL INSTRUMENTS

TALES FROM THE SHADOWHUNTER ACADEMY

THE DARK ARTIFICES

The Infernal Devices

Alexei de Quincey

Born

Unknown

Species

Vampire

Favorite weapon

Teeth

De Quincey was the head of the London vampire clan in the late Victorian period. When the Shadowhunters of the London Enclave raided de Quincey's hideout in Chelsea, they came across very unpleasant wallpaper. De Quincey had commissioned an elaborate design involving hundreds of screaming humans, writhing on a blood-red background.

Axel Mortmain (Hollingworth Shade)

Born

1803

Species

Mundane human

Favorite weapon

Automaton army

Mortmain had an unusual upbringing, for he was adopted and raised by two warlocks, John and Anne Shade. He gained his love of the mechanical from John, who was fascinated by the possibilities of combining magic with clockwork. After Axel's death, the Clave searched his properties. At his residence they found a hidden room filled entirely with music boxes. It is not known whether they were created by John, Axel, or another person entirely. None had magical properties. All of them were well cared for, and had been frequently used.

Benedict Lightwood

Born

1831

Species

Nephilim

Favorite weapon

Blades

Family

Lightwood, Unknown

As a young boy, Benedict was fascinated by reptiles. During disagreements with his father, which were frequent, Benedict would flee into the countryside to search for frogs, turtles, and whatever other creatures he could find. He was especially fond of snakes.

Cecily Herondale

Born

1863

Species

Nephilim

Married name

Lightwood

Favorite weapon

Blades

Family

Herondale

Even before training as a Shadowhunter, Cecily had uncommonly good aim. The Herondale children would make a game of throwing rocks to knock objects like pinecones and empty kitchen canisters off of fence posts, and Cecily annoyed her older siblings greatly with her innate skill.

Charlotte Branwell

Born

1855

Species

Nephilim

Maiden name

Fairchild

Favorite weapon

Sword

Family

Fairchild, Unknown

Charlotte and her father Granville Fairchild did not always see eye to eye, but there was one place in which they always enjoyed each other's company: at the chessboard. Granville taught his daughter to play when she was seven years old, and the game afforded them an opportunity to spend time together over the course of many years.

Dark Sisters

Born

Unknown

Species

Warlock, Demon

Favorite weapon

Spells

Little is known of the history of the Dark Sisters, who terrified London in the 1870s, yet their strong connection with each other was undeniable. Records of two women sounding very much like them have been found dating back to the 1600s, when the sisters were forced into seclusion by witch hunts. It is unknown why Mrs. Dark, a demon, chose to spend so much time in a dangerous part of the human world. Possibly it was because she could not bring her sister with her to the demon realms.

Edmund Herondale

Born

1835

Species

Nephilim (exiled)

Favorite weapon

n/a

Family

Herondale, Unknown

Edmund Herondale left the Shadowhunter world as a young man, but his children, Will and Cecily Herondale, chose to step back into that world. To Edmund's delight, his son and daughter and their families found ways to visit around the holidays every year. Their appearance was cause for much merry-making, and Edmund would make a point of baking gingerbread, his one specialty, when they arrived.

Gabriel Lightwood

Born

1860

Species

Nephilim

Favorite weapon

Seraph blade

Family

Lightwood, Pangborn

Gabriel was not particularly close with his father. After his brother Gideon Lightwood moved to Spain, Gabriel was rather lonely. He read his way through the library, learned to identify the plants in the gardens, and even briefly considered learning topiary. It was at this critical juncture that Benedict Lightwood became suddenly interested in his younger son, inviting Gabriel to accompany him on Shadowhunter business and holding court in his study late into the night, telling Gabriel stories of their glorious family history. Regrettably, many of these stories were completely made up, or drastically altered from their true form to fit Benedict's purposes.

Gideon Lightwood

Born

1858

Species

Nephilim

Favorite weapon

Seraph blade

Family

Lightwood, Pangborn

Once held in the sway of his father, Gideon Lightwood's life changed dramatically when he spent a year in Spain. Gideon was delighted by the warmth of his hosts, and their kindness gave him a new perspective on his upbringing. He longed for his brother Gabriel Lightwood to share in the experience with him, and resolved to make changes to their lives when he returned home.

Henry Branwell

Born

1856

Species

Nephilim

Favorite weapon

Varied, all invented by Henry himself

Family

Branwell, Unknown

Henry was an inventor from the time he was small. His parents were alternately amused and frustrated by his desire to redesign common household appliances. After a particularly frightening incident with a wringer mangle, Henry was encouraged to turn his creativity to mechanical pursuits that were not related to household chores. This inadvertently steered him towards the boundary-breaking work that eventually made him famous.

Jem Carstairs

Born

1861

Species

Nephilim

Favorite weapon

Sword

Family

Carstairs, Ke

Jem's journey back to himself when he left the Silent Brothers was not an easy one. Unsure how to process the years he had spent in a distant emotional and physical state, Jem eventually turned to music. At first his ability to play the violin was nowhere near what it had been before he joined the Gregori, but that was acceptable. Jem wasn't aiming for technical skill. He was aiming for a nonverbal way to express what he had lost and what he had gained, and he found it.

Jessamine Lovelace

Born

1860

Species

Nephilim

Married name

Gray

Favorite weapon

Parasol

Family

Lovelace, Unknown

Jessamine's ghost guarded the London Institute for many decades, but her behavior wasn't always benevolent. If she disapproved of a resident's fashion choices, they might fin
d the offending articles missing, sometimes replaced by clothing that Jessamine deemed worthy. Since she had no way to leave the Institute, these garments were borrowed from other residents, causing much confusion.

Linette Owens

Born

1839

Species

Mundane human

Married name

Herondale

When Linette's children, Will and Cecily Herondale, would bring their families to visit at holiday times, Linette was fond of corralling everyone into games. Charades and Pass the Slipper were favorites. Forfeits was popular among the children, but usually led to fights between Will and Gabriel Lightwood. Linette tried to steer the family away from games involving wagers, because of her husband Edmund's nearly ruinous penchant for gambling.

Nathaniel Gray

Born

1859

Species

Mundane human

Favorite weapon

Deceit

As a child, Nate Gray was briefly interested in sketching. It was a relatively low-cost hobby for the cash-strapped Gray family, and they used scrap paper whenever they could get it. While he had talent, Nate was frustrated by his inability to convey the images exactly how he saw them in his mind's eye. He became belligerent and short-tempered about practicing. His sister, Tessa Gray, and their guardian Harriet Moore were both relieved when he gave up the hobby.

Sophie Collins

Born

1858

Species

Nephilim (Ascendant)

Married name

Lightwood

Favorite weapon

Hand mirror

Family

Ashdown

As a child growing up with the Sight, Sophie Collins had an unusual perspective on London. From the time she was young she was drawn to places where the two worlds she witnessed drew close to each other; carnivals, solstice celebrations, Westminster Abbey. Sadly, her wanderings were limited by her need for employment.

Tatiana Blackthorn

Born

1862

Species

Nephilim

Maiden name

Lightwood

Favorite weapon

n/a

Family

Lightwood, Pangborn

Tatiana had very little time with her mother, Barbara Lightwood, for the latter died tragically when Tatiana was only a baby. As a young girl Tatiana became prone to fits of inarticulate rage, blaming her mother's absence on her brothers, Gabriel and Gideon Lightwood. Tatiana felt she had been cheated, and was extremely jealous of the time her brothers had spent with their mother. Her feelings of rage only intensified when her father was transformed into a giant worm that devoured her fiancé in front of her.

Tessa Gray

Born

1862

Species

Warlock/Nephilim

Married names

Herondale, Carstairs

Favorite weapon

Shapeshifting

Family

Starkweather

Tessa lived in Paris for ten years. For the first five she shared a flat with the warlock Magnus Bane. The two developed several shared routines; Sunday Morning Tea and Pastries, Friday Night Dancing, Saturday Sightseeing, and Wednesday Sipping Chocolate, but eventually Tessa found that Magnus's flamboyant lifestyle did not agree with her. She took her own room in a peaceful garret, lining the walls with books.

William Owen Herondale

Born

1861

Species

Nephilim

Favorite weapon

Dagger

Family

Herondale

When Will and his parabatai Jem Carstairs were twelve years old, they made a game of playing on the roof of the Institute. They kept this pastime secret as long as possible, until Charlotte Branwell eventually caught them at it. After that, they had to wait until Henry and Charlotte were out on Institute business to continue their game.

Will is famous among Shadowhunters for his heroism and his crippling fear of ducks.

Woolsey Marmaduke Scott

Born

Unknown

Species

Werewolf

Favorite weapon

Biting wit

Woolsey founded the Praetor Lupus to honor the brother who raised him, Ralf Scott, who was killed by vampires. The organization's mission to help newly turned and struggling Downworlders was in marked contrast to Woolsey's flippant style, but he was serious about creating an institution that would last. Woolsey credits his brother Ralf for giving him the space to become his own person, even though the two brothers had wildly different attitudes and ambitions. Ralf always encouraged his younger brother to follow his own path, and Woolsey was grateful to be able to make his brother's wishes into reality.

The Last Hours

Alastair Carstairs

Born

1884

Species

Nephilim

Favorite weapon

Cortana

Family

Carstairs, Turan

Alastair and his sister Cordelia didn't have much in common, but in childhood they did share an early interest in architecture. Inspired by their last name, the two collaborated on building elaborate castles out of wooden blocks.

Anna Lightwood

Born

1884

Species

Nephilim

Favorite weapon

Wit

Family

Lightwood, Herondale

Anna Lightwood has always had a knack for making people feel special. Even when she was young, she had a habit of finding the child least at ease and making them comfortable. Her tea parties under tables, tree climbing expeditions, and hide-and-go-seek adventures were much anticipated by her cousins, as were, in later years, her fashion choices.

Charles Buford Fairchild

Born

1879

Species

Nephilim

Favorite weapon

Diplomacy

Family

Fairchild, Branwell

Charles took after his mother, Charlotte Fairchild, and long held dreams of following in her footsteps and serving as Consul. As a child, he would assist Charlotte in her work; bringing her papers, adjusting the witchlight, refilling her inkwell. Charles always wanted to talk politics as well, but Charlotte was careful to be discreet when he was around.

Christopher Lightwood

Born

1887

Species

Nephilim

Favorite weapon

His own inventions

Family

Lightwood, Herondale

Christopher Lightwood was lucky to find a mentor in his family's old friend, Henry Branwell. Henry's eccentricities paved the way for Christopher in their community; by the time Christopher came along, his parents and their friends were familiar with the ins and outs of life with a creative (yet absent-minded) genius. Though the Clave frowns on experimentation, Christopher's family supported his curiosity and innovation.

Cordelia Carstairs

Born

1885

Species

Nephilim

Favorite weapon

Cortana

Family

Carstairs, Turan

Cordelia has a mischievous streak. When she was growing up, she loved scaring her brother Alastair. Her favorite method was to hide under his bed and grab his ankle when he got close enough to reach. To this day, Alastair looks under beds before getting within arm's length of them.