Beauty's Kingdom
Anne Rice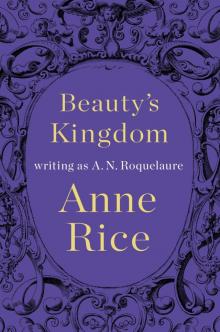 ALSO BY ANNE RICE WRITING AS A. N. ROQUELAURE

The Claiming of Sleeping Beauty

Beauty's Punishment

Beauty's Release

VIKING

Published by the Penguin Group

Penguin Group (USA) LLC

375 Hudson Street

New York, New York 10014

USA | Canada | UK | Ireland | Australia | New Zealand | India | South Africa | China

penguin.com

A Penguin Random House Company

First published by Viking Penguin, a member of Penguin Group (USA) LLC, 2015

Copyright © 2015 by Anne O'Brien Rice

Penguin supports copyright. Copyright fuels creativity, encourages diverse voices, promotes free speech, and creates a vibrant culture. Thank you for buying an authorized edition of this book and for complying with copyright laws by not reproducing, scanning, or distributing any part of it in any form without permission. You are supporting writers and allowing Penguin to continue to publish books for every reader.

ISBN 978-0-698-18277-6

This is a work of fiction. Names, characters, places, and incidents either are the product of the author's imagination or are used fictitiously, and any resemblance to actual persons, living or dead, businesses, companies, events, or locales is entirely coincidental.

Version_1

Also by Anne Rice Writing as A. N. Roquelaure

Title Page

Copyright

Dedication

Epigraph

PART I: TWILIGHT OF AN OLD KINGDOM

CHAPTER 1. LADY EVA: LONG DAY'S JOURNEY INTO HOPE

CHAPTER 2. LAURENT: BEHOLD SHE SLEEPS AGAIN

CHAPTER 3. BEAUTY: TO RULE OR NOT TO RULE?

CHAPTER 4. LADY EVA: THE FATE OF A KINGDOM HANGS IN THE BALANCE

CHAPTER 5. PRINCE ALEXI: BELOVED QUEEN, BELOVED SLAVE

CHAPTER 6. LAURENT: A NEW AND MORE PERFECT VISION

CHAPTER 7. PRINCESS BLANCHE: ISN'T SHE A DAINTY DISH TO SET BEFORE THE QUEEN?

PART II: WELCOME TO BEAUTY'S KINGDOM

CHAPTER 8. PRINCE DMITRI: THE NEW KINGDOM AT LAST

CHAPTER 9. BRENN: TO SERVE IN THE REALM OF THE PADDLE AND THE STRAP

CHAPTER 10. BEAUTY: THE AGONY OF LORD STEFAN

CHAPTER 11. BEAUTY: A STORY OF THE OLD KINGDOM

CHAPTER 12. SYBIL: EVERY LITTLE SLAVE GIRL'S DREAM: THE QUEEN'S STABLES

CHAPTER 13. DMITRI: A NEW CHALLENGE WITH THE MASKED ONE

PART III: THE DESTINY OF QUEENS

CHAPTER 14. EVA: HE WALKS IN SPLENDOR LIKE THE NIGHT

CHAPTER 15. ALEXI: THE BRIDLE PATH

CHAPTER 16. EVA: A NEW PANTHEON

CHAPTER 17. BEAUTY: A FESTIVAL OF MASKS

CHAPTER 18. BEAUTY: THE MARRIAGE OF THE KING AND THE KINGDOM

Dedicated

to

Rachel Winter

and

to

the memory

of

William Whitehead

and

John Preston

Love is a smoke raised with the fume of sighs;

Being purged, a fire sparkling in lovers' eyes;

Being vex'd, a sea nourish'd with lovers' tears:

What is it else? a madness most discreet,

A choking gall and a preserving sweet.

William Shakespeare, Romeo and Juliet

i

Ah, such a long and wearying day. And no one in the great kingdom of Bellavalten had heard a word from Queen Eleanor or the Crown Prince in a year.

As the mistress of naked pleasure slaves in the Queen's absence, I had spent hours inspecting all the slaves of the Court and then had traveled to the Queen's Village to make sure that those unfortunates exiled there were being severely disciplined and vigorously worked as always. I loved my duties, loved the training and care of so many beautiful and abject naked royal servants of both sexes who were kept in the kingdom strictly for the amusement of their masters and mistresses, but I was as discouraged as everyone else by the Queen's long absence from the realm and her silence. And I wanted only the peace and quiet now of my own quarters.

I had to stop at Prince Tristan's manor house, however, before returning to Court. And I welcomed a moment's rest and something to eat there as well, and of course I was eager as always to see Prince Tristan.

Prince Tristan had lived for over twenty years in the kingdom.

He was the handsomest of men, tall, robust, with blond curling hair and clear blue eyes, always properly and richly dressed, and the image of the proud and pampered courtier of Queen Eleanor. He welcomed me graciously into his private salon where a cheerful little fire fought the inevitable damp of the stone walls, and I could see wine and cakes laid out on the polished wooden table.

"Ah, Eva, our precious Eva," he said earnestly. "What would we do now without you? Have you had any word from Her Majesty?"

"None, Tristan," I said, "and frankly, though I do all I can—and Lord Gregory and the Captain of the Guard do all they can—the kingdom suffers."

"I know," he said, gesturing for me to take the chair opposite his. "We're the envy of the world for our system of pleasure slavery, but without the Queen, the slaves are anxious, fearful as the rest of us that something may happen to disturb the peace of the realm."

We were alone and Tristan himself filled my goblet. I savored the fragrance of the red wine and then drank. Delicious. Tristan's wine cellar was the best in the kingdom.

"You are so right," I replied. "In the village, Captain Gordon and Lady Julia have everything in hand. She is as good a mayor as ever a man was. I don't mind saying so even if she is my aunt. And Captain Gordon is tireless. But something's wrong, just wrong. I can sense it at Court, no matter how many entertainments I devise. All feel the Queen's absence."

"What can I do to assist?" he asked. He held out the plate of cakes for me.

"Well, this refreshment for the moment is splendid," I said. "I've traveled the entire realm today and I need these moments to recollect myself."

I might have added that looking on Tristan was always a refreshing pleasure.

For years Tristan had lived in his manor house with my uncle Nicholas, the Queen's Chronicler, and Lady Julia, my aunt, and Nicholas's sister. But Lady Julia had gone down to be the mayor of the Queen's Village two years ago. And my uncle Nicholas had gone off into the world a year before the Queen and the Crown Prince embarked on their interminable sea voyage.

Tristan had grieved over the loss of Nicholas miserably. But letters came from my uncle regularly, and though he never promised to return, we maintained the hope that he would do so eventually.

Some months ago, I'd given Tristan a magnificent pleasure slave, Princess Blanche, one of the Queen's old favorites from the castle. I'd hoped Princess Blanche would delight Tristan, as he had not found his other slaves to be of lasting interest. And Tristan had written notes to me more than once to say that my gift was most pleasing to him.

"And where is my exquisite Blanche?" I asked now. "Are you keeping her quite busy?"

At once he snapped his fingers, and Blanche appeared on her hands and knees moving cautiously and silently from the shadows.

"Come here," said Tristan in a low firm voice, "and stand before Lady Eva for inspection." His cheeks colored slightly as he studied her. How he loved her.

Blanche was a tall princess, with very full breasts and a rounded
bottom that was irresistible. She had beautifully turned legs. And though she had fair skin, she did not mark easily, and could be disciplined severely and appear none the worse for it. I'd spanked her bottom many a time, amazed at how the redness so easily faded.

"I work her relentlessly," said Tristan, as she approached. "Kiss Lady Eva's slippers first, Blanche, and then you may kiss mine. You should do that without my telling you."

He sounded stern.

I patted Blanche's head as she obeyed him. "Now stand up, little girl," I said, "with your hands behind your neck and let me have a look at you." "Little Girl" was my favorite endearment for woman slaves, just as "Little Boy" was my favorite endearment for the males. And I'd often observed that this pet name produced singularly good results.

As Blanche rose to her feet, I could see she was flushed and trembling. Inspections are easier for some slaves than others. Blanche had always had a natural shyness to her, a sweet submissiveness that melted hearts even as it invited punishment.

"I find her graceful and polished," said Tristan. "Whenever she is in my presence I have a paddle or strap in my hand. I can't imagine ever tiring of her."

"Come closer, Princess," I said and pinched her smooth plump thigh as I drew her towards me. Blanche was indeed a princess in her own homeland but she'd been sold outright, at her own request, to Her Majesty many years ago. She'd been one of many chosen to serve in the Queen's bedchamber. And in the last few years, she'd suffered from Queen Eleanor's indifference.

"She sleeps at the foot of my bed," said Tristan, "and she kneels at my feet when I dine. I have her punished regularly by her groom if I'm too busy to do it. I adore her."

Blanche stood very still, her eyes down, eyelashes fluttering, hands at the back of her neck as was proper, her exquisite silver hair falling down her back.

I liked her firm shoulders, her shapely arms. I pinched her nipples to make her blush, then told her to kneel. I inspected her pretty white teeth, and then forced her to stand again, this time with her legs wide apart, for a quick, gentle finger inspection of her privy parts which left her in tears of shame and happiness. Her little secret sanctuary under its smoky veil of hair was tight and hot as ever.

Tristan gazed at her adoringly. He couldn't help himself. But that was always Tristan's way, to love and to love deeply. His large blue eyes had a remote yet dreamy quality and again there came that flush to his cheeks as he regarded Blanche. He shifted in his chair uncomfortably.

"You love your master, Blanche?" I demanded.

"Yes, Lady Eva," she confessed. She had a soft low voice, a beguiling voice. Suddenly, her bosom heaving, she said, "Please, please, don't separate me from him."

"Hush!" I said. I spanked both her breasts. "You'll be whipped for making such a request." I looked to Tristan who silently nodded in agreement. "But I can assure you, Blanche, that Tristan may have you as long as he finds you interesting."

She started to cry. She had not been able to control her outburst, and she knew full well it was bad manners. But this is how it had always been with Blanche—small imperfections which more often than not offended no one though of course they had to be promptly corrected.

Tristan snapped his fingers again, and the groom appeared, a fair young man I did not know well, named Galen. He was, like all the grooms and pages of the realm, chosen for his beauty, his grace, and his devotion to the Queen.

"Take her into the bedchamber, Galen," Tristan said softly. "Spank her hard over the knee for her impertinence and scold her when you do it."

"Yes, my lord."

"Then chain her to the bedpost. She's to have plain water and only bits of bread for supper. I'll punish her further myself this evening."

At once the groom took Blanche in hand and led her out of the chamber. She was crying freely.

It must have been an hour that Tristan and I talked softly—about the state of this small realm that was our shared home. Tristan had been my friend since I'd come here—the niece of Nicholas the Chronicler, drawn to the kingdom, to the ways of the Queen, and the ways of pleasure slavery. It was Tristan who had presented me at Court, urging the busy and distracted queen to put the matters of naked slavery in my hands.

We had our little repast now, but before I left I asked for a moment alone with Blanche. As the ruler of the realm, I was exercising my right and duty to see to Blanche's state of mind for myself. Tristan didn't protest.

Alone in the bedchamber, I found her in a flood of tears. She'd been severely spanked and the paddle hadn't spared her thighs or her calves either. Her resilient skin was surprisingly red. She kissed my slippers over and over again.

"Kneel up and talk to me," I said. "I unseal your lips." I took out a lace handkerchief and wiped her face. She had the palest cheeks, and her large drowsy gray eyes burned bright through her smoky eyelashes. Why her hair was silver I had no idea, except that there are people in this world who have this kind of hair, white or silver from an early age, and they are often exceptionally beautiful.

"Now tell me, do you love your master?" I said. "I want to know your secret soul."

"Oh, yes, Lady Eva," she said breathlessly. "I never knew such happiness at Court." And then she let it all slip out again. "I don't care if the Queen never calls me back to the castle. Please, you must let me remain here. I don't want the Queen to come back."

I cradled her bowed head in my hands. "What am I going to have to do, whip you myself here and now? I would never have unsealed your lips if I'd known you were so foolish, so disobedient. You know what is permitted and what is not permitted," I said. "The Queen decides where slaves live and whom they serve. You can reveal your soul to me with a wiser choice of words, you know that!" I lifted her chin. She bit her lip despairingly as she looked at me. I winked at her. "I'll do everything," I whispered, "to see you remain with Tristan."

She flung her arms around me and I allowed it, pressing her lips against my sex which I felt keenly in spite of the thick fabric of my gown. I gestured for her to rise and I wrapped my arms around her, kissing her deeply. Not all slaves know how to kiss. Some of the most subservient and finely trained simply never acquire the knack of kissing. But Blanche knew how to kiss.

I could feel my own nipples hardening inside my gown and my own sex growing moist. But I couldn't pull away from her. I covered her eyes with my kisses, licking at her salty tears.

"But Lady Eva, why does the Queen stay away so long?" she whispered in my ear. "There is talk. Slaves are afraid."

"Tell me what they say," I coaxed. I smoothed her hair back from her forehead.

"A small group of punished slaves from the village were brought here yesterday by Captain Gordon—to work in my master's garden. Three women and two men. I don't remember their names. At feeding time, they were whispering fearfully that the Queen was sorely missed, that even Captain Gordon and Lady Julia could not keep the village entirely in order in the Queen's absence. They speak of the Queen no longer loving the kingdom. They speak of the Queen abandoning our servitude."

"That's idle foolishness." I sighed. "I'm not surprised, however, that they talk of such things. They miss the Queen's presence even though they seldom ever caught a glimpse of her. Well, I've spent the day in the village. I had at least thirty slaves soundly spanked on the Public Turntable. And I went through the pony stables inspecting every pony for myself. All is well. I suspect those grumbling slaves will sleep well tonight . . . or for the time being. But surely everything will be better when the Queen returns."

"Yes, if she allows me to remain with Prince Tristan," she ventured as she kissed my cheek. "Beautiful Lady Eva," she said.

"Manners, my girl," I said. I pressed my finger
to her lips. "I assure you, when the Queen returns, I'll do all in my power to make sure you remain with Tristan. Now repeat that to no one, not even your master, and when he punishes you tonight, if he gives you leave to speak, be contrite for your outbursts."

She nodded gratefully and opened her tender mouth for me to kiss her again, which I did. "But now you let me go, you vixen," I said. "You're too sweet and I'm too tired and must go back to the castle."

I squeezed her warm bottom hard and felt her sigh against me. How hot the flesh was, how deliciously hot.

"Yes, Lady Eva," she said. And I allowed myself one last slow and deep kiss.

ii

It was a short ride to the castle, on a narrow winding road that skirted the Queen's Village. The full moon made the homeward journey all the more easy. And tired as I was, I was glad that I'd seen Tristan.

Tristan had been brought to the kingdom decades ago as a young royal naked slave, and all knew the story. The Queen demanded such tributes from all her allies, and many other realms sent their spoilt and unruly royal young ones to serve the Queen as a matter of course, welcoming the enhancement of their young rebels by their strict pleasure training, and the gold purse that always accompanied the return of such slaves to their homeland. Some noble families did the very same thing, but the majority of slaves were princes and princesses. Oh, what I would give to have seen Tristan then, handsome Tristan, naked and standing ready for service.

But I had not yet been born when Tristan was first enslaved. I was twenty years old now, and it was difficult to grasp that he, with his boyish smile and innocent blue eyes, was actually forty. His story was well known to me.

He'd proved rebellious with his young master, Lord Stefan, the Queen's cousin—a former lover who could not master him—and been packed off to the Queen's Village for harsh punishment for his disobedience. There he'd been bought and trained as a pony boy by my uncle Nicholas, the Queen's Chronicler. Uncle Nicholas had loved Tristan. And all might have gone well from that time onward, given Nicholas's penchant for taming those he loved, if soldiers of the Sultan hadn't raided the kingdom, kidnapping some of the finest slaves for the sultanate.