Scion of Ikshvaku (Ram Chandra Series) FlyLeaf.ORG
Amish Tripathi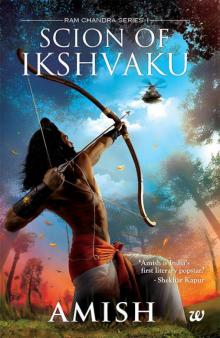 Amish is a 1974-born, IIM (Kolkata)-educated, boring banker turned happy author. The success of his debut book, The Immortals of Meluha (Book 1 of the Shiva Trilogy), encouraged him to give up a fourteen-year-old career in financial services to focus on writing. He is passionate about history, mythology and philosophy, finding beauty and meaning in all world religions.

Amish lives in Mumbai with his wife Preeti and son Neel.

www.authoramish.com

www.facebook.com/authoramish

www.twitter.com/authoramish

FlyLeaf.ORG

FlyLeaf Community

CHAT US TO GET FREE ACCESS:

https://kiwiirc.com/client?settings=b1b0a515796f1465794d026cf108d2f5

'I wish many more would be inspired by Amish Tripathi...'

- Amitabh Bachchan, Indian actor and living legend

'Amish is India's Tolkien'

– Business Standard

'Amish is India's first literary popstar'

– Shekhar Kapur, renowned filmmaker

'Amish is ... the Paulo Coelho of the east.'

– Business World

'Amish's mythical imagination mines the past and taps into the possibilities of the future. His book series, archetypal and stirring, unfolds the deepest recesses of the soul as well as our collective consciousness.'

– Deepak Chopra, world-renowned spiritual guru and bestselling author

'Amish is a fresh new voice in Indian writing – steeped in myth and history, with a fine eye for detail and a compelling narrative style.'

– Shashi Tharoor, Member of Parliament and

celebrated author

'…Amish has mastered the art of gathering, interpreting and presenting India's many myths, folklores and legends, and blending all of that into fast-paced thrillers that change your views about Gods, cultures, histories, demons and heroes, forever.'

– Hi Blitz

'Amish's philosophy of tolerance, his understanding of mythology and his avowed admiration for Shiva are evident in his best-selling works.'

– Verve

'Tripathi is part of an emerging band of authors who have taken up mythology and history in a big way, translating bare facts into delicious stories.'

– The New Indian Express

'…one must congratulate Amish on reintroducing Hindu mythology to the youth of this country.'

– First City

FlyLeaf.ORG

Scion of Ikshvaku

Book 1

of the

Ram Chandra Series

Amish

FlyLeaf.ORG

FlyLeaf.ORG

westland ltd

61, II Floor, Silverline Building, Alapakkam Main Road, Maduravoyal, Chennai 600095

93, I Floor, Sham Lal Road, Daryaganj, New Delhi 110002

www.westlandbooks.in

Published by westland ltd 2015

First ebook edition: 2015

Copyright © Amish Tripathi 2015

All rights reserved

Amish Tripathi asserts the moral right to be identified as the author of this work.

This is a work of fiction. Names, characters, places and incidents are either the product of the author's imagination or are used fictitiously and any resemblance to any actual person living or dead, events and locales is entirely coincidental.

ISBN: 978-93-85152-16-0

Cover Design by Think WhyNot

This book is sold subject to the condition that it shall not, by any way of trade or otherwise, be lent, resold, hired out, or otherwise circulated without the author's prior written consent, in any form of binding or cover other than that in which it is published and without a similar condition including this condition being imposed on the subsequent purchaser and without limiting the rights under copyright reserved above, no part of this publication may be reproduced, stored in or introduced into a retrieval system, or transmitted in any form or by any means (electronic, mechanical, photocopying, recording or otherwise), without the prior written permission of the copyright owner, except in the case of brief quotations embodied in critical articles or reviews with appropriate citations.

To my father, Vinay Kumar Tripathi,

and my mother, Usha Tripathi

Khalil Gibran said that parents are like a bow,

And children like arrows.

The more the bow bends and stretches, the farther the arrow flies.

I fly, not because I am special, but because they stretched for me.

FlyLeaf.ORG

Table of Contents

Hymn to Shivāya

Hymn to Ram

List of Characters and Important Tribes

Chapter 1

Chapter 2

Chapter 3

Chapter 4

Chapter 5

Chapter 6

Chapter 7

Chapter 8

Chapter 9

Chapter 10

Chapter 11

Chapter 12

Chapter 13

Chapter 14

Chapter 15

Chapter 16

Chapter 17

Chapter 18

Chapter 19

Chapter 20

Chapter 21

Chapter 22

Chapter 23

Chapter 24

Chapter 25

Chapter 26

Chapter 27

Chapter 28

Chapter 29

Chapter 30

The Shiva Trilogy

Om Namah Shivāya

The universe bows to Lord Shiva.

I bow to Lord Shiva.

FlyLeaf.ORG

Rāmarājyavāsī tvam, procchrayasva te śiram

Nyāyārthaṁ yudhyasva, sarveṣu samaṁ cara

Paripālaya durbalam, viddhi dharmaṁ varam

Procchrayasva te śiram,

Rāmarājyavāsī tvam.

You live in Ram's kingdom, hold your head high.

Fight for justice. Treat all as equal.

Protect the weak. Know that dharma is above all.

Hold your head high,

You live in the kingdom of Ram.

FlyLeaf.ORG

List of Characters and Important Tribes

(In Alphabetical Order)

Arishtanemi: Military chief of the Malayaputras; right-hand man of Vishwamitra

Ashwapati: King of the north-western kingdom of Kekaya; a loyal ally of Dashrath; father of Kaikeyi

Bharat: Ram's half-brother; son of Dashrath and Kaikeyi

Dashrath: The Chakravarti king of Kosala and emperor of Sapt Sindhu; husband of Kaushalya, Kaikeyi and Sumitra; father of Ram, Bharat, Lakshman, and Shatrughan

Janak: King of Mithila; father of Sita and Urmila

Jatayu: A captain of the Malayaputra tribe; a Naga friend of Sita and Ram

Kaikeyi: Daughter of King Ashwapati of Kekaya; second and the favourite wife of Dashrath; mother of Bharat

Kaushalya: Daughter of King Bhanuman of South Kosala and his wife Maheshwari; the eldest queen of Dashrath; mother of Ram

Kubaer: Trader and ruler of Lanka before Raavan

Kumbhakarna: Raavan's brother; he is also a Naga (a human being born with deformities)

Kushadhwaj: King of Sankashya; younger brother of Janak

Lakshman: One of the twin sons of Dashrath; born to Sumitra; faithful to Ram; later married to Urmila

Malayaputras: The tribe left behind by Lord Parshu Ram, the sixth Vishnu

Manthara: The richest merchant of Sapt Sindhu; an ally of Kaikeyi

Mrigasya: General of Dashrath's army; one of
the nobles

of Ayodhya

Nagas: A feared race of human beings born with deformities

Nilanjana: Lady doctor attending to members of the royal family of Ayodhya, she hails from South Kosala

Raavan: King of Lanka; brother of Vibhishan, Shurpanakha and Kumbhakarna

Ram: Eldest of four brothers, son of Emperor Dashrath of Ayodhya (the capital city of Kosala kingdom) and his eldest wife Kaushalya; later married to Sita

Roshni: Daughter of Manthara; a committed doctor and rakhi-sister to the four sons of Dashrath

Samichi: Police and protocol chief of Mithila

Shatrughan: Twin brother of Lakshman; son of Dashrath and Sumitra

Shurpanakha: Half-sister of Raavan

Sita: Adopted daughter of King Janak of Mithila; also the prime minister of Mithila; later married to Ram

Sumitra: Daughter of the king of Kashi; the third wife of Dashrath; mother of the twins Lakshman and Shatrughan

Vashishta: Raj guru, the royal priest of Ayodhya; teacher of the four princes

Vayuputras: The tribe left behind by Lord Rudra, the previous Mahadev

Vibhishan: Half-brother of Raavan

Vishwamitra: Chief of the Malayaputras, the tribe left behind by Lord Parshu Ram, the sixth Vishnu; also temporary guru of Ram and Lakshman

Urmila: Younger sister of Sita; the blood-daughter of Janak; she is later married to Lakshman

*Refer to inside back cover for map of India in 3400 BCE

FlyLeaf.ORG

Acknowledgements

I don't agree with everything that John Donne wrote, but he was right on one count: 'No man is an island'. I am lucky to be connected to many others who keep me from being 'rifted'. For creativity has no greater sustenance than the love and support of others. I'd like to acknowledge some of them.

Lord Shiva, my God, for blessing me with this life and all there is in it. Also, for bringing Lord Ram (who my grandfather, Pandit Babulal Tripathi, was a great devotee of) back into my life.

Neel, my son, my blessing, my pride, my joy. He gives me happiness by simply being who he is.

Preeti, my wife; Bhavna, my sister; Himanshu, my brother-in-law; Anish and Ashish, my brothers, for all their inputs to the story. My sister Bhavna deserves special mention for her dedication and the time she gave while advising me on the philosophies in the book. My wife Preeti deserves my eternal gratefulness, as always, for her brilliant marketing advice.

My family: Usha, Vinay, Meeta, Donetta, Shernaz, Smita, Anuj, Ruta. For their consistent faith and love.

Sharvani, my editor. We have a strange relationship. Fun and laughter in normal times; we fight with each other passionately when we edit. It's a match made in heaven!

Gautam, Krishnakumar, Preeti, Deepthi, Satish, Varsha, Jayanthi, Vipin, Senthil, Shatrughan, Sarita, Avani, Sanyog, Naveen, Jaisankar, Gururaj, Sateesh and the fantastic team at Westland, my publishers. They have been partners from the beginning.

Anuj, my agent. Big man with an even bigger heart! The best friend an author could have.

Sangram, Shalini, Parag, Shaista, Rekha, Hrishikesh, Richa, Prasad and the team at Think WhyNot, the advertising agency for the book. They made the cover, which I think is fantastic! They also made most of the marketing material for the book, including the trailer. They are among the best ad agencies in the country.

Hemal, Neha and the Oktobuzz team, the social media agency for the book. Hardworking, super smart and intensely committed. They are an asset to any team.

Jaaved, Parthasarthy, Rohit and the rest of the production team of the trailer film. Brilliant guys. Trust me, the world will soon be their oyster.

Mohan, a friend, whose advice on communication matters is something I always treasure.

Vinod, Toral, Nimisha and the great team at Clea PR for the work that they did on the PR efforts for the book.

Mrunalini, a Sanskrit scholar, who works with me. My discussions with her are stimulating and enlightening. I learn a lot from her.

Nitin, Vishal, Avani and Mayuri for their hospitality in Nashik where I wrote parts of this book.

And last, but certainly not the least, you, the reader. Thank you from the depths of my being for the support you've given to the Shiva Trilogy. I hope I don't disappoint you with this book, the first in a new series. Har Har Mahadev!

FlyLeaf.ORG

Chapter 1

FlyLeaf.ORG

3400 BCE, somewhere near the Godavari River, India

Ram crouched low as he bent his tall, lean and muscular frame. He rested his weight on his right knee as he held the bow steady. The arrow was fixed in place, but he knew that the bowstring should not be pulled too early. He didn't want his muscles to tire out. He had to wait for the perfect moment. It must be a clean strike.

'It's moving, Dada,' whispered Lakshman to his elder brother.

Ram didn't reply. His eyes were fixed on the target. A light breeze played with the few strands of hair that had escaped the practical bun atop his head. His shaggy, unkempt beard and his white dhoti gently fluttered in the breeze. Ram corrected his angle as he factored in the strength and direction of the wind. He quietly cast his white angvastram aside to reveal a battle-scarred, dark-skinned torso. The cloth should not interfere with the release of the arrow.

The deer suddenly came to a standstill as it looked up; perhaps instinct had kicked in with some warning signals. Ram could hear its low snort as it stomped its feet uneasily. Within a few seconds it went back to chewing leaves as silence prevailed. The rest of the herd was a short distance away, hidden from view by the dense foliage of the forest.

'By the great Lord Parshu Ram, it ignored its instincts,' said Lakshman softly. 'Thank the Lord. We need some real food.'

'Quiet…'

Lakshman fell silent. Ram knew they needed this kill. Lakshman and he, accompanied by his wife Sita, had been on the run for the last thirty days. A few members of the Malayaputra tribe, the sons of Malaya, led by their captain, Jatayu, were also with them.

Jatayu had urged flight well before the inevitable retaliation came. The botched meeting with Shurpanakha and Vibhishan would certainly have consequences. They were, after all, the siblings of Raavan, the wrathful demon-king of Lanka. Raavan was sure to seek vengeance. Lankan royal blood had been shed.

Racing east through the Dandakaranya, the dense forest of Dandak, they had travelled a reasonable distance parallel to the Godavari. They were fairly reassured now that they wouldn't be easily spotted or tracked. Straying too far from the tributary rivers or other water bodies would mean losing out on the best chance of hunting animals. Ram and Lakshman were princes of Ayodhya, inheritors of the proud Kshatriya tradition of the Raghukul, the descendants of Raghu. They would not survive on a diet of herbs, fruit and leaves alone.

The deer remained stationary, lost in the pleasure of grazing on tender shoots. Ram knew this was the moment. He held the composite bow steady in his left hand as he pulled the string back with his right, till it almost touched his lips. His elbow was held high, almost perfectly parallel to the ground, exactly the way his guru, Maharishi Vashishta, had taught him.

The elbow is weak. Hold it high. Let the effort come from the back muscles. The back is strong.

Ram pulled the string a notch further and then released the arrow. The missile whizzed past the trees and slammed into the deer's neck. It collapsed immediately, unable to even utter a bleat as blood flooded its lungs. Despite his muscular bulk, Lakshman rushed forward stealthily. Even as he moved, he pulled out a knife from the horizontal scabbard tied to the small of his back. Within moments he reached the deer and quickly plunged the blade deep in between the animal's ribs, right through to its heart.

'Forgive me for killing you, O noble beast,' he whispered the ancient apology that all hunters offered, as he gently touched the deer's head. 'May your soul find purpose again, while your body sustains my soul.'

Ram caught up wi
th Lakshman as his brother pulled the arrow out, wiped it clean and returned it to its rightful owner. 'Still usable,' he murmured.

Ram slipped the arrow back into his quiver as he looked up at the sky. Birds chirped playfully and the deer's own herd displayed no alarm. They had not sensed the killing of one of their own. Ram whispered a short prayer to Lord Rudra, thanking him for what had been a perfect hunt. The last thing they needed was for their position to be given away.

Ram and Lakshman made their way through the dense jungle. Ram walked in front, carrying one end of a long staff on his shoulder, while Lakshman walked behind, holding up the other end. The deer's carcass dangled in the middle, its feet having been secured to the staff with a sturdy rope.

'Aah, a decent meal after so many days,' said Lakshman.

Ram's face broke into a hint of a smile, but he remained silent.

'We can't cook this properly though, right Dada?'

'No, we can't. The continuous line of smoke will give our position away.'

'Do we really need to be so careful? There have been no attacks. Maybe they have lost track of us. We haven't encountered any assassins, have we? How would they know where we are? The forests of Dandak are impenetrable.'

'Maybe you're right, but I'm not taking any chances. I'd rather be safe.'

Lakshman held his peace even as his shoulders drooped.

'It's better than eating leaves and herbs,' said Ram, without turning to look at his brother.

'That it certainly is,' agreed Lakshman.

The brothers walked on in silence.

'There is some conspiracy afoot, Dada. I'm unable to pin down what it is. But there's something going on. Perhaps Bharat Dada…'

'Lakshman!' rebuked Ram sternly.

Bharat was the second oldest after Ram, and had been anointed crown prince of Ayodhya by their father Dashrath following Ram's banishment. The youngest, Shatrughan and Lakshman, were twins separated by differing loyalties. While Shatrughan remained in Ayodhya with Bharat, Lakshman unhesitatingly chose a life of hardship with Ram. The impulsive Lakshman was sceptical of Ram's blind trust in Bharat. He considered it his duty to warn his excessively ethical eldest brother about what appeared to him as Bharat's underhand dealings.