The billionaires hired g.., p.1





The Billionaire's Hired Girlfriend, p.1

Part #1 of Kiwi Bride series by Alexia Praks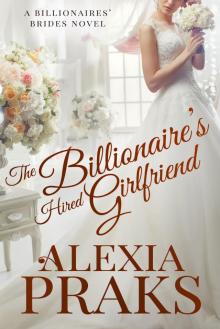 * * * * *
The Billionaire's Hired Girlfriend
Billionaires' Brides Series
Alexia Praks
Copyright © 2016 by Alexia Praks
All Rights Reserved
This is a work of fiction. Names, characters, places, and incidents either are the product of the author's imagination or are used fictitiously, and any resemblance to actual persons, living or dead, business establishments, events, or locales is entirely coincidental.
All rights reserved. No part of this book may be reproduced, scanned, or distributed in any printed or electronic form without agreement and written permission of the author. Please do not participate in or encourage piracy of copyrighted materials in violation of the author's rights. Purchase only authorized editions.
Published by Alexia Praks Media
Cover Design by Alexia Praks Media
The author can be reached at: www.alexiapraks.com
The Billionaire's Hired Girlfriend
Billionaires' Brides Series
Alexia Praks
Table of Contents
About The Billionaire's Hired Girlfriend
Prologue
Chapter 1
Chapter 2
Chapter 3
Chapter 4
Chapter 5
Chapter 6
Chapter 7
Chapter 8
Chapter 9
Chapter 10
Chapter 11
Chapter 12
Chapter 13
Chapter 14
Chapter 15
Chapter 16
Chapter 17
Chapter 18
Chapter 19
Chapter 20
Chapter 21
Chapter 22
Chapter 23
Chapter 24
Chapter 25
Chapter 26
Chapter 27
Chapter 28
Chapter 29
Chapter 30
Chapter 31
Epilogue
About the Billionaires' Brides Series
More Books by Alexia
About Alexia
About The Billionaire's Hired Girlfriend
Alexandra Stewart is dating the man of her dreams. But there's a catch. The date is a masquerade and her Mr. Hot-Choc is gay, or so she thinks...
Family oriented Alexandra Stewart, known as Alex to family and friends, is in desperate need of money for her dad's heart surgery. She is stoked when gorgeous, billionaire Jayden McCartney unexpectedly barges into her life and offers to help. On one condition. She must pretend to be his girlfriend. One look at Jay tells her to run in the opposite direction. He is too good-looking, too successful, and too rich for her liking. When she is told Jay is gay and that his family is matchmaking him with a woman he doesn't love, she feels sorry for him. Thinking that she'd kill two birds with one stone, Alex agrees to the proposal. Now, the only problem is how does she prevent herself from falling madly in love with Jay when the way he looks at her makes her heart tremble and his touches set her body on fire?
Hot, recently single billionaire Jayden McCartney has to bring his girlfriend to his sister's wedding in order to stop the matchmaking his grandmother has planned for him. Not in the mood for dating or a new woman after the discovery of his cheating ex, he hires a perfect candidate as his girlfriend in Alexandra Stewart. Alex, however, thinks he's crazy. It's only when he commits a sinful lie that would damage his manhood severely does she agree to help. He convinces her that he is gay and that the possibility of his family finding out would ruin them financially and socially. Now, Jay has to pretend to be batting for the other team, which turns out to be no easy task where the geeky turn sexy Alex is concerned because he wants her, and what Jay wants, he certainly will get.
PROLOGUE
SYDNEY, AUSTRALIA
Shocked to the core, Jayden wondered if this was what it felt like at that vital moment when you realized you just might die. The world stopped, or perhaps time, the world, and everything in it ceased to have meaning for him.
The richness of the Sheraton's Ambassador Suite surrounded him as it had for the last three days, but he saw none of it. The Victorian-style decor, the luxurious furnishings, and the majestic views of Hyde Park and Sydney Harbor all faded from sight. The air, once heady with the scent of fresh roses and vanilla, now stank of betrayal. He felt a queasy sickness in the pit of his stomach as the bouquet of perfect red roses slipped from his grasp and scattered across the plush Persian carpet.
He watched, unable to tear his gaze away.
On the king-sized four-poster bed, two sweat-soaked naked bodies writhed in ecstasy—intertwining, touching, and heaving with exertion. As he stood transfixed, a female face swam into focus. It was Sarah Taylor, her long blond hair in wild disarray, her face flushed with passion, and her head pressed into the shoulder of her bedmate. Her eyes flashed open, and she gasped, pushing the man aside.
"Jayden, you're back!" she shouted, her voice a heavy mix of shock, fear, and anger.
Jayden glanced at the man who was disentangling himself from the embrace of Sarah's long, tanned legs. Kyle Shore, a man he treated like a brother, looked like the proverbial cat with the cream, a smug and knowing smile playing across his face.
Hurt, betrayal, disgust—empty words for the emotions churning within him, twisting and burning, a white-hot pain inside. Violence and agony surged through his trembling muscles as a million questions filled the air like a flock of frightened birds.
Why are you doing this? When did it start? What did I do wrong? Why Kyle? Why? Why?
His hand clenched the door handle, his knuckles white, his face a mask of confusion and anger.
"Happy anniversary, Sarah," he said, his voice lost in the boom of the door slamming shut.
* * * * *
CHAPTER 1