Glitter
Abbi Glines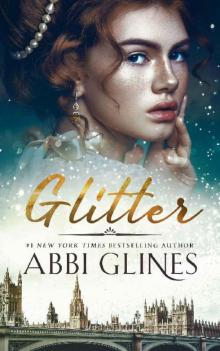 Copyright © 2021 by Abbi Glines

All rights reserved. This book or any portion thereof may not be reproduced or used in any manner whatsoever without the express written permission of the publisher except for the use of brief quotations in a book review.

Printed in the United States of America

First Printing, 2021

Abbi Glines Publishing

P.O. Box 3130

Peterborough, NH 03458

www.abbiglinesbooks.com

Editing by Fairest Reviews Editing Services

Cover designed by Damonza

Interior Design by The Illustrated Author Design Services

Table of Contents

Copyright

Acknowledgments

A note from Abbi…

Six months earlier…

Chapter One

Chapter Two

Chapter Three

Chapter Four

Chapter Five

Chapter Six

Chapter Seven

Chapter Eight

Chapter Nine

Chapter Ten

Chapter Eleven

Chapter Twelve

Chapter Thirteen

Chapter Fourteen

Chapter Fifteen

Chapter Sixteen

Chapter Seventeen

Chapter Eighteen

Chapter Nineteen

Chapter Twenty

Chapter Twenty-One

Chapter Twenty-Two

Chapter Twenty-Three

Chapter Twenty-Four

Chapter Twenty-Five

Chapter Twenty-Six

Chapter Twenty-Seven

Chapter Twenty-Eight

Chapter Twenty-Nine

Chapter Thirty

Chapter Thirty-One

Chapter Thirty-Two

Chapter Thirty-Three

Chapter Thirty-Four

Chapter Thirty-Five

Chapter Thirty-Six

Chapter Thirty-Seven

Chapter Thirty-Eight

Chapter Thirty-Nine

Epilogue

Connect

To Emerson- you, my wild- intelligent- headstrong- sweet girl, are Emma.

Acknowledgments

Never has a book taken me six months to write… until this one. There are those who work with me and those who support me that I could not do this without.

Britt is the numero uno for those who need to be acknowledged. He went above and beyond with taking up the slack while I researched, wrote, researched more, wrote, got Covid, wrote some more… He will also hate that I said all this. Hopefully he doesn't read it.

Ava and Emerson had to hear "Mom is working. I can't right now." For the most part they didn't complain. Emerson had her moments. Ava was a trooper though… although she's been on this ride since 2011 and knows the score.

My older children who live in other states were great about me not being able to answer their calls most of the time and they had to wait until I could get back to them. They still love me and understand this part of mom's world.

My foreign rights agent, Lauren Abramo , who was already making publishing deals on this book in other countries before it was even finished.

My editor Becky Barney at Fairest Reviews Proofreading Services. She worked with me to make the story something I can be proud of and I am so thankful for her help.

My formatter Melissa Stevens at The Illustrated Author. Her work always blows me away. It's hands down the best formatting I've ever had in my books.

Damonza for my book cover. They nailed it. I told them what I was looking for and they gave me something above and beyond my expectations.

The Next Step PR for handling the release day promotions.

Abbi's Army ALWAYS. Y'all are what keeps me sane when I release a new book. Thanks for always supporting me.

My readers - without you there would be no one to read my stories. I get to write because y'all read. I love you all!

A note from Abbi…

Just as the title isn't your typical Regency Romance title, neither is this story. When I decided to write a historical romance, I had a lot of questions. However, three things I knew without a doubt:

This would be set in Regency London. I have a love/obsession with England and its history. I have for as long as I can remember. Did this help me with my writing? Not really. I found that I averaged at least an hour of research a day while writing this. Simple things like "When were mirrors invented?" or better yet "What year did England start having afternoon tea?" and then there was "Did they have ice in London in the early 1800's" possibly my favorite "When was glitter invented?"

I would write it in first person. I have been reading historical romance novels since I was fifteen years old and picked up "Whitney, My Love" by Judith McNaught in the library. I could not read enough of them after that book. So, I know full well they are written in third person. At least every historical romance novel I have ever read has been third person. I am a first person writer so I knew that I would write this book in first person. I wouldn't change that.

The writing would still sound like me. I never went into this intending to sound as eloquent as Jane Austen. I knew no amount of research was going to keep me from making mistakes in my dialect. It was just going to happen y'all. Facts remain- I'm from Alabama no matter how badly I wish I had been born British. This is a new world for me as far as writing goes. However, I will tell you, I enjoyed the hell out of it! I fell in love with the characters and I hope you do too.

With each movement, be it a full turn or slight move of hand, Miriam knew she was being watched closely. The smile she kept on her lips wasn't easy and she had no doubt that her dance partner noticed the less than genuine expression she was trying hard to keep in place. This was it, tonight would be the last night she attended a ball as simply Miss Miriam Bathurst. There was no more time to decide. Her decision had been made.

Miriam felt her body stiffen as she moved in the arms of the man she had agreed to marry this morning in her aunt's rose garden. He, however, wasn't who she loved, and she wished desperately that he was. She did not have forever to wait for the man she had thought might love her to make up his mind. Her mother and sister needed her to marry. Glancing up into beautiful green eyes, her smile became genuine, even if it was sad.

Tonight would be the last time she was given this freedom to enjoy his friendship and the simplicity of his company. So much would change and she hoped it didn't destroy them all. For after she became his wife, the man her traitorous heart loved, would hate her. That was a pain far worse than any she could comprehend. Yet, she knew she would never have been his choice. He had made that clear with his failure to choose.

Six months earlier…

Miriam Bathurst - age eighteen years and one month

One would believe that being given the chance to go to London and be thrown into the marriage mart, with fancy gowns and a pretty face being all you truly needed, was the most brilliant moment in a girl's life. At least, if they were listening to my mother speak of it. If one cared to hear my opinion, which they obviously did not, then they'd get a different description. I didn't care for all the silliness a season in London promised. Who wanted to be squeezed into ball gowns that were terribly heavy and uncomfortable, added to the weight of the hair piled high on top one's head and laced with pearls, flowers and the like? It all sounded dreadful in a way that I would very much like to miss every last aspect of it.

"Just to dance among all the loveliness would be truly magical. Can you imagine the way they all shine and glimmer?" my twelve-year-old sister Whitney said in her dreamiest of voices. The guilt came as it always did. A reminder that what I wanted nothing to do
with was the one thing Whitney wanted so desperately, yet would never experience. The limp that remained to this day, after a dreadful fall from her horse when she was nine years old, would keep her from dancing in a ballroom. She would never have a dance card on her delicate wrist filled with men who wished to spend a moment in her presence. She would never be seen for the true beauty she was, unless I changed it all. Me, it was all up to me to ensure my sister had the life she dreamed of and I'd do anything for her. Even sacrifice my own.

I placed a smile on my face before turning to look at her. She was sitting on the settee in the bedroom we shared, watching as I packed my things. Since the death of our father last year, our world had abruptly changed. Mostly due to the fact my father was a gambler and left us in debt. Along with no more servants, we also had no silver in the house. Mother had sold all she could find of value to keep us fed and pay off my father's debts. I didn't mind the simpler way of life. In truth, I embraced it. Less fuss and worry over dressing. No formalities at dinner. It was an unexpected ease that I felt we were lucky to experience. I didn't mind fetching my own breakfast and serving my mother and sister the meals I managed to prepare. Although I had many failures in the kitchen thus far, I had become adequate at making a proper pot of tea.

London would not be so easy.

"You're going to turn London on its ear, Miriam," my sister said with excitement in her voice. "I so wish I could watch it all unfold."

The wistfulness held a touch of sadness and I wanted nothing more than for Whitney to have all she wanted. I'd often felt the need to scold God for letting it be Whitney that was left with a limp and not me. For I would be quite happy living a life alone in the country, writing novels and enjoying the solitude. I wasn't fond of people in general. It was as simple as that. They annoyed me with their behavior. I preferred truths and I had found very few who spoke the truth. Most only worried over how they appeared to others. All but Whitney. She was a perfect creation, if there ever was one: selfless, kind, intelligent, hopeful. Her presence lit up a room. I'd yet to meet another person like her. She was the true gem in this family and I would make sure she had her moment to shine.

I had none of her qualities; my mother would agree with me. She often scolded me for my sass and rude behavior. I loved our mother, but she wanted things for me that I didn't want for myself. It caused great strife between us with every year that passed. Once I yearned to have Mother look at me with the same love she did my sister, but over the years, I realized whereas Whitney was easy to love, I was not.

Whitney's sweet voice was the one thing that kept me in check when Mother started in on me about my manners and behavior. I didn't want to let Whitney down. It might seem inconsequential to others, but they hadn't lived in our home nor did they understand this family and all we'd been through. Our father had not been happy with either of his daughters. He'd wanted a son.

He had gotten his wish when I was born, for I was a twin. However, my brother didn't live but for a few days. More than once in my life, I heard my father say he wished it had been me that died. It had left me damaged in a way I dare not admit to anyone. I often wondered if my father had loved me, would I have turned out more like Whitney. He had simply ignored her, but at least she'd never been on the receiving end of his harsh tongue. Her gentle nature made it impossible to find fault in her behavior. It made it easier for me to accept when our mother showed my sister the affection I knew she required. Whitney wasn't thick-skinned like I was and she would never survive being the unwanted disappointment.

"I am sure Uncle Alfred will agree to sending for you. I will ask that of him on my arrival. I can't bear the thought of us being apart."

Whitney beamed up at me and her smile truly was remarkable. If I wanted to be beautiful, I'd wish for her enchanting smile. I, however, did not care how I looked. My face held only one purpose now and that was to find a wealthy husband so that my sister and my mother were taken care of properly. Uncle Alfred had agreed to step in and help them, but not like I wanted them helped. At least not Whitney. I had spent hours poring over medical journals in my father's library and I knew that there were procedures that could help, if not completely mend, my sister's limp. Then all those dreams she had could come true. Whitney's face was one of fairy tales. She belonged in the beautiful gowns and to be dancing in the light that she believed glistened with whimsy.

If it was up to me to give her that, then I would do it. I would stand in the way of a bullet for my sister and at times, I felt this was one in the same. The bullet may possibly be more appealing. I did not feel as if I would ever fit the part I must now play. Turning back to my clothing, I hid my scowl at the idea of dealing with a man. I wasn't fond of men. My father had shown me the cruelty of the opposite sex. I preferred to stay buried in my books or with my quill in hand, writing stories of women who were brave and resourceful.

"Oh, do you think he will? Truly?" Whitney asked as I folded another item and placed it in my open trunk. I had never packed my things before and I wasn't sure this was the proper way, but I was working from memory from the few times I'd seen Anna, my former lady's maid, do it for me. I did so miss Anna. She had been an excellent listener. I hoped she had found a good home that would treat her well. Mother assured me that she had made sure all the servants had found new places of work, but I was never sure how much to believe when it came to my mother. I'd often caught her in an untruth.

"Yes, I am sure of it. Uncle Alfred is a kind man from all I have been told. Mother respects him greatly."

"Do you know anything of Aunt Harriet? Mother says she's American." Whitney said 'American' as if someone from America would be exotic. I smiled imagining a much different reality. I had read many books set in America and I knew she would not be exotic at all.

"Mother has only met her once and has told me little about her," I replied honestly, but left out the distasteful look on Mother's face when she told me that Uncle Alfred would be providing me with a proper English lady to aid in my introduction into society. It was clear that Mother did not approve of her brother's choice in a wife. This, of course, meant I was likely to appreciate Aunt Harriet immensely.

"This room will be so lonely without you." Whitney's tone had changed. The melancholy pitch made my heart ache for her and for me. I didn't want to leave her. She was the only human on earth I truly loved. I placed one of the few nicer day gowns I had left on the bed and turned to look back at her.

"I will miss you terribly and I promise as soon as I can bring you to London, I will. I am doing this for you too. Not just for Mother. I want you to have all the happiness in the world. I love you." I didn't say those three words enough and neither of our parents ever spoke them. From the moment Mother had brought Whitney to meet me all wrapped up in a soft yellow blanket, I had known what love truly was. Even at the tender age of seven years, I'd known I would do anything for her and protect her at all cost.

"Oh, don't look so melancholy. I shouldn't have said that. I just want you to know how dearly you will be missed." Whitney forced a smile I could easily see she didn't feel at all.

"I will be sad every day until the moment I see you again. I promise to write letters of all the beautiful people, the busy streets, the gossip I will most definitely hear," I told her, trying to brighten her spirits.

"And the beautiful ball gowns! I need to know all about how they sparkle and shine. Do tell me every detail of Grosvenor Square," she reminded me.

"Yes, most definitely. I will describe every small detail," I promised, although I hoped I saw it the way she would. I couldn't be sure I'd notice the glamour she dreamed of at all. My views on the marriage mart were sorely different than hers.

Chapter One

Miriam Bathurst

Without even a knock to prepare me, the door to the bedroom I'd been given at my uncle's home on 18 Mayfair Street swung ope
n and my aunt Harriet came barreling into the room, carrying a gown the color of the bluest sky and grinning so brightly her gums were on display above her teeth. She smiled that way often. I now prepared myself for those wide tooth grins, knowing that something was about to be announced in her loud, strange American accent. She always spoke as if I were in the other room. I wondered if it was because I struggled with her accent and many of the words she used. Unlike the Americans I had read of in books, my aunt was not from those areas. My uncle had made his fortune in the transport of whiskey, tobacco and cotton in New Orleans, Louisiana, and he had met my aunt there. It hadn't taken me but a moment to realize not all Americans were alike. They were indeed very diverse.

"It's here, honey, and it's a beauty!" she proclaimed as she laid the gown out at the foot of my bed. "I said something fit for a princess and the dressmaker delivered," she paused, "Oh what is her name? It's French, that I do recall." Aunt Harriet began to bite her lower lip, which was a habit of hers as was talking too loudly as if I had a hearing impediment.

"Marguerite Badeaux," I offered, although I knew Aunt Harriet wouldn't remember it the next time either. She often forgot names amongst other things. Just yesterday, she was looking for her slippers that she'd taken off, as she often did, and the entire time she had been carrying both of them in her left hand.

"Yes, yes, well, she has done just as I asked. Look at this will you." She waved her hand at the gown on my bed and sighed as she placed both her hands on her chest dramatically. "You will be a vision. Even more stunning than your introduction to the queen and you were a true star then. The way she so obviously approved of you, but then who wouldn't? You have the face of an angel. I didn't think it possible another dress could outshine that one, but this one has and oh how thrilling. You'll be married before we can even blink!"

The gown was everything Whitney would love. Aunt Harriet was correct in that it was remarkable. I dreaded tonight so fiercely that I couldn't even appreciate its stunning qualities. I had been in London for almost two months, preparing for the season to truly begin. However, it had been more intriguing than I had expected, for Uncle Alfred had not provided me with a proper English chaperon like my mother had said he would do. Instead, he had left me in the hands of Aunt Harriet and that, in itself, had been entertaining. She knew nothing of the ton's rules and restrictions. Her mishaps and odd behavior brought a smile on my gloomiest of days. I'd been enjoying myself here more than I had ever thought possible.