What Hurts the Most: An engrossing, heart-stopping thriller (7th Street Crew Book 1)
Willow Rose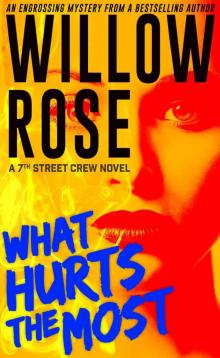 WHAT HURTS THE MOST

7TH STREET CREW #1

WILLOW ROSE

CONTENTS

Copyright

Prologue

1. September 2015

2. September 2015

3. September 2015

4. September 2015

5. September 2015

6. February 1977

7. September 2015

8. September 2015

9. September 2015

10. April 1977

11. September 2015

12. September 2015

13. September 2015

14. September 2015

15. September 2015

16. September 2015

17. April 1977

18. September 2015

19. September 2015

20. February 1992

21. September 2015

22. September 2015

23. May 1977

24. September 2015

25. September 2015

26. September 2015

27. May 1977

28. September 2015

29. September 2015

30. March 1992

31. September 2015

32. September 2015

33. February 1978

34. September 2015

35. March 1992

36. September 2015

37. September 2015

38. September 2015

39. September 2015

40. September 2015

41. September 2015

42. March 1979

43. September 2015

44. March 1992

45. September 2015

46. September 2015

47. September 2015

48. March 1979

49. September 2015

50. September 2015

51. September 2015

52. September 2015

53. September 2015

54. March 1992

55. September 2015

56. September 2015

57. January 1984

58. September 2015

59. September 2015

60. September 2015

61. March 1992

62. September 2015

63. September 2015

64. September 2015

65. September 2015

66. March 1992

67. September 2015

68. September 2015

69. March 1984

70. September 2015

71. March 1992

72. September 2015

73. September 2015

74. September 2015

75. May 1986

76. September 2015

77. September 2015

78. September 2015

79. September 2015

80. September 2015

81. September 2015

82. September 2015

83. September 2015

84. September 2015

85. September 2015

86. September 2015

87. September 2015

88. May 1986

89. September 2015

90. September 2015

91. October 2015

92. October 2015

93. October 2015

94. October 2015

95. October 2015

Epilogue

Afterword

Books by the Author

About the Author

Hit the Road Jack

Epigraph

DON'T COME BACK NO MORE

1. MAY 2012

2. May 2012

I GUESS IF YOU SAY SO

3. January 2015

4. January 2015

5. April 1984

6. January 2015

7. January 2015

8. January 2015

9. April 1984

10. January 2015

11. January 2015

12. January 2015

13. January 2015

14. January 2015

15. September 1984

16. January 2015

17. January 2015

18. January 2015

19. January 2015

20. September 1984

21. January 2015

22. January 2015

23. January 2015

24. January 2015

25. January 2015

26. October 1984

27. January 2015

28. January 2015

29. January 2015

30. January 2015

31. January 2015

32. January 2015

33. January 1985

34. January 2015

35. January 2015

36. January 2015

37. April 1990

38. January 2015

39. January 2015

40. January 2015

41. January 2015

42. March 1995

43. January 2015

Order your copy today!

Copyright Willow Rose 2015

Published by Jan Sigetty Boeje

All rights reserved.

No part of this book may be reproduced, scanned, or distributed in any printed or electronic form without permission from the author.

This is a work of fiction. Any resemblance of characters to actual persons, living or dead is purely coincidental. The Author holds exclusive rights to this work. Unauthorized duplication is prohibited.

Cover design by Jan Sigetty Boeje

https://www.facebook.com/pages/Sigettys Cover Design

and Sara de Ridder | de Ridder designs

Special thanks to my editor Janell Parque

http://janellparque.blogspot.com/

* * *

To be the first to hear about new releases and bargains from Willow Rose. Sign up to be on the VIP list below.

I promise not to share your email with anyone else, and I won't clutter your inbox.

- SIGN UP TO BE ON THE VIP LIST -

Connect with Willow Rose:

@madamwillowrose

willowredrose

willow-rose.net

Prologue

Cocoa Beach 1995

They're not going to let her go. She knows they won't. Holly is terrified as she runs through the park. The sound of the waves is behind her. A once so calming sound now brings utter terror to her. She is wet. Her shirt is dripping, her shoes making a slobbering sound as she runs across the parking lot towards the playground.

Run, run! Don't look back. Don't stop or they'll get you!

She can hear their voices behind her. It's hard to run when your feet are tied together. They're faster than she is, even though they are just walking.

"Oh, Holly," one of them yells. "Hoooollllyyy!"

Holly pants, trying to push herself forward. She wants desperately to move faster, but the rope tied around her feet blocks them and she falls flat on her face onto the asphalt. Holly screams loudly as her nose scratches across the ground.

Get up! Get up and run. You can't let them get you.

She can hear them laughing behind her.

You can make it, Holly. Just get to A1A right in front of you. Only about a hundred feet left. There are cars on the road. They'll see you. Someone will see you and help you.

She tries to scream, but she has no air in her lungs. She is exhausted from swimming with her legs tied together. Luckily, her arms got free when she jumped in the water. They have pulled off her pants. Cut them open with a knife and pulled them off. Before they stabbed her in the shoulder. It hu
rts when she runs. Blood has soaked her white shirt. She is naked from the stomach down, except for her shoes and socks. Holly is in so much pain and can hardly move. Yet, she fights to get closer to the road.

A car drives by. Then another one. She can see them in the distance, yet her vision is getting foggier. She can't lose consciousness now.

You've got to keep fighting. You've got to get out of here! Don't give up, Holly. Whatever you do, just don't give up.

Their footsteps are approaching from behind. Holly is groaning and fighting to get a few more steps in.

So close now. So close.

"Hurry up," she hears them yell. "She's getting away!"

Holly is so close now she can smell the cars' exhaust. All she needs to do is get onto the road, then stop a car. That's all she needs to do to get out of there alive. And she is so close now.

"Stop her, goddammit," a voice yells.

Holly fights to run. She moves her feet faster than she feels is humanly possible. She is getting there. She is getting there. She can hear them start to run now. They are yelling to each other.

"Shoot her, dammit."

Holly gasps, thinking about the spear gun. She's the one who taught them how to shoot it. She knows they won't hesitate to use it to stop her. She knows how they think. She knows this is what they do. She knows this is a kick for them, a drug.

She knows, because she is one of them.

"Stop the bitch!" someone yells, and she hears the sound of the gun going off. She knows this sound so well, having been spearfishing all her life and practiced using the gun on land with her father. He taught her everything about spearfishing, starting when she was no more than four years old. He even taught her to hold her breath underwater for a very long time.

"Scuba diving is for tourists. Real fishers free dive," she hears his voice say, the second the spear whistles through the air.

It hits Holly in the leg and she tumbles to the ground. Holly falls to the pavement next to A1A with a scream. She hears giggles and voices behind her. But she can also hear something else. While she drags herself across the pavement, she can hear the sound of sirens.

"Shit!" the voices behind her say.

"We gotta get out of here."

"RUN!"

Chapter One

September 2015

Blake Mills is enjoying his coffee at Starbucks. He enjoys it especially today. He is sipping it while looking at his own painting that they have just put up on display inside the shop. He has been trying to convince the owner of the local Starbucks in Cocoa Beach for ages to put up some of his art on display, and finally Ray agreed to let him hang up one of his turtle paintings. Just for a short period, to see how it goes.

It is Blake's personal favorite painting and he hopes it will attract some business his way. As a small artist in a small town, it is hard to make a living, even though Blake offers paintings by order, so anyone can get one any way they want it and can be sure it will fit their house or condo. It isn't exactly the way the life of an artist is supposed to be, but it is the only way to do it if he wants to eat.

Blake decides to make it a day of celebration and buys an extra coffee and a piece of cake to eat as well. He takes a bite and enjoys the taste.

"Looking good," a voice says behind him. He turns in his chair and looks into the eyes of Olivia.

Olivia Hartman. The love of his life.

Blake smiles to himself. "You came," he whispers and looks around. Being married, Olivia has to be careful whom she is seen with in this town.

"Can I sit?" she asks, holding her own coffee in her hand.

Blake pulls out a chair for her and she sits next to him. Blake feels a big thrill run through his body. He loves being with Olivia and has never had the pleasure of doing so in public. They usually meet up at his studio and have sex between his paintings on the floor or up against the wall. He has never been to her place on Patrick Air Force Base, where she lives with her husband, a general in the army. Blake is terrified of him and a little of her as well, but that is part of what makes it so wonderfully exciting. At the age of twenty-three, Blake isn't ready to settle down with anyone, and he isn't sure he is ever going to be. It isn't his style. He likes the carefree life, and being an artist he can't exactly provide for a family anyway. Having children will only force him to forget his dreams and get a real job. It would no doubt please his father, but Blake doesn't want a real job. He doesn't want the house on the water or the two to three children. He isn't cut out for it, and his many girlfriends in the past never understood that. All of them thought they could change him, that they were the one who could make him realize that he wanted it all. But he really didn't. And he still doesn't.

"It looks really great," Olivia says and sips her coffee. She is wearing multiple finger rings and bracelets, as always. She is delicate, yet strong. Used to be a fighter pilot in the army. Blake thought that was so cool. Today, she no longer works, not since she married the general.

She and Blake had met at the Officer's Club across the street from the base. He was there with a girl he had met at Grills in Cape Canaveral, who worked on base doing some contracting or something boring like that; she had invited him to a party. It was by far the most boring affair until he met Olivia on the porch standing with a beer in her hand overlooking the Atlantic Ocean. She was slightly tipsy and they exchanged pleasantries for a few minutes before she turned and looked at him with that mischievous smile of hers. Then she asked him if he wanted to have some fun.

"Always," he replied.

They walked to the beach and into the dunes, where they enjoyed the best sex of Blake's life.

Now it has become a drug to him. He needs his fix. He needs her.

"Congrats," she says.

"Thanks. Now I just hope someone will grab one of the business cards I've put on the counter and call me to order a painting. I could use the money. I only had one order last month."

"They will," she says, laughing. "Don't you worry about that." She leans over and whispers through those pouty lips of hers. "Now let's go back to your place and celebrate."

"Is that an order?" he asks, laughing.

"Is that an order, ma'am," she corrects him. "And, yes, it is."

Chapter Two

September 2015

Being with Olivia is exhilarating. It fills him with the most wonderful sensation in his body because Blake has never met anyone like her, who can make him crazy for her. Not like this. But at the same time, it is also absolutely petrifying because she is married to General Hartman, who will have Blake killed if he ever finds out. There is no doubt about it in Blake's mind.

Yet, he keeps sleeping with her. Even though he keeps telling himself it is a bad idea, that he has to stop, that it is only a matter of time before he will get himself in some deep shit trouble. Blake knows it is bad to be with her. He knows it will get him in trouble eventually, but still, he can't help himself. He has to have her. He has to taste her again and again. No matter the cost.

Their lips meet inside Blake's studio as soon as they walk in. Blake closes his eyes and drinks from her. He doesn't care that the door behind him is left open. Nothing else matters right now.

"I thought you couldn't get out today," he says, panting, when her lips leave his. "Isn't the general on base?"

"He is," she mumbles between more kisses.

It has been two weeks since they were together last. Two weeks of constantly dreaming and longing for her. They communicate via Snapchat. It is untraceable, as far as Blake knows. Blake wrote a message to her a few days ago, telling her about the painting being put up in Starbucks, knowing that she probably couldn't come and see it. He even sent a picture of the painting. It is also her favorite. She messaged him back a photo of her sad face telling him she didn't think she could get out, since her husband was home. Usu
ally, she only dares to meet with Blake when her husband is travelling. Even then, they have to be extremely careful. General Hartman has many friends in Cocoa Beach and his soldiers are seen everywhere.

"I told him I was seeing a friend today. It's not like it's a lie. I don't care anymore if he finds out about us. I'm sick of being just the general's wife. I want a life of my own."

Blake takes off his T-shirt and her hands land on his chest. He rips off her shirt and several buttons fall to the floor. She closes her eyes and moans at his touches. His hands cup her breasts and soon her bra lands on the wooden floor. He grabs her hair and pulls her head back while kissing her neck. His heart is pumping in his chest just from the smell of her skin.

"You can't," he whispers between breaths. "You can't let him know about us. He'll kill the both of us."

Olivia lets out a gasp as Blake reaches up under her skirt and places a hand in her panties, and then rips them off. He pushes her up against a table, then lifts her up, leans over her naked torso and puts his mouth to her breasts. He closes his eyes and takes in her smell, drinking the juices of her body, then pulls his shorts down and gently slides inside of her with a deep moan. She puts her legs around his neck, partly strangling him when she comes in pulsing movements back and forth, her body arching.

"Oh, Blake…oh, Blake …"

The sensation is burning inside of him and he is ready to explode. Olivia is moaning and moving rapidly. His movements are urgent now, the intensity building. He is about to burst, when suddenly she screams loudly and pushes him away. Blake falls to the floor with a thud.

"What the…?"

Blake soon realizes why Olivia is screaming and feels the blood rush from his face. A set of eyes is staring down at him.

The eyes of Detective Chris Fisher.

"Blake Mills, you're under arrest," the voice belonging to the eyes says.

Chapter Three

September 2015

"I'm sorry, Mary, there's nothing I can do."

I stare at my boss, Chief Editor, Markus Fergusson. He is leaning back in his leather chair in his office on the twenty-eighth floor of the Times-Tower on the west side of mid-town. Behind him, the view is spectacular, but I hardly notice anymore. After five years working there, you simply stop being baffled. However, I am actually baffled at this moment. But not because of the view. Because of what is being said.