The Dynamiter
Robert Louis Stevenson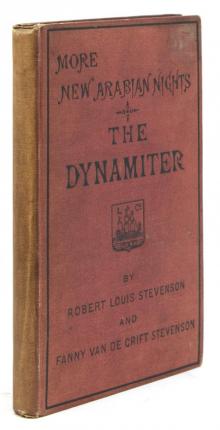 Transcribed from the 1903 Longmans, Green And Co. edition by David Price,email [email protected]

_MORE NEW ARABIAN NIGHTS_

THE DYNAMITER

BY

ROBERT LOUIS STEVENSON AND FANNY VAN DE GRIFT STEVENSON

[Picture: The Silver Library]

_NEW IMPRESSION_

* * * * *

LONGMANS, GREEN, AND CO. 39 PATERNOSTER ROW, LONDON NEW YORK AND BOMBAY

1903

_All rights reserved_

* * * * *

_BIBLIOGRAPHIC NOTE_

_First Edition_, _April 1885_; _Reprinted May 1885_, _July 1885_.

_Silver Library Edition_, _January 1895_; _Reprinted March 1897_, _July 1899_, _August 1903_.

TOMESSRS. COLE AND COX,POLICE OFFICERS

_Gentlemen,--In the volume now in your hands_, _the authors have touchedupon that ugly devil of crime_, _with which it is your glory to havecontended_. _It were a waste of ink to do so in a serious spirit_. _Letus dedicate our horror to acts of a more mingled strain_, _where crimepreserves some features of nobility_, _and where reason and humanity canstill relish the temptation_. _Horror_, _in this case_, _is due to Mr.Parnell_: _he sits before posterity silent_, _Mr. Forster's appealechoing down the ages_. _Horror is due to ourselves_, _in that we haveso long coquetted with political crime_; _not seriously weighing_, _notacutely following it from cause to consequence_; _but with a generous_,_unfounded heat of sentiment_, _like the schoolboy with the penny tale_,_applauding what was specious_. _When it touched ourselves_ (_truly in avile shape_), _we proved false to the imaginations_; _discovered_, _in aclap_, _that crime was no less cruel and no less ugly under soundingnames_; _and recoiled from our false deities_.

_But seriousness comes most in place when we are to speak of ourdefenders_. _Whoever be in the right in this great and confused war ofpolitics_; _whatever elements of greed_, _whatever traits of the bully_,_dishonour both parties in this inhuman contest_;--_your side_, _yourpart_, _is at least pure of doubt_. _Yours is the side of the child_,_of the breeding woman_, _of individual pity and public trust_. _If oursociety were the mere kingdom of the devil_ (_as indeed it wears some ofhis colours_) _it yet embraces many precious elements and many innocentpersons whom it is a glory to defend_. _Courage and devotion_, _socommon in the ranks of the police_, _so little recognised_, _so meagrelyrewarded_, _have at length found their commemoration in an historicalact_. _History_, _which will represent Mr. Parnell sitting silent underthe appeal of Mr. Forster_, _and Gordon setting forth upon his tragicenterprise_, _will not forget Mr. Cole carrying the dynamite in hisdefenceless hands_, _nor Mr. Cox coming coolly to his aid_.

_ROBERT LOUIS STEVENSON_

_FANNY VAN DE GRIFT STEVENSON_

CONTENTS_THE DYNAMITER_

PAGEPROLOGUE OF THE CIGAR DIVAN 1CHALLONER'S ADVENTURE: THE SQUIRE OF DAMES 13 STORY OF THE DESTROYING ANGEL 27THE SQUIRE OF DAMES (_continued_) 76SUMMERSET'S ADVENTURE: THE SUPERFLUOUS MANSION 100 NARRATIVE OF THE SPIRITED OLD LADY 108THE SUPERFLUOUS MANSION (_continued_) 145 ZERO'S TALE OF THE EXPLOSIVE BOMB 195DESBOROUGH'S ADVENTURE: THE BROWN BOX 209 STORY OF THE FAIR CUBAN 219THE BROWN BOX (_continued_) 269THE SUPERFLUOUS MANSION (_continued_) 286EPILOGUE OF THE CIGAR DIVAN 299

A NOTE FOR THE READER

It is within the bounds of possibility that you may take up this volume,and yet be unacquainted with its predecessor: the first series of NEWARABIAN NIGHTS. The loss is yours--and mine; or to be more exact, mypublishers'. But if you are thus unlucky, the least I can do is to passyou a hint. When you shall find a reference in the following pages toone Theophilus Godall of the Bohemian Cigar Divan in Rupert Street, Soho,you must be prepared to recognise, under his features, no less a personthan Prince Florizel of Bohemia, formerly one of the magnates of Europe,now dethroned, exiled, impoverished, and embarked in the tobacco trade.

R. L. S.