Wanting him back
Mary Norton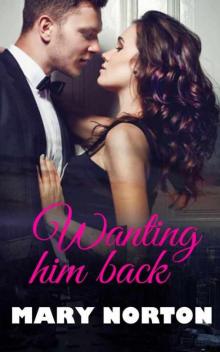 Table of Contents

Title

Copyright

Synopsis

Prologue

1

2

3

4

5

6

7

8

9

10

11

12

13

14

15

Epilogue

playlist

Thanks

Copyright © 2017 Mary Norton

All rights reserved by the author. No part of this book may be used or reproduced in any existing media without authorization of their own.

Editorial team:

Review: Sarah Miller

Cover & Digital Layout: Jane Moretti

This is a work of fiction. Its purpose is to entertain people. Names, characters, places and events described are products of the imagination of the author. Any similarity to names, dates, and actual events is purely coincidental.

This work was written and revised according to the new spelling of the Portuguese language. The author and the reviewer understand that the work should be in cultural norms, but the colloquial writing style was retained to bring the reader of the times.

Synopsis

It was a quiet monotonous life, stupid, dull and without any expectations. But I had to spoil things in a way well, well .... The way that only I can do.

Unlike what you think, I'm not stupid, retarded or something. Sure sometimes they need me explain some things more than once, but that's because I'm staring at nothing and thinking about the meaning of life. But this happens only about three times a day. Piscean things.

Other than that, sometimes they entitle me one Einstein. This is always the general director of the company.

But why am I swearing at me and degrading my person?

Because I'm a nerd, passionate and innocent girl who was seduced by WONDERFUL MAN SPECIMEN.

And it is completely lost.

You can get any worse. Believe me!

You can find the good in anyone, if you give him a chance and the benefit of dúvida.Às times, people you desapontam.Às times surpreendem.Mas you you never know it so well ... So listen to your heart

One Tree hiil

Prologue

I could only stare at what appears to be my ex boyfriend with his bride. It did not take even a week to start the parade with her everywhere where we were when we were together.

I still remember his words.

"That's what it has to offer me, Juli. I need someone who is as ambitious as I am, to help me open my ways. And you are not that person. "

I know I was not, I'll never be like that. I just wanted someone to live with me day after day. Who lived life the way it has to be. Someone who really loved me for who I am.

But I was exchanged for a ingression opportunity to legal means.

My mind says it is for me to learn to not care to anyone. But I'm not made that way, I can not be selfish and petty.

I know I'll always think of myself last.

And my heart says that one day someone will choose me love me.

I dream of a person for a long time. I dreamed about it for several nights.

But I do not think it will happen, after so long I do not know if it will happen.

Just as well, I can keep my whole heart.

"Remember when I told you what girls want? The girls just want someone who wants back. At least I want to ... "

Brooke Davis - One Tree Hill

1

I ask for the tenth time because I'm still here in this damn job. Four years, three wage increases, several trips, a driver whenever necessary, account credit card paid by the company. More a mountain of things to euzinha here, to account. But looking at the new iPhone 6 Plus, golden, 128GB, which came straight from California to me, out of the own headquarters in a beautiful box with a beautiful message of thanks for being a great Executive Secretary.

It makes me cry inside: "WORK BEST EVER"

- I thought you would like, Juli. - My beautiful boss, wonderful, which I never swore, he said smiling. - I know you were trying to change her.

- Aii, chefinho ... - drug. I'm crying. - Sorry, I just caught me off guard. - Alejo some glasses and hit his finger in my eyes not to take the concealer that does miracles hiding my dark circles. - I do not even know what to say. - I look at his incredible blue eyes. - I .... Thank you. - Secure your hands. - In fact, this was one of the best things that I won.

- Honey, why I got it for you. - Says stirring in your pocket, taking your own device. - I took my and my daughter. And thank her, it was she who had the idea to give it to you.

Mental note: Bring Karina for a night of drinking. Only she, of course, since I hardly drink.

- No, Juli. You will not go out with my daughter. - Mr. Duarte rises. - I do not want my two girls leaving the town drunk.

My girls.

Ahh, he said he calls me daughter? He's the best boss!

- A movie then? - I ask when he's at the door. - Obrigaaaaaaada!

Cry when he leaves.

The controlling even lose the line concentration with my cry. They are all well accustomed to my behavior that should be studied. Happy to have a plenty of time before the next meeting with managers, fix up my new baby. Once you have it the way I want, I leave kept in my drawer and put the key in my pocket.

- Come on, love. - Lorraine, the assistant purchasing manager, goes calling me. I take the things that separated my boss.

Working in one of the largest carriers of northern Brazil is not easy, but worth it.

- Why are you with that smile on his face? - Lori asks me as we carry the goodies to the meeting room. - Got your holiday?

This ends up a bit with my joy. With the new manager coming in, I had to postpone my vacation for a few weeks. I want my mother cooking for me, my father coddling me and my sister and my slave.

- I miss home!

Lori comes up to me, hugging me. She knows how I feel about my family. Living alone in a city away from home is very lonely. Even for me it's not too social.

Lori clean the tears with the feat of not soiling the lenses of my glasses.

- Once you pack the new guy, I speak the same with your Duarte to give your vacation days.

I smile at her gratefully.

I can not stay longer than ten days away. Your Duarte does not work without me here. My fault, I Mimei so. I'm babysitting him both inside and outside the company. I arrived here at the time his wife died and I take care of it as take care of my father. I think of him as my father of another State. So the few days of vacation. And there's my side can not sit still. I'm always packing something to work.

- Come, let's go. - I say already going to the meeting room. - Oh, I got a new iPhone head and Karina.

- Cow! - I hear before leaving the pantry.

Laughing while Lori scolds me, we arrange the appetizers on the table, then the folders in their proper places. So we left everything ready, Lori and will leave me alone waiting for the bosses. Unfortunately, I have to be here at all meetings where my head is. Head right, it's your Duarte, but I have to keep my eyes in the other seven managers and for a month to babysit the younger.

The first to arrive is the human resources manager. Seriously, it's unbearable, but it brings some good memories for me when you're in Canada. Then there is the purchasing manager, she has beautiful and intelligent, is stupid, obnoxious and ignorant. They arrive early.

My boss pulls the chair beside her for me to sit. He once told me that if a man does not pull out a chair for me to sit, he should not have my company, let alone a chance.

- Thanks.

- Well, California is still the same.
- My head starts updating managers on the trip he made to where is the seat of one of our most important customers.

He says the contract with them is renewed for another three years, with a percentage of thirty-five of the annual profit from it. That is, we will not fail to depend on them. I take note of the issues that managers want to discuss with my boss. I do this because before them to schedule time with him, we will analyze if it lost or no time.

Katya, the annoying shopping, continues with the idea of a new building for the expansion.

- Katya, we've talked about this. Leonardo has said that there is no need for an extension. If purchasing, warehouse and production, deem necessary, we'll talk about it.

She nods, but is very unhappy with it. I'll talk to Leo about it. Maybe he can get it out of oxygenated her head.

- Now, about the new manager. Juliane, please.

I wave to him and call Lorraine who is with him in the other room. I do not know why this whole scenario. The guy is already engaged, why you have to have this whole process?

All are silent, waiting for the said person. I look at my nails and I realize I'll have to take them enamel after that meeting to paint tonight. The door opens and only see the beauty in person.

My boss posing with a big smile on his face. He shakes hands with the face and presents to everyone.

- Give welcome to our new CFO. Augusto Belmonte

- Good to be here.

He introduces himself to everyone. I pray all my holy pictures to the boss forget. But to no avail.

- Juliane will be at your disposal as you get used to the city. - My boss seems very happy. - Juli, honey. Show our new friend's room.

- Of course! Come with me, please. - I say putting my glasses in place.

I watch as he stares at me. It sounds confusing. No, no! Do not even think about it, young man.

- The board is not so great. - EEEEEE. Yak is good. - You certainly will not get lost.

- I have a good sense of direction.

Yuck! Yuck! Egocentric.

The room it is in the same corridor as mine. Two rooms after my.

- This is your room. You can fix it the way you want. Those are the papers about some company information. - Point to the folder. - The IT technician will be coming here to create a login and password for you. Ohhuu!

Bato front with him when I turn. My glasses out of the place and once again I have to fix.

- Remind me to talk to you door. So I do not run the risk of another bruise.

It will not stop staring at me.

- You're always so talkative?

Oxiii!

- Most of the time, yes. There is an extension of the list next to the phone. Soon send an email when Thiago fix your computer. Any questions, you can come to me.

I do not give him a chance to say something. Just go away to my room.

Tall, beautiful eyes, dark hair.

More cat than I remember.

So many guys who could come to work here, had to be just the tastiest version of Brian J. Smith?

crack

crack

Already I hear my stupid heart breaking.

Ω

Hormones, so good in some situations, but so inappropriate in others. There should be a power button on and off. Seriously, it would be too easy to avoid situations of full decontrol and disadvantages.

Although it is impossible to be something convenient when it comes to that piece of meat that is called man. My beautiful and powerful Dad, the Lord was well inspired when he created it, huh ?! But lost the formula, is not it? Because hard to find a home of its kind in the corner.

Yuck! Yuck! In the corner house has a workshop with very paunchy gentlemen and dentures.

- Ouch! - Bato in my temples. - This was in the mind, shit!

- Is this some kind of OCD or you often hit a few times a day? - A deep voice that would make Bruce Wayne jealous scares me.

- My Our Lady, you can not do that with a hypertensive person. - Not that I am, but if it was? My boss would be lost without me, my mom lost her best friend and my father would be without your child with skirts. Since my brother is loose.

This man specimen would take me to my beautiful family.

- You are hypertensive? - I raise my head and find beautiful clear eyes.

Augusto Belmonte is nothing but beautiful. It clashes with my great love, Evans. Clashes because no one will NEVER reach the feet of my man. But this guy comes in the little finger of his foot.

- No, thank God, but if you continue to invade my room so, it may be that I'm still in the Fantastic.

He stares at me wanting to understand what I mean.

I will not have to explain my madness to anyone else. It is comprehensive in many ways.

- Forget what I said. - I say in a low tone. - What can I do for you?

Augusto sits in the chair in front of me. He crosses his legs and rubs his lower lip.

- First, let's take this master of all phrases that will refer to me. - He leans forward, placing his hands folded on my beautiful, highly organized table. - I'm new, but I'm not old enough to refer to me as sir.

All right, Big Boy!

- Second, I thought if you could join me inside the company premises. I want to meet supervisors and each sector.

Nanny for a month.

- I can do that. - I give him a welcome smile, that helpful when I try to be friendly, but most of the time does not quite right. - Let me get some knock you.

I open the closet that is on my right. Easily grab a large hit for him and my blue robe, the engineering sent for me. Yes, unlike the administration, if it were white, I would be all day sending to the laundry.

- If new and give you, you can have it, but I can ask the HR to have a new one.

He picks up the clothes smiling at me.

- This will serve, thank you.

- You're welcome.

I tie my hair in a ponytail, so that the manager of production do not complain when going through his desk. Stool forró mangy one there.

Augusto opens the door for me to leave. I turn off the light and he follows me up the ladder that leads to our first stop.

- Juli. - Silvia me before we reached the stairs. - I need to release note today, poppet. Save my life, please.

- Leave my desk, ask for Herbert get the signatures today, flower. - I mean throwing a kiss to her.

- Thank you, Katya kill me if you do not pay this note for training.

- Let me turn with her. - I turn to Augusto who is careful in our conversation. - Silvia, this is our chief financial officer, in little words, his new boss. Lord Augustus, this is Silvia, she is our senior financial analyst. Surely you will work hard to make me mad.

They shake hands.

- Nice to meet you, sir. - Says fun. - I'll let you follow.

Augusto opens the door for me again and goes down to my side when we went down the stairs. Of course I will slowly without running the risk of falling and breaking his neck dirtying the company name. If barefoot, I can only fall with the wind hitting me with a jump of eight centimeters on a ladder, I can possibly stop at the infirmary.

- How much time you are here? - Question as soon as we passed the engineering. I give a nod to Henry, one of the very beautiful miner who has not had the courage to call to have lunch with me.

21st centuryWomen should take action so!

- Five years in a few weeks. I feel at home already. There. - Point to the entrance of the big shed. - That's where the magic happens.

I am for about one hour presenting the company to him. So I arrive at my second favorite sector.

Warehouse.

Augusto help me up in the cabin. Once you put your right leg into it, the whistles begin.

- Leo, his betrothed arrived. - One of the guys screams when she sees me.

But I plan a big hand in the middle of my back. Too close.

- I know! I heard her heels as she came out of the shed. - I roll my eyes with their eternal bicke
ring with my shoes. - She has not yet accepted. - Leonardo appears in front of me in seconds. - But will one day, is not it?

- Once you become the Evans, who knows? Leo, I am presenting the facilities for you Augustus, he is our new director. Augustus, this is Leonardo, he is the supervisor of materials, and the guy who's always giving me bills to pay.

They shake hands.

Leonardo is very friendly, but I can not say the same of Augustus.

- Since you're here, young lady. - Leo goes to his desk and picks up my blue L folder. - Here's what you asked me, thank Levi for training. Where are the boots I gave you?

- It does not suit my clothes. And I have permission from all managers to be here jump.

- Tomorrow?

- Right! - I turn to my child. - I now need you to read the great email I sent you.

- I do not even know my email.

Everyone in the cabin laugh.

- You talking to Juli Guedes, of course she already knows your email. - Leo shakes my hand. - That's why it works for you.

- Exactly.

So let Augusto in your room and go back to mine, I sink to program my boss's schedule and whether everything is right with the flat of my child. Before you know it, I did not have any interest in it. Even having done the work to make the entire trip, arrival and stay was the most easy and smooth as possible, he did not wake me curious active in me.

But now.

I have my trusty open Google, along with the folder that HR sent me.

Bruce Wayne should have trained me. I should do. He must be so jealous of my research techniques. I have every new head of life in my hand - almost all -. Would I rather have trashed Google, but only took a snack with my boss and was fine. His Duarte can be a duty fofoquita, when they increase their pride.

- Anything else you want to add?

My boss off your computer.

- I would add to his going home at that time. Go home, Juli, we are still starting the week and did not want to leave you tired right now that have to adapt Augusto.

- After closing this agreement, I promise I will. Good night, boss.

- Good night my Dear.