Love hurts, p.1





Love Hurts, p.1

Malorie Blackman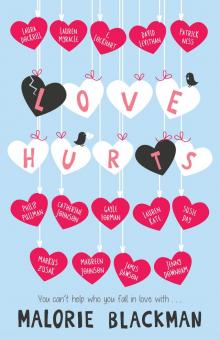 CONTENTS
COVER
ABOUT THE BOOK
TITLE PAGE
INTRODUCTION
HUMMING THROUGH MY FINGERS by MALORIE BLACKMAN
from MORE THAN THIS by PATRICK NESS
from THE INFINITE MOMENT OF US by LAUREN MYRACLE
from IF I STAY by GAYLE FORMAN
TUMBLING by SUSIE DAY
from TROUBLE by NON PRATT
from RANI AND SUKH by BALI RAI
from YOU AGAINST ME by JENNY DOWNHAM
from 13 LITTLE BLUE ENVELOPES by MAUREEN JOHNSON
from JUNK by MELVIN BURGESS
from NOUGHTS & CROSSES by MALORIE BLACKMAN
GENTLEWOMAN by LAURA DOCKRILL
from HEROIC by PHIL EARLE
MISS LUCY HAD A STEAMBOAT by DAVID LEVITHAN
from I AM THE MESSENGER by MARKUS ZUSAK
from GRASSHOPPER JUNGLE by ANDREW SMITH
from ECHO BOY by MATT HAIG
from FORBIDDEN by TABITHA SUZUMA
ENDLESS LOVE: THE VALENTINE OF DANIEL AND LUCINDA by LAUREN KATE
from MIDWINTERBLOOD by MARCUS SEDGWICK
THE LIAR'S GIRL by CATHERINE JOHNSON
THE UNICORN by JAMES DAWSON
from NORTHERN LIGHTS by PHILIP PULLMAN
from WE WERE LIARS by E LOCKHART
ABOUT THE AUTHORS
PERMISSIONS
ABOUT THE EDITOR
ALSO BY MALORIE BLACKMAN
COPYRIGHT
About the Book
Have you ever fallen for someone the rest of the world thought you shouldn't have?
Malorie Blackman brings together the very best young adult authors writing today in a stunningly romantic collection of love against the odds.
Featuring stories and extracts about modern star-crossed lovers, Love Hurts looks at every kind of relationship, from first kiss to final heartbreak. This is a collection for anyone who has ever loved and lost – and loved again . . .
INTRODUCTION
Love Hurts. Sometimes. If it didn't, a significant proportion of the stories throughout the world would disappear.
So what is love? Chemical reactions in our brains? Electrical impulses? A universal energy? The manifestation of our souls? An intertwining of our ephemeral existences? Yes, I know that last one is vomit-inducing! But seriously, what is it? Is love the one true unifying force that links all of us? Is it any, all or none of the above?
Maybe reading about love is our way of trying to figure it out. It's one of those intangibles that you can't hold in your hand and which words cannot, perhaps ever, adequately convey, but is shown in how we act towards and speak to and treat others. And while we may never find the words to effectively express just what love is, that certainly shouldn't stop us from trying.
Star-crossed lovers have always been at the heart of our stories, from Orpheus and Eurydice, Kintu and Nambi, Paris and Helen, Tristan and Isolde, Romeo and Juliet, the butterfly lovers Liang Shanbo and Zhu Yingtai, Lancelot and Guinevere, Layla and Qays (Majnun), Heathcliff and Cathy, right up to Buffy and Angel, Spider-Man and Gwen Stacy, Katniss and Peeta.
I have never described my own book Noughts & Crosses as a love story, but the relationship between Callum and Sephy lies at the very core of it. It is the beating heart of my story. Without that, the rest of the plot just wouldn't work. Our relationships with others are an integral part of our lives. Surely love provides a point and purpose to life? Those who cannot find it or do not have it perhaps seek lesser and maybe more destructive alternatives, or are resigned to a life which doesn't reach its full potential.
Stories serve many purposes – to illuminate, educate, entertain. Love stories let us know that sometimes, in spite of many and varied obstacles thrown in our way, love can triumph. But sometimes it doesn't. That's love – and life. In love stories, it's the journey, not the destination, that is all important. The stories in this anthology aren't all hearts and flowers. God forbid! I like my love stories to have a bit of spice and bite! These stories contain love lost, love found, the start of love, the end of love, love bitter and love sweet.
The stories and extracts of stories contained within this anthology are old and new favourites of mine, as well as some wonderful new stories. They show that 'the course of true love never did run smooth' (thank you, Lysander from A Midsummer Night's Dream). I hope the extracts and short stories will whet your appetite and encourage you to seek out more books by these authors.
I know these stories will amuse, entertain, surprise, and maybe provoke thought and discussion. I really do believe there's something in this anthology for everyone.
Enjoy!
Malorie Blackman
HUMMING THROUGH MY FINGERS
BY
MALORIE BLACKMAN
My hands slowed down, then stilled on my book as I listened. I turned my head and sniffed at the wind. Mum always said I had ears like a bat, but if it wasn't for the wind blowing in my direction, I doubt if even I would have heard this particular conversation.
I listened for a few moments until I'd heard enough, then returned to my book – which was far more interesting. Nine pages on and I was interrupted. He stood directly in front of me, blocking the sunlight, making my arms and face feel instantly cooler. I'd thought I'd get at least twelve pages on before he plucked up the nerve to come over.
'Hi, Amber. It's me. Ethan. Ethan Bennett.'
I sniffed the air in the direction of his voice. He didn't have to tell me his name. I recognized his voice. Ethan Bennett – the new boy in my brother Joshua's class. Well, when I say new, I mean he'd joined Josh's class last September and been to our house four or five times when I was there, but this was the first time he'd said anything other than 'Hi' to me.
The last time he left our house, I had tried less than subtly to ask Joshua about him. 'Josh, what's Ethan like?'
'Why?' asked my brother, suspicion lacing his tone.
'I like his voice,' I replied.
'He looks like Quasimodo and he's constantly farting,' Josh replied. 'He's lactose intolerant so God help you if you're around him without a gas mask after he's had a pizza or a glass of milk.'
So much for trying to get a straight answer out of my brother.
'Hello, Ethan.'
'Can I sit down?'
'I don't know.' I shrugged. 'Can you?'
'Huh?'
I smiled. A teeny-tiny smile for a teeny-tiny joke.
'No, I . . . er . . . meant, d'you mind if I sit down?' Ethan's voice was anxious, eager for me to understand.
'Help yourself.' Why ask me if he could sit down? Did I own the field or the grass in it? I carried on reading my book while he parked.
'What're you reading? Is it any good?'
'It's Misery by Stephen King. I've read it before, and yes, it is good.'
'If you've read it before, why're you reading it again?' asked Ethan.
'It's one of my favourite books.' As I spoke I carried on reading, my fingers skimming over the page. But then my fingers unexpectedly touched Ethan's and an electric shock like summer lightning stung through my fingers and up my arm.
'Ouch!' Ethan exclaimed.
With his touch still humming through my fingers, I drew my hand away. 'What happened?'
'I just got a shock.' Ethan dismissed it easily. I could hear that he was still shaking his sore fingers. He mused, 'I don't see how we could've been shocked sitting on grass.'
I said nothing. There'd been something unexpected in his touch, something more interesting than the obvious, but harder to read. It was this that stopped me from telling him to get lost.
r /> 'Sorry about that,' said Ethan. 'I just wanted to see what Braille was like.'
'Why?'
I could smell his surprise at my question. 'I've never seen a Braille book before. How does it work?'
Here we go again. I sighed inwardly. Another explanation. Another embarrassed pause followed by a murmur of sympathy and, if the usual pattern was followed, a sudden mumbled excuse to leave.
'Each of the series of raised dots represents a letter or a number. I use my fingers to read the dots rather than my eyes to read the words on a page, that's all.'
'Can I have a try?'
'Go ahead.'
I picked up the book and held it in Ethan's direction. He took it from me, careful not to touch my fingers this time.
'It must take ages to learn all this lot. It would take me years.' Ethan whistled appreciatively. 'How long did it take you?'
'Quite a few months, actually, and I'm still learning.' OK, I admit it, I was surprised. No pity, no sympathy, just two people talking.
'Were you born blind?'
Another surprise. No one over the age of ten ever asked me about my eyesight – not directly, at any rate. It was a taboo subject, conspicuous by its absence. How come Ethan had never got round to asking my brother or one of his other friends? Too afraid they'd mistake his questions for interest? I wondered who else was present, who else was listening. I sniffed the air. I couldn't smell anyone else nearby. Just Ethan – and his lie. Not lies plural. Just one lie.
'No.' I was going to say more, but the words didn't seem to want to come out of my mouth.
'Here's your book back.'
I reached out my hand. Ethan placed it in my upturned palm.
'So how did you become blind, then?' he asked.
Wow! Direct much? Truth to tell, I kind of liked it. It was refreshing.
'I'm a diabetic and I'm one of the unlucky few who developed diabetic retinopathy.' I faked a nonchalant shrug. 'I played fast and loose with taking my insulin and watching my diet. My vision started going fuzzy and I didn't put two and two together until it was too late. So here I am.'
'What d'you miss most?'
'People's faces – and colours.' Silence stretched between us as I listened to Ethan search for something else to say. 'What would you miss most?'
'Pardon?'
I repeated the question and smiled inwardly as I felt Ethan frown. 'I don't know,' he answered at last. My question had disturbed him. 'Josh told me that you see things with your other senses, though.'
I didn't reply. Slowly, I closed my book and waited.
'He said that you can hear colours and sense certain things that most people can't.'
Hearing colours – was that why I'd been singled out by Ethan? Was that all there was to it? Check out the weird girl and have a laugh while doing it?
'Is that true?' Ethan persisted.
I shrugged. I'd have to have a serious word with Josh when I caught up with him. He wasn't meant to tell anyone about that. It wasn't even his secret to tell, it was my secret. Who else had my brother blabbed to?
'I hope you don't mind me mentioning it. Josh swore me to secrecy and he hasn't told anyone else – at least, that's what he said.'
'Why did he tell you?'
'I don't know. Maybe he thought he could trust me.' Pause. 'He could see I wanted to know more about you.'
Hhmm! I shrugged noncommittally, careful to keep my expression neutral.
'I've never heard of anything like that before,' Ethan stated.
'It's called synaesthesia. I've always had it but it became heightened when I lost my sight. About ten people in every million have it, so don't go thinking I'm a fruit loop or something.' An edge crept into my voice.
'I didn't think anything of the kind,' Ethan laughed. 'What's it like?'
'What's it like to see using your eyes?'
'It's . . . well, it's . . . it's a bit difficult to explain. Ah! OK!'
And I knew then that he'd got the point. 'Exactly.'
Wanting to change the subject, I asked, 'So what d'you think of Belling Oak, then?'
'It's not bad, actually. It's a lot better than my old school. How come you don't come here with your brother?'
Whoosh! Instantly my face flamed, in spite of myself. I turned away, listening to the distant cheers and the shouting as the 100 metres sprint race started.
'I was here for four years, but . . . there were problems,' I said, still half listening to the race.
'What sort of problems?'
I sighed inwardly. I'd say one thing for Ethan: he was persistent. 'The teachers spouted on and on about how it would be too dangerous for me, too hazardous, too nerve-racking, how I'd be teased and bullied – stuff like that. The Head insisted Belling just wasn't set up for students who were visually challenged. He couldn't even say the word – blind.'
'Sounds like excuses to me.' Ethan sniffed.
I turned to face him again. 'It was. I already had friends here, I'd already been here for four years since junior school and after the first year I could've found my way around blindfolded. Mum, Dad and I kept telling him that I was willing to put up with the rest, but he wouldn't have it. Then he started quoting health and safety regulations at us and they said it would cost too much to have the school converted so that I could find my way around without help. So it didn't happen.'
'You must've been disappointed.'
'Of course. I'd set my heart on staying at Belling.' I looked around, seeing it with my memory. All around me were the acres of grounds, divided by a trickling stream known as 'The Giggler' because of the sound it made. I remembered the intensity of the green of the grass in spring, how in spring and early summer it was always covered in daisies and buttercups. From the upper classroom windows the daisies made the ground look like it was covered in summer snow, they were that thick on the ground. And then there were the tall, sprawling oaks fringing the stream on both sides. The oaks had always been my favourite. They whispered amongst themselves, using the wind for cover. At one end of the upper field was the red-brick school building and way across on the other side, past the lower fields, were the tennis and netball courts which doubled as basketball courts. And the whole thing had been so beautiful. I only started appreciating its beauty when I started to lose my sight. Precious little time left to drink in the sights and sounds of the place before I got bounced out.
'So where d'you go now?' asked Ethan.
'Arenden Hall. We've already broken up for the summer, though.'
'Never heard of it.'
'It's a college for the blind, about ten kilometres from here.'
'D'you like it?'
I shrugged. 'Yes, I do. They treat me like I'm more than my eyesight there. They know that my blindness isn't the one and only thing to define me.'
I turned back towards the sports field. I was seated near the stream, under the arms of one of the huge oak trees that gave Belling its name. Every sports day, I always sat in the same spot. Far enough away from everyone else so that I wouldn't have to worry about being knocked over or swept aside by the enthusiastic crowds, but close enough to hear what was going on. Some of my Belling friends thought it strange that I would want to sit by myself for most of the afternoon, but they were used to me by now. To be honest, I liked my own company. That and the fact that my friends made me remember . . . different times. I forced my mind away from the past to concentrate on the here and now.
Joshua, my twin brother, was due to run in the Upper Sixth 200 metres later on. He'd come last, or close to it. He always did, but he didn't mind, and neither did anyone else. It would've been good to see him run, although my friends said he didn't so much run as saunter. Josh always said that
he was built for endurance, not speed. In cross-country runs, he invariably crossed the finish line first and fresh as a daisy while his friends collapsed all around him several minutes later.
'I'm sorry if I asked too many questions,' said Ethan. 'I didn't mean to upset you.'
'It's OK.' But I didn't deny that he'd upset me. 'May I ask you something?'
I heard him nod, then catch himself and say, 'Yeah! Sure!'
'Why are you over here? I mean, why aren't you with everyone else watching the races?'
Please tell me the truth. Please.
'I saw you over here and I just wanted to say hello. We've never really had the chance to have a proper conversation before.'
'I see.' The heat from his lie swept over me like volcanic ash, tasting bitter and acrid against my tongue.
Ethan cleared his throat. 'Actually, I wanted to ask you something. Would you . . . er . . . I'm going for a pizza after all the events are over. I don't suppose you'd like to come with me?'
Silence stretched between us like a rubber band.
'You're inviting me to go for a meal with you, my brother and your friends?'
'Well, I thought if you agreed to have a pizza with me, we could go by ourselves?' Ethan cleared his throat again at the end of his rushed sentence. He obviously did that when he was nervous. Useful to know.
'OK,' I said, at last.
'Really? Great!'
The obvious relief in his voice made me stifle a smile. It meant that much to him?
'Aren't you lactose intolerant, though?' I said. 'Is a pizza wise?'
'What did Josh say about me?' Ethan sounded mortified.
'Is it true?'
'I have a mild case and it's cumulative. I'm OK with just one pizza.'
'You will keep away from the ice cream with your dessert though, right?' I teased.
Ethan didn't reply but I could've been on Mars and still felt his embarrassment.
'Are you in any of the races?' I took pity on him and changed the subject.
'No, athletics isn't really my thing.'
'What is?'